Guy McGowan Steel pt 1 on Rojava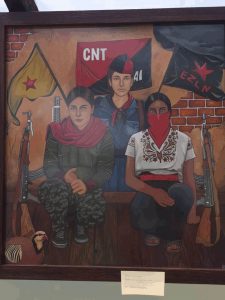 This week's show features a conversation with Guy McGowan Steel Steward, an American anarcho-communist about his joining the Rojava Revolution alongside Kurdish and other folks in Northern Syria. Guy was one of two American anarcho-communists featured in a recent Village Voice article entitled "A Hello To Arms" and his writings and images documenting his ongoing time in Rojava can be found at https://www.facebook.com/scenesfromrojava/ . In this episode he'll speak about training, conscription, nationalism, other internationals and more. The second half of this conversation with Guy will show up in an upcoming radio show.
Announcements
Podcasting The Show
Starting with this episode, we'll be available through the iTunes store for easy podcasting under the name thefinalstrawradio, so find us there every week, rate us and tell your friends!
Milwaukee In Revolt
Protests erupted last yesterday in the Sherman Park neighborhood of Milwaukee, Wisconsin, hours after the fatal police shooting of a 23 year old man by MPD the police claim was fleeing a vehicle with a gun. Sherman Park has been witness to increased tension with police and the growth of a community watch program called #WeAllWeGot. The riots that grew from the protests ended up smashing a police vehicle, burning vehicles (including a patrol car), torching a BMO bank and 4 other businesses, including a BP gas station that has been the site of previous tension.
Organizers of the #WeAllWeGot group, a Black Power and police abolitionist group, is raising money for arrest support. You can donate at https://paypal.me/WeAllWeGot
September 9th Prison Strike
But first here is a call out pulled from the anarchist news source It's Going Down :
"This is a challenge to anyone who is supportive of the September 9th prisoners' strike but who has remained on the sidelines until now.

In order for this strike to not be snuffed out by a handful of prison censors and violent guards, it needs to spread uncontrollably beyond their reach. And because prisons strictly forbid communication between prisoners, it is our responsibility on the outside to facilitate this contagion.

The first obvious step is to begin sending in word of the strike, immediately. If people on the inside are to be able to meaningfully act, they are going to need some time to begin spreading the word to their friends and formulating a plan. To that end, we are suggesting that outside accomplices begin printing strike announcements and mailing them inside prison walls en masse."
To access these prepared strike annoucements, in English and Spanish, and for more information on how to send literature into prison and to whom, you can visit the aforementioned news website itsgoingdown.org and scroll down to the article entitled "A Challenge: Spread the Strike to Every Jail, Juvie, and Prison!"
For more information about the nation wide September 9th prisoner strike, you can visit either supportprisonerresistance.net or incarceratedworkers.org for the Incarcerated Workers Organizing Committee.
Eric King
Anarchist prisoner Eric King was moved this week to a prison not far from his friends and family, good news for once! To write him, address letters to:
Eric King 27090045
FCI ENGLEWOOD
FEDERAL CORRECTIONAL INSTITUTION
9595 WEST QUINCY AVENUE
LITTLETON, CO 80123
For more information about Eric King and his case, you can visit his support website at https://supportericking.org
Hasan
Here is an announcement concerning Siddique Abdullah Hasan, who has been targeted by prison officials and COs in direct relation to the September 9th prisoner work stoppage. He was recently visited by the FBI in prison and placed in solitary confinement. This is from itsgoingdown.org:
"Around noon eastern time on August 11th, Hasan got word out through lawyers that he was doing fine and that if anyone wanted to correspond with him they should include a stamp for the reply since he could not go to the [jpay] kiosk.

Hasan has access to postal mail, and presumably to JPay, but not the kiosk machine, so if you write him an email (and visit JPay.com to find out how if you don't already) be sure to click the "include a stamp for reply" box before sending.

Please also continue to call the prison 330-743-0700. They are routing all the calls to a specific person, so lets keep her busy. Ask when he's going to be let out of the hole and demand that this bogus investigation end immediately.

Also, write to Hasan, the more mail he gets the more support we're demonstrating. You can include a total of 5 sheets of paper and 3 embossed envelopes, so if you have any handy, slip them in to make sure he's got supplies to write people back.

His address:

Siddique Abdullah Hasan
R130-559
OSP
878 Coitsville-Hubbard Rd
Youngstown OH 44505
Free Alabama Movement
On August 1, 2016, following rebellion in one of the dorms, the riot squad attacked individuals at Holman Correctional Facility in Atmore, Alabama, placing multiple individuals in segregation. In violation of Department of Corrections policy, the prisoners have not received a 72-hour investigation notice of the reason for their being placed in segregation, and have not had their personal property returned. The comrades have had to go without shoes, clothing, deodorant, and toothbrushes, and have not had access to their addresses and phone numbers.
Call Warden Mitchell and demand that those put in segregation after the recent riot be released and have their property returned.
Phone number: 251-368-8173
You can visit https://anarchylive.noblogs.org and search "August 1st rebellion" to learn more and for suggestions on what to say to the warden when you reach him.
Waupun Update
These are the words of Laron McKinley Bey, who is a prisoner in Waupun who is participating in the ongoing hunger strike there, to protest the conditions under which they are forced to live:
"In a nation that would not tolerate shutting in zoo animals 23-24 hours per day the State of Wisconsin has no compunction confining prisoners to indefinite isolative Administrative Confinement (AC) alone in a parking-space size cell for 164 of the 168 hour week. Such prolonged social, environmental, and occupational isolation and lack of stimulation is well known to pose a substantial risk of harm to mental and physical health.

Norman Uhuru Green and I, 2 of the longest standing Wisconsin prisoners held in this type of endless isolation at 18 years, and nearly 28 years respectively, together with Cesar DeLeon, form the 3 remaining original 'Dying to Live' movement hunger strikers who continue to refuse to eat or drink in hopes of forcing an end to the state's practice of indeterminate seclusion.

On June 7, 2016, a group of 10 Wisconsin prisoners in solitary confinement at the Waupun and Columbia correctional institutions began refusing nourishment to expose the inhumane conditions of their confinement, and to facilitate dignified treatment of all humans. Within a few weeks the Department of Corrections had obtained court orders to force-feed Uhuru, DeLeon, and I 3 times daily which entails being placed in full restraints, and then strapped into a 'restraint chair' and having a nasal-gastro tube inserted in one nostril to the stomach where a liquid mixture of nutrition is funneled. Besides violating the sanctity of our bodies, this procedure is an invalid state response to a dignified struggle and it can cause significant internal injury.

Despite this, our strength and morale remains high, and we are determined until we see substantive change.

Among our reasonable demands are a 1 year cap on the length of AC, and a 15 day cap on punitive isolation. A coalition for support of prisoners on the outside has carried our reasonable demands to the DOC officials and state legislation, which may lead to proposed legislation on a negotiated settlement."
To write to Bey, address letters to:
Laron McKinley Bey, #42642
Waupun Correctional Institution
PO box 351
Waupun, WI 53963