An American AnCom in Rojava, pt 2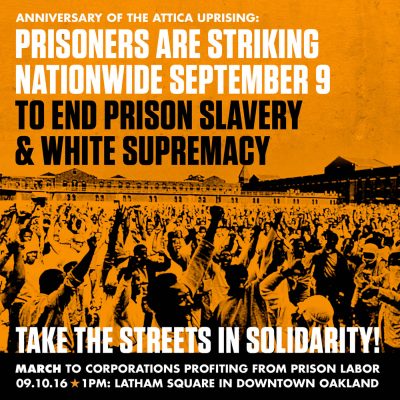 This week, we'll be featuring a short roundup of some of the events inside and outside of the prison walls during the beginning of the Prisoner Work Strike that started on September 9th in the United Snakes with the goal of ending Prison Slavery in U.S. prisons. After that we'll hear the last half hour of Gil O'Teen's conversation with Guy McGowan Steel Steward, an American anarcho-communist about his joining the Rojava Revolution alongside Kurdish and other folks in Northern Syria. This portion, they discuss nationalism and national identity in Rojava, the draft, the decision to adopt Federalization within Rojava and more. This is within the context of recent Turkish incursions into the Kurdish regions of northern Syria which have led to deaths among civilians and YPG/YPJ forces of the Kurdish Resistance. These deaths include foreign fighters who've joined the Rojava struggle. Happily, Guy is not among those dead. There is an interesting discussion and an homage to american anarchist fighter Jordan MacTaggart, an interview with Rojava Solidarity NYC, plus much much more in the latest episode of The Ex-Worker podcast, available at http://crimethinc.com/podcast that I suggest folks check out and share with friends.
Some further resources concerning the YJC and YCR.
and Osman Evcan, Turkish anarchist prisoner who is starting a new hunger strike. To hear our interview on this matter, visit us here.
International Brigade reactions to Turkish aggressions video.
And 7 anarchists arrested and accused of being members of FAI.
Additionally, news from Italy.
National Prisoner Work Stoppage
Background and Inside Resistance
As many of you are probably aware, Friday September 9th kicked off the largest and most coordinated prisoner work stoppage in the US in all history, on the 45th anniversary of the Attica Prison uprising. Organized in conjunction with incarcerated members of the Free Alabama Movement (FAM) and the Incarcerated Workers Organizing Committee (IWOC), this work stoppage is turning a bright spotlight on the continuing condition of slavery in the United States, a slavery upon which this country's economy is cripplingly dependant. Prisoners are also forced to be responsible for running the actual prisons themselves, working in the laundry, cafeteria, and so on, pretty much in any non-administrative capacity you can think of. I don't think it should go without saying that much of this labor goes unwaged, though the on average 13 cents an hour that inmates get paid is nothing compared to the exorbitant costs of goods in prison stores.
Friday kicked off the actual strike, but resistance from within prison got started well before then with fires being set at Lincoln Correctional Center in Lincoln, Nebraska on September 6th, a 4 dormitory wide riot at Holmes prison in Bonifay, Florida on the 7th which hopped from dorm to dorm in the facility keeping just ahead of the CO's attempts to quell the rebellion, creating a Whak-A-Mole type situation that I'm sure the prison officials just loved. Also on the 7th inmates at the infamous military detention center Guantanamo Bay remain on hunger strike to protest their indefinite detentions, many of whom were captured as part of the xenophobic and racist governmental response to September 11th, 2001, 15 years ago today.
September 9th at noon saw a complete work stoppage at Holman Correctional in Atmore, Alabama where our comrade Michael Kimble is held captive. There is no incidents yet from prison officials, and guards and COs were forced to perform all tasks. Sit down strikes and work stoppages were also held in Bonifay, FL in the aforementioned Holmes Prison, amid the ashes of the fires set only two days prior. In Troy VA, there was a work stoppage at a women's facility, and all across this state of North Carolina prisoners refused to report to their jobs. At a women's facility in California 10 or so brave souls refused to work and effectively shut the whole prison down because of fear of a riot. Disturbances were reported at Gulf and Mayo prisons in Florida, and three guards were injured in scuffles at Tecumseh Prison in Nebraska.
Yesterday saw a continuation of resistance in Nebraska at a women's facility, from all over South Carolina, and continuing resistance in Atmore. Solidarity from overseas has been flying in fast and furious, with statements from prisoners in Greece, Australia, Lithuania, and Sweden among many others.
Repression of those who are striking has mostly consisted of prison lockdowns and targeting of people who have been designated the "ringleaders". It will be very important for people to recieve solidarity from those on the outside in order for this resistance to continue. Keep your eyes on itsgoingdown.org and the live updates at http://maskmagazine.com for current info and calls for backup. You can visit the IWOC at iwoc.org for a list of concrete anti-repression tactics to share with those who are incarcerated and otherwise.
Local Events, Arrests, and Donations to the Legal Fund
Now, let's take a gander at some of the events we were able to find that took place outside of the prison walls, per se, around the U.S. and around the world.
A full narrative of outside support events would take a very long time, which is a good thing, so we're going to read through some highlights starting local to get the attention of the folks locally on this. We'll be giving precedence to two local struggles in which arrests occurred. If folks from elsewhere have an experience they want to share, send us an email at thefinalstrawradio@riseup.net or add it to the growing lists of solidarity by emailing info@itsgoingdown.org.
First off, let's begin with Western North Carolina.
This text is from a fundraising site to cover legal costs :
"In the early afternoon of Septmeber 9th, comrades held a banner outside of the Avery Mitchell Correctional Facility in Spruce Pine, North Carolina. This was an attempt to offer support to any of the 816 prisoners at the facility involved in prison functions who may have chosen to withhold their labor as part of the wider strike against prison society. 5 arrests were made and trespassing charges were issued.
Later that afternoon in downtown Asheville, and following a #NoDAPL solidarity march and protest at TD Bank, there was a march through downtown in support of striking prisoners. 60-70 folks banged pots and pans, held banners and signs, passed out leaflets and chanted "Brick By Brick, Wall By Wall, We Will Make Your Prisons Fall" and other classics. Police followed the march blaring requests to get out of the street and eventually attempted to push the marchers onto the sidewalk with their vehicles. Attempts to engage the Friday night drum circle into hitting the pavement fell on deaf ears as folks made their way towards the Buncombe County Detention Facility. While passing by the local Goombay festival, flyers were distributed and a group of folks backstage answered our chants of "Our Passion for Freedom…" with their own melodious note of "Freedom". A few minutes later and a few blocks away, 3 of ours were arrested, accused of blocking traffic and one with an additional charge of resisting arrest. By midnight the 3 were out.
Everyone is out and no more money for bail is required, but support for legal defense, court fees and lawyers is necessary, and we are asking for your help
At moments like these it is so crucial that we support people doing work to sustain the struggle for racial justice & prison abolition. This allows us to create stronger movements where we can all continue to be leaders in these fields and help a build stronger sense of community, especially in the south. We are all in this together and we need to continuously show up for each other, not just in the streets but in ways that allow us to continue to sustain our lives and our passions for the movement.
We believe that no one should go through this alone, especially marginalized folks who are brave enough to put themselves in these front lines. We are so proud of the North Carolina communities right now."
You can connect to that fundraiser at: https://actionnetwork.org/fundraising/legal-support-for-wnc-sept-9-solidarity-activists
Folks in Atlanta took the streets on Friday, September 9th, in the face of serious police repression. From http://atlblackcross.org comes this information:
"Today marks the beginning of the national prison strike. Prisoners all over the country are going on strike and refusing to cooperate with the unjust prison system. They are demanding decent pay for work, decent food and living conditions, and an end to inhumane practices like solitary confinement.
In Atlanta, supporters marched through Midtown and disrupted several corporations which profit from prison slavery. Wendy's, McDonalds, Aramark, and Starbucks all got a visit. When the march got to Starbucks, police made several violent arrests, using pepper spray and slamming people to the pavement. At one point, police even tried to run marchers over with a squad car.
We are working hard to make sure all the protesters get free as soon as possible, so everyone can continue doing the important work of supporting the ongoing prison strike." As of this morning, Sunday, September 11th (make a wish!), all defendants are out but are facing some stupidly hefty charges. One demonstrator apparently was taken during their arrest to a police precinct women's bathroom and choke slammed against the wall for being a part of copwatch in Atlanta. FTP!
More on the Atlanta cases and how to support them can be found at https://actionnetwork.org/fundraising/bail-out-prison-strike-supporters
International Solidarity
International solidarity with the strike has been tremendous, with banner drops, graffitti and actions ranging far and wide. Here are a few instances of international solidarity, this is by no means a complete list. You can see more information about this, plus photos and full statements at It's Going Down.
* Horgoš, Serbia: Banner drop in support of prison strike.
* Brisbane, Australia: Solidarity action with US prisoners.
*Melbourne, Australia: Info table with literature about US prisons and the prison strike, along with collected donations.
* Melbourne, Australia: Anarchist demonstration outside US Consulate.
* Malmö, Sweden: Solidarity demonstration.
* Athens, Greece: Demonstration outside Korydallos women's prison.
* Leipzig, Germany: Rally outside US Consulate.
* Montreal, Canada: Dinner and film screening in solidarity with prisoner rebellion.
* Melbourne, Australia: Noise demo at youth jail.
* Barcelona, Spain: Graffiti messages of support written on McDonald's.