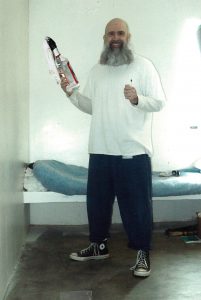 If you listen to the show, you'll usually hear a short audio essay by a wingnut in an Ohio Prison.  That wingnut is almost certainly Sean Swain.  Sean has been in prison in Ohio since 1991 on a murder charge, the self-defense killing of an abusive ex of his then-girlfriend who had just gotten out.  Sean believes the self-defense portion didn't save him from the murder charge because the dead man was a relative of a court official.  While in prison Sean became an anarchist and a jailhouse lawyer and in recent years has also converted to Islam.
Sean's expressions during his segments, which we call "You Are The Resistance" are sometimes his views and sometimes parody.  They do not always reflect the views of the folks at The Final Straw nor those of the guests that we interview.
You can write to Sean at the following address:
Sean Swain #2015638
Buckingham Correctional Center
PO Box 430
Dillwyn, VA 23936
You find Sean's writings, his address to write him letters, a link to his recently published book via Little Black Cart and more at SeanSwain.org and at SwainRocks.org.