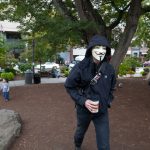 (originally posted at
http://www.ashevillefm.org/the-final-straw/09/2011/occupy-wall-street-in-asheville)
200 to 300 bodies occupy the space and sleep on the street right next to Wall Street, financial hub of the east coast. To some, the place symbolizes the living and breathing Sacre Coeur of Capitalism, the highest stage of human global awareness and economy. A system offering to break down monolithic governments and swap them for more democratic ones and to scoop the ingenious and hard working out of poverty, it's promoters often present it as a panacea. Capitalism's detractors range from the belief that it's a necessary evil to an alienator of communities and a destroyer of worlds.
This Friday will mark day 13 of the Occupy Wall Street protest. Those occupying the space of Liberty Plaza were definitely influenced by the occupation movements of the "Arab Spring" and the attempted anti-electoral occupations in Spain and have set off many related, if smaller, occupations around the United States (Chicago, San Francisco, Los Angeles…. in fact 64 listed in total so far in North American and 12 internationally found on occupytogether.org). This Friday, we'll discuss the movement and the upcoming (Saturday, Oct 01) protest in solidarity with the occupy movement as well as other related initiatives coming out of Asheville.