Adventure Capitalism with Raymond Craib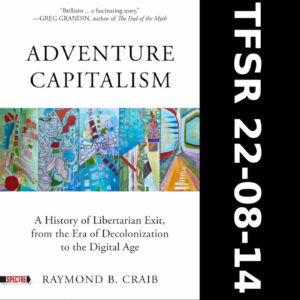 This week on The Final Straw, Professor Raymond Craib talks about his book, "Adventure Capitalism: A History of Libertarian Exit, from the Era of Decolonization to the Digital Age" out recently from PM Press. We talk about capitalist fundamentalists attempting to create free market utopias, right wing so-called Libertarians, Ayn Rand, neoliberalism and the oxymoronic tendency known as "anarcho-capitalism" at the center of the recent HBO Max series called "The Anarchists".
A quick note: the book on the Republic of New Afrika that Bursts mentioned was Free The Land by Edward Onaci. There was an interesting interview on Millenials Are Killing Capitalism podcast with the author last year.

Stay tuned next week for our interview with Sam & Alex of the antifascist podcast, 12 Rules for WHAT about their podcast and their two books, "Post Internet Far Right" or PIFR, and "The Rise of Ecofascism". Patreon supporters can get this episode a few days early alongside other gifts. Check out that and other ways to support us at tfsr.wtf/support
Announcement
Eric King at Florence ADX
After a few weeks of being in transit, Eric has arrived at what is expected to be his final prison before release: USP Florence ADX, the Supermax prison of the Bureau of Prisons. He just arrived yesterday and not much is known about any communication restrictions but please shoot Eric a letter to let him know you care.
Eric King #27090-045
USP Florence ADMAX
PO Box 8500
Florence, CO 81226
As we know more about any restrictions or mail rules, they will be shared.
ADX is a controversial prison with most cells being one person only and everyone being on 24 lockdown. The US sends people with high-profile and serious cases here to bury them and is often in the media whenever someone gets sent there like El Chapo or people involved with the 911 attacks. There have been countless lawsuits since ADX was established in the 1990s. It is a BOP facility so one can expect all of the things that happen at any facility with the added cruelty of long term isolated confinement.
Keep up on his support page, SupportEricKing.Org
. … . ..
Featured Track: