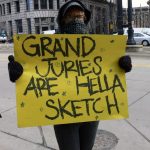 This week's show features a conversation with Ian Coldwater, a co-founder of the Coldsnap Legal Collective, about Conspiracy Trials, Grand Juries, Security Culture and technology. We discuss some of the trials that have come up against Anarchists, Animal and Earth defenders and other radicals over the last 8 years in the U.S. and Canada with an eye towards what we can learn in order to increase our safety as activists and radicals.
For more info, check out the following links:
http://coldsnaplegal.wordpress.com/
http://crimethinc.com/texts/recentfeatures/conspiracy.php
http://rnc8.org
http://asheville11defense.com/
Keep an eye open for local events by the Never Alone Tour in your area.