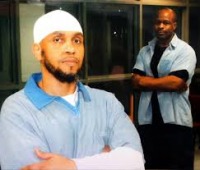 This week, we spoke with Imam Siddique Abdullah Hasan who is facing the death penalty for his role as a negotiator during the prisoner uprising at the SOCF facility in Lucasville in April of 1993. Hasan, as well as 4 other prisoners, have become known as the Lucasville 5. 4 of them are charged with the death of a prison guard by the name of Bobby Vallandingham as well as 9 inmates considered to be snitches.
The riot began as negotiations between Sunni prisoners, of which Hasan was one of the leaders, took guards hostage in hopes of bringing state attention to the problems at the prison. In particular among their concerns was the imposition of a TB test that was in contradiction to their religious beliefs and for which an alternative was readily available. Soon, other prisoners began to take space and control. Fearing a bloody outcome like was seen at Attica in New York, representatives of the Sunni community, the Aryan Brotherhood and the Black Gangster Disciples at Lucasville began negotiations with the state to bring a peaceful resolution to the uprising. Graffiti displayed within the prison began speaking of "Convict Race" and "Black and White Unity".
After the end of the uprising, the state, under pressure from Vallandingham's family, railroaded the five. The call for blood was great, but since the Lucasville Disturbance, so have been the calls for justice in the case of the Lucasville 5.
www.lucasvilleamnesty.org/ is a great site listing info on the case and how to help.
http://www.redbirdprisonabolition.org/ is a group in Ohio involved in supporting the Lucasville 5
http://www.re-examininglucasville.org/ is the website for the conference that happened this year around the case
http://darklittlesecretmovie.com/category/projects/ is the website for the recent documentary on the subject, which is touring the country