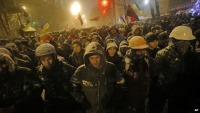 In late November of 2013, Kiev and other parts of Ukraine saw the building of spontaneous plaza occupations and street demonstrations against President Yanukovych apparent decision to stall steps towards integrating Ukraine into the European Union. The protests, known as Euromaidan or EuroPlaza in Ukrainian, called on the ruling government to move forward with the integration, fearing that the stalling was a sign that the Ukraine was giving in to pressure from the competing Customs Union (made up of Russia, Belarus and Kazakhstan) which had been courting Ukrainian participation. The protests are ongoing, despite the signature of Ukrainian president Viktor Yanukovych into a deal with Russia for promised purchases of billions of dollars of Ukrainian products and a 30% discount on Russian Natural Gas. Euromaidan have been compared in scale, and sadly in lack of critical debate about issues among the populace, to the 2004 Ukrainian Orange revolution which saw the rising to power of those who would become the status quo today.
This week on the Final Straw, we'll be speaking with Denys. Denys is an organizer and activist with the Kiev Local of the Autonomous Worker's Union, a Revolutionary Syndicalist turned Anarchosyndicalist organizing and propaganda group in the capital of the Ukraine. We'll spend the hour discussing the political system in that country, the spectrum of parties, influence of media and oligarchs and radical groups on the far left and far right. Later on in the hour, Denys will address his philosophy, Anarchosyndicalism via Synthesist Anarchism, and what the AWU in Kiev and elsewhere has been able to achieve. More on the AWU can be found at avtonomia.net .
We'll also speak briefly about a protest in Kiev in solidarity with struggling workers in Kazakhstan on the anniversary of the Zhanaozen Massacre of December 16, 2011.
A partial transcript is now available for this episode thanks to folks at Rev-News & Nihilist.li