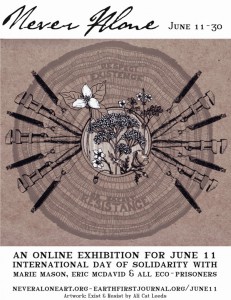 This week's episode features a couple of announcements about the upcoming June 11th Day of Solidarity with Marius Mason, Eric McDavid and Longterm Anarchist and Eco Prisoners. For info on the cases of Eric & Marius and other folks needing support, along with ideas of what solidarity might look like, check out http://june11.org
Here in Asheville, there will be a 4pm picnic at Carrier Park where folks will talk about June 11th, Eric & Marius's cases, solidarity and prison realities. Food will be present, but bring your own sides to share, especially if you have dietary restrictions.
At 9pm on June 11th, there'll be a show at the Odditorium. The benefit requests a $5-20 donation. Bands include Aneides and Uninhabitable from Asheville, Burnt Books from South Carolina and Harsh Words from Georgia. Items'll be raffled off and there'll be plenty of info available and folks to chat with. On Fakebook: https://www.facebook.com/events/1452424341665913/
For more events in your town, check out june11.org. Also announced was the online art exhibition curated by the Earth First! Prisoner Support Project and featuring the work of 23 different artists, many of whom are eco-prisoners. Check out http://neveraloneart.org for flyers and more info. It'll be up and online from June 11th to June 30th.
Bursts read a statement by Sean on this episode concerning the U.S. economy and the role that counterfeiting money plays in it. Very informative, as always.
Following the announcements, we heard Cervidae, Ancient Oak, Deafest and more! Check out the playlist here