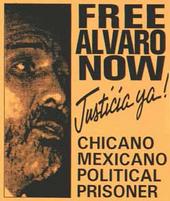 "The main portion of the episode features an interview with Alvaro Luna Hernandez, a Chicano political prisoner serving a 50 year sentence in Texas for disarming a Sheriff who pulled a gun on him, and then fleeing. Mr. Hernandez speaks about his case, his legal history, his political development, and his imprisonment. Special thanks to the Central Texas Anarchist Black Cross for this material. More info on Alvaro can be found at":
https://denverabc.wordpress.com/prisoners-dabc-supports/political-prisoners-database/alvaro-luna-hernandez/
After that, we hear recent metal releases by Mar and Soror.