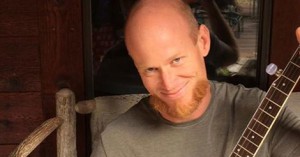 This week we're speaking with Eric McDavid, a recently released eco-anarchist and vegan. Eric and his two co-defendants (Lauren Weiner and Zachary Jenson) were entrapped by an FBI agent provocateur who went by the name of "Anna" and arrested for allegedly planning to blow up cell-phone towers, small dams & a lab researeching genetically modifying trees. Eric was arrested in January of 2006 during an FBI raid on the cabin that "Anna" was providing for the four.
During the court case, the government prosecutors were able to turn Zachary and Lauren against their slightly older co-defendant, Eric, with threats of spending decades of their life behind bars. So, Zachary and Lauren posed Eric as their "leader" and threw him under the bus. As a result, Eric was given a 20 year sentence for what was effectively the charge of being guilty of Thought Crime.
After years of the appeal process, Eric's support team finally recieved documents within a FOIA that pointed to evidence they should have had during trial; evidence that could have led to a not guilty verdict at trial. Finally on January 8th 2015, Eric was released into the arms of supporters, family and loved ones in Sacramento, CA.
More on his case can be found at http://supporteric.org
We spend the hour chatting about his incarceration, experiences of support as one of the two names central to the June 11th Day of Solidarity with longterm Anarchist Prisoners alongside Marius Mason, decarceration, hope, ice cream and more.
More about this year's June 11th at http://june11.org, including their recent call-up
A quick note. Brent Betterly of the NATO3 is slated for release from prison on April 16th of 2015, just 3 days before his birthday on the 19th. You can send him a birthday present to support his post-release life while he gets on his feet by visiting youcaring.com and searching his name.
More about the NATO3 entrapment case can be found at http://freethenato3.wordpress.com.