UNControllables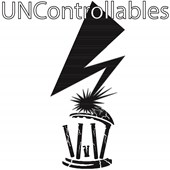 This week, Bursts spoke with members of the University of Chapel Hill-based student group called The UNControllables. Created in 2012, the UNControllables regularly present anarchist, feminist, anti-racist and anti-authoritarian presenters from around the world to speak to the student body and members of the community, organize around student issues, incarceration, reproductive health, and much more. For the hour, members of the group talk about what they've done and upcoming events they'll be hosting, in particular an upcoming event with CeCe McDonald, a Black Trans Woman & LGBTQ activist who went to prison for defending herself against a hate attack by a white man with a swastika tattoo on his chest and served about 19 months. She'll be at UNC Chapel Hill at the Sonja Haynes Stone Center for Black Culture & History for free on Monday, March 21st at 7pm. Check the UNControllables's fedbook page for details and updates.
A major focus of the discussion is the student and faculty opposition to the incoming president of the UNC systems, Margaret Spellings (#SpellCheck) this Tuesday at 11AM. The UNControllables knew of students at 7 of the 17 universities in the UNC system where student walkouts would lead to teach-ins and or protests around privatization of education and university services, threats to the continued cultures of Historically Black Colleges & Universities (HBCU) and Native Universities in the UNC system. Spellings past as former Secretary of Education under President George W. Bush and was a prime mover in the No Student Left Behind project, a former Senior Advisor at the Boston Consulting Group, the U.S. Chamber of Commerce, a former Board member of the University of Phoenix (facing lawsuits by former students), advisor to Ceannate (a for-profit student loan collection agency)… wow. There's also a discussion of current relations between UNC system and faculty, adjuncts and employees in these times of growing precarity. Aramark Industries, which provides "services" within the many prisons, detention centers and jails around the U.S. produces the food at UNC Chapel Hill, interestingly.
Some faculty and adjuncts in the UNC system have been organizing under the name of Faculty Forward – NC.
We also present a couple of announcements:
Anarchist prisoner Eric King has accepted a non-cooperating plea deal, which he;ll sign on March 3rd. If you're in Kansas City, MO & want to attend his hearing on Thursday at 1:30pm (or for other updates on his case) check out http://supportericking.wordpress.com
A request for letters supporting parole for accused former Black Liberation Army militant and New Afrikan activist and accupuncturist, Dr. Mutulu Shakur (written by the doctor) is up on http://mutulushakur.com along with information of his recent denial of release after serving 30 years since his arrest on February 12th, 1986.
Thursday, March 3rd at 6pm at Firestorm , 610 Haywood Rd, Asheville, NC 28806, the Political Prisoners Letter Writing Night will be holding a do-over for the January 22nd Trans Prisoner Day of Solidarity letter-writing night that was cancelled due to snow storms. Envelopes, paper, pens & postage will be provided. Check out the facebook event put on by Tranzmission Prison Project for more details.
Finally, there is a request for folks to seign a petition to Attorney General Loretta Lynch on behalf of Eddie Africa of the Move 9 following his 2 year hit during his recent parole hearing. The petition demands a federal investigation into the injustice and endangerment faced by the Move 9 To check it out, go to http://causes.com/campaigns/92454-free-the-move-9