Peter Linebaugh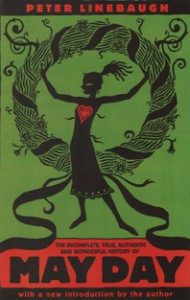 To friends we've met, and to those we have yet to meet, I'd like to wish everyone a happy May Day. As we'll hear in the following hour, this day has a long celebrated history. From its many European pagan roots as a celebration of fertility as the fruits of the spring planting season began to… uh, spring forth. Then on to the repressive winter that fell early on May 3rd and 4th of 1886 in Illinois with, first, the killing of workers striking for an 8 hour work day at the McCormick Works and then the repression of anarchist and socialist workers and organizers following the bombing at Haymarket Square in Chicago of that same year. From there to the taking up of May 1st as International Workers Day by struggling groups around the world and the U.S. adoption of a sanctioned Labor Day in September of the year.
To divide an international working class, The U.S. government, oppressors of that May Day 1886 sanctioned a Labor Day to be celebrated in September, declared the first of May both Law Day (an obvious testament to Irony in respect to the Haymarket 8, all jailed and 4 executed) and, for some, it's celebration as Americanism Day. Whatever that means. In 2006 & 2007, immigrants rights marches were seen on and around May Days that, for many, re-sparked the importance of this day. The protests and festivals swelled to numbers nearly unmatched in the history of protest on Turtle Island, and were accompanied by school and work walkouts and boycott days.
This hour we'll be hearing Peter Linebaugh, author of the recently printed book "The Incomplete, True, Authentic & Wonderful History of May Day" to present some of his meditations from the last 30 years but covering ancient times, through the first May Pole on Turtle Island, through to today.
The rest of the hour will feature songs that made myself and William, cohost of The Final Straw, feel a bit in the spirit of the day. Whether you're out there today taking direct action, in repose from the horrors of wage slavery, resisting the carceral state, gardening, dancing around a May Pole or otherwise celebrating the possibilities of this year to come when, hell, we might as well end this system of exclusion and extraction: We wish you a fire on your tongue, love in your heart and free land beneath you.