Asheville Anarchists Chat About Election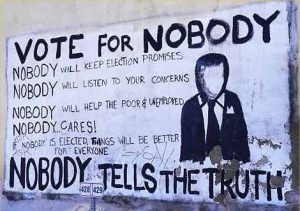 This week we spoke with two Asheville area anarchists, May and Julie, about THE ELECTION of all things. We talked about anarchist strategy in this day and age, the tactic of a general strike and what might prevent or incite some folks' participation, some things which are missing from anarchist and other discourse right now, the role of social media, and much much more. If you are listening to an hour long version of this conversation and want to hear more, please consider checking out the podcast version of this show, which is available via iTunes by searching The Final Straw Radio in the iTunes store or on any podcatcher device, or via our website thefinalstrawradio.noblogs.org.
Here is the reading list that May mentioned at the end of the interview, for people who are interested in further ideas:
*Taking Sides: Revolutionary Solidarity and the Poverty of Liberalism (ed. Cindy Milstein, available as a free e-book, along with two other pertinent titles, from AK Press until 11/30 http://us7.campaign-archive1.com/…)
*Pacifism as Pathology (Ward Churchill)
*Nonviolence Ain't What It Used to Be (Shon Meckfessel)
*How Nonviolence Protects the State (Peter Gelderloos)
*or, for something slightly more current from the above author: The Failure of Nonviolence
*Three-way Fight: Revolutionary Antif-fascism and Armed Self-Defense
*This Nonviolent Stuff'll Get You Killed: How Guns Made the Civil Rights Movement Possible (Charles E. Cobb)
And for a super solid source regarding anti blackness that Julie recommends, check out: Frank B Wilderson III's interview from IMixWhatILike
Announcements
Post-Election Unrest
After the election of Trump as POTUSA, cities around the U.S. have seen huuuuge protests. Portland, OR, in particular has seen over week of intense protracted street action in which people faced off with police and reactionaries in the streets. As such there have been many arrests and some are facing felony charges. There is a request for assistance in fund raising for arrest support.
Mateen Abdul Shaheed is a 20 year old youth of color who was arrested on a felony warrant and is currently being held on alleged charges of 6 accounts of criminal mischeif in the first degree, which is a class c felony in relation to ongoing events in Portland.
Please consider raising some funds and donating to a PDX-ABC gofundme
https://www.gofundme.com/support-fund-antitrump-activists
This is a great time to start developing regular fundraising strategies to support resistance and up our game. For ideas on soli-parties you could hold to raise funds and where you can raise awareness, drop us an email at thefinalstrawradio@riseup.net or check out fundraising needs at itsgoingdown.org