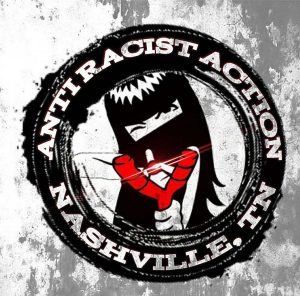 Nashville Anti Racist Action about the upcoming American Renaissance Conference in Burns, Tennessee from July 28th to 30th, 2017. AmRen, as it's called, is a yearly conference that sprange from Jared Taylor's suit and tie nazi thinktank journal by the same title and is being held on state land in Tennessee and anti-racists plan to make the "white identitarians" uncomfortable to say the least. For the hour we talk about anti-racist organizing in the South, about the upcoming "Unite The Right" convergence in Charlottesville, Virginia and more. Here's the fedbook page for Nashville ARA, and here's another state-wide coalition in Tennessee, TARN.
As an aside, big ups to the crowds that overwhelmed the KKK in Charlottesville on July 8th. The Klan had to be escorted by State Police to even escape the throngs of counter-demonstrators. NPR reports 50 Klan showed up, over 1,000 counter protesters and 23 anti-racists arrested, other reports include word of police brutalizations and felony charges. Here's a fundraising page for those arrested.
One resource we would like to point folks to if they're seeking to get involved with anti-racist and antifa groups over the internet, considering the honeypot and disinformation tactics being taken by the far right is Antifa checker, which vets social media sites for antifa and ARA groups and has social media presences on twitter, facebook and more.
Here's an article about last year's AmRen with a history of Jared Taylor and other organizers behind NPI, AmRen, Paleo-Conservatism, "Racial Realism," "Identitarianism," "Racialist," Sam Dickson and more buncombe.
For an interview from 2012 with Daryl Lamont Jenkins on AmRen & a lot of these topics, check out our archives.
Announces
Interview w/ Your Hosts at It's Going Down
If you wanna learn more about your hosts, get a blow by blow of the anarchist radio conference that happened in Greece earlier this year, and hear some A++ trolling, you can hear an interview that we did with members of the anarchist, anti authoritarian news platform It's Going Down! You can hear this interview in alls it's glory by going to http://itsgoingdown.org and searching "From LaZAD with Love". Tell us what you think by writing to us at thefinalstrawradio@riseup.net!
Dane Powell sentencing and J20 Solidarity
As many of you have probably heard already, the first of the J20 defendants was sentenced recently to 4 months of a 36 month sentence followed by 2 years of supervised probation. From a fundraising support statement: "Dane Powell is a father, veteran, water protector, and active community member, but will now forever be known as the first political prisoner of the Trump era." He is famous for pulling children and elderly folks out of the range of police chemical weapons on January 20th, and was arrested and held for days in DC lockup after having been profiled and dragged from a car on the 21st. You can read and listen to a fabulous interview that he did with the Bloc Party on It's Going Down, in which he talks about his reasons for taking a non cooperating plea deal and how he has been talking about all of this with his children, among many other topics. The interview links to other support sites and articles by co defendants. You can also see detailed reporting on his sentencing, along with helpful context, on Unicorn Riot
Dane Powell has been sentenced, but his address is yet to be released. Once it is available, we will point folks to that information because the importance of getting mail while in prison cannot be overstated. If you would like to donate to his support fund, which will go to his commissary and support for his family while he's inside, you can visit his fundraising support site here
This also seems like a good time to mention that CrimethInc is calling for an upcoming week of solidarity with J20 defendants. From their website "July 20 marks six months from the initial actions and arrests during Donald Trump's inauguration, and on July 27, a motion to dismiss the charges will be argued in court. The case has finally begun to receive the media attention it warrants; with this court date approaching and the cases underway, this is a crucial time for a second Week of Solidarity. Send report-backs, photographs, and inquiries to J20solidarity@protonmail.com."
More information can be had at crimethinc.com.
NC Defend J20 benefit events
As relates to the recent shout out for fund and awareness raising solidarity events for the upcoming week of Solidarity from July 20th-27th, 2017, we'd like to highlight a few North Carolina events:
July 20th, at Firestorm in Asheville, there will be a free showing of TROUBLE #4, from subMedia, about repression and movement building as well as #2 of Channel (A)!, a collection of anarchist representations in popular media. This starts at 6:30pm.
On July 22nd, there'll be a benefit concert in Asheville starting at 6pm with a bbq and bake sale and suggested donations. Bands include: Mutual Jerk (from Atlanta), Poor Excuse, Clyde Conwell & a SECRET SPECIAL GUEST (I really hope it's performers from "Now Thats' What I Call Kerkhophony Vol 1"). Look for the address for this show on http://ncj20defense.com soon
On July 25th at the Nightlight in Chapel Hill, NC, at 9pm there'll be benefit concert for the J20 defendants. Bands include: Institute, Drugecharge, Decoy & Dead On The Vine.
More on events around the world for the week of solidarity can be found at http://defendj20resistance.org/ and a good writeup with updates on the subject is up from crimethinc
Denver Fundraising
From Denver, there's a call out for fundraising for folks who caught charges counter-demonstrating the Islamophobic antics of "ACT for America" last month. They have some quite humorous shirts, particularly for our insurrectionary herbalists of the Laurel Luddite variety, as a fundraiser on a fundly page.
Update from Keith "Comrade Malik" Washington
Another update from Keith "Malik" Washington, a spokespersyn for the End Prison Slavery in Texas Movement:
Prisoners located in Lovelady, Texas, have filed their § 1983 Federal Civil Complaint in the Eastern District of Texas – Lufkin Division. TDCJ has the largest state prison system in the United States. Most of the 110 prison units are not air conditioned, and toxic water supplies are becoming a pervasive and systemic problem. At Eastham Unit, multiple prisoners have been diagnosed with h. pylori disease from the water. Due to the Heat Index, especially in the summer, prisoners must drink this contaminated water that's causing h. pylori. The prison store known as the commissary sells us "hot pots" which heat water but don't boil it. If we alter our Hot Pots in order to make them boil, they get confiscated and we are given a disciplinary case for contraband.
This issue raises 8th Amendment concerns, and the US Supreme Court has held that unsafe conditions that pose an unreasonable risk of serious dangers to a prisoner's future health. Several prisoners have been diagnosed with h. pylori disease which destroys the lining of the stomach. There is no known cure.
Malik, in a recent statement from which we're selectively quoting, and which is available at https://comrademalik.com/, goes on to compare the governments utter disregard for the prison population in Texas Department of Correction's jurisdiction, mainly made up of poor white, black, native, latinx and other marginalized peoples, to that of the administration in Flint, Michigan. In particular, the sick and the elderly are endangered by this while wards of the state in what may rightly be considered cruel but sadly maybe not so unusual circusmstances. The main prisoner involved in the case is a jailhouse lawyer named William Wells and the case can be found as: William Wells et al. Vs Bryan Collier et al. Cause #9:17-cv-80
For those of you who don't know, Bryan Collier is the Executive Director of the Texas Department of Criminal Justice (TDCJ).
If you'd like to learn more, send Malik some mail at:
Keith 'Comrade Malik' Washington, TDC# 1487958, 2665 Prison Road #1, Lovelady, TX 75851
And check out his writing on the support fedbook page or his website: http://comrademalik.com
Houston Anarchist Bookfair
Also related to Texas, we'd also like to inform folks that submission periods have begun for the Houston Anarchist Bookfair! The bookfair will be taking place on Sunday, September 24, 2017
From their www.generosity.com page, which can be found by visiting that site and entering in the phrase "Houstan Anarchist Bookfair":
"Houston Anarchist Black Cross will host a one-day convergence to network, grow, and celebrate anarchist and anti-authoritarian projects in Texas and the surrounding region, and we need help to make it happen!
This gathering will be entirely free as part of our commitment to accessibility, and because of this we need lots of help with funding from those who can support us. The event itself will be free, we will be providing lots of services at the bookfair for free with the help of volunteers, it is free to table or present a workshop, and we want to be able to help as many folks from out of town as possible with their travel expenses and housing needs. This event will have books, publishers, distros, zinesters, exciting workshops, and discussion to celebrate and expand our southern radical communities of resistance!
Money raised will go towards booking and renting our space, bringing people in from out of town, feeding people who attend the bookfair, buying supplies to set up the space, and funding accessibility for the space. If you're planning on coming to the bookfair, or coming to table or present a workshop, or are generally excited about this radical southern space happening, and you can help us raise the funds to make this event happen and keep it free, we need your help!
Solidarity, Feed The Possums, All that good stuff 🙂
-Houston ABC"
This'll be the first anarchist bookfair in Houston since 2011! If you'd like to participate in the bookfair more directly, they've opened up the submissions period for vendors and presenters, and they've put up a page for reaching out if you have housing or accessibility needs for the bookfair. Those links and more can be found at the events website, https://houstonanarchistbookfair2017.wordpress.com or reach the organizers at htxanarchistbookfair2017@gmail.com!