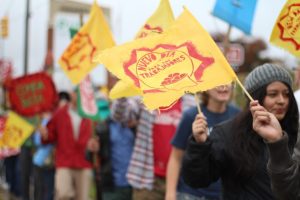 Airs on WSFM-LP 103.3 in Asheville / streaming at AshevilleFM from 3am EST on September 25th through October 1st and podcasting on libsyn.com.
For a 59 minute long, radio clean version for syndication purposes, please visit the archive.org collection.
Coalition for Immokalee Workers
Today we are airing an interview conducted with Lupe Gonzalo of the Coalition of Immokalee Workers in Immokalee, Florida. This is  is a worker-based human rights organization which seeks to promote awareness of social responsibility, human trafficking, and gender-based violence at work and in corporations, seeking to boost the voices of some of the more marginalized workers in the US. We talk about the ciw, how it got started, and about hurricane relief after Hurricane Irma. We also touch on some political differences and points of unity with anarchism. This interview was conducted in translation from Spanish into English, with Patricia of the Alliance for Fair Food doing translation. If anyone would like the full interview just in Spanish, please write to us and we will provide that audio!
If you would like to learn more about the Coalition of Imokalee Workers, and to donate to hurricane relief efforts, you can visit their online fundraising page
For more on this group, including how to get onto their email list, information on their radio station Radio Conciencia or La Tuya, and their upcoming visit to UNC Chapel Hill, you can visit ciw-online.org If you would like to see just one of the many accounts of anarchist accompliship and solidarity with the CIW you can go to It's Going Down and search "Autonomy in Tampa, Solidarity in Immokalee: Love Letter to the Future"
Further links for reading and solidarity:
Blog Concerning Hurricane Irma relief
Alliance for Fair Food's report on the state of the town of Immokalee
CIW Blog post about Hurricane Irma relief in Labelle, FL
CKUT's Prison Radio with Jalil Muntaquim
Then comes part two of Prison Radio's interview with Jalil Muntaquim, who is former member of the Black Panther party and the Black Liberation Army and is one of the longest held political prisoners in the world. While incarcerated, Jalil has become a father, grandfather and great-grandfather. Jalil graduated with a BS in Psychology and a BA in Sociology in 1994. He has written several books, arguably most notable being We Are Our Own Liberators, his most recent being a book of poems entitled Exiting the Prism.
More from CKUT out of Montreal can be found here!
Announcements
Duke Energy Protest & NCUC Public Comment Period
In Asheville on Wednesday, there'll be a protest against Duke Energy, which proposed to the NC Utilities Commission to raise electricity rates 15%, raising $200 million a year to pay for the cleanup costs of their coal ash dumps and build new infrastructure to keep us dependent on ecocidal fossil fuels. NCUC is holding a public hearing from 7-10pm at the downtown courthouse in Asheville, with a rally starting at 5pm and marching towards the courthouse. You can find a fedbook event for a training to help you get more comfortable with presenting during public comment period.
"Eyewitness to Charlottesville" at UNCA
Also in Asheville this Wednesday, Sept 28th at UNCA here in Asheville, there'll be a presentation from 6-8pm. Location to be determined, but you can find more at fedbook by searching for "Eyewitness to Charlottesville." The presenters are from the (shudder) International Socialist Organization (ISO) from Raleigh, a UNCA student and member of the Democratic Socialists of America (DSA), and members of the Carolina Mountain John Brown Gun Club, formerly Redneck Revolt.
Trouble #6 at Firestorm
BRABC will be airing Trouble #6 on Friday the 29th at 7:30pm.  This episode of the short-documentary series from sub.Media is focusing on Counter-Insurgency.  The showing is free and will be followed by a discussion with questions crafted by sub.Media on the topic.  The flyer for the event can be found here.
FBI visits more activists in WNC
From BRABC:
On September 8, 2017, an FBI agent attempted to visit a comrade in western North Carolina. They visited a house, and the person there stepped outside to talk to the agent, who repeatedly asked if the comrade in question lived there. The person at the house did not engage with those questions, and instead insisted on a card from the agent that a lawyer could call later. The agent said it was regarding a case being handled by another office.

This comes at a time when Anarchists have been standing up to a grand jury and other FBI harassment across the state of North Carolina. The person who the FBI agent was seeking secured legal representation. On September 13, 2017, their lawyer called a number the agent wrote down, and the FBI specified that they were actually looking to speak with the person's child, a minor. The FBI said that they were seeking the original person because a legal guardian had to be present for the agent to talk to the minor. During that call the agent stated she wanted to ask about graffiti on a car related to a case being investigated by the FBI Field Office in Raleigh, NC. The minor in question has now secured legal representation. Nobody above is speaking to the FBI.

We cannot just hope that harassment like this stops. Get educated on how to protect yourself if the FBI shows up. If you are approached by the FBI, refuse to answer their questions. Know your rights! Please read If An Agent Knocks for more information. We cannot let them intimidate us and raise fear and distrust.

If An Agent Knocks: https://ccrjustice.org/if-agent-knocks-booklet