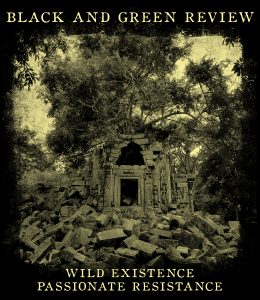 Airs on WSFM-LP 103.3 in Asheville / streaming at AshevilleFM from 3am EST on October 2nd through October 7th and podcasting on libsyn.com.
For a 59 minute long, radio clean version for syndication purposes, please visit the archive.org collection.
Interview
This week Bursts spoke with Kevin Tucker, anarcho-primitivist, author and publisher of Black & Green Review. We had a rather lengthy conversation, so we've split the conversation up. This is the first portion, in which Kevin talks about anarcho-primitivism, domestication, civilization, anthropology and the scientific method, human development, agriculture and more.
In the future episode you can hear his views about tribal-bro-ism in the white supremacist approach to historical misappropriation, upcoming issues of Black & Green Review, Collapse, Rewilding versus Revolution and more. For a free look at some of Kevin's writings, visit theanarchistlibrary.org, and to check out his publishing project, journals and books you can visit blackandgreenpress.org
Other Audio
Today's episode premiers October 1st, which is the date of the #CatalanReferendum for independence in that northern region within the bounds of Spain. In the leadup, the Spanish government has violently repressed the efforts to hold this election and the news we're seeing today is no different. If you'd like to hear a chat I had earlier this week with an English-speaking anarchist who has long resided in Catalunya about Catalan nationalism, autonomy, cultural differences between that region and central Spain, some history and some forecasts of where this referendum and repression may go (always critical of the State and Capital), check out our downloadable podcast.
Also, keep an ear out for an upcoming series of podcast miniepisode 's featuring William Budington and Bursts chatting about digital security and safer practices with our devices. We've got a couple coming out about practices with Burner Phones and strengths and weaknesses of wrangling with the Signal app for end to end encrypted texts from Open Whisper Systems.
Announcements
Defend J20: Call in Day for US Attorney Liu
This Monday October 2nd is the last day for a concerted call in effort to urge the US Attorney to drop the charges against the J20 defendants.
You can join the defend j20 crew in welcoming brand new US Attorney Liu to office with a flood of phone calls demanding that the J20 charges be dropped! Sign up at call.usattorneyliu.org to reserve your time slot. The fine folks there will send you an email with more details and a suggested call script. Her number is 202-252-7566, or if you cannot call in you can send a letter to the Judiciary Center Building, 555 Fourth Street, NW, Washington, DC 20530.
October 19th Call for Solidarity
There has been a formal call for solidarity from antifascists around the south to oppose an appearance by the by now internationally infamous white supremacist Batman villan Richard Spencer. It has been officially confirmed that this piece of white bread is going to be spewing pseudo intellectual and only marginally intelligible xenophobic racism at University of Florida in Gainesville on October 19th, which is in just over 2 and a half weeks from now.
You can see the entire formal call for solidarity, plus some important context that includes recent history and what to be prepared for, at It's Going Down.
You can get in touch if you want to endorse this call and are planning on being there in solidarity by emailing oct19endorse@riseup.net
Support Herman Bell!
"Black Panther Party political prisoner Herman Bell was viciously assaulted by guards at Great Meadow Correctional Facility (Comstock) on September 5, 2017. While being "escorted" by a guard back to his housing unit, a guard struck Herman, age 69, in the face causing his glasses to drop to the floor. He pushed Herman against the wall, Herman stumbled and fell to the ground. The guard then continued viciously hitting and kicking Herman. Very soon about 5 other guards arrived and joined in the violent attack, hitting and kicking Herman all over his body.
Herman Bell has now been charged with "assault on staff." Defying common sense, they allege that Herman, for no apparent reason, slapped the guard escorting him. He did this, they claim, in a location out of the view of all inmates but in the presence of other guards. He is now in the Special Housing Unit (box) at Five Points Correctional Facility where he was transferred after the incident.
Herman Bell has not had a disciplinary violation in over 20 years. He had been scheduled to begin a three day family visit with his wife a few days after the incident, their first such visit in over 2 1/2 years. In addition he is to appear before the parole board, for the 8th time, in February 2018.
At this time, we are encouraging everyone to take the time to write to Herman or send him a get-well card, so that the authorities know we are concerned for Herman. Further requests for actions of support will be posted soon.
His new address is:
Herman Bell 79 C 0262
Five Points CF
6600 State Route 96
Caller Box 119
Romulus, N.Y. 14541
Friends and family are also encouraging supporters to email Commissioner Anthony Annucci, to let him know that folks are keeping tabs on Mr. Bell's situation. Commissioner Annucci's email address is: Anthony.Annucci@doccs.ny.gov
You can see a sample letter and a bunch more information at this article here: Political Prisoner Herman Bell Assaulted by Guards
Comrade Malik Washington
Comrade Malik, a tireless writer and organizer who's been very active in exposing unsafe conditions at the Eastham Unit in Texas, is facing retaliation from prison staff, and is asking supporters to email the Texas Ombudsman to prevent any further action being taken against him. You can find out more information at Action Needed to Fight Retaliation at the Eastham Unit!
Support Shaka Shakur and Angaza Bahar
At the Wabash Valley Correctional Institute in Indiana, Shaka Shakur, who is a political prisoner, defended himself against mistreatment by guards, and another, Angaza Iman Bahar (Jimmy Jones), who helped alert the outside world to the situation, are both facing disciplinary charges.
Wabash Valley Correctional has been getting a reputation for "a culture of sadism [in which] guards take pride and find humor in their mistreatment of inmates, especially Black and New Afrikan inmates whom they expose to every kind of abuse and humiliation." IDOC Watch are asking people to call in so the prison knows that they both have outside support.
It is urgent that the security of Shaka Shakur and Angaza Bahar be ensured, but the only way is through mass pressure from the outside. IDOC Watch asks that people call Wabash Valley warden Richard Brown at 812-398-5050 and IDOC Commissioner Robert E. Carter Jr. at 317-232-5711. You can also email IDOC officials at rcarter@idoc.in.gov, rbrown@idoc.in.gov, mauxier@idoc.in.gov, jbasinger@idoc.in.gov, and lsalinas@idoc.in.gov
You can see the entire call, which includes helpful context and analysis, and sample letters and emails at incarceratedworkers.org.