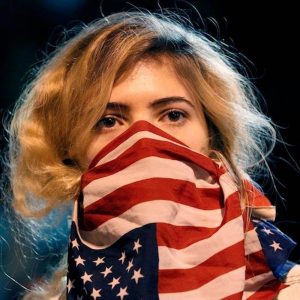 Interview with Eleanor Goldfield
This week we spoke with Eleanor Goldfield, who is an activist on the far left and a proponent of creative activism, a stance that centers creative approaches to direct action with the aim of leading people to interrogate their own politics on an emotional and psychological level. From her website: "Creative Activism is outreach and change through the mediums that appeal to all people and all of people – their emotions, conscience and intellect, in that order. It places itself at the intersection of pop culture and politics, bringing the two together."
We talk about different approaches to politics and direct action, as well as her new book Paradigm Lost; Radical Verse and Visuals for the Shift, which is a collection of her original spoken word poetry accompanied by mixed media artwork from around a dozen artists. We also talk about the book and her upcoming performance date in Asheville on December 9th at Firestorm Books and Coffee!
To see more of Eleanor Goldfield's work, including links to the musical project Rooftop Revolutionaries, information about the media project Act Out! (available on occupy.com and Free Speech TV) and many more writings, you can visit artkillingapathy.com.
The radio version has some material cut due to length, though the podcast version has all those pieces included back in. To see that version, plus archives of this show, you can visit thefinalstrawradio.noblogs.org.
Announces for Asheville
Next Sunday, December 3rd, Blue Ridge ABC does it's monthly letter writing night at Firestorm Books & Coffee from 5:30 til 7:30pm. Paper, pens, stamps, envelopes and the addresses and info on political prisoners in the U.S., particularly those having upcoming birthdays, are all available for free! Come on by and send someone behind bars some kind words.
After that at 8pm you can join folks across town for a game of Radical Trivia. This event is 21 and up, happening at the Lazy Diamond bar at 98-A N. Lexington Ave, there'll be some potluck food for sharing and a cash prize for the winning team or person. To form a team and get on the roster, you can drop an email to jtheophilos@gmail or sign up at the night of. This event will benefit the 2018 Asheville Anarchist Bookfair happing in the summer. Various levels of knowledge are welcome and topics will span a few categories.
Playlists here