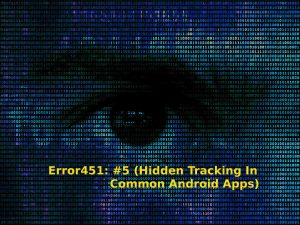 This week, William Budington chats with Bursts about the recent exposé published by Yael Grauer at The Intercept about research by Exodus and Yale Research Group leading to the findings that hundreds of common apps available from the Android Google Play Store contain clandestine tracking apps, allowing for the scooping up of the data a phone user gives off throughout their use of the device.  Ever wonder why a free flashlight app needs permission to access your microphone?  Here's why!
We also chat a bit about F-Droid, a platform for free and open-source apps outside of the Play Store, many designed at increased transparency of device usage.
At one point, Bursts brings up criticisms aired about the F-Droid repository by Moxie Marlinspike, a founder of Open Whisper Systems, which makes the Signal App for free end-to-end encryption. William is kind enough to explain what the concerns come from and his views on the subject.
Like this show?  Rate us on I-Tunes or dop us an email, check out other Error451 episodes or our regular feature, The Final Straw Radio.
Oh, and you should know better than to be on social media, but if you are willfully ignorant, we are findable on fedbook, instagram and twitter.