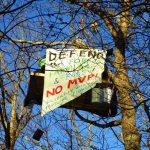 Main Interview: Stop the MVP and All Pipelines!
(at ~ 16min, 38sec)
This week, Bursts spoke with Birch and Judy, two folks involved in the Tree Sits on Peter Mountain along the Appalachian Trail on the border of Virginia and West Virginia.  The tree sits are operating in order to block the Mountain Valley Pipeline or MVP.  Before all of the permits have been ok'd, contractors with the help of local law enforcement have been clearing the path for the pipeline.  This preparation would include 3,800 feet blasted through the mountains or if that didn't work the blasting of a trench that length through the mountains.  We also talk about the ACP, or Atlantic Coast Pipeline, in this conversation and the connections between the two projects and their resistance.
These constructions (or destruction) and the resultant pipelines threaten the plants, animals (human and non) and all of the water systems along the route as well as continuing to foster an energy system that feeds off of the unsustainable extraction, transport and burning of fossil fuels to the short term benefit of a few government officials and capitalists and to the detriment of the entire world via anthropogenic, or human initiated, climate change.
To get involved, you can contact: petersmountainstand@protonmail.com.
You can donate to support at their youcaring site
For more information on the the Peters Mountain tree sit, the campaign against the MVP and how to join in or support where you are, check out the fedbook page Appalachians Against Pipelines.  To keep up on resistance to the ACP, you can follow the twitter account, NoACP.  And to learn more about anti-pipeline struggles in Virginia, in particular, check out the podcast, "End Of The Line".  We interviewed a producer of this project in an earlier episode.
Retraction of a previous Sean Swain segment
To open our announcements section, I'd like to air a brief statement in the spirit of accountability. As per the very reasonable request on the part of the folks doing support for Alvaro and Abraham, we have omitted the Sean Swain segment for the episode in which we interviewed Bruno Rennero-Hanan regarding Keep Loxicha Free, which originally aired on February 18th. The You Are the Resistance topic did not pair well with the main interview content, and the group that was being interviewed did not have any prior knowledge of the segment. We very much regret any confusion or discomfort that this caused, and all versions of the show have since been updated to remove the segment in question.
We would like to take a bit of space here to contextualize these segments for new listeners, which is to say that the Sean Swain segments are presented in the spirit of satire; Swain himself has been a political prisoner for over 25 years at this point, and his humor can get abrasive, but he is a committed believer in the dismantling of all forms of oppression. This is in no way to imply that they should be free of interrogation or troubling, and we are open to feedback on this segment and any other content we present!
Due to separate, technical difficulties, we are unable to air a Sean Swain segment this week. But fear not, Swainiacs, for next week Sean should be back. To brush up on the over 200 segments we've recorded of Sean over the years, please visit SeanSwain.org
Some Events in Asheville
Mutual Aid Disaster Relief Tour
At Firestorm in Asheville, NC, Mutual Aid Disaster Relief will continue it's tour of 2 night presentations around the region with Protectors v. Profiteers: Communities in Resistance to Disaster Capitalism on March 9 @ 7:30 pm EST.  The next day at 3pm (correction, had said noon in the podcast), in the basement of Firestorm, at Kairos, MADR will also host Part 2 of their tour, Giving Our Best, Ready For The Worst: Community Organizing as Disaster Preparedness.  These events will be free.  More info on these and other tour stops is available at https://mutualaiddisasterrelief.org.
"Hebron" Documentary
Coming up: the group, Jewish Voice for Peace – Asheville presents a film screening of the 35-minute documentary Hebron, by Palestinian filmmaker and now Asheville resident Yousef Natsha, followed by a panel discussion and Q&A with the filmmaker and other community members.
The showing will take place on Sunday, March 11th, at 3:00pm at THE BLOCK off Biltmore, 39 S Market St B in downtown Asheville.  More info on the film can be found at his website here, and stay tuned for an interview with the filmmaker on this film and many other topics on this here radio platform!
Other Announcement: J20 West Coast Tour
J20 West Coast Speaking Tour will be doing a daily stops down the Pacific coast of Turtle Island.  Today, March 4th, they'll be in Olympia, Monday the 5th they'll be in Portland, Tuesday they'll be in Eugene… etc, ending up (announced so far) in Tuscon on March 18th.  If you find yourself in that route and want to hear the voices of defendants and build that movement support, give a visit to http://defendj20resistance.org/blog/ and find the link and image.
Support Ruchell Cinque Magee!
(at ~ 8 min, 40 sec)
And here's an announcement about the man who may be the longest held political prisoner in the world. Ruchell was originally from Franklinton, La., he was falsely charged with "attempted rape" for being with a White girl in KKK territory. He was 16 and sentenced to the infamous Angola State Prison. Ruchell Magee was politicized alongside George Jackson and was involved in the Marin County Courthouse Rebellion alongside Jonathan Jackson, William Christmas and James McClain in 1971. He'll be up for parole this year after 54 years behind bars, 7 of which were for his prior conviction.
More info from PrisonerSolidarity.Net:
Ruchell is the longest held political prisoner in the U.S., having been locked up since 1963. Politicized in prison, he later participated in the Marin County Courthouse Rebellion, the attempted liberation of political prisoner George Jackson. Ruchell Magee pled guilty to the charge of aggravated kidnapping for his part in the assault. In return for his plea, the Attorney General asked the Court to dismiss the charge of murder (Magee being the shooter of Judge Haley). Magee later attempted unsuccessfully to withdraw his plea, and was sentenced in 1975 to life in prison. He has lost numerous bids for parole. He has also worked tirelessly as a jailhouse lawyer, working on his own case and helping many other prisoners win their freedom.
He had been in L.A. for 6 months when he and his cousin Leroy got in a fight over a $10 bag of marijuana. In court, the two ended up with trumped up charges of kidnapping and robbery and he was given life in prison.
While in prison Ruchell began learning the long and rich history of Black liberation history. He adopted the middle name of Cinque, after the enslaved African who led the takeover of the slave ship Amistad, which eventually lead to the freedom of all the people being held on board. He began petitioning his unjust sentence to no avail. Although critically wounded on August 7, 1970, Magee was the sole survivor among the four brave Black men who conducted the courthouse slave rebellion, leaving him to be charged with everything they could throw at him.
Here is some background on the Marin Courthouse Incident
On August 7th, 1970 Jonathan Jackson, age 17, George's younger brother, raided the Marin Courtroom and tossed guns to prisoners William Christmas and James McClain, who in turn invited Ruchell to join them. Ru seized the hour spontaneously as they attempted to escape by taking a judge, assistant district attorney and three jurors as hostages in that audacious move to expose to the public the brutally racist prison conditions and free the Soledad Brothers (John Clutchette, Fleeta Drumgo, and George Jackson).
McClain was on trial for assaulting a guard in the wake of Black prisoner Fred Billingsley's murder by prison officials in San Quentin in February, 1970. With only four months before a parole hearing, Magee had appeared in the courtroom to testify for McClain.
The four revolutionaries successfully commandeered the group to the waiting van and were about to pull out of the parking lot when Marin County Police and San Quentin guards opened fire. When the shooting stopped, Judge Harold Haley, Jackson, Christmas, and McClain lay dead; Magee was unconscious and seriously wounded as was the prosecutor. A juror suffered a minor injury. In a chain of events leading to August 7, on January 13, 1970, a month before the Billingsley slaughter, a tower guard at Soledad State Prison had shot and killed three Black captives on the yard, leaving them unattended to bleed to death — Cleveland Edwards, "Sweet Jugs" Miller, and the venerable revolutionary leader, W. L. Nolen, all active resisters in the Black Liberation Movement behind the walls.
After the common verdict of "justifiable homicide" was returned and the killer guard exonerated at Soledad, another white-racist guard was beaten and thrown from a tier to his death. Three prisoners, Fleeta Drumgo, John Clutchette, and Jackson were charged with his murder precipitating the case of The Soledad Brothers and a campaign to free them led by college professor and avowed Communist, Angela Davis, and Jonathan Jackson.
Magee had already spent at least seven years studying law and deluging the courts with petitions and lawsuits to contest his own illegal conviction in two fraudulent trials. As he put it, the judicial system "used fraud to hide fraud" in his second case after the first conviction was overturned on an appeal based on a falsified transcript. His strategy, therefore, centered on proving that he was a slave, denied his constitutional rights and held involuntarily.
Therefore, he had the legal right to escape slavery as established in the case of the African slave, Cinque, who had escaped the slave ship, Armistad, and won freedom in a Connecticut trial. Thus, Magee had to first prove he'd been illegally and unjustly incarcerated for over seven years. He also wanted the case moved to the Federal Courts and the right to represent himself.
Moreover, Magee wanted to conduct a trial that would bring to light the racist and brutal oppression of Black prisoners throughout the state. "My fight is to expose the entire system, judicial and prison system, a system of slavery.. This will cause benefit not just to myself but to all those who at this time are being criminally oppressed or enslaved by this system."
On the other hand, Angela Davis, his co-defendant, charged with buying the guns used in the raid, conspiracy, etc., was innocent of any wrongdoing because the gun purchases were perfectly legal and she was not part of the original plan. Davis' lawyers wanted an expedient trial to prove her innocence on trumped up charges. This conflict in strategy resulted in the trials being separated. Davis was acquitted of all charges and released in June of 1972.
Ruchell fought on alone, losing much of the support attending the Davis trial. After dismissing five attorneys and five judges, he won the right to defend himself. The murder charges had been dropped, and Magee faced two kidnap charges. He was ultimately convicted of PC 207, simple kidnap, but the more serious charge of PC 209, kidnap for purposes of extortion, resulted in a disputed verdict. According to one of the juror's sworn affidavit, the jury voted for acquittal on the PC 209 and Magee continues to this day to challenge the denial and cover-up of that acquittal.
Ruchell turns 79 years old this month and eligible for parole for several reasons, including the impanelment of a federal three-judge order to release elderly prisoners to reduce the prison population.
You can write to Ruchell by addressing mail to:
Magee, Ruchell #A92051 B3-270
California Men's Colony State Prison
PO Box 8103
San Luis Obispo,, CA 93409-8103
To read a recent article by former Black Panther Kiilu Nyasha including words by Ruchell, you can go to the SF Bay View.