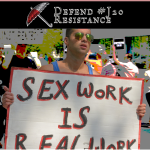 In this week's episode of The Final Straw Radio, we have three segments on two subjects. This week there'll be no Sean Swain segment due to technical difficulties, but we hope to be hearing his clarion call towards dancing around the ashes of swivelization next week.
In part one, I spoke with Friday, a former J20 defendant and a supporter of the remaining 59 facing charges. We talk about the arrests, the case so far, what we saw come out of the first trial group in November of last year and the upcoming trail date set for April 17th, 2018. On Monday and Tuesday, April 2nd and 3rd there will be a call-in campaign for the for U.S. Attorney Liu to #DropJ20 and on Tuesday, April 10th there is a call for a day of solidarity with the J20 defendants. More info on that can be found in this episodes show notes or up at defendj20resistance.org alongside printable pdf's plus ideas for solidarity actions alongside the #'s and scripts for the call-in campaign.
In part two of this episode, we'll be airing a statement from episode 24 of the Hotwire. Here, you'll hear LX, an anarchist and sex worker in the Midwest, where they'll talk about their perspectives about the impacts of the laws, as well as views of recent struggles among strippers in NYC, NOLA & RVA, tools sex workers have made for themselves to share information, as well as words of encouragement for sex workers and ways that non-sex-workers can offer solidarity . You can find a full transcript of what LX has to say, alongside the rest of the Hotwire episode which we recommend giving a gander and listen, at their website.
Following LX's breakdown of the law and some of the views around it, you'll hear William Budington in the inaugural episode of season 2 of the occasionally weekly tech podcast from an anarchist perspective, #error451. William (a tech expert and trainer who is employed at the Electronic Frontier Foundation) breaks down the development of SESTA (which has been folded into the now-passed FOSTA (or Fight Online Sex Trafficking)) ACT, which awaits Trumps signature. The bills posed as anti-sex or human trafficking laws, however William argues, as do many groups who fight against sex trafficking in the U.S. plus consensual sex workers and their advocates, that FOSTA will hurt adults engaging in erotic services and drive them into the shadows where they in fact face more dangers, that FOSTA will take tools from their hands in keeping safer, and that even the US Department of Justice has warned that the Act will making finding and prosecuting actual human traffickers much, much harder.
Though there'll be some overlap in what is said between William and LX, we wanted to keep the two presentations intact.
A few links that both folks mentioned to pay attention to include: Tits And Sass ; SWOP ; Tech Dirt #157 ; Strippers organizing in NOLA ; Desiree Alliance ; Survive The Club ; An informative IGD article we pulled some links from with MORE INFO.
A quick announcement about former black panther and political prisoner, Herman Bell. Herman has been in prison for 45 years for the killing of two police officers during his time with the Black Liberation Army. He has expressed remorse for the killings and family members of one dead cops has expressed that they want Herman released. He has been granted parole to be released on April 17th but there has been a pushback by the Policeman's Benevolent Association in NY state and they've been backed by Mayor deBlasio and Governor Cuomo in attempting to block Herman's release. If you want to help press back, you can:
Here are THREE THINGS YOU CAN DO RIGHT NOW to keep the pressure on in support of Herman Bell::
CALL New York State Governor Cuomo's Office NOW
518-474-8390


EMAIL New York State Governor Cuomo's Office
https://www.governor.ny.gov/

Script for phone calls and emails:
"Governor Cuomo, my name is __________and I am a resident of [New York State/other state/other country]. I support the Parole Board's decision to release Herman Bell and urge you and the Board to stand by the decision. I also support the recent appointment of new Parole Board Commissioners, and the direction of the new parole regulations, which base release decisions more on who a person is today than on the nature of their crime committed years ago. Returning Herman to his friends and family will help the heal the many harms caused by crime and decades of incarceration. The Board's decision was just, merciful and lawful, and it will benefit our communities and New York State as a whole."


TWEET at Governor Cuomo: use the following sample tweet:
".@NYGovCuomo: stand by the Parole Board's lawful & just decision to release Herman Bell. At 70 years old and after more than 40 years of incarceration, his release is overdue. #BringHermanHome." 
Before we start, we want to share the great news that we can now be heard Mondays at 8pm on the airwaves of KRJF-LP on 92.3FM in Santa Rosa, California! Hella hello, buddies!! We also can be heard on air Sundays on WSFM-LP in Asheville (NC), Mondays on KWRK in Fairbanks (AK) and KWTF in Bodega Bay (CA), Tuesdays on KOWA-LP in Olympia (WA) and Sundays at WCRS in Columbus (OH). If you are hearing this show and want it up on your local airwaves, please consider visiting our website and clicking the Radio Broadcasting link for details and ideas about how you can make that happen. The more stations our free radio show airs on, the more people get to hear the voices we're presenting.
We'd like to remind you that if you appreciate the Final Straw, you can show that appreciation by sharing this show with your friends (we are on most of the crappy social networks out there), by rating us on iTunes, by sending us an email or a letter with suggestions and feedback, and also by making a onetime donation via paypal or a recurring donation via Patreon. Your donations help us to pay for equipment and attend events like the upcoming A-Radio Gathering in Germany from which we'll surely bring you voices you won't hear anywhere else. Thanks and have a great week!