Hace un año: Charlottesville (EEUU) y el asesinato de Heather Heyer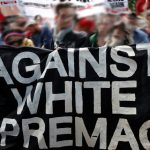 El 11 y 12 de agosto de 2017 fascistas de diferentos tipos organizaron una manifestación en Charlottesville, Virginia, que llamaron Unite the Right, unificar la derecha. Antifascistas y otra gente organizaron una contraprotesta y lograron parar ese evento tan horrible. Sin embargo un fascista entró con su vehículo a la contraprotesta, lesionando más de una docena de personas y matando a Heather Heyer en el proceso. Ahora es el primer aniversario.
Hace un año tuvimos la oportunidad de hablar con un compa de los Estados Unidos (de The Final Straw) que participó en la protesta antifascista. Hablamos del evento Unite the Right como tal, pero también de los diferentes tipos de fascistas allí, de la contraprotesta antifascista, del trágico asesinato de Heather Heyer así como de la infraestructura médica y de apoyo de trauma en pie por activistas antifascistas. También tocamos el tema del debate en los Estados Unidos sobre el autoarmamiento así como las perspectivas desde aquí.
Duración: 30 min
Aquí el audio: archive.org (mp3 | ogg).