Cindy Milstein, part one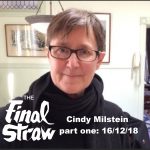 Cindy Milstein is an anarchist, activist and author who was a touring few months back with Rebellious Mourning: The Collective Work of Grief, published last year by AK Press. The book is compilation of essays by various authors about loss in it's myriad forms experienced under cis-hetero-patriarchy, in a capitalist settler colonialism, anti-Black and otherwise racist, able-ist society. After Cindy came to speak at Firestorm Books in October 2018, we sat down for a LONG chat. In this FIRST hour, Cindy shares thoughts on the following topics and more: a prior book they put together, Taking Sides (AK Press, 2015); the process of making Rebellious Mourning and creating "brave spaces" for engaging with hard topics; prefiguration during the anarchist summer camp they help organize called the "Institute for Advanced Troublemaking"; and multi-generational care and care-taking in anarchist communities.
When I say the conversation was long, I mean that we recorded for about two and a half hours. We present the first hour here for radio audiences. We're also going to do an out of the ordinary for us thing, which is that we're going to release the second half along side it. You'll find part two linked in this blog post soon, so you can listen to the both back to back if you choose. Next week, this second half will air for radio audiences but our podcast listeners will get a special treat because in place of a new Final Straw episode,, we'll be sharing a new episode of our occasional tech security from an anarchist perspective podcast, Error451. So, stay tuned for the voice of someone engaged in spreading tools of encryption for free to help you to protect your right to whisper.
You can check out Cindy's writings on their blog and you can find many of their books up at AKPress.org and anarchiststudies.org.
Announcements
New Broadcast, KFUG-LP!
First, we happy to announce that we'll should be airing this Sunday at 12pm Pacific time for the first of many broadcasts on the airwaves of KFUG-LP, Crescent City in Del Norte County in California. KFUG broadcasts at 101.1fm and streams on the website kfugradio.org!
Unist'ot'en Camp Needs Help
The Canadian State has declared an injunction against the First Nations Unist'ot'en camp blocking Transcanada from building a pipeline through their unceded territory from the Alberta Tar Sands to the east.  They need folks to come and join the blockade, they have an updated asks list for donations and you can keep up by find them on social media or checking their website Unistoten.Camp
Jeremy Ricard, Prisoner Check In
Jeremy Ricard, a prisoner at David Wade Correctional in Homer, LA, has been facing repression from guards in the forms of getting maced, kept in solitary, beaten, had his personal and legal property taken and given only a paper smock for the 30 days at a time. A friend has asked folks to contact the prison and express concern about his situation and care.  Jeremy Ricard's prison number is #511078 and the Warden at David Wade is Jerry Goodwin. Warden Goodwin can be reached at (318) 927-0400
Donations & Support
If you care to support The Final Straw Radio, please consider a one-time donation via our paypal or a recurring donation via our Patreon or librepay. We have items on the Patreon and our BigCartel webstore to thank supporters including stickers, buttons, t-shirts and zines, great for the socially required gift-giving holiday season. We never charge for our audio work, so if you feel like you can kick back some cash our way, we really appreciate it! Find more info at our website by clicking the Donate/Support Button.
. … . ..