ROAR Conference 2019 + Spencer Sunshine on Fascism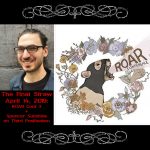 [Sean Swain at 2m40s]
This week on the show, we feature two segments.
First up, an organizer with the Revolutionary Organizing Against Racism, or ROAR Conference shares perspectives on the upcoming conference, May 18 & 19, 2019 on stolen Ohlone land in the so-called Bay Area. More info on ROAR Conference at roar-conference.com
[ROAR starts at 9m32s]
Then I spoke with journalist and anti-racist activist Spencer Sunshine about various far right and racist tendencies such as traditionalism and third-positionism, in relation to the current landscape of anti-fascist struggle in Turtle Island and in particular tendencies suspected in relation to the demolition of a building at the Highlander Education and Research Center in New Market, TN at the end of March, 2019. More writings by Spencer can be found at spencersunshine.com, at his fedbook author page or on twitter by searching the username @transform6789.
[Spencer Sunshine starts at 30m47s]
Announcements
Atlanta Solidarity
On Friday, April 12th at 8pm there was a ruckus noise demo outside the Dekalb County Jail where prisoners had been able to get out word of physical violence out of camera-view by guards, black mold conditions and more against the mostly indigent, mostly POC prisoner population in this Atlanta Jail. You can hear an interview with the mother of two prisoners mistreated in that jail who got the word out about conditions on IGD's This Is America #68 from April 12, 2019. At the noise demo, at least two people were arrested and there's a fundraiser up to help cover legal costs. You can find that fundraiser and kick in by visiting atlsolidarity.org
Immigrant Solidarity Rally, Asheville
Listeners in the Asheville area, on Monday April 15th there'll be a demonstration in front of the Federal Building at 115 Patton Ave in downtown to mark the year anniversary of the 2018 ICE raids against our communities. The demo will be organized by CIMA, or Companeros Inmigrantes de las Montanas en Accion, and will focus on the continued danger faced by our undocumented loved ones, friends and families. This is also in opposition to HB370 currently in process at the state level that would force collaboration between sheriff departments and Immigration and Customs Enforcement. CIMA urges people to show up in force.
Asheville Black Mama Bail Out Benefit
Also, on Saturday, April 27th at show o'clock at The Bottle Shop next to Firestorm Books, Blue Ridge ABC will be hosting a benefit for Black Mama Bail Out efforts organized by Southerners On New Ground. The show will feature performances by XOR, Kangarot, Nomadic War Machine and more. Check out the flyer and more up at brabc.blackblogs.org
. … . ..