Humor, Shaming and Yelling At Racist Dogs w Tom Tanuki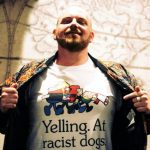 On the show this week, Bursts spoke with Tom Tanuki, front man of the group Yelling At Racist Dogs (Y.A.R.D.), a performance anti-fascist group that directs insulting yells at far-right, xenophobic events and speakers. For the hour we talk some about Tom's background, the landscape of far-right politics in Australia and the place of humor and public shaming in confronting racist public figures in the work that Tom and his comrades do. You can follow Tom on twitter at the handle @tom_tanuki, on instagram at the same handle minus the underscore (@tomtanuki), and on fedbook by finding Yelling At Racist Dogs. And you can find the shirts Tom talks about at their bigcartel page.
[Sean Swain at 2min 53sec, Tom Tanuki at 11min 23sec]
We stole this picture from Subversion1312's interview with Tom. A couple of the resources that Tom references at the end of the interview are Blackfulla Revolution and Black Feminist Ranter by Celeste Liddle, both pages on fedbook, and the book on Australian history he suggests is called Dark Emu by Bruce Pascoe. Stay tuned for an upcoming episode where we share my interview with Andy Fleming, the maniac behind SlackBastard, an exhaustive commentary on the far right in Australia (as well as the tankie left and Andy's thoughts about anarchism, antifa and more) up at slackbastard.anarchobase.com.
Announcements
May Day in Asheville
If you're in Asheville this May 1st, Wednesday, there're a few events we're happy to share. At 10 am there's a rad families meetup at Vermont Ave playground at the West Asheville Park. Buncombe County schools are closed due to call ins by teachers as a part of the organizing wave known as Red4Ed and there'll be a large march and rally in Raleigh, the state capital. For those unable to make it, there's an 11am rally by teachers at the Vance monument downtown. Festivities begin at 3pm at the park on Vermont Ave with a roving bike ride, with some bikes provided. This'll be followed at 4:30pm by a game of kickball and at 6pm, a short parade will commence from 644 Haywood Rd complete with a marching band. At 7:30 there'll be a potluck with free vegan and gluten-free options and, finally, a public showing of the working class-ic, "9-5", featuring Dolly Parton. More info by visiting https://tfsr.wtf/avlmayday
. … . ..