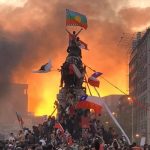 This week William had the chance to interview someone, a 20 year old anarchist from the territory of so called Chile, about the uprisings which have been occurring there. The protests began on Monday October 14th in Chile's capital, Santiago, as a coordinated fare evasion campaign by high school students which led to spontaneous takeovers of the city's main train stations and open confrontations with the Chilean Police. While the reason for these protests was a fare hike for public transportation by the government and the transit companies, this was only the tipping point in a much larger and diffuse situation of economic pracarity. We will post a great info graphic on social media about all that is tied up in this situation, but in short education and healthcare are private and so are very expensive, jobs pay very little (400 US dollars a month on average), and it is the only country in the world where water is privatized. According to Food and Water Watch, having a privatized water system increases the yearly cost of water by 59%, or over twice the amount as public water. Many of the systems that people are forced to live under, such as the current mechanisms of the State of Emergency and the pension system, were created under the Pinochet dictatorship and have not been updated to reflect the so called "democratic" rule.
Our guest outlines these situations, and also speaks about the violence that protestors are facing from the police and from the state. They also speak on the relationship of this current violence to the violences that Indigenous Mapuche people have been facing from the Chilean state all along.
According to the Wikipedia article on the 2019 Chilean Protests, as of yesterday October 26th "19 people have died, nearly 2,500 have been injured, and 2,840 have been arrested. Human rights organisations have received several reports of violations conducted against protesters, including torture." Our guest outlines the peaceful nature at the outset of these protests, which were quickly escalated by hyper repressive tactics on the part of the police, and says that these actions are making it clear that the "democracy" – which was fought for by the generations above them – is a fake system.
To keep updated on this situation, and away from the tvs like our guest suggested, you can follow Radio Kurruf, an anarchist radio station in Chile, and read their analysis on the current wave of repression here. https://radiokurruf.org/2019/10/26/state-of-rebellion-in-chile/
You can also visit our blog at thefinalstrawradio.noblogs.org for a partial list of links and accounts to follow, including some on the ground reporting by crimethInc.
Here is the transcript of a brief exchange between TFS and other comrades in Rojava (podcast only):
Here is an announcement on behalf of the IDOC Watch:
IDOC (Indiana Dept of Correction) Watch is an organization in Indiana, composed of people directly affected by the prison system and prison abolitionists, that is organizing to expose and stop the widespread abuses in the Indiana prison system, with the long-term objective of dismantling the prison system. (check out IDOC Watch at idocwatch.org)
This event will be a panel discussion on the base-building IDOC Watch is doing in prisons and communities affected by incarceration, prisoner struggles and counter-insurgency in Indiana, and the effects of the prison-industrial complex on individuals, families, and communities.
Featuring:
Zolo Agona Azania, former Black Liberation Army activist and long-term New Afrikan political prisoner from Gary, IN, who beat two death sentences after being falsely accused and convicted of murdering a Gary police officer during a bank robbery. Zolo was released from prison in 2017, after serving over 35 years. He is currently working to establish re-entry housing for people being released from prison in Gary, through the Gary Alliance for the Empowerment of the Formerly Incarcerated.
S.T. : A mother and grandmother from Gary who organizes with IDOC Watch and currently has a son incarcerated at Indiana State Prison, a maximum-security facility in Michigan City, IN.
An organizer with FOCUS Initiatives LTD, an abolitionist re-entry project in Indianapolis, IN: focusreentry.com.
Location
1845 Sheridan Rd, Evanston, IL 60208
217 Fisk Hall
Tuesday, October 29, 2019 at 4:00 PM – 7:00 PM CDT
. … . ..
Music for this episode in order: