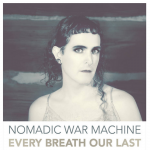 This week I had the opportunity to sit down with Margaret Killjoy to talk about her new EP called Every Breath Our Last out this October from her one woman project Nomadic War Machine. Margaret is a writer, musician, and anarchist based in Western North Carolina. We got to talk about a lot of things in this episode, including her new EP, what went into making it, Nomadic War Machine as a project in general, and her new anarchist fiction podcast called We Will Remember Freedom.
This was a great conversation to have for me, and is a little bit of a different approach than what we usually do in that the conversation unfolded organically with little in the way of pre set prompts. I hope you will get a sense of sitting down at a kitchen table with two people who have known each other for some while, talking about stuff they would kind of normally talk about anyway, except it's being recorded. I am also clearly not a music journalist, and that comes out, especially because I neglect to ask her about the political or social themes of her new EP. Give it a listen tho on any streaming platform!
Click on her Patreon to support Margaret in her endeavors and to read more of her fiction.
This episode of the Solecast includes her reading a short story called The Northern Host ("nazis don't go to Valhallah"), and an interview on TFS where we talk about her then new book The Lamb Will Slaughter the Lion.
Support Project FANG:
From their fundrazr page:
"The climate crisis, and ongoing destruction of landscapes and wildlife, are provoking a deepening sense of urgency in an increasing number of people. It can be a serious struggle to care for a world that is being plundered for profit, but there are more and more people turning their grief into resistance in defense of nature and other animals. From water protectors to pipeline protestors, and wildlife and caged animal defenders – good people who care for our world are standing up for all of us. Unfortunately taking such a stand can result in arrest, court, jail, and prison time.
Background:
In 2016, project FANG was established by the NYC ABC as a much-needed attempt to fill a gap in the ongoing support work for the growing number of eco and animal rights prisoners in the United States. The focus of project FANG funding is to help pay for prison visitation costs for friends and family of these prisoners.
Why are visits so important?
Visits from friends, family, and loved ones are repeatedly identified by prisoners as one of the most important life lines that exist for them. Without visits, the crushing isolation of life inside a prison becomes unbearable. However, visits can often be prohibitively expensive. Travel costs might include not only an expensive plane ticket, but also lodging, a rental car, and meals. These quickly add up to hundreds of dollars.
How you can help:
Currently, project FANG has committed funding of $5,000 per year, but due to the increase in eco and animal rights prisoners, and requests for visitation funding, we need to increase our available funds. With your support we are aiming to double the fund's annual budget for 2019 and 2020 by raising $10,000. Can you help us reach our $10,000 goal?"
To help support, please visit their fundrazr page! Stay tuned to TFS for a possible interview with these folks in future, or visit our archives for a past interview with a founder of this project.
. … . ..
Music for this episode:
Perdidos – FRÍO y VACÍO (musical loop by william)