Being Out Here For The Prisoners in NC / Mesh Networks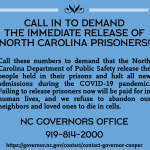 This week we feature two portions to this podcast bonus, two abolitionists in North Carolina talk about detention issues during and after Covid-19. Then Grant Gallo of Sudo Mesh talks about community mesh data networks and alternative infrastructure for autonomy.
For a radio edition of this prison conversation for broadcast, reach out to us at our email. Our main broadcasting segment for this week is an interview William did with Aishah Shahidah Simmons, the editor of love WITH accountability: Digging up the Roots of Child Sexual Abuse (AK Press, 2019) which will be available soon for download by participating stations and in our podcast stream.
Incarceration in NC
First we'll hear from two prison activists based in the Durham and Asheville, North Carolina about critical situations around incarceration in this state including but not limited to the Covid-19 outbreak. Jules is a member of Blue Ridge Anarchist Black Cross, a local abolitionist group that works around popular education around incarceration and anti-repression for movement work.  Katie is an anarchist legal and anti-prison activist.
NLG Guide To Your Rights During Covid-19 Pandemic.
Covid-19 Prison zine by BRABC
Regional groups working on this to keep an eye on include:
Peer-To-Peer Internet Infrastructure
After that, you'll hear Grant Gallow from Sudo Mesh talk about Peoples Open Network and Disaster Radio. We'll hear about collaborative, community mesh network projects as peer-to-peer internet in general and about the idea behind Disaster Radio, a minimalist digital messaging system in case the cellphone, landline or power grid goes down in a dire circumstances. You can find out more at the website, disaster.radio
NC Prison Phone Zaps
Statewide: https://brabc.blackblogs.org/2020/03/22/phone-zap-for-north-carolina-prisoners/
Durham County Jail: https://twitter.com/NCResists/status/1242938703871442947?s=20
Various Other Prison Phone Zaps By Region of so-called US
The following is an incomplete list. Stay tuned to ItsGoingDown.org for a more up-to-date and comprehensive listing of ongoing phone zaps and campaigns
Pacific Northwest
Central
Midwest

Chicago, IL
Wisconsin
Michigan

Northeast
South
so-called Canada
Announcements
BRABC Remote Film Night
From the facebook event: https://www.facebook.com/events/503825183570471/
Join us for a film screening and discussion of the short documentary film "Condemned," which tells the story of Bomani Shakur (or Keith Lamar) who is on death row for five murders he did not commit or play any part in during the 1993 Lucasville Prison uprising.
Bomani was recently scheduled for execution in November, 2023. His many advocates and loved ones called for a month of action in April to publicize the biased legal process that led to Bomani's conviction, involving gross prosecutorial misconduct including failure to provide exculpatory evidence during discovery as required by law.
** A link will be posted in the facebook event on the day of the screening that people can click to join at the event start time! **
After the film we'll hold a discussion including how people can support Bomani in continuing to fight for his life.
For more information about Bomani and his case:
– https://www.keithlamar.org/condemned
– https://www.revolutionaryabolition.org/news/month-of-action-for-bomani/
. … . ..