Building Working Class History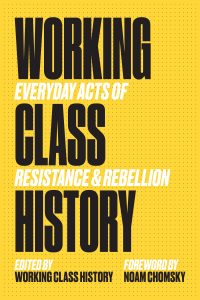 This week, I spoke with John from the Working Class History collective and host of their WCH podcast. We spoke about the new book, "Working Class History: Everyday Acts of Resistance", that WCH has published through PM Press, their archives, methodology, the project of popularizing working class, movement and human-sized history and a bunch more. [00:05:53]
More info on Working Class History at their website, WorkingClassHistory.Com, in their podcast and on twitter, instagram and facebook in a growing number of languages.
If you thirst for more conversation with John, you're in luck as Firestorm Books will be hosting a presentation with him about the book on February 25 from 7-8:30pm eastern or UTC – 5. You can find out more at Firestorm.Coop/Calendar.
A transcription, downloadable pdf and imposed zine should be up in about a week here!
Announcements
Transcription & Support
As an update on our transcription project, we've sent our first batch of zines to patreon subscribers over $10. Much thanks to everyone who is contributing at whatever level. We are still $75 short of covering our minimums for the transcription and podcasting fees, so if you think you can become a sustainer consider visiting patreon.com/TFSR. If you don't like patreon, we can receive ongoing donations from liberapay or paypal, as well as one-time donations via paypal and have merch for sale in our big cartel store.
If you don't have cash but want to help out our project, that's great! Reach out with show ideas, tell some friends in meet space or on social media, rep our content, print out some zines and send them into prisoners, rate us on podcasting sites, translate our work, or if you have a community radio station in your area you want to hear us on, get in touch and we'll help you. We have some notes on our site under the broadcasting tab as well, for our weekly, 58 minute FCC friendly episodes.
Letters for Sean Swain
Our comrades continues to be denied access to regular communication with the outside by the Department of Corrections in Ohio as well as Virginia where he's being held. It's also notable that his website is currently down. Sean has a complaint pending before the Inter-American Human Rights Commission for the torture he suffered at the hands of the state of Ohio. He is also collecting support letters for his bid for clemency. You can find more details on instagram by following Swainiac1969, SwainRocks.Org, our Swain tab or by checking out the script up at https://cutt.ly/Hkph3KY.
Thanks to Linda from Subversion1312 for reading this week's Sean script. [01:18:02]
BAD News #42
The latest episode of BAD News: Angry Voices from around the world by the A-Radio network has just been released. You can find find past BadNews episodes at the A-Radio site. This month, you'll hear calls for support for the evicted ROG squat in Ljubljana, Slovenia, prisoner and prisoner solidarity updates from Greece, excerpts from a discussion of Russian anarchists about the current protests across that country and Alexei Nawalny, and a short piece highlighting the 100th anniversary of the death of Piotr Kropotkin.
NoDAPL Grand Jury for Steve Martinez
From fedbook
FREE OUR COMRADE & RELATIVE STEVE MARTINEZ! Thank you for the birthday wishes, let's use this energy to Free & Support Steve! He resisted a Grand Jury for the second time in regards to alleged events from the NO DAPL struggle in Standing Rock, is currently NOT cooperating with authorities, & is awaiting federal extradition! Steve needs our support! Steve helped save our friend Sophia Wilansky's arm from gettin blown off by military weapons, & he is a solid & brave Indigenous warrior! We are asking our comrades to call the jail to DEMAND they release Steve who is wrongfully in custody at: 701-255-3113, & PLEASE WRITE STEVE in Burleigh Morton Cty Jail at:
Steve Martinez
Po Box 2499
Bismarck, ND
58502
money orders can also be sent to him in his name at that address, as well as to his government name above on jail.atm.com
Loren Reed
We're sharing a short rap by imprisoned indigenous, emo man, Loren Reed. Loren is facing years in prison for poorly chosen words in a private message on facebook during last summer's uprising. We've mentioned his situation before. You can learn more by following Tucson Anti-Repression Crew and you can hear a great interview on Loren's case done by fellow CZN member, the ItsGoingDown podcast. You can donate to his support by cashapp'ing TARC ($TucsonARC) or paypal'ing to paypal.me/prisonsupport, don't forget a note saying "For Loren".
Daniel Alan Baker
In the run-up to the January 20th presidential inauguration, the far right around the US was threatening large, armed and violent rallies at US state capitols across the country. Daniel Alan Baker, a US army vet, former YPG volunteer combat medic, yoga instructor and leftist activist called for people to counter what could have been seen as the deadly sequel to January 6th events in DC. He was pre-emptively arrested by the FBI and is currently being held at Tallahassee's Federal Detention Center. Like Loren Reed, he is facing years in prison for statements made on social media. For more information, check out this article in Jacobin Magazine, or a great chat with supporters of Daniel's from CZN member-show Coffee With Comrades. Updates can be found at Instagram by following GuerillaGalleryTLH.
A-Radio Network Live Show
Join the A-Radio Network on Saturday, February 13th of 2021 from 14:00 till at least 20:00 o'clock central European time, that's 8am to 2pm eastern or New York time for our 6th transnational live broadcast of anti-authoritarian and anarchist radios from deep within where anarchy reigns.
Since 2016 this is an important part of our yearly gathering of the A Radio network. Due to the pandemic and strong restrictions given by Governments all over the world, this year's gathering was forced online. But don't worry, against all odds we will nonetheless join together online on February 14th to broadcast an international show full of interesting contributions and discussions with/from comrades based in different parts all over the world. And you, dear listeners are also invited!
So far, our topics will include international experiences of: prison resistance; anarchy in the time of covid; Far Rightwing threats; and experiences organizing mutual aid!
The show will be carried by (a) transnational and militant spirit which hopefully is highly infectious. We promise our bad anarchist jokes aren't lethal.
You will find a more detailed schedule, a player for the show and a link to the livestream soon on www.a-radio-network.org and if you'd like to participate, you can also reach out to member projects that can be found on that same site!
. … . ..
Musical tracks in this episode:
. … . ..
Transcription
TFSR: Would you please introduce yourself with your name pronouns and any projects you affiliate with for the purpose of this conversation?
WCH: Hi, I'm WCH:, he, and I'm the host of the Working Class History podcast.
TFSR: Would you tell us a bit about the Working Class History project, how it got started, who was involved, and why you started it?
WCH: Basically it came out of some discussions that I have with some friends a few years ago. We'd been involved in lots of different activist groups over the years and publishing projects, and involved in different campaigns. Myself, I spent most of my time organizing at work. And social media, it's obviously a really powerful tool, and we were thinking about how could we try and put out information—radical sort of information—on social media in a way that would go viral. And we'd also got very interested in reading about the history and learning about past struggles, because the more we did organizing ourselves and were involved in social movements and such, the more it gets a bit sort of frustrating on one level seeing in general, mainstream society, that there's so little connection that most people have—especially people of our generation and younger—have with mass working class oppositional counterculture which used to exist. Especially in the UK, where I'm from. Most of us we don't have that organic link with the past anymore where there'd be generations of union families in certain communities. We wanted to think how can we try and not bring that back immediately, but draw that link with the past and at the same time on the (you want to call it the Left or whatever or the workers movement or whatever term you call for it) thinking that so many people get involved in stuff each new generation gets involved in stuff, and they repeat the mistakes of the people that came before them. So all sorts of thinking about how can we try and learn from these struggles in the past and try and help get these lessons to new generations of workers and activists that crop up every generation. And then we thought people seem to like anniversaries, so let's do that. We started doing that on social media. And we were hoping that it would be viral and it was a lot more successful than we thought, in that. Because I guess for people who are, like, a bit lefty or whatever, seeing a post on social media about something happened on this day, it gives them an opportunity to share something with friends, colleagues in a way that doesn't seem random, because it is about something that happened today. So now I'm not just lecturing all my work colleagues and family about the Paris Commune of 1871 or whatever, it's like, "Oh, this is a historical thing that happened today, this is interesting and you might find it interesting, too." And I think it worked in that way. Because it does give an organic and nice way of sharing information without being a bit fun and without being preachy, or lecture-y, or whatever. So that's where it came out of, and then as the project's got bigger we just started trying to do other things like a podcast to look into a bit more detail. Because sometimes we get comments on the on post being like, "Oh, this doesn't have a lot of background in it, or this should really have a bit more detail." It's a social media post. It's not a PhD thesis or something. We recognize that. We wanted to look into stuff into a bit more detail so we can do it in a podcast. And for people who don't like looking at stuff online and want to have more of a reference work, we've done a book now.
TFSR: I'd like to talk about the book. One thing that you described in there is not a thing that I've ever experienced growing up in, I guess, middle class community in the United States, is a knowledge or an expectation or an experience of what a multi-generational working class feeling is. I have tons of friends growing up who were working class. But I think that a thing that you're describing and that your project is building towards is a little bit different and a little bit something that I'd love to hear if you have any more like insights into how it's been described to you the sort of like edges that you've danced around in trying to create it and what a working class culture in the UK where you grew up, for instance, felt like. What delineates that from just the experience of people who are poor and working and trying to get by?
WCH: I grew up in the southeast of England which is one of the places where the erosion of sense of working class identity has really been very successful especially with policies brought in by Margaret Thatcher's Conservative government and onwards. The major industries where workers were best organized and most militant were systematically divided up and then defeated one after another, first with the mine workers, then with the print workers, also around the same time period steel workers, and shipping workers were defeated as well, and then later dock workers. So that was one side of it. And then another side of it was around housing, where social housing was attacked and instead 'Right to Buy' was introduced, which gave working class people the ability to buy their own council house, which was—especially in the southeast of England where I'm from—massively successful at converting what was a relatively large group of working class people who mostly were Labor voters and identified in that line of things. It was very successful at turning that collective sense of identity into a massive atomized individuals who can do better for them. Because buying your own council house was a move which did help those individual people who did it significantly. And that was the area that I sort of grew up in amongst a lot of people where that had happened. So their families had bought their own home and then had a sense of themselves as very middle class, mostly conservative individuals striving to do the best for themselves that they could. I'm one of the people from that generation that had no connection with these working class oppositional cultures that I just learned about later when I got into lefty ideas and radical politics.
TFSR: Would you mind talking a bit about the book that y'all just published through PM Press and sort of the process that you went through of compiling it? And what do you hope, as a project, that this book will spark or will bring out and people
WCH: The idea for the book came out of our discussions with our publishers, PM Press, who are a great independent, radical publisher, and who contacted us to see if we'd be interested in doing a book, because we hadn't really thought about it. We were doing social media posts, and then a podcast, and we'd been involved in some print publishing in the past, but it was a huge amount of work and that put us off the whole-put us off the whole thing. PM talked us into it. And we were excited to do it because on a personal level, like, I love books. Books are great and doing one is great. Even, say, for people who follow us on social media, because of the large amount of other people are putting up posts and algorithms, people won't see everything that we put out most the time only a fraction of a percent see anything that we put out. And also, because of algorithms, certain posts get much more prominent than others. So especially things that are more about countries where more of our followers live, like the US, that stuff gets a lot more engagement and then a lot more people see it. So people who even do follow us on social media might get a very narrow view of the historical events that we have in our archive. And also, of course, a whole bunch of stuff there aren't photos of. And in this book we do have a lot of photos, we've got over 100 photos. We've also been able to feature a lot of stories from our archive where there are no images that exist, so we can't put them on social media.
We wanted to put something out for people who enjoy consuming content in a different medium. And also to have more as a reference that you can flip through without having to look at a screen or whatever. And it was exciting to be able to think of putting together in terms of a whole, creating as a whole thing. So taking a random selection of everything that we post over a whole year, instead of what we normally do, which is every day we post a couple of things. It was good to think "we've got 366 days out of the year and these are the countries that we've got events about and we want to feature them the biggest amount of countries and have the most diverse range of stories possible with respect to gender, gender identity, and sexual orientation, race, ethnicity," and that sort of thing. And with the idea of the book being as diverse as our classes—we acknowledge in the introduction to the book that we have made a lot of efforts in this regard but we still have a long way to go due to the nature of the bias of the sources available to us, which are disproportionately about white guys in more developed Western countries. Most of our research over the past few years has been trying to find out and uncover stories about different parts of the world. But even that is tricky because of language stuff and even knowing what you can Google and such. So, while we've still got a way to go, we are still pleased at the range of different types of stories that we feature.
TFSR: It's quite the tome. And it's been remarked upon before, like, how much of it—so like, two events out of every date out of the year, including the February 29—which, "thank you" from leap your babies. And I appreciate the fact that there's an index in the back because there's a thing to be said about the way that we think about information and that we categorize it if your main impetus is, like, "what is the day today?" "What else has happened on this registered day in history?" That can be, in some happy ways, a bit lackadaisical. You're not going to be flipping from one page to the next and saying, "Well, then what happened after the workers rose up or after the Soviet tanks came in or after, like, the British military massacred people in Kenya?" It's interesting to just sort of get these little bite-sized morsels of history. And it seems to invite the reader to embark on a journey of research on their own afterwards, and sort of build the context for themselves as to why this is like important—build an understanding and maybe build wider networks with folks that were more directly affected by those historical events.
WCH: Yeah, that's what we hope it will do. Like, we list all the sources that we use for each of the posts in the back. So that we do hope that if people see something that is interesting to them, they will go and look into it further. Because in our stories, we don't try and tell people what they should take from them or what they should think because of them. We don't want to tell people what to think or anything like that. Obviously we have a perspective, there's a reason that we've put these stories in here. We want people to be able to read these stories and then look into them further if they want and figure out for themselves what the relevance is for them, their lives, and any struggles that they're involved in.
TFSR: Class has a lot of meanings when it comes from different voices. And we've talked a little bit about your experience and basically with how class had been experienced by some people in the part of the world that you had grown up in. Can you talk a bit, for the purpose of this project, which I think was started by people in various parts of the world and not just in, like, the UK, for instance. Can you talk about the standards you used to determine something in the book or in the social media posts or in the podcast, or someone that falls within the parameters of what working class is? And why is it important to view it as a position of agency?
WCH: I think there's so many different ways that you can talk about class. And they all have some validity. But for us, what's important is we don't use it as a system for classifying individuals. Our interest in it is as a political tool which is, how can we best understand society? And how can we then use that understanding in order to change it? And we think that class is a really essential tool in understanding that, especially living as we do in capitalist society. So capitalist society is based on the dispossession of the majority of the world's population. We are dispossessed of means of production. So land, factories, workplaces, etc., we're dispossessed of that. So that either by enclosures in European countries, and by colonialism pretty much everywhere else, were dispossessed of that, and therefore, we have to work for a wage for people who do own the means of production, who do own land, factories, blah, blah, blah. And that's the defining feature of capitalist society. And that's our broad understanding of class and how we use it. The defining feature of working class for us is this dispossession and then the requirement to either work for another or if you can scrape by on state benefits, if your government provides benefits, or petty crime, or whatever else you have to do. Some people use it—and I think in everyday parlance in the UK, it's much more of a cultural thing. So what class someone says they have is often more to do with someone's accent than anything else. The kind of British version of Donald Trump, the guy who hosts the Apprentice TV show, he's, uh— I don't know, if he's a—he's probably not a billionaire. He's a very rich business owner called Alan Sugar. He sees himself as working class because his background is—that's his background and that's like his accent. And he can think that and that's, that's fine. That's one sort of interpretation of it, but for our perspective, he's an employer. And his wealth is from exploiting the people that have to work for him because we don't own businesses.
So obviously in the US there's even different —there's all kinds of different ways we'll have a talk about class. Like, in the US, unions mostly talk about the middle class, talk about being middle class. Because of struggles over the past 100 plus years, a good number of people in blue collar jobs have been able to improve their conditions to the point where they can have a decent standard of living because of the struggles they've had. So that there's a lot of union talk in the US of unions defending the middle class, blah, blah, blah, which is funny, really, especially from a UK perspective where middle class normally means kind of like posh people that like films with subtitles and stuff. So we use it as, not about classifying individuals, but about understanding and changing society. So for example, in our archive we have stories about Oscar Wilde, the author and poet and libertarian socialist. And sometimes people will say things like, "He wasn't working class." And it's like, yeah, fair enough. But his political ideas and the kind of world that he wanted to create was one in which working class people were in control of society and were really able to make the most of our lives and live vibrant, free, beautiful lives. That's the thing that interests us the most, that for us is the key thing.
TFSR: There are examples in the book that do not take place directly within the framework of the means of production and employment—you point to the intersections between the dispossession and the wielding of state, religious, or social power against populations that are marginalized, whether by ethnicity, religion, gender, sexuality, place of birth. Can you can you talk a little bit about that widening too of the framework of working class? Because I'm sure there's some people that are some pretty strict Marxists or workerists out there who are of the perspective that, "Well, that's all fine and good, but that is not working class."
WCH: And that was one of the reasons that we specifically chose the name that we did, as opposed to something more populist like "People's History" ala Howard Zinn, a historian who is a big influence on us. Because those vulgar— want to call themselves Marxists or workerists or whatever, are a problem. People who, while they talk progressive talk about overhauling society and building a new type of world, what they often mean in a lot of ways is that they mean that for white male factory worker-type people, and everyone else like women, or Black people, or Indigenous peoples should pretty much be quiet and stop being "divisive" until the revolution, and then all the other problems can be sorted out and hunky dory. And we think that is pretty terrible, in short, not only from a moral perspective, but also it's completely counterproductive. And it's a misunderstanding of what class is. While these people may often criticize what they see as identity politics, which is, in most cases, just people in oppressed groups fighting for their own self-interests. They, in fact, are adopting a crude identity politics of their own on the identity of being working class, which they normally also see as excluding other types of identities. And class doesn't exclude other identities, it overlaps and intersects with all other identities. Obviously, most trans people are working class, most other LGBT people are working class, and the vast majority of the world's working class are people of color. And they're located primarily in the global south. And every other type of oppression and exploitation overlaps and intersects with class. For example, things like abortion: wherever you are in the world, whatever the laws are, generally, if you're rich, you can get an abortion if you need one. Whereas if you are poor, you may not be able to get one, even if it's nominally legal where you are.
So things like abortion rights are inherently part of a class conflict, class struggle. Abortion rights is just one example—all other types of oppression, racism, homophobia, transphobia, all that sort of thing is very much linked to class, and any single part of our class, fighting for our own interests, benefits all of us because these workerist-type people who would say that struggles of women workers against the pay gap is a section— is a sectional thing, not in the interest of a class of a whole, say, they don't have that same perspective when workers in one industry go on strike, or one employer go on strike for a pay increase, because they rightly recognized in that case that a victory for one group is a victory for all. And it's exactly the same with different sections of the working class divided up by any other arbitrary characteristic.
Things like the super-exploitation of migrant workers, or particularly oppressed racial groups, the low pay for black workers in many countries, fighting against that specific racism, exploitation, raises the bar for everyone. So there's not the constant race to the bottom, in terms of paying conditions where employers can use us to undercut one another. So we thought that was really important to get across. And also point to, historically, that often it has been the most oppressed and the most underpaid workers who have been at the forefront of organizing for better pay and conditions. Not like some populist lefty is trying to say about migrant workers being used to undercut good union jobs or what have you. But more often than not, migrant workers are really at the forefront of workers struggle fighting for better paying conditions and have been. And through history, whether it's people like agricultural laborers in the United States, or whether it's people like cleaners in London, England right now, leading so many struggles. Obviously, historically, in the US, women textile workers were often forgotten about. But women textile workers were the first group of workers who properly organized in factories and took strike action. And in the (US) South, black agricultural workers and workers in industries like logging and mining were central and leading in organizing and fighting for better paying conditions, which benefited everyone, including white male workers who often tried to exclude women or black people from their unions.
TFSR: So I'll totally admit that I haven't read the book cover to cover and the intro says that I don't have to so I can just pick it up whenever and say, like, I wonder what happened on June 15. But I am looking forward to continually reading portions as the days passed. I'm noticing a libertarian bent to the stories that are told, for example, I haven't seen any acts of state by so-called worker states represented as working class events in the book. Could you talk about that a little bit?
WCH: Yeah, well, our approach is summed up in our slogan which is on the back of the book and on our social media accounts, and that's, "history is not made by kings, politicians, or a few rich individuals, it's made by all of us." So that's the perspective we're coming from. So the act of politicians and governments isn't particularly interesting to us because we're believers in the principle that the emancipation of the working class is the task of the working class itself. And that was one of the rules of the First International —the first big international socialist organization. And that's our view of things, that the thing that drives history is not the actions of governments, politicians, or the powerful, it's the everyday actions, often really small and unnoticeable, by millions, hundreds of millions, billions of us. So that's what we focus on.
Although we do feature some events which have been done in our name. That have been done by governments which call themselves representatives of the working class. Because we think that as well as learning from successful struggles in the past, we should also learn from our mistakes where terrible crimes have been committed in the name of the working class. So some of the things we include are things like the Soviet Union re-criminalizing homosexuality, which was decriminalized during the 1917 revolution and then in the 1930s was re-criminalized. And that led to the huge numbers of gay and bisexual men being sent to the gulags, to labor camps, to suffer horribly. And that was done in the name of the working class and fighting fascism. We think it's important to remind ourselves of these things that while those of us who say we want a new world, our ideas are beautiful ideas in a lot of ways. And that we want to create a great world where there's a lot more happiness and joy than we have now, and a lot less suffering. It's important to bear in mind that having these lofty ideas in our heads doesn't always mean that that's how they work out in practice. And we should be constantly vigilant not to think that the ends justify the means when it comes to certain things.
TFSR: You talked about the limitations of the project in the introduction, such as the limit to two events represented for each day. You also mentioned where you're starting from, the types of events that you're aware of, linguistic factors that determine the scope of what you could include. But can you talk about this work in your project in the social media, or in the archives, the work of translating your social media posts on the days of history? Or if you've had success through translation to bringing histories that were formerly out of your reach into that wider fold of your project?
WCH: Can I check? Do you mean translating stuff from other languages into English? Or do you mean vice versa?
TFSR: Into English is what I meant, to bring it to your existing audiences. But also, I would imagine that there's a give and take when it comes to the fact that you're now doing translations into Arabic and other languages and it seems like you're trying to expand that framework. Is that right?
WCH: We are very fortunate in that a number of people have got in touch and have launched sister pages, essentially, of Working Class History in other languages. So at the moment there's WCH sister pages in Arabic, Farsi, Portuguese, Spanish, French, Norwegian, Swedish, and the latest one is Romanian, which is really cool and really exciting to see. Some of those groups also are researching their own events and writing up their own history more about their part of the world. So the Farsi page has a lot of stuff about Iranian radical history, which is really fascinating. And the Arabic page as well about the Middle East. And that's great, because that's teaching us a bunch of stuff that we didn't know. And the Portuguese lot as well are writing a load of great stuff, not just about Portugal but about—especially about struggles in former colonies like Brazil, Angola, Mozambique, and Bissau. So that's really great for us. And in terms of us finding out things because, as I said, when we first started the social media page, we got a few radical history calendar-type-things and went through and wrote some stuff up, but the ones that we found were massively US and Western Europe and male-centric.
So like I said, the majority of the time we spent looking up new things have been to try and diversify that and correct the bias and imbalance that was in it right from the beginning. And for doing that—not that I want to give any big corporations any praise—but I love Google Translate so much. It's such an amazing tool that it can do pretty decent, pass-able translations from so many languages into English. So we do use that a fair bit to find out about things. The problem with it being that if writing about something is only available in a language that you don't speak, you wouldn't even necessarily know to look something up there unless you had knowledge of it in the first place, which you might not have if it wasn't in English, if you see what I mean. So it's a bit—it's a bit chicken and egg. Basically, when we find out about something in a country or a place that we haven't heard of, we can use that as an entry point and then read things about it and use Google Translate. And then that references other things which we can then look up. We go down rabbit holes. It's quite a fun way to—like, nerdy, but a fun way to spend an afternoon like going down a rabbit hole. I did that recently just reading up various things about struggles by Japanese students and things in the 1960s and 70s. I'm sure that there's lots of stuff that has been written about kinds of stuff by people in academia at some point or by students at different universities or whatever. That's not the background that we at WCH come from. We wouldn't even know if any of that stuff exists because most stuff that's written for academia is then just never heard from again by anyone outside of it, which is a shame I think.
TFSR: Or it's just behind a paywall so you have to have the JSTOR—shout out to Aaron Schwartz, but most people don't have that sort of access.
WCH: Exactly. So problems remain where, in the availability of information around the world, but at least on a positive, things do seem to be getting better in that regard. And I think a lot of the time just driven by ordinary people researching stuff and writing it up and then sharing on social media, and then you can find out about it, look into more and what have you, and find more kinds of things that have been digitized around the place. And the more of everything that's made available online and translated, eventually, the more that we get to find out about all of it. But so it is exciting seeing new things get to get digitized and put online. Yeah, it's a slow process.
TFSR: Like off topic a little bit, but to the Google Translate thing? Yeah, Google is a terrible company in its application. But also, like, six years ago I was in Istanbul and I remember—like, I don't speak any Turkish—but I remember sitting in a cafe and one of the workers came up to talk to me because I was sitting in reading, and they asked me what I was reading in Turkish. And I was like, showed them my phone and, like, typed in to Google Translate to translate into Turkish, like, "I don't speak Turkish, sorry." And they just put up their phone and they were like, "Okay, well, I was wondering what you were reading—" We just had this conversation showing screens to each other and eventually got to see this, like, barista's artwork that they wanted to show me that they had drawn and it was just neat to be able to have this conversation that would have been excluded if not for the fact that we had this intermediary technology standing between us. It's Utopic if not for the fact that it's owned by a terrible Skynet corporation that is trying to control all the library books.
WCH: I guess you could say at least their business model is more to let people use stuff for free and then just make money off our data in private information, rather than—don't know if it's better or worse. Certainly we can make use of it more than, like, the other companies that buy up historical images and then their model is to try and own all the images and then make people pay to use them. Those terrible, terrible things. Capitalism is like, it's bad?
TFSR: It's like it's enclosing everything. So have you considered making a Working Class History page in Esperanto?
WCH: If someone would like to take that on and do that they are very welcome to.
TFSR: Very diplomatic.
WCH: We've got a bunch of stuff about that. Esperanto has a really exciting and interesting radical history. And, sadly, a guy that we are planning on doing an interview about him—a guy called Eduardo Vivancos, just died a few days ago, aged 100. He was a guy who, he fought in the Spanish Civil War in the Durutti Column Militia and survived the war, obviously, but he was also a very prominent Esperantist who wrote and did a lot of stuff spreading anarchist and working class ideas in Esperanto, and was able to communicate with lots of people in China and Japan, in particular, at that time. So I think certainly that Esperanto was a really exciting Utopian project at the time. It has a really interesting history.
TFSR: It's really easy to point to the limitations of it being such a Euro-centric language and what have you. Like, it's definitely an imperfect thing, but the approach and the desire to have some sort of universal tongue among peoples, it's a really beautiful idea. A universal tongue that's not distinctly just English or German or French or Spanish or whatever else. I know that Radio Libertaire in Paris has a weekly Esperanto show that tries to teach listeners how to speak it, which I think is pretty cool to see that still alive. I don't know.
WCH: Just you saying that and I think that is—the idea is really cool and really Utopian. But what popped into my mind as well is also—also recently what is also about things like Indigenous languages. And so many languages are dying out. I say "dying." Have been eradicated essentially by colonialism and neocolonialism, particularly with the spread of English. So it is heartening to see, it seems like there's been a real like growth in interest in trying to—particularly by indigenous peoples—to re-popularize things like indigenous languages and other languages are dying out, which I think is also really important because on the flip side of universal communication there's also that, like, because of how our brains work, so much of the language we speak shapes how we can imagine things and how our minds work and having languages die is—those whole ways of thinking die out along with them and which is really sad.
TFSR: So in the US, the last national regime was pushing a program of patriotic education, attempting to reform and shape the inculcation of public school students away from influences of critical race theory and projects like the New York Times 1619 projects, as well as "People's History" ala Howard Zinn, who you mentioned before. States in the US have, with various levels of success, attempted to bar ethnic studies programs and to ban books like Zinn's. Can you talk about the approach of "People's History," which you mentioned as being—or at least in name, at least a bit populist—and it's maybe like, Zinn's work or Studs Terkel or other documentarians of working class experiences, how it's, like, influenced y'all in working class history and why you think the reactionaries find it so threatening, like that sort of approach to popular history?
WCH: Some of the stuff especially being pushed by the last government was extremely worrying with their very blatant attempts to rewrite history, especially for, like, right wing people who like to complain about Black Lives Matter activists trying to rewrite history by removing some statues, and they actually try to rewrite history by making a lot of shit up and lying about it. It's ironic at the least, especially as it's also so completely nonsensical that—yeah it is good that there has been a real growth recently in more people-based history, more grassroots history, more Black history, more Indigenous history more history told from the perspective of Black people, Indigenous peoples, and so on. And that is great, and that so many people are out there doing that. But at the same time, that idea in the right wing that these ideas are, like, Marxist indoctrination of schoolchildren is predominant in any public education system is to such a complete joke that. I mean, it's obviously not funny because it's extremely disturbed. The fact that a lot of educational institutions pay at least a bit of lip service to teaching about slavery or the civil rights movement, I think a lot of teachers and educators are doing really great work. In a lot of ways, the way that history is still taught for the most part is still very much top down, Euro-centric, colonial, blah, blah, blah.
So anyway, that's a bit of an aside. People like Howard Zinn was really a big influence. Reading his book for the first time was very exciting. And I think on a personal level, I don't think I really realized it at the time— I read "War and Peace" as a teenager by like Leo Tolstoy who was an anarchist, but I also didn't realize that at the time. And intersperse—because the books about the sort of war and all these countesses and counts and whatever. And it's really fucking long. For anyone who has or hasn't read or whatever, interspersed through this really long story is a kind an essay about the nature of history. And the thrust of it being that, like, history is not—obviously Napoleon or whatever is a great man of history, but Napoleon is not what has made this history happen. What's far more important is the infinitesimally small actions of tens of millions of people every single day that goes to create what history is. And I think when I read that, at the time, I thought that was a bit random that this essay was in here amongst all this sort of stories of aristocratic love and intrigue and everything. That actually stuck with me way more than the rest of the book. I think that probably had a real impact on how I think about things later. So obviously it did have an influence on me personally and on WCH in general.
And for reactionaries, yeah, it is threatening because the idea that we as ordinary people have the power to make history and change society is the most threatening thing for the people who are in power now. Because what is in their interests is the fatalistic idea which I think—I don't know about most people, but probably most people have at least at some time—is that things are the way they are because that's the way they have to be, and there's nothing we can do about it. And things will never change, blah, blah, blah. Which is obviously what people thought under Feudalism that the divine right of kings was something which could never be—which was, it was in the natural order of things and it could never be question never be changed. But then when people realize that, actually—Ursula LeGuin was a legendary anarchist, feminist scifi author, who sadly died a couple of years ago, said, I can't be the exact words, I am paraphrasing. It's not the right quote, so don't quote me on it. "Any society that's made by humans, however, can be changed by humans" which is, of course, true.
TFSR: I think there is some truth to the argument that they're rewriting history. Like when we push different narratives, it doesn't mean that people are making up facts. But history is a narrative that—or a series of narratives that we choose to accept or that are accepted by institutions and that shape the way that we view ourselves and we view the society in which we live. And a fundamental shift in that way of adopting, funnily this view that two pacifist at least anarchist-adjacent individuals like Tolstoy and Zinn had of the world… I wouldn't call it Cultural Marxism like a lot of people on the right do. I think that it does pose a threat to the way that the world is constructed. And we can think outside of the Feudal bounds that we're stuck in now even.
WCH: Yes. Yes, I concur.
TFSR: Along those lines there is the rewriting of history. But this isn't even necessarily part of it, this is a byproduct of the fact that people are rethinking their relationship to historical figures who are in primacy in the historical framework—the historiographies that most of us have grown up in the US under in mainstream society. It's been the history of great men, to paraphrase Gang of Four.
And the breaking down of that, the rethinking of these public figures who do have statues around, whether it be Christopher Columbus, or Thomas Jefferson, or General Robert E. Lee, or Conquistadors or missionaries on the west coast—they're not even just in the West Coast of the United States. Cecil Rhodes, or whoever—like, statues have been toppled. Statues were at the center of Unite the Tight number one in Charlottesville in 2017, August 12. It was a fight over statues and public representation. And similarly, throughout the United States south there have been the toppling of other statues and monuments, either to individuals or to symbolic ideas of the southern soldier, like, facing north ready to, like, fight back the siege and re-impose—continually impose white supremacy. Symbols like this mean a lot to people. Enough for people to fight over or to like struggle to destroy to build something else. Like, I'd be interested in hearing how Working Class History members felt during this last couple of years, but in particular, this summer during the uprising that took place in so many places around the world.
WCH: It was an exciting time. Not to play down obviously, it came out of horrific events the brutal on-camera murders of unarmed Black men around the US—not to downplay the horror of it. The upsurge in Black-led, self-organized protest and militancy, not just around the US, but that also had an impact, partly because of US cultural dominance of the planet in large part, that also saw similar protests breakout all over the world, and as well as parallel movements in Nigeria—again about police brutality by the colonial era police force. So on the one hand, there was the Black Lives Matter movement. And then at the same time, from our perspective, it looked like a real surge of interest from people in radical history, people's history, the history of past movements and colonialism and social movements. We had a massive growth in new followers and interactions with our content that was unprecedented, which was exciting for us as a history project, but then also seeing how many of the kinds of discussions happening were about history and the nature of history and the telling of it was interesting and inspiring as well.
Talking about the negative impacts of colonialism that's not something which I can recall being on the public agenda in my lifetime which is tremendously significant. And then seeing the physical manifestations of that top down—bourgeois if you want to call it right wing, colonialist, capitalist history in the statues of right wing, rich, enslaving, genocidal monuments have been built to these—I think (that) these statues that—they say what our civilization is supposed to be about. That's what we acknowledge and revere is wealth, genocide, racism, colonialism, and all that. And seeing those symbols being toppled, or damaged, or just graffitied and denigrated. And my favorite one was the Colston statue in Bristol, of an enslaver in Bristol, just being thrown in the river. Chefs kiss! That was really sort of inspiring to see.
Then for some people on the right to complain about, oh, this is rewriting history. These things are happening because people have studied history and a lot of cases, their bodies and their selves, they've experienced and lived this history through their ancestors, the trauma and they've possessed that and they know their history and the history has been studied and it's being talked about and this is happening because of the actual history of things. The statute is not the history, the statue is a piece of metal put up by some rich person. This is being done by people who actually know the history, not just whoever Tucker Carlson or some other right wing [beep] spews out about whatever—and especially because so many of these statues as well were erected in in the US south were erected by pro-Confederate, pro-slavery groups like the Daughters of the Confederacy, literally in an effort to rewrite history and change the narrative about what the Civil War was about. About state's rights as opposed to the enslavement of human beings. So, it's an interesting time to be a People's Historian.
TFSR: Some of the stuff that happened over the summer really, like, reminiscent of that, like—and this is like an old, I don't know how old it is, like the two examples I can think of are—as flawed as the invasion of Iraq was, it's very flawed—as much as I wish that it had not happened—like, the toppling of the statue of Saddam Hussein was a pretty powerful public image. At least, I'm not sure how much it was organic and how much it was put together by the invading forces—or the like decapitation of the statue of Stalin in Budapest in 1956. That's a, there's some really cool photos of that. But people like their symbols and also people like destroying their symbols.
WCH: And also all the right wing hysteria about them is like absolute nonsense. Like I don't know if it was seen over here in the US, but in the UK there was this right wing counter protest to Black Lives Matter that happened by these mostly fascists, and mostly fascist Nazi racist types. And from having been crying about, "Oh, they defaced he statue of Churchill," or whatever. Obviously you can say a lot of bad things about Churchill or whatever. But also, Churchill did—was involved in a big war against Nazis. So I'm not really sure that he is your boy as much as you think. I mean, yeah, he was a racist, genocidal anti-Semite pro-fascist, whatever. So they had this big protest but they got caught on camera like pissing on statues because they're just drunk Muppets pissing on the statues that a couple of weeks before they were like, "Oh, look at these thugs," crying like Churchill was a racist on [inaudible] or whatever. Being like, "Oh, that's outrageous," and then they just go piss on them. So, how real is the outrage, huh?
TFSR: Yeah. Yeah, here, I don't know. There was—I remember seeing footage of like a certain neighborhood in Philadelphia where just a bunch of Italian American people were out in this park defending a statue of Columbus because they were afraid that someone that Antifa was gonna come and topple it or something.
WCH: (There) could be a few less statues of Christopher Columbus and some more statues of like Sacco and Vanzetti and Carlo Tresca and if you want to tie in American statues.
TFSR: Yeah totally. A statue the Galleani. I would appreciate that more than, like, a statute of Frank Rizzo. I think they took that one down at least but it was like a racist reactionary. Police Chief in—
WCH: Yeah, in Philly. I think that got blown up at least once or twice didn't it?
TFSR:
I don't know about that. The—maybe? The ones that I remember being—or the one that I remember being blown up that was to the police was the—
WCH: Haymarket one.
TFSR: Yeah, the Haymarket one. I think that's great. That's maybe the best thing the Weather Underground ever did.
WCH: Yeah, it was similar to a statue of Margaret Thatcher was decapitated by a man with a cricket bat when it was unveiled in England a few years ago that was a fun day.
TFSR: That's awesome. Back to the interview…
WCH: Yep. Yep. Yeah.
TFSR: So I've been a fan of the Working Class History podcast for a while now. Would you talk about the work there and what you choose to cover in it? And do you have any favorite episodes that stand out?
WCH: Well, as I said, we started doing the podcast to try and look some more into some of these stories, and in particular, capture the voices of participants who took part in some of these movements and struggles, to learn from their experiences. We've been doing that for a while now. And in terms of what we choose to cover, we've got a massive list of episodes that we want to work on. It's like 160 episodes or something and constantly growing. What we're trying to do right now is prioritize producing episodes about social movements where the participants are at risk of, because of age, not being able to— And sadly a couple of people that we had lined up to interview about things have died recently before we were able to speak with them. So we're trying to do a fair bit of stuff about struggles in the 40s, 50s, 60s, and 70s right now, for the most part. Again, as with the rest of project, we tried to have a diverse selection of different types of stories and movements.
We've got a couple of series that we're working through. They're kind of intermittent series on themed things. We've pretty much wrapped up now our series about the Vietnam War where we had a lot of episodes about that, including possibly—I don't know if it's my favorite one, but certainly one of—it's a miniseries about the Columbia Eagle Mutiny where we speak with a guy called Alvin Glatkowski. He was a merchant sailor during the Vietnam War. He was working on a ship with a friend of his, called Clyde McKay, that was carrying 10,000 tons of napalm to be used by US forces in Vietnam, Cambodia, and Laos. He and Clyde hijacked a ship at gunpoint and sailed it to Cambodia, which was neutral, and his story is incredible. He hadn't been recorded telling that story before. Hearing him tell it and then being able to put it out was something that personally I'm really proud of. And it's a great story and a crazy story as well. So that's a favorite, for sure.
Also, on the 50th anniversary of the Stonewall Rebellion in New York, where LGBT people rose up against police harassment, was able to get in touch with few people who participated in the rebellion and were involved in the organizing afterwards, where people set up the Gay Liberation Front, which revolutionized the LGBT rights movement. That was really inspiring to talk to these people as well.
Another occasional series we've got is about the British Empire. And we did an episode on the—it was quite timely actually because it was while a recent wave of riots were happening in Hong Kong. I met with a bunch of people who were involved in the Hong Kong riots in 1967 against British occupation, British colonialism. And that was super interesting because I knew almost nothing about that before starting doing the research for that episode. So it was super interesting just to learn about their experiences growing up in British colonial Hong Kong. Especially because it's always spoken about quite widely is an example of British colonialism done well, and getting to the meat of that. Because up until these riots took place, Hong Kong was a trading post, obviously, but also had a large number of super-exploited factory workers working in like really appalling conditions, making things like—the factory where it was started was a plastic flower factory, and things like that. And it was these riots in 1967 that were successful in substantially changing the nature of British colonialism in the country from a more openly violent and repressive, racist colonialism to, I guess you call it, I don't know, a more kind of—more friendly Hillary Clinton-style of colonialism, if you want to call it that. So even these examples, people choose of colonialist capitalism being not so bad or what have you, it's not due to any—it's not due to the benevolence or the generosity of the oppressors or exploiters or the business owners or whatever. It was due to the self-organized struggle of the workers and the people in the area. So that was really interesting chatting to them as well. And also, in that one of the people I was talking … During the riots there was like a really high profile murder of a right wing talk show personality and that murder was a notorious unsolved murder in Hong Kong history. One of the participants in the interview basically told me who did it. Enough time had passed. And not the name of the person, because obviously they have descendants who could essentially the reasons behind it. I'm kind of a true crime buff, like in my personal life—it doesn't accord with my political views at all. Other than that I do—
TFSR: Everybody gets their your guilty pleasures, that's fine.
WCH: No, exactly. And a lot of stuff I listen to is about miscarriages of justice and stuff like that. There's too many. A really great chat I had as well was a guy called Tariq Mehmood who is a member of the Asian Youth movements in Britain, who fought against racism in the 70s and 80s. Those are the first ones that jump into my mind right now. I'm sure I'm forgetting… I could keep going but I won't.
TFSR: I know y'all had taken a break at some point. And so I dropped off and restarted it. But the ones for me that really stuck out—and I had to like do a little searching because it's been a while—are the anti-Zionism movement in Israel I thought was a really fascinating multi-part episode. There was the League of Revolutionary Black Workers in Detroit, and sort of contextualizing that. And just the Angry Brigade episode I thought was really fascinating to hear voices affiliated with that. And the Grunwick Strike in 1976 I had no context for, that just sort of, like, opened up a lot of conversation for me of experience of, like, workers struggle in the UK among immigrant populations. And there's just a lot in each of those discussions. And it's really easy to talk about the context that you can grab out of that that explains where we're at right now. It explains little snippets of these struggles that people have had that resonate with experiences that others have had. I really enjoyed those ones.
WCH: Cool, thanks. Some of those early ones, apologies for anyone who listen. The quality of them isn't so great, but we have got better since then from a quality point of view as we've learned. And there was a reason that we did the Grumwick Strike episode first. Because we thought that was important just from the things that we've spoken about today, because that was an example where this was a group of—they were East African Asian women workers who self-organized a massive and militant struggle that lasted two years. And were unfortunately defeated in the end because the forces against them were just too powerful. Up until that point, the British trade union movement was chauvinist, essentially. The overarching thrust of the movement was towards excluding Black and Asian—Asian, meaning South Asian, primarily anyway—workers and trying to protect privileged conditions for their white members, as opposed to organizing all workers and fighting collectively for better conditions. And the women in the Grumwick Strike pretty successfully exploded that (myth). Obviously there's still that chauvinist, nationalist current within the work, but it's much more minor now. Worrying it seems to be getting a bit bigger with—it's unclear how really it is, and maybe more Twitter-type personalities, villains like Paul Embry who are trying to resurrect this pro-nationalist idea of a traditional working class of white blokes—as opposed to workers uniting together in our class interests. That strike really successfully changed the general atmosphere of the workers movement in a way that made working people stronger, because of course we're stronger when we're united fighting against employers, when we're not fighting amongst ourselves over scraps.
TFSR: So are you all seeking more help with the project? You've talked about sister pages coming up and translation work. If you are looking for more help in providing historical insights or translation work, I guess, like video editing, what sort of ways can people participate?
WCH:
There's all kinds of ways people can help out. The primary things that we need help with at the moment are things around fact checking research and translation. So if anyone is up for helping with that, that would be amazing. Just get in touch. Email us on info@workingclasshistory.com.
TFSR: And where can listeners find out more about your work and grab the book?
WCH: Well, you can follow us on social media, just search whatever platform you're on for Working Class History. You can listen to our podcast on every major podcast app like Apple, Spotify, whatever, just search Working Class History. There's links to all of our information on our website, workingclasshistory.com. And you can get the book on our online store, which is at shop.workingclasshistory.com. And all of our work is funded through our readers and listeners on Patreon where you can also get the book for free depending on your patron level and access exclusive content at patreon.com/workingclasshistory.
TFSR: John, it's been a pleasure speaking with you Thanks a lot for taking the time.
WCH: It was really fun, thanks for having me. And I hope that for the theme music for this you can get the rights to a Gang of Four "Not Great Men," because I think that would be very appropriate.