IDOC Watch, Leon Benson and Abolitionist Organizing in Indiana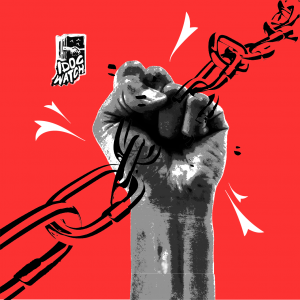 First, you'll hear from Koby Bluitt talking about her father, Leon Benson and his struggle for release after 23 years in prison, 10 of which was in solitary confinement, for a murder charge in 1998 that he has consistently claimed to have not committed. More on Leon at freeleonbenson.org or leonbenson-freeleonbenson on facebook. The Mass Release & Clemency for Leon rally in Indianapolis is July 25th at Tarkington Park. [00:04:44]
Then, you'll hear from Landis Reyonolds, a founder of IDOC Watch currently held in Westville Correctional Institution and who's been in since he was a juvenile, and Ray, an outside organizer with the South Bend, Indiana chapter of IDOC Watch. They talk about their work to start study groups in prison, promote Prison Lives Matter, support jailhouse lawyers and recruit outside lawyers through the Prison Legal Support Network alongside the NLG and more. More info at IDOCWatch.Org or find them on twitter, instagram or fakebook. You can support them via their patreon as well! [00:38:08]
PLSN contact info
If you are or know an incarcerated paralegal in IDOC, please send a letter to:
IDOC Watch
P.O. Box 3322
South Bend, IN, 46619
or leave us a voicemail at (423) 281-5009 with your name, DOC #, a brief introduction, and legal training/experience. We will contact you by GTL.
If you are an abolitionist-minded lawyer, law student, paralegal, or have legal expertise and would like to assist:
Email Ray (PLSN outside facilitator) @ RaddishGreens@protonmail.com
Prison Lives Matter:
Sean Swain on Texas abortion laws at [01:19:58]
Announcements
Abolitionist BBQ in Richmond
Join abolitionists on June 5th, 2021 at Chimborazo Park from 2-6pm for an Aboliton Assembly & BBQ, hosted by the VA Prison Abolition Collective and Prison Lives Matter. You can find that and more events across Turtle Island at ItsGoingDown's Upcoming Events page.
Drop The Charges in PDX
The Portland Anti-Repression Defense League, or PADL, is launching a campaign to demand all charges from the 2020 BLM protests get dropped. You can find a link to the press release in the One Year Rebellion post of the IGD column, In Contempt. And you can contact the organizers at pdxadl@protonmail.com.
International Solidarity with Palestinians
Revolutionary Abolitionist Movement and the Muslim-Jewish Anti-Fascist Front have called for weeks of actions in support of the people of Palestine under the title "International Solidarity Is The Weapon of the People." We'd like to remind you that while occupied Palestine is no longer in the news as Hamas and Israel signed a ceasefire:
the everyday brutality of the blockade on Gaza has been going since 2007
Israeli courts, cops, military and settlers continue to displace and ethnically cleanse Palestinian Muslims, Jews, Christians, Atheists and others from the occupied territories as they have since the Nakba began
the US government ok'd more weapons sales to Israel during this recent assault that left dozens of Palestinian adults and children dead, destroyed water treatment, housing, media, medical and other infrastructure
Eric King & CLDC Are Suing BOP
The Civil Liberties Defense Center, on behalf of incarcerated antifascist, vegan and anarchist prisoner Eric King has filed a lawsuit about the ongoing cruelty and torture Eric has faced since he was incarcerated in 2014 for an act of sabotage in solidarity with the then-Uprising in Fergusson, MO, after the brutal murder of Mike Brown, Jr, by police. Eric cannot be abandoned or forgotten, notably since he's in the crosshairs of the state and white supremacists for his anti-racist and anarchist views. You can find an announcement of the lawsuit at the CLDC website, you can find a great writeup on the situation by Natasha Leonard on The Intercept, and you can hear our interview with Eric and his partner from 2019 at our website.
Skelly of CLE4 In A Halfway House
Joshua "Skelly" Stafford, a part of the Cleveland 4, 4 young anarchist men recruited out of Occupy Cleveland and entrapped by a paid FBI informant into a conspiracy, was released to a halfway house recently. We are excited to see Skelly on his way to full release. Keep an ear out for more details and possible ways to support Skelly post-release.
. … . ..
Support TFSR
If you want to support The Final Straw, our ongoing transcription and spreading of these topics and guests voices, here are a few suggestions:
. … . ..
Features Tracks:
. … . ..
Transcription
Koby: Bluitt: My name is Koby: . I'm from Indianapolis, Indiana. I am one of two children of innocent political prisoner Leon Benson. His other child is Leon Bluitt. So that is my younger brother. And I'm here speaking on his behalf and my experience, just want to thank you so much for having me here.
TFSR: Would you tell us about Leon Benson?
Koby: : He has been incarcerated in the state of Indiana for 23 years. So, to rewind, in 1999 he was sentenced to 60 years of which he has maintained his absolute innocence, despite the Indiana justice system's refusal to grant him justice in its appellate courts. To touch on these different things that we're trying to get through the appeal courts, they basically were able to convict him of mis-identification by the state sole witness, she changed her statement from the original statement that she had, they had him in custody, they wouldn't even line him up when they wanted to do an actual lineup for her to be able to identify the person that she claimed that she had seen when she was there. Also, there was a new witness that was actually on the scene, and the testimony was never heard in court. And also, they have been not even accepting his appeals to even reconsider the case, even to reconsider any of the evidence because there's not even DNA evidence, the sole eyewitness seen, she described him as a dark-skinned male, and he had on a certain amount of clothing. If you guys have ever seen my pops online, or ever checked out his website platforms, like my pops is nowhere near darker complexion. He is a very light, very light brown young man. And also the clothes did not match, the clothes that the actual police had locked him up in, when he was locked up on that night, he didn't even have the match of the description of the clothing at all.
There was a gentleman who they had got a tip from that actually had a disagreement with my pops. Prior to this crime happening that night, they were able to take his testimony, so-called, and this young gentleman I'm speaking of was someone who was known for using drugs in the area. And this guy basically gave the police a tip, because he was there out of spite to whatever he had going on with my pops. And I guess, of course, they wanted to get my pops anyway due to selling drugs or not that, so… And like I said if you guys heard my pops' song called Innocent, he talked about how he sold dope. He talked about how he was on the streets trying to make a way for his family, my mom and helping her and everything, and not saying that that's right. But that's what he did. And then my pops had a witness who was actually with him that night that never got to speak in the trial, and they wouldn't even allow him to speak in none of the trials, although he's ready, willing, open to do it. And there are also other witnesses that did not get to speak on my pops' behalf. They literally just used this young woman and this other gentleman who was known for using drugs, and he was already on parole, too. It was definitely some mess going on. Maybe a reduced sentence for this young man who actually claimed that he'd seen my pops do it.
Basically, where we are now is my pops has been really trying to get into the appellate courts, and they have refused. He has filed a petition of clemency. This happened back in October of 2020. They finally logged into the system about December of 2020. Within four months in the state of Indiana, they're supposed to give you a decision on if they're going to grant it or not. And it's clearly been more than four months. Despite that, Leon Benson, my pops has demonstrated his humanity, growth, and rehabilitation. For the past seven years, he hasn't had any misconduct, any write-ups, anything. And he has completed over 50 vocational, therapeutic, spiritual and educational programs, over 50. So he has used his time to really what they think in this criminal justice, incarceration system is supposed to work, people are supposed to get rehabilitated. He really took advantage of all the things that they offer. He is now an asset to society. This is a clear case of rehabilitation versus punishment. Are we going to continue to punish people, even after they have sought redemption from within, they have utilized all the services that are offered within this so-called prison system.
Just a fun fact for those who are listening. Indiana has only granted three clemency petitions since the 70s. Okay, and we are in 2021. And I'm sure there are other people who have sent in applications, and he is not the only one in Indiana who has been wrongly convicted. This is not a unique case. This is tragic when it's known that it's prolonged incarceration. And it's not really to rehabilitate prisoners, we all know incarceration hinders mentally, spiritually, and emotionally. With hopefulness, we are going to basically where his case is now to keep things simple as that he filed for clemency, we're waiting to hear back.
TFSR: Another thing that I've seen, talking to folks who are behind bars, who've been fighting for a change in the sentence, if nothing else, is that during that period of time, because of all of the "tough on crime" culture war stuff that was going on to the US from the Democrats and the Republicans.
Koby: Absolutely.
TFSR: There were people getting super long convictions. And since then, there have been reforms of the sentencing structures in a lot of states, where people like old-law people like Jason Goudlock, for instance, is one incarcerated activist in Ohio that I've spoken to. He's talked about how the difference between the old-law prisoners, the ones who had the mandatory minimums, who had the 20 to life sentences, or parole as opposed to required release after a certain period of time that younger prisoners have. Not only is that an unfair situation, but that's also totally political, where someone who is accused of a crime at a certain point… If your pops is innocent, he should be released anyway. I'm not in favor of carcerality and prisons like they exist in our society. But then again, it seems like it's obviously a sign of the times of when he was convicted, and it wasn't about him as much as it was about filling a cell, like you said, if people that are being convicted now of crimes that are similar to that are getting less time. It's okay if you don't have an answer to this, but is there a discrepancy between convictions currently versus the time when he went in in 1998? Is that any sort of leverage that you can make in the case?
Koby: Yeah, during that time, I don't know if the listeners are aware of the prison industrial complex. Really seeing what that time looked like, and what it looks like now, and like you said, in the 70s, 80s, and 90s, they were really pushing this "tough on crime" kind of thing. And this "tough on crime" attitude within legislatures and just within the drugs, right? A lot of drugs were going on and they were using that as a way of really getting these people who were black and brown and just even lower to middle-class people out of here. During that time, it was definitely more than just the person and the actual so-called crime, it was more of a culture, it was more of a push like "We're gonna get all these people out of here, they're a menace to society and they need to go. We're not even open to hearing innocence. We're just going to get them out of here". And it's a lot I can touch on. Absolutely.
That relates to… as you said, they have minimum sentencing back in the day, it was different things that they had in place. They still have that, right? Even to connect to why… he's having clemency, we're pushing for him to have a clemency hearing. And the thing is we may not even be able to participate in this clemency hearing because they're supposed to let us know at least two weeks in advance, but with it being over four months, he filed in October 2020, and they logged it in their system in December 2020. And it is May 28 of 2021. This is an opportunity where he could have people come in and speak. And that's something else I'm gathering, I'm gathering organizations here within Indiana that are involved in knowing that prisoners, their lives matter, they need to be present, they need to be here, focusing on rehabilitation versus punishment and all of that, but the thing is I think the system is just sets you up. We may not even be able to be in court to speak on my pops' behalf, to let the judge know that he has support, to let the judge know he's not just somebody, that you're not just letting out a person who could be a menace to society. I don't even agree with prisons in general, but like, nonetheless, we won't even have an opportunity, possibly, because it's so late in the game, they might just literally tell my pops a couple of days before that he's gonna go to court, and we won't even have enough time to get together, to be present for him. And they may not even let him know in enough time to let us know. So I definitely think the times that back in the day in the 90s, the 80s, and the 70s. Like there's an amazing Netflix documentary The 13th just about why people should care if they don't even have people incarcerated or know someone.
TFSR: Would you share a bit about Leon's activism inside, his creativity, and the gift that he and others like him continue to share despite the dungeons that they're kept in?
Koby: Yeah, for what it's worth, my pops has not spent this time in prison and let it go to waste. He really got into books, he really got into unlearning to relearn about the world around him and culture and religion, and cultivated a new him, he had a lot of time to spare, clearly. I think a lot of people who are incarcerated, not even my pops, they come out with such an amazing, broader perspective on how do you take the pain and turn it into a passion of some sort, how do you take the pain and possibly be able to create a platform for your children to be able to begin, to create some revenue through learning about turning all that they've been through and learning how to get creative with it. And what I mean by that is, although, my pops' body was locked up, although there are other men and women who are incarcerated, and their bodies are physically behind bars, their mind, my pops' mind was free to roam, as he dedicated himself to writing powerful poetry and music and helping to create motivational and educational programs to benefit his other fellow comrades from the inside. He has also worked closely with community activists to push for statewide prison reform, to build a system that truly treats every citizen equally.
My pops has been a key part of forming and running several programs in prison meant to create a better system for others. So I want to mention that he was chosen to be a mentor for the staff that created the band of brothers. And this band of brothers basically taught realistic views of masculinity and help individuals to become better members of their families and communities. My pops has really gotten to the healing point that they so-called push for in prisons, he really got into that, but he created that with other individuals that he was locked up with, and they created that community with each other. And, he is a mentor to other men who are in there for different reasons. And he was tasked with facilitating this group and other group discussions and using his unique perspective to make sure that everyone got the most out of the program.
My pops has been not only a father, he was a brother, he was a friend of his community. My pops is from Flint, Michigan. And he came to Indiana in 1995 and was sentenced to 60 years to life by 1999. He wasn't even here this long, he's not even from here, he came down here to help his uncle with his painting business, and to help them do home renovations. But nonetheless, my pops has really taken all his pain and turned it into a passion. Through his music, you hear his pain, but you hear his liberation, you hear his never dying, ending faith, that his music and his art and his poetry really speaks for itself. Some other things he's been involved in is that he was chosen to be council praise team member and sermon group leader for the congregation of Yahweh, and basically a Hebrew spiritual, cultural community.
My pops is very spiritual, he is not religious, and he speaks about spirituality. That's what we need to be going towards because we all know religion is a social creative construct. My pops spent 10 years in solitary confinement, where people are known to kill themselves, I don't think there are any windows in there, it's literally the size of a bathroom or even smaller, and 10 years in there. I mean, the man has amazing strength. And this is why when you hear his song Innocence, when you hear his song TND Truth Never Dies as long as we discover it, he created most of his art being in the shoe, being in solitary confinement. And so, Leon's commitment to spiritual betterment has won him praise and respect from his peers.
And even from the people inside, and also, Leon became a demand educator, developing a course called The Streets Don't Love You Back, where he educated hundreds of participants about the perils of street life, and how to escape and find your higher purpose. We know a lot of our men end up going to the streets, not because they "Oh, yeah, sign me up, I want to go, I want to get into things that could possibly get me killed or sent to prison for life". No, they get into these things because within their environments, there are little to no options, especially coming from a single-parent home. My pops never met his father. And this is something unique for me. I didn't know my biological father. I didn't meet him until I was 16 years old. The reason why I'm here today is that my pops stepped up with my mom and said that he would help raise me. And he said he would be my father. Because he never had his father. My pops had character before he went in. Yes, my pops sold drugs, but he did it because that was one of the very few options that he had to actually provide for his family outside of the option that he came down to Indiana to do when that wasn't working.
As I said, he taught an education course in prison called The Streets Don't Love You Back and he educated other men who are in prison because of these things. He became a very gifted public speaker delivering over 300 speeches that could be inspirational, comical, tragic, or uplifting, all at the same time. My pops is very artistically inclined. While in prison, it allowed my pops to raise his creativity to new heights. He studied theater, Shakespeare in particular. He took part in several productions. He developed another program called Poetic Justice, in which he helped his fellow inmates to express themselves in words while learning about poem structures, style, and performance. Really turning all the BS and all the things that they put him through, he was able to make it because he was able to find meaning within all of this and is still finding it.
He's also published several poems, and also several books that have even been stolen. What I mean by stolen is that there are books that he actually had produced and came out with, but they were stolen by different people who actually published them and actually did the legal work behind them. He doesn't even own that material anymore. It's just really crazy, but that's never stopped him. He's still going on, still creating, he actually has an album coming out called Innocent Born Guilty. And that will be towards either late July or August. He's done a lot on the inside and has been a part of what prison is supposed to do, to so-called rehabilitate. But once you rehabilitate, then what? Do you still gotta pay? That's where we are now. It's been seven years that my pops has had any write-ups and any violations and as anyone knows, prison is a jungle. It may not be you involved in some mess, it might be somebody else, your cellmate, the guards are corrupt. There's just so much that could happen but for him to be solid that long especially he's in there wrongly convicted, so he could have really lost his mind and really snapped and crackled and popped. But he's been really strong. His strength is so admiring for these past 23 years.
TFSR: Can you talk a little bit about the Mass Release campaign? And how does it relate to the efforts to gain clemency for your pops?
Koby: I am actually working with IDOCWatch, an amazing organization. They have a chapter here in Indianapolis, Indiana. And basically, they have four things that they are working on within this Mass Release campaign, they're working on actually holding the Indiana Department of Corrections accountable. We need to release some people, we need to release them all because people are not getting rehabilitated through this kind of system. And even when they're rehabilitated, so-called, they shouldn't have to sit and die in these prisons without their family and those other things. So there are four topics that are connected to the Mass Release campaign. One is compassionate release, and this is the release of the aging people campaign. The second is clemency. And my pops is representing this portion of the four topics that they are going to touch on within the Mass Release campaign, and also being able to get Direct Relief. That's the second one. And the third point that they're connecting with the Mass Release campaign is that when their so-called discipline and written up, people are getting their good time taken away. You can get time added to your sentence, really crazy things. And then the fourth one is that some people are getting sent back for technical violations. And literally, they have added like five to ten years on to their sentence. Even though they have good time, even though they've been solid for the last couple of years, if they have one violation or one behavior misconduct, they will add time. It's designed to keep people in, it's not designed for rehabilitation. With this mass release we must release them all and let's rehabilitate them, release them all, and let's actually create programs. As you guys know, if you don't even have a member of your family incarcerated, our tax money, our tax dollars are going to build these prisons, we can put this money back into reconstructing some rehabilitations, get some social works out there, get some psychologists out there, therapy, we need it. But they're focused on keeping people in. So with this Mass Release campaign and my pops, really calling on all those to stand in solidarity and for the state of Indiana to begin to reevaluate the mass utilization of the Indiana Department of Corrections. Even across the country, not even Indiana, but just other departments of corrections. They need to reevaluate this mass incarceration.
TFSR: What might you say to folks on the outside who don't know that they know anyone in the carceral system, or don't think that they have this vested interest in abolition about your dad's case and about the mass release campaign?
Koby: We are all witnessing what is going on. People are getting screwed from different ends, to be very transparent, to be very frank, even just outside of mass incarceration, that is happening – our healthcare. There are just different things that are being screwed that if we all come together and stand in solidarity with one another, and it doesn't have to be because you directly are affected, it is because that you are a part of this Earth and you have to walk the streets of a person who is affected, who is involved. And you have to make sure that that doesn't mess up what you have going on, that is not deconstruct anything that your children-to-be are going to grow up. We got to think about what kind of world we want to be a part of, what is the change that we want to see. And it's going to take more than the people who are actually affected by mass incarceration. And maybe you don't have a father like me who's been incarcerated. Maybe you have a brother, maybe you have a friend, maybe a friend or a mother who is a single mother because her boyfriend or the father of her children is incarcerated. And now she's out here having to make ends meet. Now she's out here making decisions that she wouldn't have made if she had assistance from the actual father of her child. Now her children are put in spaces with different scenarios that could go left or right because now she has to make it by herself with little to no support. You're seeing children that are ended up having mental and emotional issues within the school system, that may be sitting next to your child and class. And they may be having behaviors that are they're acting out in school, or in high school, or maybe they're in sports, and they're a little aggressive on the field, and there may be some things that are going on, that you may not even know about, that have to do with their parents being gone incarcerated, that have to do with their parents having health issues, mental health issues, and have to do with their family, be in situations where they did not… the children don't even have a say, so they don't even they're not even cared about. And it's just that we have to be a part of a world that we want to see.
It's gonna take all of us, it's gonna take everybody. You are going to have to choose a side. You got to ask yourself every day: are you doing what you would want the world to look like in the future? Are you a part of the change that you want to see? Or are you remaining silent and being compliant? Because remaining silent and not saying anything and not being involved does not make you better or not. That's actually a worse offense. Because if you see something, say nothing, then that lets you know that you are in compliance, that you are just as at fault as the people who are doing these things, the systems that are a part of oppression for different people.
And there are different ways. You don't even have to be standing on the ground, standing in solidarity. Where's your money going? Where are you donating your money to? Is your money going towards these efforts to get these things off the ground? IDOCWatch, have a Patreon and they have things that people can send in money because they're actually working with prisoners. Also, they're connected with Green Star Families, actually helping families be able to… Certain children are not able to connect with their parents. And because they can't even afford a phone call, they can't even afford to put money on the books of these incarcerated loved ones, right? We just have to remember: it takes a village to demand change. And we all have to do our part. You don't have to be on the ground standing in solidarity. You can be redirecting your money. You could be writing letters, you can be reposting this campaign that you're hearing today. There are ways to be involved. But I would say being silent is definitely not the answer. Your silence lets you and the world around you know where you stand. And if it was you or your loved one, you wouldn't be silent. We just have to really think about that.
TFSR: So how can people support the efforts to get clemency for Leon Benson? And is there a way that they can follow the campaign?
Koby: Absolutely. One, we keep updates on his Facebook platform. His Facebook page is https://www.facebook.com/freeleonbenson. And the website is very simple. It's www.freeleonbenson.org. We're going to have updates and that's where actually you get to see the details of…
We're going to actually have the demonstration on July 25 in Indianapolis, Indiana at Tarkington Park in connection with the Mass Release campaign. This mass demonstration will have guest speakers, it will have poetry, we're going to have vegan food and ways that you can connect with like-minded individuals and network, and whatever else you want to do with being a part of a mass demonstration, being a part of something.
Also if you guys already are connected with IDOCWatch or you need to, get on them on Facebook https://www.facebook.com/IDOCWATCH/ and also check out his music, google Leon Benson. It's a lot of information out there, he's on a lot of different platforms, and see the story for yourself. You don't have to just take it from my word, you can look up the facts and public information that is on this case, and you can see it for yourself. I encourage you guys to do that. I encourage you guys to support this clemency by seeing what's next and actually being present for the actual demonstration. But if you're not able to be present, you can definitely support the fundraiser we're going to have, we're going to have a T-shirt and different items that people can purchase. Be on the lookout for that. As I said, the proceeds are going to go to Green Star Families and IDOCWatch, and then half is to Leon Benson and continue the movement that he and I are doing which is Truth Never Dies. TND, that's the movement that I am constructing for my pops myself and Valerie, which is his sister.
TFSR: Awesome, Koby, thank you so much for this conversation and for all the work that you're doing, and good luck. I really hope to see your father free soon.
Koby: Yeah, and thank you so much for this opportunity, thank you guys, the listeners for listening and I hope to see you guys soon. I hope you guys you know really start to stand for something and you gonna fall for anything.
IDOCWatch
Landis: : My name is Landis Reynolds, I'm currently incarcerated in Westville Correctional Facility. I was convicted at age 17 and sentenced to 50 years in prison. I'm now on year 17. While incarcerated, my advocacy and activism began with juvenile justice reform, trying to get them to change some of the laws that they use, with respect to waiving minors to adult court and sentence them to adult time for offenses committed as juveniles. And as I began to study some of the background there and witness some of the horrors that take place in the penal setting. I just started to expand my activism a little bit, study more of the systematic causes and abuses that are perpetrated by the prison industrial complex.
Ray: And I'm Ray, I use they/them pronouns. I'm the PSLN outside facilitator and a member of IDOCWatch in South Bend.
TFSR: So for the listening audience, could you all maybe talk a bit about the IDOCWatch, what it is, how it developed? What motivates it, who it supports and why?
Landis: Okay, so IDOCWatch began rather informally. There were some incarcerated individuals in long-term segregation and in various prisons that reached out to individuals on the outside and began to form friendships and relationships with those individuals. And as those friendships and relationships blossomed, the individuals on the outside were able to see the daily struggle that incarcerated individuals go through in the Indiana Department of Corrections, they were able to see some of the systematic abuses and the violations that go on, and over time, as those friendships and relationships began to blossom. It morphed into what can we do to fix this situation? So, IDOCWatch is essentially a collective to provide assistance for those that are incarcerated, to fight back for their rights and assert themselves. IDOCWatch believes in a prisoner-led abolition. Basically, as we strive and struggle for abolition, we believe that it starts with the individuals that are incarcerated. We have to educate ourselves, we have to take those first steps in the fight towards abolition and asserting our rights. And IDOCWatch has grown exponentially and towards furthering those goals.
TFSR:
I'm curious about… with the organizing that y'all have been doing on the inside, how has the Indiana Department of Corrections reacted to prisoner self-advocacy, sharing education, sharing experiences, and building this community, as you say, and friendships?
Landis: They've responded in some overt obstruction, some of the obstruction is subversive. Anything that appears to be offenders or prisoners uniting is extremely frowned upon, any type of assistance or attempts to uplift each other is frowned upon. One of the things that we've begun to do is form study groups where we can help educate each other politically, assist each other with education, whether it be pursuing a GED, different stuff like that. One thing that we've seen at the location where we're at is anytime a study group is formed, and we began making progress, that there's a mass movement and the individuals that are taking part in the study group are scattered throughout the facility. You see administrative rules that are enacted where you can receive a conduct violation for studying in a group. Internal advocates, or what's also known as jailhouse lawyers, can receive a conduct violation for helping to assist other individuals in legal matters. So there's absolutely a constructive attempt to stop that type of solidarity and prisoner to prisoner assistance.
TFSR: It sounds like a lot of what you're describing are rules infraction board-type assaults on individuals inside. Have they done anything that would resemble gang-jacketing participation or solidarity or study groups?
Landis: Oh, absolutely. Anything that same as in support of abolition or in support of solidarity, they actually refer to it as a security threat group activity. So when members get together in a study group to help uplift each other, they see that type of unity, even though it's in furtherance of reformation and rehabilitation, they see that type of unity as a threat to the safety and security of the facility. And they actually can act pretty harshly against it.
TFSR: Ray mentioned the Prison Legal Solidarity Network. I'm wondering if y'all could tell the listening audience a little bit about how that developed and your partnership with the National Lawyers Guild and what the vision is for that?
Landis: Okay, so with PLSN, one of the things we've seen historically, is when it comes to any type of movement when individuals are asserting their civil rights, protesting, and things of that nature alone, without more, it is difficult to accomplish the goal. So various members of IDOCWatch, we put our heads together. And we see that in the correctional setting, many constitutional violations go unchallenged, because either there's an ignorance amongst the prisoner population on how to challenge those constitutional violations, or what we've seen in recent years, is a meaningful or willful attempt on behalf of IDOC to keep offenders out of law libraries or make it difficult for them to assert their legal rights. So, with the PLSN we've seen an opportunity to not only build a network that provided the necessary resources for offenders to attack their criminal convictions or file lawsuits against systematic abuses within the correctional setting, but we've seen it as an opportunity to educate. One of the main pillars and objectives is empowerment. In that, we seize the opportunity to educate the incarcerated on the true motives of the prison industrial complex and the history behind the prison system as apparatus of class warfare and subjugation. We see it as providing the necessary resources to weaponize the very system, they weaponize against our communities, against the prison industrial complex. And it provides an opportunity for us to network and to build those friendships and meaningful relationships to continuously grow and progress towards the ultimate goal.
TFSR: Yeah, that kind of strikes a chord that I've been hearing a lot of quotes of, in the last few years, from prisoner organizers, which is I think a mixture of a quote from… I'm not… amazingly versed in George Jackson, but between George Jackson and also Ho Chi Minh, talking about turning the prisons into schools of liberation. When reading up on the Prison Legal Solidarity Network, I also came across the Prison Lives Matter which I've also heard referenced by incarcerated activists that I have spoken to. Can you talk a little bit about PLM and how the Prison Legal Solidarity Network engages with it and what that initiative is?
Landis: PLM is an amazing organization that was created in part by one of our members, one of our inside coordinators Shaka Shakur. And basically, it is to shine a light on the fact that just because the person was convicted of a crime doesn't mean that their life doesn't matter. It doesn't mean that they shouldn't have a legitimate shot at reformation. The public a lot of times doesn't understand the factors that condition individuals and set them up to be incarcerated, number one. And number two, a lot of people think that incarceration is conducive to reformation. They believe that when you come to prison, you have the ability to take advantage of programs to reform yourself and to become a productive member of society. But that's absolutely not the truth. They don't understand that prisons are absolutely saturated with narcotics. They don't understand that prisons are ridiculously violent. And that most administrations enforce policies and a culture that reinforces the cycle of addiction and the cycle of violence. And when an individual spends years at a time in these environments, without the opportunity for a meaningful reformation, that the system is essentially manufacturing monsters that they're returning to these working-class and minority communities. And it creates that cycle of violence and failure and addiction and re-incarceration. And they don't understand that that was the true meaning of that system.
If you look at the Indiana Department of Corrections, their model isn't reformation, it isn't rehabilitation. If you look at their emblem, it says, Employees Efficiency Effectiveness. So they're utilizing employees to efficiently and effectively incarcerate individuals. It has nothing to do with the reformation, nothing to do with rehabilitation. So Prison Lives Matter was a formation to shine a light on what really goes on behind these walls and to start to put the mechanisms in place, to start to form the relationships and the networks to actually be able to create an environment that's conducive to rehabilitation and supports what we're striving for.
TFSR: And while the work that y'all are doing to co-educate and to engage other people that are behind the bars, it seems super important, especially since people are coming in and going and going back in, people have families and communities on the outside. And one of these major dehumanizing methods of the prison system in the United States is to attempt to, despite what it says, break up those connections. It seems like Prison Lives Matters gives an opportunity for people to gain more tools to be able to talk about what they've experienced to their loved ones on the outside and re-contextualize the reason that they're in that place and engage the people on the outside to fight along their side too.
Landis: Absolutely, and what's disturbing is when you're incarcerated, those relationships and friendships with your family are already strained because of the distance and the difficulties that come with incarceration. But we've seen an effort on the part of the Indiana Department of Corrections to make that even more difficult. So one of the things that they've done is they've made it harder for offenders to receive snail mail. And one of the reasons for that is they issue began issuing tablets where we can send electronic mail to our families and everything, one more way that they can make money. So what they began to do is, instead of allowing us to receive actual letters, they began copying our letters and making it difficult and limiting the type of mail that your family can send you, they can't send you actual pictures anymore, to force us to start to use these tablets. Now what we're seeing, since COVID, is an attack on the contact visitation. One of the most dehumanizing things about incarceration is you don't have the ability to receive that reassuring touch. And contact visitation, when you're able to see your family and actually hug another human being, hold their hand, kiss your child, that reminds you of your humanity, that's a motivation for you to continue to put one foot in front of the other. And here recently, we've seen an attack on that.
We believe that, and I've heard from a senior official that they're actually trying to eliminate contact visits in the Indiana prison system and force us to have to utilize the video visitation to see our family. And that's wrong on so many levels. Number one, not all families have the financial resources to do that. Number two, the Wi-Fi system is ridiculously unreliable. Frequently, one of your family members has scheduled a visit, and they can't even get through because the Wi-Fi is not up. So as you were saying, maintaining these human connections is really important. And that's another thing that we're seeing constructive efforts to obstruct our ability to maintain that contact with those loved ones, our ability to maintain the network with individuals like yourself who support us and support our well-being.
TFSR: It's a strategy that Departments of Corrections seem to be applying across the country, including at the federal level. It also increases the possibility of surveillance, right? If you've got emails shooting back and forth, and you're paying 50 cents for an E stamp or whatever, through JPay, then suddenly, it's way easier to run an algorithm to just search for certain key phrases or monitor your relationship with people on the outside.
Landis: Absolutely! One thing that's particularly scary is for activists, without contact visits, without the ability to utilize snail mail at any time, people that are shining a light on the systematic abuses and oppression, they can cut you off electronically, stop you from being able to send electronic messages, they can stop your video visits. Because the way that it was set up before is they could restrict your visit, they could put you on non-contact visits, but at any time an individual could come up there and make sure that you were okay. But the things that they're trying to impose now, where they're making everything electronic, somebody who's a thorn in the side of a particular administration, they would have no problem whatsoever cutting off all of your contacts with the outside world, and you would literally be at the mercy of that particular administration. So it creates a huge possibility for abuse.
TFSR: And so I guess while you all are working towards PLM as a project to garner more attention and get more support, more understanding on the outside, the Prison Legal Solidarity Network is a tool towards multiplying the number of people that are going to be able to advocate for each other and also build solidarity with each other, to advocate on each other's behalf, help them through filing these lawsuits, challenging the imposition of this for-profit filtering of people's real lives and ability to survive.
Landis: So, one thing that we have seen in analyzing history is movements such as this, like I said earlier, require more than simple protesting. In order for us to achieve the things that we want to achieve, we have to start to put the support systems in place to sustain an ongoing movement. One way to proactively counter PRC aggression, and to fulfill certain objectives, such as legal education, political education, the empowerment that we need collectively, was to put this support system in place. We also believe that we have to begin to put other support systems in place to continue to counter some of these moves to further the objectives of the prison industrial complex.
We see, especially at locations like this, where they only provide the minimum amount of education required. Here, under IDOC policy, they're only allowed to teach English in the classroom. So one thing that I've seen is we have a large number of Hispanic immigrants here that can't speak English. So those individuals aren't provided books in Spanish, they aren't provided a translator or individuals that can teach them English, and they're still expected to be able to get their GED. And what's even more unfair about the situation is in order to go on to a vocational school or programs like PLUS or other reformative programs, they require GED. So basically, individuals who are immigrants or don't speak English have to do 100% of their sentence simply based off of a policy. And you see that if you study the policies, the policies aren't geared towards reformation or reintegrating individuals in society, they're geared towards keeping individuals here longer.
TFSR: Like handling a surplus population.
Landis: Absolutely. So, that's two things that the PLSN is looking at right now is we're looking at how they are deprived of good-time credit. And we're also looking at the parole system in Indiana, and how they have absolute authority to re-incarcerate individuals at their whim, which is scary. Once an individual does their required sentence and they're released on parole. If I forgot to report, a change of address, they can send me back to prison for the rest of my sentence.
TFSR: I'd also like to hear a little bit about – I know it's off topic of the Prison Legal Solidarity Network – but if you could speak a little bit about what your experience with COVID has been in the facilities that you've been in, and what vaccination, if any, is happening among the guards, how prisoners feel about vaccines, because I know there's a lot of hesitancy or distrust in certain facilities around the country.
Landis: Well, at the location I'm at with respect to the vaccine, there's a huge distrust. We know that historically, prisons have been the place where they've done medical experiments, tested experimental medications. So amongst the offender population, there's distrust for for-profit medical companies like Wexford, who could care less about our physical well-being, their main concern is their bottom line or profits. So very few of the offenders that I know have actually taken advantage of the opportunity to receive the vaccine, and most of them think we all had COVID. So what's the point in getting vaccinated against COVID, if every person that you know has already had it?
The public has no clue what went on behind these walls during this pandemic. It was terrifying. So when we begin to see news reports about the severity of COVID, how serious it was, there was no meaningful response from the administration whatsoever. And the scary thing is this facility holds more prisoners than any other facility in the state. I just arrived here when the pandemic hit. We have a unit here called ANO where when you're first transferred from another prison or you come from the reception diagnostic center, you go to that unit first, they assess you, and then they send you to your respective part of the prison you are assigned to. So, the first case was on that unit. And what they did is they tried to keep it hush-hush. They didn't respond in any meaningful way. Then when we started to hear that they had positive tests in that unit, from what the correctional staff was saying that they instructed officers to stop, if you weren't assigned to that unit, you weren't supposed to go to that unit. But we were seeing officers go up to that unit, where they had positive cases, visit with other staff, and then go to other units within the facility. And within a few days, maybe a week, we start seeing individuals start to exhibit the symptoms of COVID. Once it finished sweeping through the prison like wildfire, then they step in, and they basically quarantine each dorm to their dorm. But they knew that the virus was already within each dorm. So, we weren't issued masks. When staff was walking around wearing masks if an offender has made his own mask out of whatever materials that he could get, he received a conduct report for it. And then once they finally started to issue masks, at first, I believe those maybe one or two days, medical staff would report to each unit and check to see if guys had symptoms. But after that we didn't see medical staff for months, there were instances where an offender would be so sick that we would have to threaten to riot to get that offender medical attention. It was a very, very terrifying experience.
TFSR: Sure. Although it sounds like you were describing an instance where maybe someone was transferred in and brought it into the facility as an inmate or as a prisoner, I don't know if there were any concerns, if you would be aware if the guards had any quarantining going on among them, because they're coming in and out of the facility, they're not regulated in the rest of their life, where they're spending their time, who they're around, and if they're masking up outside.
Landis: Exactly. None whatsoever, the guards were pretty much allowed to do what they wanted to do. The only thing that they changed, and this was after there was a ridiculous amount of positive tests, was they started taking the guards' temperatures coming in. That's it. And it's crazy because we read a newspaper article, where the Indiana Department of Correction reported that there were 233 COVID cases, department-wide in every prison in the state of Indiana, they only had 233 people test positive, which is laughable. Because every dorm on the complex that I was in, pretty much everybody had it. There were periods of time where you wouldn't see an individual for two weeks, and then they would pop back up. And you didn't know that that person had been in their bed sick that entire time. They tested the dorm underneath the ANO unit. And I believe they had 93 people test positive out of 96. And they stopped testing after that. They wouldn't test anybody else anymore after that.
TFSR: Yeah, I guess if they reported those numbers, that's like opening themselves up to a federal injunction or something. They don't believe in actually being held accountable for anything, let alone for prisoners' health.
Landis: I'm going to be honest, I believe, because I read some articles on herd immunity. And basically, herd immunity means you let the majority of the population become infected. And basically, that slows… there's immunity that's built up on the antibodies. And that basically takes the place of a vaccine, and that's what I've seen take place here. What they did, is they restricted the movement, and they just let the vaccine run its course to the detriment of the people that were incarcerated here.
TFSR: If we don't know the long-term effects of what the vaccines will do, and there have been like small examples of the negative impacts on a few, a 100th of a percent of the population that's been vaccinated. But definitely, we're already seeing the long-term impacts on the cheaper version of herd immunity, which is just let everyone get infected.
Landis, you talked about how you've been in for 17 years, you came in as a juvenile, correct?
Landis: Yes, sir.
TFSR: And you've been an advocate around shifts and changes in juvenile incarceration in Indiana. If you could talk a little bit about what some of that work looks like and what maybe people on the outside don't realize why there need to be major shifts in the way that people consider criminality, incarceration, and juvenile health.
Landis: The first thing that people don't consider is that minors are physiologically incapable of making an adult decision. So anytime a minor is waived to adult court and sentenced to adult time for a decision they made when they were incapable of thinking as an adult, in and of itself, contradicts justice. For me, after I was convicted, I was at the Wabash Valley Correctional Facility, the most violent prison in the state of Indiana. I was placed in a dorm called K-dorm, it was a program called YIA, youth incarcerated as adults. And basically, it was like Lord of the Flies in there, it was violent. There was a lot of misconduct on the part of staff towards juvenile offenders, we really didn't have any rehabilitative resources to speak of. And one thing that I've always seen is that if there's any renewable resource, here, within the last 10-20 years, as a society, spoken a lot about renewable resources, if there's any renewable resource, it is our children. If anybody is capable of reformation and redemption, it's a child. But we're the only country in the world where a child can commit a crime. And one thing that really isn't taken into consideration is the background that this child came from, what motivations caused this child to commit this crime.
Not understanding that background, not understanding the inability to think at the level necessary, and sentencing a child to considerable term in prison goes against what our Constitution is supposed to do. Because here in Indiana, we have Article 1 Section 18 that says the Penal Code shall be founded upon principles of reformation and not vindictive justice. But what's more vindictive about sending a child to prison where they have a choice between joining a gang and engaging in violent behavior, or being raped, or being robbed, or abused. Basically, when you send a child into this environment, either he has to become a monster to survive, or he has to become a victim. And if reformation is the goal, that makes reformation impossible. So looking towards the initiatives and the things, there is pretty much nothing in place that would allow a child to reform themselves.
TFSR: Thank you for saying that. I really appreciate that. And there's some audio of you also speaking about your experiences up on the IDOCWatch.org website. Really just spell it out also, and very worth listening to. How can people who were in the listening audience support PLSN and get involved, support PLM, if you can speak to that.
Ray: As far as Prison Lives Matter, you can our focus is incarcerated people and people on the outside. You can reach us at PO Box 9383, Chicago, Illinois 6069. Or you can visit us at supportprisonlives.org. For the Prison Support Legal Network, if you are a jailhouse lawyer or interested in our initiative, you can write to us at PO Box 3322 South Bend, Indiana 46619, or leave us a voicemail at 423-281-5009 with your name, DOC number, and a brief introduction and any legal experience or training that you may have, and we will contact you.
If you are a lawyer in Indiana, a paralegal law student, abolitionist-minded with a little bit of legal expertise, we'd love to have you onboard as well in our external committee, and you can email me directly. That's Ray at raddishgreens@protonmail.com.
TFSR: Ray gave us a little bit of information about how outside people can get involved with or find out more about PLSN and PLM. The website for IDOCWatch, or it has a reference to support for the demands of the 2018 national prison strike. About a month ago, I got to speak with someone from Jailhouse Lawyers Speak about the Shut Them Down 2021 initiative. And I'm not sure if you're aware of this initiative, if either you as a member of IDOCWatch, or you as an individual, have any words for the audience about that call out for people to come together around the theme of abolition and engage with juvenile facilities, ICE facilities, BOP, local DOC, whatever and challenge them and educate each other.
Landis: With respect to this specific initiative, I haven't really had an opportunity to read up on it or anything like that. But one thing that I can say is, without unity, we're not going to make it anywhere. Every year, I see our rights eroded, I see the abuses become more blazing and more sadistic. But unless individuals come together and make up their minds that meaningful change is the only thing that they'll settle for, things are only going to continue to get worse.
TFSR: I didn't have any more questions that I had scripted out. So is there anything that we didn't talk about? Or that I didn't ask about that you want to be asked about or that you want to just riff on?
Landis: I don't know, Ray might have some stuff. The only thing that I wanted to touch bases on is some of the long-term goals for PLSN. Because as a mechanism of genocide, the prison system is just one component. I think that people don't really see things like public defender agencies as mechanisms of genocide or tools of the prison industrial complex. And what we're doing is we're developing some future goals and objectives and strategies for how we can continue to combat the prison industrial complex, not just in the prison setting, but on the street. So one of the things that we've started to develop is what we call the Indiana Criminal Representation branch, where most public defender agencies blame their inability to adequately defend defendants on the number of cases that they have. So, I believe that one of the strategies that we can utilize in fighting against the public defender agencies being able to feed working-class and minority individuals as to this horrible system, is by creating our own mechanisms for criminal defense, things like the PLSN, where we have professionals, we have lawyers and paralegals and jailhouse lawyers come together, and law students, and pooling resources to effectively provide that legal support.
If we start to put these mechanisms into place prior to incarceration, I believe we can really carve them out of individuals that are fed into the system and save a lot of lives. Another initiative that we're looking at is non-profit bail bonds. In recent years, we've seen a movement for bail reform, because we know that the odds of an individual receiving an unfavorable outcome to their criminal case is a lot higher when they fight their case from behind bars. And that's one of the strategies that they use for working-class minority individuals is they keep you locked up. And a lot of times the lack of these resources and these public defenders that either won't or can't perform their job effectively assist in feeding the prison industrial complex. If we could come up with mechanisms to where we can assist minority and working-class people in getting out of jail so they can find their cases on the street and start to implement some community-building with those programs. So for the individuals that take part in the indigent criminal representation, or non-profit bail bonds, where they're actively doing community service, going to school, taking part in political agitation, assisting in initiatives like the PLSN, where they're actively helping members of their community understand what the prison industrial complex is perpetrating against our communities. And further our goal of abolition.
TFSR: Ray, did you have anything to add to this conversation? I think this would be a good place probably for us to start wrapping up.
Ray: I think that what Landis said above and beyond covered things that I wanted to talk about, and that are call-outs that I mentioned, our buffer inside and outside, you mentioned that it was heard outside, somebody they're in contact with that is in Indiana that is interested in being a jailhouse lawyer or being trained, contact us.
TFSR: How can people follow IDOCWatch?
Ray: You can find us on Facebook and Twitter, both with IDOCWatch.
TFSR: Landis, are you cool with people reaching out to you? And is it okay, do you have a preference of JPay male or I guess what remains is snail mail?
Landis: However they'd like to reach out, I'm definitely interested in sharing my story and participating with any organization where I can help further the goals of abolition or assist anybody who's going through what I've been through or is going to go through what I've been through. In any way that I can help anybody, I'm willing to. You can reach out to me through GTL by downloading the Connect Network app or through snail mail. My name is Landis Reynolds, DOC number 157028, and I'm located at Westville Correctional Facility in Westville, Indiana.
TFSR: Thank you, all of you for taking the time and helping to make this conversation happen. I really appreciate it.
Ray, Landis: Absolutely. Thank you so much.