Combating Movement Misogyny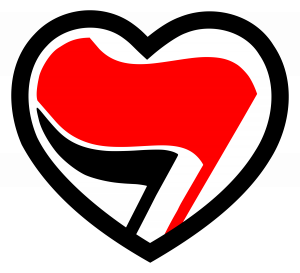 This week on the show, William and Scott are presenting an interview with Alice and Dolly, who are two people working toward Disability Justice and Mad Activism (among other things), about the prevalence of movement misogyny in antifascist currents, world building as antifascist and as community defense, ways to rethink harmful patterns in movements, and some things we can do to make each other safer. The show initially got in touch with these guests based on a Twitter thread that they co-authored about these issues. Check out our podcast at our website later today for a longer conversation.
You can follow Alice on Twitter @gothbotAlice, and to read Tema Okun's work which Dolly was referencing on unmasking and addressing white supremacy culture you can follow the link in our show notes – or – search "White Supremacy Culture" on your search engine and follow the results to the pdf on the dismantlingracism.org page.
Further reading
Intentional Peer Support (alternative mental health support structure)
adrienne maree brown: http://adriennemareebrown.net/

also our recent interview with them: https://thefinalstrawradio.noblogs.org/post/2021/02/14/adrienne-maree-brown-on-cancellation-abolition-and-healing/

Audre Lorde: https://en.wikipedia.org/wiki/Audre_Lorde
Tema Okun's essay "White Supremacy Culture": https://www.dismantlingracism.org/uploads/4/3/5/7/43579015/okun_-_white_sup_culture.pdf
Announcement
Phone Zap for Rashid
from RashidMod.com
​On July 12 Kevin "Rashid" Johnson was transferred from Wabash Valley prison in Indiana to the custody of the Ohio Department of Corrections, being brought directly to their intake center in Orient. He would remain there for less than three weeks before being sent to Lucasville prison on July 30th.
… More details in the actual post, listed above at Rashidmod…
For Virginia: #1007485
For Indiana: #264847
For Ohio: #A787991

Demands:

1. 𝘼𝙣 𝙚𝙣𝙙 𝙩𝙤 𝙩𝙝𝙚 𝙗𝙤𝙜𝙪𝙨 30 𝙙𝙖𝙮 𝙧𝙚𝙨𝙩𝙧𝙞𝙘𝙩𝙞𝙤𝙣 𝙛𝙧𝙤𝙢 𝙥𝙝𝙤𝙣𝙚 𝙖𝙣𝙙 𝙚𝙢𝙖𝙞𝙡.

2. 𝘼𝙣 𝙚𝙣𝙙 𝙩𝙤 𝙩𝙝𝙚 𝙗𝙤𝙜𝙪𝙨 30 𝙙𝙖𝙮 𝙧𝙚𝙨𝙩𝙧𝙞𝙘𝙩𝙞𝙤𝙣 𝙛𝙧𝙤𝙢 𝙘𝙤𝙢𝙢𝙞𝙨𝙨𝙖𝙧𝙮 𝙩𝙝𝙖𝙩 𝙥𝙧𝙚𝙫𝙚𝙣𝙩𝙨 𝙍𝙖𝙨𝙝𝙞𝙙 𝙛𝙧𝙤𝙢 𝙤𝙧𝙙𝙚𝙧𝙞𝙣𝙜 𝙨𝙩𝙖𝙩𝙞𝙤𝙣𝙚𝙧𝙮 𝙬𝙞𝙩𝙝 𝙬𝙝𝙞𝙘𝙝 𝙩𝙤 𝙬𝙧𝙞𝙩𝙚.

3. 𝙏𝙝𝙚 𝙞𝙢𝙢𝙚𝙙𝙞𝙖𝙩𝙚 𝙧𝙚𝙩𝙪𝙧𝙣 𝙤𝙛 𝘼𝙇𝙇 𝙤𝙛 𝙝𝙞𝙨 𝙥𝙧𝙤𝙥𝙚𝙧𝙩𝙮 𝙞𝙣𝙘𝙡𝙪𝙙𝙞𝙣𝙜 𝙩𝙝𝙚 $400 𝙩𝙝𝙖𝙩 𝙬𝙖𝙨 𝙤𝙣 𝙝𝙞𝙨 𝙩𝙧𝙪𝙨𝙩 𝙖𝙘𝙘𝙤𝙪𝙣𝙩 𝙩𝙝𝙚𝙧𝙚 𝙖𝙩 𝙒𝙑𝘾𝙁 𝙖𝙣𝙙 𝙝𝙞𝙨 𝙡𝙚𝙜𝙖𝙡 𝙥𝙧𝙤𝙥𝙚𝙧𝙩𝙮 𝙬𝙝𝙞𝙘𝙝 𝙬𝙞𝙡𝙡 𝙚𝙣𝙖𝙗𝙡𝙚 𝙝𝙞𝙢 𝙩𝙤 𝙘𝙤𝙣𝙩𝙞𝙣𝙪𝙚 𝙬𝙞𝙩𝙝 𝙝𝙞𝙨 𝙘𝙖𝙨𝙚 𝙖𝙜𝙖𝙞𝙣𝙨𝙩 𝙩𝙝𝙚 𝙄𝙉 𝘿𝙚𝙥𝙖𝙧𝙩𝙢𝙚𝙣𝙩 𝙤𝙛 𝘾𝙤𝙧𝙧𝙚𝙘𝙩𝙞𝙤𝙣𝙨. 𝙄𝙛 𝙩𝙝𝙚𝙮 𝙩𝙚𝙡𝙡 𝙮𝙤𝙪 𝙩𝙝𝙖𝙩 𝙝𝙞𝙨 𝙥𝙧𝙤𝙥𝙚𝙧𝙩𝙮 𝙝𝙖𝙨 𝙖𝙡𝙧𝙚𝙖𝙙𝙮 𝙗𝙚𝙚𝙣 𝙨𝙚𝙣𝙩 𝙩𝙝𝙚𝙣 𝙬𝙚 𝙣𝙚𝙚𝙙 𝙩𝙤 𝙠𝙣𝙤𝙬 𝙤𝙣 𝙬𝙝𝙖𝙩 𝙙𝙖𝙩𝙚 𝙞𝙩 𝙬𝙖𝙨 𝙨𝙝𝙞𝙥𝙥𝙚𝙙 𝙖𝙣𝙙 𝙬𝙝𝙖𝙩 𝙛𝙖𝙘𝙞𝙡𝙞𝙩𝙮 𝙧𝙚𝙘𝙚𝙞𝙫𝙚𝙙 𝙞𝙩.

PHONE NUMBERS AND EMAIL ADDRESSES TO CONTACT:

Joseph Walters, Dep. Director VADOC
joseph.walters@vadoc.virginia.gov
(Proxy for Harold W. Clarke, Director of the Department of Corrections)
(804)887-7982

James Park, Interstate Compact Administrator
James.park@vadoc.virginia.gov

Annette Chambers-Smith, Director of Ohio Depart of Rehabilitation and Corrections
please contact: Melissa Adkins (Executive Assistant)
via email: melissa.adkins@odrc.state.oh.us
614-752-1153.

Ronald Erdos, Southern Ohio Correctional Facility, Warden (Lucasville)
(740)259-5544
drc.socf@odrc.state.ohio.us

Charlene Burkett, Director DOC Ombudsman Bureau (Indiana)
(317) 234-3190
402 W. Washington St. Room W479
Indianapolis, IN 46204
Ombud@idoa.in.gov

Richard Brown, Warden
Wabash Valley Correctional Facility, Indiana
(812) 398-5050
. … . ..
Transcription
Gothbot Alice: I'm Alice, I am an anarchist and an anti-fascist, I have my hand in lots of different organizing spaces, particularly around, like Disability Justice and Mad Rights. I identify as a mad person and a care worker. Those things really impact the lens that I look at the world through and the way I engage with other people and organize. So thank you so much for having me. My pronouns are they/she, I'm really excited to be here to talk with y'all today.
Doll Parts: Hey, I am Dolly. And I've been doing some organizing work in all kinds of different capacities for 20 years and have been affiliated with different kinds of folks at different points. I'm most interested in disability justice and abolition, especially psychiatric abolition. And part of that reason I like don't necessarily align myself with specific movements is because of the stuff we're talking about today. I had experiences with anarchist groups and other leftist organizing that really felt like it was replicating the power structures that we were supposed to be pushing against. So I don't necessarily align with any specific ideology that way.
TFSR-William: That's super real. I've been hearing that story from a lot of folks who formerly identified as anarchists or aligned themselves with the anarchist tendency. So that's, unfortunately, something that we see a lot. And that's a huge shame, in my opinion. So thank you for saying that, I think it's something we should be talking about. We're here to discuss a topic which you posted about on your Twitter back in mid-June of this year. And it's notable for us as a show that we don't really seek interviews based on Twitter threads, usually, but this is such an important topic and, like you said before we started rolling, Alice, is something that people are really hungry for to discuss. Namely, this is the prevalence of movement misogyny and the prioritization or deprioritization of certain areas of work within the anti-fascist current, depending on how they are socially gendered. Would you begin by giving a working definition of movement misogyny?
GA: Yes, I'm happy to. And actually, before we jump in, I just want to point out that this conversation is not about a specific person, although we know a lot of people will think it is. We aren't going to talk about any individuals today, because that's not really the point. We are talking about a pattern of behavior that we have witnessed in Dolly's in my combined 20 years of organizing. People often want detailed descriptions of abusive situations in order to believe that they're real. But details don't make an experience more real, but they do retraumatize people. And the content can cause trauma responses in the people listening, and we're not here for that. What we are here to talk about is how misogyny in the movement is replicating hierarchies that exist outside of it and are causing minoritized people to replicate the networks of support that we have to create in order to survive the world within our movements. But with even more secrecy and even higher stakes. So that said, movement misogyny is the misogyny that exists in our movement spaces. It relies on paternalism and white supremacy and colonization and all the things that we seek to destroy. It relies on all of those things in order to keep us in these boxes and spaces and hierarchies that are harmful to people. Dolly, do you want to weigh in with maybe a better definition?
DP: Misogyny, for me, has a strong connection with policing. Misogyny is a way that we police people's labor, that we police people's access and things like that to information, power, all of those things within our society. It becomes embedded in our practices and our institutions. It disappears. Because we're so used to participating in it in other places, it shows up again, within our movements.
TFSR-Scott: I was really excited to talk to you all because, in the post, you give a lot of very concrete examples of how this shows up in organizing work. I hope in our conversation, we can get into different specific spaces, but maybe because it was specifically in terms of anti-fascist work, which is something that gets a lot of attention, and people don't quite understand. Maybe you could talk a little bit about how it shows up specifically in that kind of organizing.
GA: Absolutely. I like most things I do, I value collaboration. Actually, Dolly helped me write that thread. I think it's important that, as we're discussing things like this, that we remind ourselves that these discussions are meant to happen collaboratively because that's how the impact is made. In terms of how this is showing up in anti-fascist spaces, I think that there are hierarchies in anti-fascist work that exist. I think that the work that is glorified and prioritized is the research piece of it, the doxxing piece of it, where that is invaluable work. I think that it's not the only anti-fascist work that's out there. But it's the work that is getting people's attention, it's the stuff that's respected. But there's also all kinds of other anti-fascist work that's happening that is deprioritized, I think. Like I mentioned in the thread — and folks who follow me on Twitter will know what I mean, people who know me know — that I think that care work is anti-fascist work. Because of how damaging anti-fascist work is on our minds and on our bodies and our outlook, that in order for people to maintain and be well in this work we rely on the care workers. And care workers really don't get a lot of respect and support.
DP: And that work isn't even recognized as actual work, right? It's just expected from us.
GA: Yeah. And it's holding the movement together.
DP: I think the other part of that for me is that we both care a ton about care work. And world-building is so important to me. And I feel like when I was young in movements, I was — I still have a lot of rage. But I had all this rage and movement building to me was about where can I put this anger, that's the right place to put it. A lot of my work showed up as, I guess, things that people typically associate with movement building. Then there was a shift for me because, in those spaces, they were so dominated by white cis-man energy, that I have shifted my approach and world-building has been so much more of my work since then. It's often not even seen as even part of the work, I think. So, care work is unacknowledged entirely and as a thing that's happening. And then world-building sometimes gets written off as like you're messing around, or it's not important, or it doesn't matter. After whatever revolution you're working towards, you want something to be there. And if we don't make a plan for what that world looks then we're just gonna replicate the same shit, that's just what we're doing.
TFSR-W: Yeah. And, revolutions aside, I don't even know if something as clear-cut is going to happen, but we need stuff to be in place now. There are so many people who don't have their needs met, who don't have housing, who don't have adequate food, or water or anything like that, who are just being systematically crushed by existing systems. We really want to talk more about world-building, but for any listeners who are maybe unfamiliar with the term, would you give a couple of examples of what you mean by world-building?
DP: World–building can look like mutual aid, it can look like creating spaces for people to live in community with each other. It can look like developing relationships that resist the hierarchies that un-belong people. Anything that creates something alternative to the way that hierarchical structures are working now. Anytime we're able to build something that can give us freedom from those institutions of power or something that resembles freedom from — I don't know if it's possible to just be free from them at this point — but something that resists, that keeps people cared for and safe and creates the space that we want to live in. Whether that space is digital or in real life or otherwise.
TFSR-S: As I was listening to you speak about… one of the things that you opened up with movement misogyny as a kind of policing that and a way that our anti-authoritarian spaces replicate the structures of authority that we are trying to resist. It's also similar in the way that care work gets invisible, as in capitalist labor, right? The feminized labor of housework, networks of care that we rely on to survive, and then that that work in movements also just gets shunted aside, deprioritized, or treated as if it's not important, as if we're actually on the verge of revolution or something. And we all have to just be manly warriors. And that really irks me a lot, especially when plans are being made for any kind of specific organizing thing that people want to focus so much on this one aspect of the thing that makes the space uninhabitable in so many ways. And one thing in what you both wrote that I really liked was thinking about care work as self-defense, too, because anti-fascism is often seen as a form of self-defense, right? We're protecting ourselves against fascists. So I was wondering if you wanted to expand a little bit on the way that care work is also a kind of self-defense.
GA: Absolutely. I see care work not just like self-defense, but community defense, because we've got these brilliant comrades that out here actively harming themselves by doing this work, whether it's anti-fascist work, or mutual aid or crisis response or whatever. It's hard, it takes a toll on us. And to act like it doesn't does a great disservice to the movement. What ends up happening is people inundate themselves with the research and expose themselves to the absolute worst shit, the worst kinds of people, and the worst kinds of violence, so that we can turn around and report on it and expose these people. But we have to come up for air sometimes. And I think that's really hard to do. It helps to have networks of people who can remind us to take care of ourselves. But since that's not really happening, folks are burning out and leaving the movement or killing themselves, or both. We're losing people, we are losing people because the work is so awful and harmful. And so when I say care work is community defense, what I mean is that, who are folks relying on when things are so bad and so painful? Well, we're relying on our friends that normally step into care work roles, right? And in a way, I see care work as community defense, because it helps keep our community well so that we can sustain in this work, so we don't burn out, so we don't kill ourselves. Does that answer your question?
TFSR-W: Yeah, totally. I'm wondering if you would be willing to talk a little bit about the circumstances that led you into writing the Twitter thread? If not, that's totally okay. And we can move on to another question. But just so folks can get a sense of where your mind is at with that.
GA: I'm happy to speak on that. It was a weekend of celebration, but also ended up being… I experienced a mental health crisis. Dolly was with me, actually, and was able to be supportive. I think the things that contributed to us wanting to write this thread were the things that contributed to my mental health crisis, which is just feeling burnt out and really frustrated with the way people are treating each other, and sad, really sad for my comrades and for myself. I'm somebody that experiences really big, intense emotions, that's part of my madness, that's part of my mental health experience. It's one of the symptoms that shows up in the DSM under my psychiatric labels. That's something that I navigate the world with an understanding of. And so that means that the good things feel really good. And it means that the bad things feel really, really, really bad. When I started to come out of that crisis space, I told Dolly that I wanted to write something about this because it was just in my head and we had spent days talking about it, as it related to personal stuff, but also generally, because none of this stuff happens in a vacuum. So we got some lunch and we sat down and we cranked it out. We didn't have any idea that it's gonna be so well-received. So that was nice because we did spend some time. We were very intentional about it. We thought about making it a blog, but we know nobody clicks through, they'll read 37 tweets, but they're not gonna click through and read a blog. Dolly, do you want to want to speak more to that?
DP: Yeah, that's such an interesting thing that created us doing this was a great example of a ton of the things we're going to talk about today. We were getting together specifically, so that we could do celebratory things, like experiencing joy and making sure that was part of our political experience too. And then, we're both mad people. So crisis is always on the table. I don't think it was unexpected that some crisis stuff was going to happen. But we were reflecting on how often that crisis isn't created by the state or the things that we would think it would be created by. I think our madness, we are disabled by the state in the way that structures are set up. But I don't think that those things cause disability for us, but the things that cause us pain and crisis, are all the things that are happening with our comrades. And that felt very bad. And then we started reflecting on all the times that things had happened, all of the ways that we've had to become someone new, or move into a new movement space, or keep big, scary secrets, and only talk to each other, literally just each other. And how that's not the point. I don't do any of the organizing that I do to feel that way. And we feel that way too often. And I think it's not just us. The number of Black and brown people and femmes and mad people and other disabled folks that just get trampled on by the movement is really disheartening. So we wanted to bring it into conversation not so that we could point fingers or anything or blame people, but so that we can talk about the whole point of this movement-building is to address these issues. We know, we'll make mistakes, and we ought to be able to adapt and change. But a lot of what we've seen is that anytime someone's behavior is challenged, they can like take a break for a little while and then make a comeback, or there's no real accountability process. And we're not doing an accountability process for this bigger issue of how our movements make this possible.
TFSR-S: I've actually been put off a lot from anti-fascist spaces, I mean, not anti-fascist spaces, because I want every space to be anti-fascist, but working in anti-fascist organizing, because it is super macho to me, and the truth that anti-racist skinhead movements, which, I think, is getting a lot of attention. Now, I came up in the scene like that, which for me, was a form of self-protection. But I just wonder, because you move in those spaces, if you can talk about how much of this shows up in anti-fascism? Is it the image of it that gets pervade rather than the actual reality of what the work is like? Because you talked about how so much of the care work gets invisiblized.
GA: Yeah, I do think that anti-fascist work is portrayed as white cis-men doing this glorious investigating and getting all the credit for it. And the way that folks have to engage when reporting on it is very machismo. I'm frustrated by that because that is not the reality. Not every anti-fascist researcher out here doing kick-ass work is a white cis-man. And it's so frustrating to me. But the reason we think that is because of who gets to be elevated, and the voices that are typically elevated are those of white cis-men. It does erase and invisiblize everyone else. On the one hand, that can be very protective. Because the Nazis and the state are after us. So if people think that we are someone different than we are, that can be protective, that can help us survive. But it also takes a toll on people's mental health, not being able to be authentic in who we are, not be able to recognize our intersecting identities, and all of the secrecy and anonymity, there's a dark side to that. One, it helps protect the abuse that's happening in these spaces. Because we have to remain so secretive. But, also, it's isolating and isolation kills people. I so badly want things to be different. But also I can understand why things are the way they are. And it's demoralizing. And it hurts as somebody that does this work, it's painful.
DP: I want to call out something really specific that I see happen, which is around sexual relationships is that often–times, young femmes are brought into the movement by a partner, or they come into the movement, and then there's someone who swoops in. I'll let Alice talk about 13th Stepping in a second, that's what we call it. But I think that there are these power dynamics that show up that very directly replicate the power dynamics of sexual abuse. And that secrecy is this core component of it. So when you already have a need for secrecy, we have to be exceptionally careful about how far you get in those secretive environments. And we ought to be doing things to protect people that have been targets of abuse in other parts of our lives and making sure that those secretive or anonymous or confidential spaces are actually safe for us. Because otherwise, we replicate things like sexual abuse. And whether something sexually abusive is actually happening, we replicate that dynamic, where there's no one you can go to, there's no one you can tell, and you're going to lose your family, your comrades if you talk. And then you're just going to be out on your own. That setup is already existing because of the level of confidentiality we have. So by not doing things to address how power showing up internally in our movements, we're going to just replicate that power dynamic of sexual abuse.
TFSR-W: I think you both bring up such an important point. As anarchists, and I know, not all are anti-fascists or anarchists, I know that there's a situation there, there's a discrepancy there. But there's this tension between the secretive nature and there needing to be a secretive nature. But how that aspect of anti-fascist work really feeds this other extremely toxic and harmful and potentially fatal other sexual predation dynamic, which is totally a huge problem. I'm not being super articulate right now. But I think it's such an important point, that these two things are true. And these two things need to be teased apart as soon as possible. So thank you for bringing that up.
GA: I agree. I also think things definitely need to be teased apart. If you want to start organizing with someone, or you have an AG or whatever, before any actual organizing happens, sit down and have a conversation about everyone's collective ethics. If we are not all ethically aligned, then people are going to come in and fuck up and destroy the good work and the people doing the good work. And we should be talking about our collective ethics anyway. And we should be interrogating within ourselves and within each other, why we feel the way we do about certain things, that is how we grow and learn. And it should be central to being in community with people. And if we say that we have a collective ethic around protecting each other, we protect ourselves, then we need to be about it.
DP: We need to protect each other from each other sometimes. I also think it's okay for there to be conflict and for us to struggle and make mistakes too. If we have those collective ethics, then we have something to hold each other to and they have to be stated.
GA: Yes, absolutely. Dolly, you mentioned 13th Stepping?
DP: Yeah, I want you to talk about that because you're better at talking about it than me.
GA: So, in 12-step spaces, Alcoholics Anonymous, NA, all of it, there's a thing called 13th Stepping, or the person would be the 13th step predator. And the 13th step predator is the person that's been in the rooms for a long time and preys on the newly sober people coming into the rooms. Dolly and I really tried hard to find another term for this kind of person and this kind of thing that happens, 13th Stepping. But we feel it's actually perfect. It very perfectly describes what is happening in our movement spaces. None of this stuff is specific to anti-fascism, that just happens to be the space I have a hand in or whatever, but also it's all over movement spaces. It's in Disability Justice spaces, it's happening in anarchist spaces, in the fucking DSA, it is happening. And so 13th Stepping would be someone that is that maybe has more clout, or social capital, or has been in the movement longer, or knows more people or whatever, taking advantage of newer folks coming into our spaces. It's fucking gross. Now we have a term for it. So when it shows up in your space, when you're seeing it happen, that's got a term, it's called 13th Stepping. And we should be acutely aware of who those people are and how they're doing harm to our movement and to our comrades.
DP: I think there's a piece of identifying when that individual is doing it. And then also, we need to be making sure that we're not making that possible for people to have that kind of power, and that the only way to get close to that power is to be an anti-fascist girlfriend, or whatever, if it's an abolition movement is to be an abolitionist's girlfriend. So there need to be pathways for all people to share power in our movements. So anyone getting into a position where they're going to have that kind of power also might mean something is going on in the movement space that we want to address and talk with people about it. Power in and of itself isn't bad. It's what we do with that. If someone does gain that level of power, they ought to be finding ways to redistribute it. And if they're not doing that, then we create these dynamics, and they're always going to exist.
TFSR-S: I just want to pull on some of this, because one of the things that you're talking about that I think is really important is entry points for people to get into this work. If we have this vision of a different world and we're building it, we want people to join our movements, our spaces, our community. I'm not against an erotic introduction, if you come in because you're crushing on someone, and they introduce you to that. But I think you're putting on something really important in the way that the culture of secrecy can create these power dynamics that isolate people who come in through it. And then the other thing what you're saying makes me think about is how the terminology and languages that we use within our anti-authoritarian, anarchist, anti-fascist spaces about how we're supposed to be. Those can be armed to protect power abusers in various ways, and particularly around calls for accountability. But also just in little things, like we need to be so secret that no one can ever know anything we're doing and no one can join in. Do you have concrete examples of ways to counter that kind of isolation that can come in with joining a movement? Are there ways that we can invite people safely and securely without making a fetish of secrecy?
GA: This is a good question. This is also a hard question. Because I am one person, and I do not claim to have all the answers to this, I'm just an observer. I have a lot of opinions, and I'm sick of seeing people I love get hurt. I think that connecting people to groups, as opposed to individuals, making sure that lines of communication are open. Having moments where people can engage in conflict openly so that it becomes commonplace. So that if someone's having some interpersonal shit with another comrade, it doesn't have to be "take that shit outside, deal with it on your own". There's a difference between privacy and secrecy. I think that privacy can be important for people who may be don't want to air out all their dirty laundry, that's fine. But also, we should be creating spaces where having it out with a comrade can happen, and it doesn't mean that everything's going to end and everything's going to be over and that people have to pack their bags and get the fuck out. We can have conflict openly and it doesn't have to be hostile or shitty.
DP: From my perspective, there's this core function of movement-building that's about aggressively belonging people, like we need to belong to each other. And so much of the things that harm us or systems that are set up to purposefully unbelong us. You can't be secret from each other. We need to be able to have space for us to know each other. And it doesn't have to be know everything. Knowing each other doesn't mean knowing every detail about someone's life and where they live, their social security number, whatever those things, even their legal names, but we have to belong to something to be able to behave ethically toward each other. And I do think we have to stop caring… It's amazing what you can get done when you stop caring who gets the credit for it. Sometimes we still hold on to wanting to have credit for the things that we do. And so there's this shift back and forth between secrecy, privacy, and then someone wanting credit, and then the folks who have created privacy around their group get into different positions of power because someone wants credit and behaves in different ways because of that. If we can share the credit across the board or not even care who gets credit, maybe there's no credit for work that's done. And if we can make sure that there's an essential function of our movement-building that is about being in community with each other, those things help.
GA: I do want to add one more thing. In terms of cultivating the spaces that we want, that are safe for people, and I know we're getting there, but we need to believe survivors, we need to believe when people outcry that some fucked up shit has happened. I mentioned it right at the top of this, but there's this idea that you need the graphic details of someone's experience of violence or abuse in order to believe that it happened. That's some shit you need to work out with you. If someone comes to us and says, "Hey, I got a diagnosis of cancer. And I'm really scared". We're not like "Show me the paperwork, or I don't believe you", right? We don't have to personally experience cancer to know how bad and shitty cancer is, why do we do that with other things? Why do we do that with interpersonal violence? I don't understand it. It doesn't make sense. It's antithetical to what we're supposed to be moving toward and building. And this idea that I need receipts in order to believe you… Nobody outcries because that's healing and enjoyable. People outcry because they want to protect other people who might be victims in the future. It's about protecting the community and letting people know a person is not safe. No abuse survivor ever was like "I'm so glad I had to tell a bunch of people about this". Sorry, maybe that was a little tangential.
TFSR-W: I think it's all related. Those are super important points to consider. Two of the things that came up for me when Alice, you were talking about people needing to be comfortable with conflict. That really resonated with me, because I think that we, like the rest of our society are… For as much conflict as we do have, we are still very conflict-averse or conflict-avoidant. And that really stems out of respectability politics that is super neoliberal and is really divorcing people from our human processes that are happening internally anyway. And also, Dolly, when you were talking about credit, immediately, I started thinking about that person that punched that white supremacist on Live TV during the inauguration. Do y'all remember that? I don't know who did that and I don't want to know and it's like we all did it, in my opinion. So this is super beautiful to think about.
DP: It's better if none of us ever know, right?
TFSR-W: Yeah. And that's the thing too. But there are certain things that internally we need to be talking about. Anybody who's been paying any amount of attention to the news will know that so-called extremism, for lack of a better word, is on the rise, far-right style. And I think that anti-fascism has a crisis narrative built into it. I have definitely noticed within anti-fascist currents that this crisis narrative definitely contributes to these harmful patterns and the way of "Oh, we don't have time to deal with that right now, we're in the middle of a crisis, I would love to hear…
DP: Urgency is white supremacy in action. That whole narrative is just pushed forward by white supremacy culture, it's so frustrating to me that we fall so easily into that. Do you have more to say about that, Alice?
GA: It's really fucking harmful. It's an absolute lie. Here's the other thing. Yes, the crisis narrative absolutely exists. And it's an out for people who don't want to deal with other shit. And if you're somebody that's pushing that, "I don't have time, I don't have time, I have to work on this", that's a you-issue, get right with you, connect with people because that's not how it has to be. And actually, as anti-fascists, we know that we're about to put out research on someone or drop a dox or whatever, we have to make sure that we are incredibly accurate. Because we know what happens when we identify somebody as a fucking problem, as a neo-nazi or whatever. Their lives change dramatically because of that. So we have to have this incredible level of accuracy that surpasses mainstream media. Our attention to detail has to be immaculate. That takes time. That does not happen overnight. So even though this whole crisis narrative exists, we're not actually embodying that, because we know that we have to check and double-check and recheck and check again, and have somebody else put eyes on it before it even gets pushed out. And that's how it should be. So then, this whole idea that "I can't be doing anything else cause I have to be doing this", first of all, it's centering yourself in movement work. I think that's icky. And it's just a lie. That's avoidant behaviour. I don't mean to get real clinical, that's kind of gross. But just be honest with yourself about the fact that "I'm using this work to avoid all the shit in my life that I don't want to do". Be radically honest, because then we can address that or not. But saying, "I don't have time to do other things, because this is what's happening right now", that's bullshit. I reject that.
DP: I just want to talk about Tema Okun's work on white supremacy culture, because so many of the things we've just talked about in the last few minutes are on this list of the components of white supremacy culture, so I just want to read them, because I think what this article does that I'm gonna reference and I think we can add it, when this gets published, we'll send a link, but it's about white supremacy culture and the characteristics of it. Each characteristic has a description, and then it also has antidotes, so we ought to be talking about this within any kind of groups or organizing that we're doing. But perfectionism is part of it. Then the sense of urgency, which I feel is a huge part of this feeling that there's this crisis that we have to act now. Defensiveness, where we want to protect the people that we care about. And we'll do that even in the face of seeing evidence that they maybe are not doing the right things. Quantity over quality — pushing work forward so that you're doing more of it. Worship of the written word, which I think is deeply connected to the fetishizing of doxxing, which I want to say is really important work. I'm not saying we shouldn't be doing that. But I think that has a connection to some of the academic nature of anarchists and anti-fascist spaces that is not always helpful. Thinking there's only one right way, paternalism, either-or thinking, power hoarding, fear of open conflict, individualism. "I'm the only one who can do this thing." Progress is bigger and more, believing in objectivity, and the right to comfort. And those are all the things we're talking about. Those things are harming our movement because we're replicating white supremacy culture.
TFSR-S: Yeah, I think that's so important, historically, the gay liberation movement and Black feminist movements pointed out that when you prioritize one aspect of struggle, and then second arise, something that often gets called an identity thing, then you're leaving all these people out of the quest for liberation. It's important to call that out as white supremacist. But the other thing that it makes me think about with that crisis narrative, going back to what you were saying and ways that we replicate the world we're fighting against, this idea that we have to constantly be working and burning ourselves out with no moments of rest or joy — is also replicating all those aspects, and, I think, is what goes into erasure, diminishing of the importance of world-building and care work, because no one can actually live that way, and when they are living like a semblance of that, they are relying on networks of people to keep to prop them up, usually, you get invisiblized. To make this a puzzling question. You talk about the need for joy, I wonder what that can look like from an anti-fascist perspective. How do we push against this thought that we have to constantly… Things are so shit. How do we push against the thought that all we have to do is fight against it? That we can do something else, celebrate, create those relationships.
GA: I think we need to pause and celebrate. We don't do that. We should, and we should be able to find ways to be in community with each other, when we pause and celebrate. I think wrapping up a major investigation, we don't just have to go onto the next, there will always be another investigation, but really intentionally baking into your process, the space for joy and for pleasure and for celebration. The other part of working in community with other people is so that we can hold each other accountable. Holding each other accountable to that. Just making sure that "Hey, you just wrapped up the investigation whatever, what can we do? How can we connect and just chill and be with each other and not make this about the work? That's just a very basic jumping-off point. Dolly, do you want to speak? I love your thoughts about that.
DP: I think that creating intentional spaces for joy is really important. Then there's something that happens before that or alongside it, which is about coming in accountability for our healing, because we all have to heal from all this stuff that we're also fighting against, and that's so deprioritized. We don't even talk about the fact that this impacts us and that healing is important or matters. It starts first with us, but healing doesn't happen individually, healing happens in relationships because relationships are also where harm is enacted. So building strong, close relationships that are built around shared ethics and care is the starting place for me. I think there's great value in things that feel good. We should be thinking about sex or substance using in ways that are fun or helpful or meaningful to us, or having people over for dinner, feeding each other is important. Touch is super important, whether it's sexual or non-sexual touch, just creating spaces for our bodies and our minds to experience joy and creating a setting where joy is a likely outcome, instead of just creating a setting where we're dealing with fighting and resistance. Because joy is also resistance. If you're experiencing joy, for me, experiencing joy as a mad disabled person — that is already resistance, because this is a world that was set up for me to feel joyless. That was set up to take that away from me. And I think that's true for all of us in some ways, so that should be a sort of central component of our organizing.
GA: I love that so much.
TFSR-W: I also really love that. It's an excellent question and excellent answers are super provocative. While you were talking, I was really thinking about two older utopian novels that at least the anarchists that I know really love. The first is The Dispossessed and the second one is Woman on the Edge of Time. Those two books, first by Ursula K. Le Guin, second by Marge Piercy, really show that a liberated way of being that is divested from the state and is divested from cis-hetero-white patriarchy is constant work. You constantly have to be interrogating, you constantly have to be working at it, and those two novels do such a good job of being like "and you also fucking party". Or you take space, or you don't do the work. That's an integral part to people's lifeways and people's ways of being. Thank you so much for that. I think that's something that we're really missing in the whole workaholism tendency to internalize white supremacist structure is something that infects everything.
DP: I do want to mention that ideas about this are not mine, a lot of ideas about this kind of world-building come straight out of Black queer fem work. adrienne maree brown has a lot of great work around this, Audre Lorde, folks like that. To be clear, as usual, Black queer fems have really paved the way for this, and we haven't been doing it right in other spaces.
TFSR-S: I love also the way that you emphasize creating situations where the outcome would be joyful or celebratory. It points to something we overlook a lot because "anti-fascist" has negative word connotations, "anarchist", too, is against stuff and for me, part of anarchism is wanting to destroy the order of this world. I wanna elaborate on anarchism that has positive ideas to it, not necessary blueprints. I don't know if anti-fascism has the same space for that because it's maybe more specific in terms of a tactic than anarchism, but thinking of these ways that we engage our life as creating possibilities at least, openings, rather than tearing things down. That was really provocative to me, what you're saying.
DP: I think we have to focus just as much on building what it is we do want, as we do on resisting, what it is that we don't want. The worst parts of institutions are set up to keep us moving away from things we don't want, instead of moving toward something we do want. And the concept for this comes out of a practice called intentional peer support. It's an alternative to your traditional mental health intervention. It was really deeply moving for me to start thinking about what it means to move toward what we want, instead of all of the time moving away from whatever is bad. Even if I might be doing some of the same things, it changes the way they feel and it changes my sustainability in the work.
TFSR-S: What that really made me think about is another weird way that we replicate these policing of ourselves and our movements is that I feel like people are so much quicker to judge and criticize those moments of releasing joy as based in bourgeois values or something, and then uncriticize all the other kind of work that gets done on the struggle front. There is where misogyny and white supremacy can creep in, because people aren't as ready to criticize the ways that we engage in that as the space of joy.
DP: I always like a discussion where we create things together instead of one where it's like teaching, so I think we should all be contributing in the ways that feel right to things. I wanted to connect, I think that some of the drive around this is how much movement-building sometimes is connected to college campuses, because I think that that's part of how we end up connecting to… that's part of how we start replicating white supremacy culture. Because there are a lot of especially white folks who are introduced to liberation ideology through education systems and those education systems and faculty within them and staff are often not very critical of the oppressive nature of academia on its own. I think there's a setup there for thinking about everything in terms of a critique and study and working hard, and all the capitalist framework around it. Because, if that's where we're being introduced or where many people are being introduced to these concepts, they're still being exposed to the problematic nature of how capitalism shows up in academic institutions.
TFSR-S: I think that's a really important point, and there was something else you wrote about. That a lot of ranking of anti-fascist work replicates hierarchies of academia and I guess other institutions that prop up the state. And we think about so much of this knowledge creation, as if it is liberatory in itself, but without thinking about the locations. That's really interesting to me too, cause a lot of the visible anti-fascist work is probably more around when the alt-right was really going for it what is happening on this is because they were getting like speaking engagements and that is where anti-fascism started getting media attention in the more recent years. But why is that happening? Why is that happening on college campuses and creating that situation of conflict? And there are those ideas of free speech or whatever that come into play, those institutions prop up. They aren't neutral, they uphold the system. I really love that you bring that into a critique of academia.
DP: And there's a lot of policing of language in movements that makes me pretty uncomfortable, especially when we start thinking about having movement spaces really be open to people with a broad range of disability and accessibility around language. There are a lot of spaces where movements have become very inaccessible for people. It's also the movements that are getting the most public attention look like that, but I know of all kinds of movement-building things that are happening. They look very different from that but they're not very often perceived in mainstream spaces as what movement building is.
TFSR-W: I think that the movement-building work that I've seen that happens in these spheres often gets sidelined. I definitely agree with that.
One of the internal processes that we have for dealing with conflict is the accountability process which — lots has been said about it, it has a really interesting history and gets used in different ways, but it seems that embedded in the language of accountability, there is still some tools for misogynistic abuse, demanding the care and labor of accountability to somehow prove someone who has done harm has cleared themselves, which, to me, is extremely punitive and it's just replicating the logic of a carceral system. Do you have any insight into the limitations of accountability processes and how, in your view, can these processes be turned into further abuse?
GA: When I think of accountability processes, I don't think of one specific process. I think of it as a victim-centered process. Any process that places a victim in front of their abuser is not accountability, that is blood sport and fucked up. Unless, of course, a victim would like to confront their abuser in a space where people are around to bear witness because I think bearing witness is really important, but anything that's forced onto a victim, I would say, replicates all the symptoms that we've talked about, where a person is forced to have to prove that they were harmed. I also think that it's not a one-size-fits-all. Each situation or accountability process can be unique, depending on who is involved, what community we're talking about. I think that accountability should look different and should suit the needs of those who are harmed. So sometimes that's based in educating someone on "These are the behaviors that you were exhibiting and they were harmful, and so we want you to read a bunch of shit and do better". That's okay, that's one way. Sometimes what people want is for an abuser to leave the community and that's okay, and if somebody is really invested in accountability, they will leave when they are asked, and if they're not invested, then they can fucking kick rocks. Either way, there's the door. I think other accountability processes can include physical retribution. Sometimes an ass-whoopin' is what the situation calls for, and I think like as long as these things are victim-centered, we can make space for all of them. Just because one way worked out well in one situation, does not mean it's gonna work out well at another one, just because one sort of accountability process didn't work out well, doesn't mean that it doesn't have the capacity to work out well in a different situation. I think we need to remain very limber and flexible. Accountability takes time and energy, it takes the work of many members of our community. Accountability processes shouldn't be secretive and closed off, because the idea is to make our communities safer.
DP: I love this question because we disagree on some parts, and we've talked a lot about it. So I want to start by saying I was raised in a world, I think we all were aware, where punishment is… so I'm gonna say some stuff later that sounds like nice stuff, but I want to be clear that things have happened like "Take that person who did this thing and shoot them in the street". That's where I go, and so I think that it's hard for us to imagine something better than what we currently have. Starting there is helpful, we are all going to have an inclination toward punishment and we have to own and know that before we can go into doing something differently. Accountability also only works if we are holding people accountable, it's not about accountability for, like you perpetrated against this person, you're accountable to them. Accountability is holding us accountable to our collective ethics, and so, if someone has violated our ethics and there is a victim involved in that, or there's not, maybe there's a violation that's different, someone has violated our ethics. We ought to have talked about before that situation occurs, how we first pull each other in when we see it happening before it gets too bad, and how we respond when someone transgresses. In our communities, we have to have talked about those things and I don't think we really do that. Then, when something happens, what accountability looks like is we're trying to find out who's telling the truth and who's to blame and who's going to be saddled with work to do to be better or whatever. If we shift the perspective from that individualized place to a collective place. it can feel a little different.
So what we're holding people accountable to, is to our community and its ethics, and the community is responsible for holding that person accountable, not the victim of something that happens, and let the person who transgressed is part of that accountability, engaging in the process as well, because the idea would be that we want to be accountable to each other. If all of that is true, then things get really easy. But what happens is that we don't have those things in place. I don't know if people always actually want to be accountable, I think sometimes people would rather be punished because they don't have to change or work harder or be anything else, because you take the punishment, and then it's over. There's no accountability in punishment. So oftentimes what I see happen is, even when a punishment wasn't assigned by a group, people self-punish in ways that are very visible, that make people think they're being accountable and they get to show back up in our movement spaces having not changed anything at all and then they do it again. It makes it possible for other people to do it because they see exactly what the pathway is to not having to be accountable.
GA: I'm glad that you brought up relying on and holding us accountable to our collective ethics. I think it ties back into what we've talked about at the beginning of this conversation. If you're gonna be working with a group of people, the first conversation we must have is about our collective ethics. What do we hold most dear when it comes to the way we treat each other, the way we view the world and we're not doing that. We have to come up with ways to handle shit without any sort of infrastructure to be able to do it. That's a crisis narrative — showing back up — and it's white supremacy. Dolly, you are right, we do a little bit disagree about this. This is a good opportunity for me to interrogate some shit in myself about the stuff. This is why these conversations are important.
DP: Right, and because we're learning about different ways in our movements, we'll do it wrong, and sometimes the only response that we have to protect our community is to push people out, and we can know that that's the wrong thing to do, and know that's not the better option right now that we can think of, that we can figure out, and keep working toward doing something better. But I think I would rather push someone out of my community than have them perpetrating against people all the time.
GA: I agree
DP: That's how I feel, because I don't know a better way why, but I want to keep working on a better way.
TFSR-S: Thank you so much for giving all these different ways that it can look and portraying it as accountability as limber, like you said, we have to be flexible. It seems and I think it's really important how you connected to this idea of a collective ethics. One of the things I keep thinking about is how so much of the stuff that comes in, that creates these complex… end up harming and isolating people and driving them to self-harm. But potentially those are things we could try to account for in advance by doing certain things like setting up collective ethics and thinking also of those, I think, as something that would have to be flexible, not like something wielded like a rule to like shun or cut people out. And then also bringing people into spaces and checking up on them. I like the idea of care-accountability, too. You bring up a really helpful perspective about concrete tasks, concrete things we can do to connect with our groups and people in advance of the problem, rather than constantly being on the back foot when a problem arises, which always happens.
DP: Right, I think there's no sustainability in a movement that's not held together by our ethics, because the movement is bigger than us, which is, for me, that's what's compelling about it because I need something bigger than me, that's a bigger, bigger and better than me, cause I have a lot of things I don't love about myself. For me, that's a really important part of my mental health, being involved in something bigger than me. But we can tear movements apart when we let movements be about just individual people and their individual relationships. When we shift our focus to a more collectivist mindset, it's about our community, it's about a community's values, and about the community's ethics and protection. Then it starts to look different, how we think about accountability and relationships and transgressions against our ethics, too.
TFSR-W: And also, I think it's really important. We can know that something's the wrong thing to do but not have any other form of recourse and getting comfortable with that uncomfortable tension is, I think, a really important provocation as well. In the beginning, you told that you received a really positive response to this Twitter thread. Would you talk a little bit more about that and any conversations or thoughts you've had since posting that thread?
GA: I was pretty blown away about how impact… We're in an echo chamber, that just happens on social media platforms and in digital spaces. As far as echo chambers are concerned, I like mine, it's fine. I love my comrades, I love being able to engage with people. I got a lot of private messages from comrades who are feeling plucked up and burnt out about things and having trouble finding the words to express the multifaceted frustration that we're all feeling, given the misogyny that exists in our movement spaces. Folks are feeling trapped and exhausted, we're spinning our wheels. More than anything, the message that I got was people were just happy that to be able to have some dialogue around this. With an understanding that none of us are perfect, none of our community spaces are perfect. We are imperfect, and perfection is not what we're striving towards, but we would like to feel safe. And feeling safe should almost go without having to say. We all deserve safety, and lots of folks are feeling unsafe, and it's sad. We all recognize it and at the end of the day, I saw faith in the movement. I saw faith in my comrades. I know that this is all really heavy, but I plug into this work because it's bigger than me, like Dolly said. As somebody who experiences madness and suicidal thoughts and stuff. Being able to engage and plug into something bigger than myself is the thing that keeps me alive. And I think that's true for many of us and we all recognize we have work to do and so yeah. The reception was really great, I love everybody that reached out and talked to me about it. I'm overwhelmed by folks' support. It makes me feel hopeful. I don't use that word a lot.
DP: We both feel weird about hope, but I think that some of the reception Alice's about the community that you've created on Twitter, where people are engaging in conversations about care work and the politics within movements and stuff already because that's the space that you go and you show up with vulnerability, and you model these things and part of the reason we're getting that reception is that you've created some community that we've been talking about today. I just wanted to recognize that.
GA: Thank you. I appreciate that. I think you're right. I have tried to do that. I've tried to be intentional about it, and I appreciate that you noticed that. Thank you!
TFSR-S: I'm so thankful and grateful that you put yourself out there to start this conversation and allow us to have this conversation, because we need to find ways to be able to find each other, and it's a risk. But it also is amazing to have these connections and I'm really happy to be in connection with you.
GA: Thank you. The feeling is absolutely neutral. Thank you for inviting us to talk about this. It has been a really great conversation.
TFSR-W: Absolutely. It was such a pleasure to get to meet you and sit down and hear your words and experiences about these things, and I think this is a very urgent conversation, not to bring it down or anything, but I think that this is a really urgent conversation that needs to be happening within movement because there are so many new people who are getting interested in this kind of thing, as the world heats up on several fronts. So I think we need to know how to get our shit on lock or whatever, for lack of a better phrase. I hope that this will help and that people have gotten something from it and I am also just wondering if there's anything that we missed in this interview that you wanna give voice to, enclosing or any words that you would leave listeners with for this interview.
GA: What do you got, Dolly?
DP: I think I mentioned toward the beginning of our conversation how much I felt very motivated by rage in my activist career. But this side of the work is all about love. Focusing on how you build loving, caring connections that are not based in holding power over people is where things come from. Spend some time putting some rage on the back burner a little bit, so we can focus on love.
GA: I love that. Folks who follow me on Twitter are in that same vein, tell your comrades you love them, tell them again.
TFSR-W: Where can people follow you on Twitter?
GA: I am at @GothbotAlice, I only exist on Twitter.
DP: I only exist in real life, so you can't find me anywhere.
TFSR-S: Thanks so much for sharing your insight and wisdom and ideas. That was a really beautiful way to end it.
TFSR-W: I am really looking forward to sitting with this audio. I have the privilege of being the one to edit this audio for our broadcasts. So I'm really looking forward to that process because I really enjoyed hearing your take on all of these topics and I hope that we can collaborate together in the future and sit down again or anything like that.
GA: We would love to come back! We've got plenty of opinions on things.
TFSR-W: Cool. This is all that this radio show is about, trying to form connections between people and trying to do the stuff. So thank you for being a part of it and thank you for doing your own work. I really just appreciate y'all so much.