Firearm Safety and Education with Comrade Center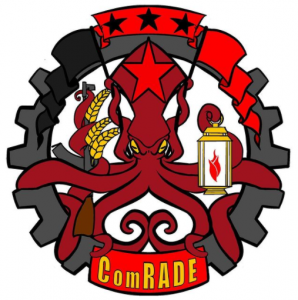 This week on the show, we spoke with folks involved with Comrade Center, a leftist project focused on accessible education around armed self-defense in so-called New Hampshire. They were formerly known as Southern New England Socialist Rifle Association and while they're no longer a chapter of the SRA, they are working with groups like that and individuals to purchase and maintaining a space for armed self-defense education outside of the right wing milieu in their area. For the hour we talk about mainstream, reactionary gun culture in the US, the impact of the NRA, the importance and empowerment of education around fire arms and other topics. You can learn more about the project at ComradeCenter.Org
Comrade Center links:
Other organizations we would like to shoutout:
. … . ..
Featured Tracks:
. … . ..
Transcription
Dave: Hi, I'm Dave, pronouns he/him, and I'm living currently in Boston, Massachusetts. I'm an organizer with Comrade Center.
Geoff: I am Geoff, pronouns he/him, living in western Massachusetts, and I'm an organizer with the Comrade Center.
The Final Straw Radio: Cool. Can y'all tell us a little bit about the history of the Comrade Center, the philosophy, points of unity, that sort of stuff. And, and as I understand, prior you had been affiliated with the Socialist Rifle Association. I don't know if you want to say a few words about what changes happened, or why you decided to take a different direction.
G: Yeah, Dave do you want to start?
D: Oh, sure. So we all met through the southern New England branch of the Socialist Rifle Association, sometime back in 2020. And that's where the germ of this idea for a leftist gun range started. We're all some type of socialists — the SRA is a pan-leftist organization — but we all share, you know, our point of unity for this project is that, really, it's very difficult for folks with marginalized identities and folks who are traditionally excluded from gun culture up here in New England to learn firearms training and self-defense. And so we want to take on this project to sort of lower the barriers to entry to learning firearms, and gun safety. I don't know Geoff wants to add to that.
G: I think that's something that we're going to touch on quite a bit during this conversation is that things are a little bit different up here in New England, there are not any real spaces for leftists, or anyone left–of–center really to engage with or commune around firearms. And it's considered a right wing only thing. And that monopoly kind of scares us.
D: I remember I went down to Durham, North Carolina at one point, and a friend who was living down there, they took me shooting to a public range where you could just go for free and target shoot. And I was a little blown away by this, this was a few years ago. So I think when I saw what folks down in North Carolina had, I was like "this is, you know, this is really great". And nothing like that really exists up in New England, certainly not in southern New England, like Massachusetts, or Connecticut, that have really restrictive gun regulations. So when I joined the SRA, that is sort of the thing that sparked my interest was this project when I heard about it, and I knew I wanted to get involved.
G: I mean, it's worth pointing out that New England as a whole, Massachusetts especially, is overwhelmingly a blue state. And your people that disagree with that are sort of like pushed into the shadows and the rural areas. And private gun range ownership is the thing. Most places you'll find to go shooting our private clubs. They're owned by, you know, one or two people or a board. And there's certain bylaws. Not to dive into it too fast, but I was actually kicked out of a club recently, for bringing guests, which is within the bylaws of the club, that people did not agree with. I basically had trans people with me, and it freaked everybody out. And I was brought up on formal review for bringing outside people into the club. You know, you can point to bylaws all you want and say, "Well, you know, I was observing the guest policy" and they'll create some reason to get rid of you, in this case, some sort of official sounding statement that I was putting the safety of the club in jeopardy.
So that was the last straw for me, you could even say it was "the final straw" for me.
TFSR: [laughs]

G: And I decided that I needed to get involved with a project that was going to help people that really needed it.
TFSR: Yeah, I'm not sure about the space in Durham that you mentioned, but out in western North Carolina that we have here — and this is affiliated with at least here, I think the State Department of Fishing and Recreation, or whatever it's called — but there's a public range in Cold Mountain or called The Cold Mountain Range where they have like a range officer that's employed by the state government, it's on the edge of state and federal forest lands and it's upkept. I mean, they've improved it so much over the last few years. It used to be just one range, six or seven stalls, people flagging each other all the time, people not really paying attention. And now they've got a pistol range and a rifle range and a range officer who makes sure that people have their weapons down and you know, nothing in the chamber when people are going downrange to check their targets. So it's, I mean, just having…public land use I guess in this part of the country is pretty important with all the–all the big parks and stuff and I would imagine up in your neck of the woods, a lot less of that, a lot more like private ownership excluding folks, as you mentioned.
D: Yeah, and it's-it's worth mentioning that there is, you know, the we're-we are kind of operating out of New England, but there's a difference between northern New England and southern New England as far as gun culture is concerned. I think we all met from the southern New England, you know, chapter and that's, you know, Massachusetts, Rhode Island, Connecticut. You know, it's quite different from Vermont and New Hampshire, in terms of at least gun laws. But yeah, the whole–the whole issue of space is an issue throughout the region. It's just difficult to access gun range spaces.
G: Yeah, I mean, the southern New England region has some of the most restrictive gun laws in the country, excluding California, and, you know, that trickles down into how guns are recognized. I can't imagine what a public-facing gun range would look like in Massachusetts, given the fact that, you know, laws are extremely restrictive, and it's created a culture shift.
TFSR: Can you I guess, just to readdress, could you say anything about, do you have official points of unity, like you said, that you came out of the SRA, which is a pan-leftist organization, are there points of unity that Comrade Center upholds or like a guiding philosophy besides the general idea of getting self-defense tools and training and-and comradeship into the hands of folks that are excluded from spaces in the area?
G: Our steering committee is made up largely of allies. But we all came from the SRA, which means we're all either socialists or anarchists or someone adjacent. But [snarky voice] whereas most leftist organizations would spend all their time scheduling meetings and fighting, we actually see the differences between our ML's and our A's, you know, creating very beautiful solutions to things. We've realized that, again, as allies, what we have to do is make space. And as we do more outreach, and we start to partner with other organizations, we are going to be the org that creates space and invites people to collaborate and help skill build. And that sort of agreement amongst our core membership — the people who are making this project happen, doing the fundraising and doing the outreach and making sure that we have things organized and safe and secure — the agreement between us at that level has bled into our mission statement and our vision for this future space.
TFSR: Cool. So what do you think, I guess more generally since you've been doing this kind of work, I guess you've talked about a bunch of different identities and marginalization and lack of access to the tools and the training and such, can you talk a little bit more broadly about the increased leftist approach towards taking space around armed self-defense and community self-defense over the last, I guess, 15 years? Like, I know that the–my understanding is the first Redneck Revolt chapter started in around like 2005–2006 in Kansas. I know, it's sort of like, really came up starting around 2015–2016 and spread out to other groups, too. But have you seen much of a shift over that period of time where y'all are at, having other groups with the sort of like, various specific or shared pan identities of leftist orientation to self-defense?
D: Yeah, I think that's something that's–I've noticed that other people have noticed the past several years, at least being on social media. You have, you know, all these accounts, like Guerrilla Tactical and…I won't name all of them, but there's, you know, there's several social media accounts have gotten popular, that have like a leftist bent to firearms training, and self-defense skills. And I don't think that that's a coincidence. I think those things are a response to material conditions on the ground, where we see in the past several years, the rise of right wing reactionary groups, like the Proud Boys and violent Trump supporters.
Just the other week, in Portland, there was a Proud Boy's rally and there was, you know, a Proud Boy or someone affiliated, who opened fire on a group of protesters, and now the protesters were armed and fired back in self-defense. So I think these conversations can be difficult to have because you don't want to come off sounding like an alarmist, but when you look at the news, when you look at what's happening, I think it's clear that there is a need for folks who are involved in popular movement work to reckon with the practicality of having some knowledge of self-defense and community self-defense.
TFSR: So let's talk about Comrade Center, what's the vision? What's the impetus? Like, you've already mentioned the–the lack of spaces that feel safe for people to be able to train and be able to learn skills. What do you need? And what do you hope to offer?
G: Well, we started under the sort of umbrella of the SRA. And we are breaking off on our own, not because the vision of the SRA or the mission of the SRA doesn't align with our own, but more to the point, it also aligns with a lot of other leftist organizations. And we want to be a central node for collaboration with these leftist organizations. We want to provide space, we want to provide the access to training, the access to actual firearms to train. This is about learning to use tools.
D: Just going off of what Geoff just said, providing a space for learning skills, and firearms training and self-defense. But also a point that I really like to harp on, that Geoff can attest to is that, you know, this is an important project, because I think, too often political work comes off as this dreary exercise, because we're dealing with all these really important, heavy issues. But I see this as potentially something that people can get excited about. Because, frankly, going out to the range, and learning a new skill and shooting guns with your friends is, you know, it's fun. It's a fun thing. It's something I grew up doing. It's something I learned from my father. And it's fun to teach other people how to do. And I think that the left broadly could really use more spaces for that where we can learn new skills, and also network with each other, and build community in this deep sort of way that you don't necessarily get when you engage in other types of organizing, that are more centered around marching or going door-to-door for various issues. So that's where I see the Comrade Center is something special and unique, is building a physical infrastructure for that sort of community building.
TFSR: Another thing, I guess a point that just occurred to me is when you had mentioned before, in terms of like a discussion of leftist approaches towards taking space to do these things and have these conversations, y'all mentioned the marginalization of voices of people that want to practice skills, or have access to firearms. Partially, that's through laws that are expressly like restrictive in certain parts of the country, and where you all are, southern New England, but also the way that sort of discourse around guns has become bifurcated, like in the mainstream, either an anti–gun position from Liberals who are concerned about public safety issues, or mass shootings at schools or other like atrocious events, or just like gun gun violence that had that occurs on a day to day basis around the country. And then the Right wing, oftentimes that takes the position of — I want to talk about Right wing perspectives and toxicity of gun culture down the road — but just to sort of like "I need to protect my family, I need to defend myself, I'm kind of afraid of the world around me." And it seems like this approach of approaching armed self-defense to people that are regularly targeted by systematic and individualized white supremacist, cis, heteropatriarchal violence, like it can be really empowering in a way. And it seems like it must bring about some, like a kind of conflict with people who might consider themselves on the Left, but really are like centrists or liberals who put a lot of their ideas about self-defense in the hands of the state. Is that the case?
G: Absolutely. Yeah, I'm searching for a way to comment because that was very succinct. I do want to mention, as you know, not as a way of diverting, because I think what you're saying is important, too, but when you say, I think the phrase I used was "create space", and you said "take space", and you're absolutely 100% correct, because we recognize the fact that the land we're on is borrowed —stolen, really — and especially in New England, where this sort of thing gets swept under the rug quite a bit, we realize that we are, you know, potentially purchasing land to build the center, we're also doing it on somebody else's property, we're doing on somebody else's land, we're doing somebody else's home. And we recognize that fact, and it just, it came up, as you said "take space" because that's the right way of thinking about it.

TFSR: In the area that y'all are looking to purchase this land, do you have a relationship with the Indigenous peoples that are there or of there?
G: The area that we're working in is home to the Abenaki and we have reached out and we have a good line of communication, and basically, since nothing has yet happened in the vein of actual land purchase, we are sort of in a holding pattern with them, but we want their input and we want their attention.

TFSR: And collaboration I would imagine.
D: Yeah, absolutely. Maybe I can't speak to this point quite as well, because there are other folks who are more in communication with them, but Indigenous people always, you know, they–they have knowledge about how to, you know, take care of the land that's being used better than we do. So I think that's going to be a really important aspect, especially considering potential negative effects of having a gun range and what and–what that can do to the environment. So that's going to be really critical down the line.
TFSR: Yeah, definitely. That's a good point.
D: Sorry, did you have-did you have a question? There was a long phrase before, and I don't want–I want to make sure that we answer it correctly.

G: Right?

TFSR: Oh, just, it wasn't so much a question as a comment and like an invitation to comment back if there was any sort of–yeah, because I–I don't want to assume necessarily who the audience for the show is. I know that, like for the podcast, it's people that are looking to hear certain conversations, but sometimes we'll get people on the radio or people who are new to it, or people not from the US context but are still interested in community self-defense and like individual armed self-defense, and so sort of delineating the way that discourse in the US gets broken down around this very politicized concept. That's sort of what I was just trying to–
D: Yeah, no, that was a really good comment and I would actually like to say something about that.

TFSR: Yeah, please.

D: So I think, you know, there was a podcast, It's Going Down, they had an interview with the members of the Tenacious Unicorn Ranch, which is a collective out in Colorado, I believe, of LGBT folks who, you know, they own a ranch out there. And they were being harassed and intimidated by right wing reactionaries. And it was really a wonderful example of community self-defense in my mind, because, you know, they put a call out, and they got volunteers to, you know, go on patrol and protect the ranch armed. And thankfully, nothing happened, nothing negative happened. But they did have some folks, you know, some right wing folks who were around, who were trying to intimidate them and they didn't take that sitting down. And I thought that was really wonderful. And kind of an example of how you know that, that doesn't really fit the right wing, or the liberal centrist vision of what gun ownership means in this country.
G: Not at all.

D: But I think it points the way forward to what we're trying to do that makes sense.
G: And community defense is 1% firearms. A lot of people make assumptions about, you know, what that definition is from connotation and it's more about supplying information, skills, connections and community to the people around you, and creating and forging bonds. I mean, how can you possibly work within your community, if you don't know who your community is? It starts with sort of knowing and giving and taking and creating a relationship there.
And we're harping on firearms here because it's the most exciting part of this whole project, but really, it's just unique, given our geographical location and our political location. It's a unique offering that other skill building or other community-based organizations don't have the ability to offer. We have, myself included, firearms instructors, where in a place like New Hampshire where you don't need a license or state-mandated training, the role of the firearms instructor is optional. But in Massachusetts, it's a necessary hurdle. And if you cannot or will not sit through a four hour course in the dark in a small club house in the woods surrounded by people that don't really think you have the right to live, that is a barrier to entry and you cannot have your license without going through one of these courses. We've sort of developed our own licensing tracks and our own avenues for influence, our own avenues for information, and we think building that kind of dual path is important.
TFSR: Do you all partner with, like you mentioned that as, like one of the visions for Comrade Center is to act as a node for other folks to get involved with and and like including SRA, so do you have in your vision — since this isn't a space yet, but you're developing it — do you envision having space for groups like Pink Pistols — although I know like nationally, some of the leadership that has been pretty reactionary, here we had a pretty good set of instructors for a little bit in like 2016–2017, who did not have a reactionary stance — or The Liberal Gun Club or John Brown Gun Club or Redneck Revolt or other SRA chapters or anything? Like do you plan to–to sort of facilitate those groups that have shared vision coming in and–and doing their own instruction on the space?
G: So, like we said, our break from the SRA, which I wouldn't even really call "a break", it's just, at what point does a closed relationship become an open relationship? [chuckles] You know, we–we hope to facilitate the needs of-of-of a whole spectrum of leftist organizations. And, yeah, we want to be a resource for a whole spectrum of leftist organizations. And since the organization is still a baby, right, the Comrade Center exists, but sort of in the ether, it's in the tubes. But we don't necessarily have, a piece of land with a gate on it yet, a lot of these questions have gone unanswered. So to ask about vision, to talk about how we see it in the future, we have labeled our project as an open ended educational mission. So the people who need it are going to help mold it.
The one thing we have in common is that we are leftists, and that we have points of unity, right? Belief in our fellow human. But beyond that, other than just an idea that skill-building will bring communities together and will help foster community-defense, it's an open book.

D: I will add to that, that we do have lines of communication to Liberal Gun Club, we're in conversation with some of these groups, and we are working with an organization called Arm Your Friends, they have a pretty substantial social media presence. And they sort of, they're kind of an interesting group. They, you know, they organize outings to gun ranges. They're of like mind with us, and so we're currently working with them to see, you know, what events we could coordinate with in the future.

TFSR: Cool.
G: They also have excellent branding, so check out their website.
TFSR: [chuckles] Yeah, if you all, like if, in the show notes to this, I'm happy to link to that–to that conversation with the folks out in Colorado — that was a really good interview, The Unicorn Ranch — and then also any sort of friendly organizations that you want to pop into the show notes to share with folks so they can–they can check them out, I think would be awesome.

D: Oh, fantastic. Great.

TFSR: Yeah. So critiques that I generally have space for around quote unquote "gun culture" include how a focus on individual self-defense reproduces the worst reactionary survivalism, spending lots of money on tactical gear and guns that feel like edgy consumerism devoid of community concerns, and it kind of reproduces this "I got mine" mentality, pervasiveness of macho paternalism, and white supremacist or xenaphobic attitudes that notably doesn't leave space for critique and self critique.
Can you give a bit of a critique of mainstream gun culture as it exists, and sort of… When Geoff said that the community self-defense is 1% guns, and the rest of it is all these other things that mostly relate to, like individual knowledge and experience and interconnectedness…like that seems really… critiques that I've heard over the years of left wing approaches towards engaging around gun culture have felt kind of like people saying "oh, cool, it's my time, I get to wear my my patches, and I get to carry a gun", and that sort of thing. I've been really happy to see a lot of leftists approaching critically and saying, "Yeah, we don't want to just reproduce wanna be militias like III%ers, and the exclusionary and reactionary and quite frightening, like, offensive patterns that they build that sort of replicate exclusion of certain people from their space. So just kind of like to talk about, like, how you view gun culture and sort of like shifting it in that way?
D: Well, heck of a question, but definitely happy to answer it. So I think I take a lot of personal inspiration from Margaret Killjoy, and she has a podcast on you know, sort of, you know, survivalism, but with an anarchist bent–

TFSR: [jokingly interjects as if with a promo] "Live Like the World is Dying", it's a member of the Channel Zero Network of anarchist podcasts.

G: [laughs]

D: [laughing] There we go. So I've really taken some inspiration from her and what she has to say on the topic. And I think that's a clear line that we can draw between, you know, the right wing version of gun ownership and survivalism, if you will, and the left wing version is that: the right seems to have this idea — I don't know if you've heard the meme the Gray Man — where it's like, they can just be like, an individual, like, totally like, you know, fend for themselves. And I think that that sort of attitude lends itself to edgy consumerism and the "I got mine" mentality that you referenced.
And the other side of that, that I think that we're trying to foster, kind of recognizes the fact that we all have different skills, and that we all have different capacities to provide things for our community, and the Comrade Center is, you know, a project that kind of can bring all those things together. That's that's the vision at least right?
So, you know, one of those things is — Geoff mentioned earlier — we're going to be giving free classes to get — in Massachusetts called an LTC a license to carry, and that's required to to own and train with firearms in the state — so we're going to be giving free classes at some point in the future. And that's just an example of, you know, I don't think that right wing folks would really be interested in that. But it's something that we think is really important.

G: There are people that make a living doing LTC courses, and they are $100–250 a pop, it's four to five hour course, you get your certificate, and then you could apply for your license with the state. It is a business. We're looking to dismantle that a little bit for the people who need it. And you mentioned the uhh, sort of all the baggage that comes with Leftists sort of adopting a Right wing culture. And there's some pitfalls that are very obvious. There are things that, you know, we call them "chuddy" or "Fuddy" things. The wearing camo in public, you're likely to find the Leftist doing that.
But there's a lot of things that come with it that are hard to suss out. I think there are also some things that are a little bit more subversive. And given the fact that most of your leftist firearms communities are overwhelmingly white, there is a white-savior complex, that sort of bubbles beneath the surface. "I have adopted this skill, I understand the skill, let me teach this to you, person of color, and then you can defend yourself." There's a lot of blanks to be filled in there, and the concept of making yourself a target through ownership. There's concepts that I don't even understand because of my privilege. And unlearning and relearning as we open up our mission and we start to approach this educationally, it's-it's important, it's really important to go slow, and understand exactly what you're doing.

TFSR: In prior interviews — in particular, I'm thinking of when you're still affiliated with the SRA, probably the IGD interview — you were clear to say that this project is not a militia. Can you talk about why this distinction is important for you — unless that's changed — and how right wing paramilitaries like III%ers — Three-Percenters — or Oath Keepers, in your area, engage with your organizing efforts? Like are you viewed as a threat? Are you kind of under their radar? What does that look like?
D: What a militia type organization is trying to do and what we're trying to do, I think the goals are fundamentally different. We are focused on providing individuals who are typically excluded from firearm spaces with a space that they can safely learn the effective use of firearms. So I think that's, you know, the last thing we want is for those folks to be intimidated by any sort of apparent militia affiliation. So that's–that's not what we're trying to do. As far as the Three Percenters or the Oath Keepers are concerned, maybe Geoff can speak better to this, but we haven't really engaged with them and we certainly don't plan to. So we hope to stear clear.

G: We could not be more different. I mean, the the reasons for getting involved in organization like that are completely different, more about taking than giving and more about feeling like you're something special, when in reality a Leftist organization that revolves around skill building is more about feeling humble and helping. You know, Dave made a good point, it's fundamentally different to want to organize as a militia group, or somebody who is taking up arms, as opposed to somebody who wants to teach skills and promote community through skill building.
It's also worth mentioning that, just like firearms are 1% of community-defense, firearms are probably 10 or 20%, of our course offerings once we actually get moving. What makes our space unique is that we can also offer that, alongside other survival skills, community defense and organizing skills. And, you know, again, it's going to matter who steps forward to help partner with us, which is sort of our open call right now, to other leftist groups that want to help and want to be helped, but that's how we're going to build community, we're going to knit these things together.

TFSR: And I think there's like, just another little rant, there's also a, in the US context, there's a very particular history to militia that doesn't really get unpacked a lot when it gets discussed. Like it's meant to be supplemental to the State as it operates, it's meant to be the reasoning, you know, "in case of foreign invasion", or whatever we're going to back up the constitution and, and whatever else. And I think there's like a certain value — and historically, it was militia that was used to, before the formation of slave patrols, that was used to do that sort of work, it was militia that was used to attack indigenous populations. And I don't think you can like — the idea of having an armed wing that falls into the command of the state in a settler-colonial society like ours, you can't disconnect those things and have it do a different function. It's like the idea of having like, a, like "community policing", in the way that it's idealized, you know, versus how it's operationalized. It's just another way of counterinsurgency against the the general population. Just as was said, like, who gets to feel special and carry the guns and take the commands and give the commands and whatever else, as opposed to this model where you're, like you said, spreading the information, spreading the tool set, helping people keep themselves safe, and building–building community as opposed to like, a separate agency.
G: No, you're you're on the right track there. I mean, it couldn't be more different from a hierarchical, military–inspired survivalist attitude. It's difficult to distance ourselves from that, because that's what we know from TV and movies and any–anybody carrying a gun is like, "oh, are they army? Are they police, are they militarized police?" Like, we are facing a difficult task to not only do the work, but also break down the assumptions about the work.
TFSR: So the loudest gun organization in the US is the notoriously reactionary National Rifle Association or NRA—
G: [sarcastically] Never heard of 'em.
TFSR: [laughs] — which due to its high degree of internal corruption filed for bankruptcy in the recent past? I can't remember if it was, I think it was beginning of last year, but I might be wrong. Could you talk about the prominence of that group? Often, like it's viewed as the only go to option in folks minds when they're thinking of getting training, when they're thinking of advocating for themselves around use of weapons to defend themselves? And, sort of, what sort of shifts you've seen where you're at, like— are people pissed about, about how the NRA has been operating in the disclosures? Or do they think it's fake news, conspiracy stuff?

G: It's it happened to me too. I mean, my firearms training course was an NRA course. It's all that was available. This is — we're talking six years ago — when I decided after going through that experience that I wanted to become an instructor and help people, I realized that I would have had to basically train through the NRA to become an instructor because that's the only thing available. Only after some intense googling did I find out that Massachusetts actually recognizes two dozen other courses to qualify for the LTC. The one I pursued was with the Liberal Gun Club, and I'm still an instructor with them. And I still believe in what they're doing. I'm leveraging that experience to try to help as many people as I can.
But as far as the association with firearms in this country, and the NRA: you've got a group, as poorly run this they might be, who has managed to be the expert for our government, also a lobby group for manufacturers, and just, their tentacles are in so many different pockets, it's impossible to sort of figure out where they start and where they end. I'm amazed that they ran out of money, it doesn't make any sense.
D: And I'll just add to that and say, I think that, yeah, the NRA is just… In people's minds gun ownership and the NRA are, are kind of closely intertwined. And I think that's done a lot of damage in the minds of folks who might otherwise be sympathetic to our cause. You know, they think "gun ownership, NRA, we don't want anything to do with that". At least in New England, in some of the liberal progressive circles — social circles — that I run in, that is sort of how it's thought of. And from what Geoff said earlier, we're trying to undo a little bit of that with our project.

G: It's a lot of work. It's very difficult in a place like New England, that's so anti-gun. And like Dave was just saying the association of guns with the NRA only makes that work harder.

TFSR: Yeah, that makes sense. Do you ever have people come up to you and say, like, "hey, so like the work that you're doing is making our society more dangerous because it's promoting more people having guns in their hands?" And, for folks that are interested in engaging more around armed self-defense and armed community defense, for whatever reasons, do you have like a good response that they might think through? Or what sort of goes through your mind, or what you say to folks that are concerned about the proliferation of guns and that meaning more potential bullets flying?
G: [exhales] Have you, Dave have you had this happen to you?

D: Oh, yeah. Oh, yeah.

[laughs] So these, yeah, I've had these conversations before — not where I'm from, from Vermont — but when I moved to Boston, I've had these conversations, and they're not easy conversations to have. What I try to say is, well, first, the fact there's, there's more guns than there are people in this country in the United States. So that's a fact that sort of has to be reckoned with. A lot of those guns are owned by the police, they're owned by the military, they're owned by the KKK, and the Proud Boys and other right wing groups. And they're not giving those guns up. And that is a fact that I think has to be reckoned with. And people have the right to self-defense. That's something that I believe in, I think that's something that everyone involved in this project really believes in.
So, you know, as far as the problem of the proliferation of firearms, that's already happened. And I think that this is something that we need to recognize and move forward with, in the best way that we can. And, you know, we could–we could have a whole conversation about, you know, what the left's position on gun control should be, but the way I see it is state regulations that try to limit gun ownership, what that really ends up doing is it limits gun ownership for poor folks, for folks of color, typically marginalized groups. And that's something that's unacceptable to me. So…

G: That attitude of, you know, "promoting violence" is extremely privileged. And the people I've spoken to that have had that attitude, they are just fine in their cozy little worlds. And, not to sound alarmist — right, that's not why we're here — but to that 1% of the time, to prepare in case something goes sideways, you have to allow for the fact that when someone is holding a gun, and someone else isn't, there's an extreme power dynamic there. And that is legal within our society. So, we're here to help, we're here to change that we're here to balance that a little bit. But, you know, this concept that "well if both sides have guns, that's when the shooting starts". So privileged.
You know, what Dave just said was these common sense gun laws that are being implemented by some of your more left–leaning states actually create a sort of an economical bubble. And what happens there, and Dave back me up, I can own an AR15 in Massachusetts just fine. You just have to understand the laws and you have to pay for it.
What that means is: pre-ban firearms are perfectly legal to own. What does that mean? The cost of pre banned firearms has spiked. So those who can afford it can have — I'm not gonna say it's more advanced weaponry, but weaponry that the state deems inappropriate — as more of these laws pop up this continues to happen. It's this sort of concept by the state of Massachusetts and other left-leaning states that, "well, if you have money you're not really a threat to society".

TFSR: So an experience that I've had, being around firearms and learning more, has for myself, and I've seen other people express this too, that people that have been around may have had traumatic experiences with firearms, may have experienced, witness shootings, or had a gun pulled on them in the past. They may not like the devices, they may not like their proliferation, but at least there's something to be said for making the choice to handle the device to learn how to make sure that it doesn't have any bullets in it, and possibly to make sure it won't function anymore. And you can't do that if you just have a mystified view of a gun. And a training allows you to understand some of the limitations of the devices and some of the safety features that can be deployed to make them immediately less of a threat to the people around them.
Which sounds like I don't know, it sounds kind of like running around the topic. But I think that when there is more education and more discussion around — if we want to talk about like comparisons to sex education: people are going to be having sex. If we aren't having conversations, and there's shaming around how we do it, and avoiding talking about the repercussions, positive and negative that we could see out of people having sex and not having the tools to have, you know, safer sex available, affordable or free to people, you're going to have unintended pregnancies, you're going to have people experiencing infections, not knowing how to deal with that stuff. But it seems like a good education around safety around firearms, how to disarm them, or how to keep them more securely, would limit instances of a kid getting a hold of it, because it's not stored properly, because it's not locked because they're being unsupervised. Does that seem like a reasonable approach?

G: Your approach is exactly what we've developed. We are putting together our curriculums for training. I already teach LTC courses from a conversational aspect, we don't actually handle firearms till later in the class, everybody has a chance to sort of like acclimate a little bit. And we talked about past traumas, we talked about our concerns, that is the first third of the course. And we dovetail into the legality after that, because Massachusetts has a lot of laws. In order to be an educated gun owner, you have to at least understand most of them, or know where to find the information — but we go very gentle. We're not shocking or awing people in this course.
We've also developed a class, which is either a primer or a standalone course, called Make Safe. And it's about what to do if you find a handgun. Or what to do if you come across something. I mean, this happens more often than not, where it's found in a vehicle, or it's found in an attic, or something like that. There's also situations where it's found on the street. It can be extremely scary and knowing a bit about these mechanisms, about these tools, will make everybody a little bit safer.
It's also gives people a chance to get over a fear that they want to get over. It's very difficult to confront fears of the firearm in our society right now. Because like, it's not like you just walk into a store and be like, "I'd like to hold a firearm", it doesn't work that way.
So we want to provide safe environments where people can with people who know and, you know, actually start addressing this issue, if they would like to.

TFSR: Yeah, that economic limitation to like being able to walk into a store and have a conversation and hold the device and expect the clerk to be, like, walking you through — they might be if they think they're gonna make a sale — but, you know, otherwise, they're probably not going to unless they know the individual. But because there is an economic limitation to holding a firearm, to owning firearm. There's also like legal ones in a lot of states. If someone were to come across one and they had a felony in certain states, they would probably be aware, hopefully, of the way that the laws would impact them, but they may not be able to have as easy access to a training course where they can learn how to take the bullets out of the chamber, take the clip out of the gun, make sure to verify that it is clear and safe.
Yeah, butespecially the–the limitations of you know, if you're–if you're limited by being able to purchase a pistol or a rifle to go take a course — I don't know if that's the case, necessarily — but it seems like making it more available to people that aren't necessarily going to buy a gun for their own immediate safety… But they can go to a place where there are weapons available for them to learn how to handle more safely, they can make a better decision down the road, and they're not gonna—

G: — and then states like Massachusetts, Connecticut and Rhode Island, basically, where this project spawned out of, you know, the amount of time between deciding that this is something you wanted to pursue and actually engaging with it is six months. So it's not like you can just decide like, "okay, I want to understand this tool, I want to understand its effects. I want to understand, you know, the science behind it and the culture behind it." You can't just do it right then. That you have to go through a course, you have to apply for your license, you have to wait for that to come in. It's a very lengthy process quite different than other parts of the country.

TFSR: So how can folks reach out to y'all keep up with your work and learn more about the Comrade Center to support it?
G: So I would urge people to check out our website. As of now we are fundraising, but we are still trying to give back and start executing our sort of educational mission while that's happening. Keep an eye out for courses coming up, up here in New England, they're going to be offered sort of sporadically at events and community centers and other gathering spaces. They're going to be free of charge, they're not going to involve live fire. So, if you're a little nervous about basically firing a gun, we're gonna use the simulation training but free of charge — bring friends, sign up — and if you're able, we're also fundraising to purchase lands and create a sort of a training node. If you're able to contribute, please do. Check us on GoFundMe and we, Dave, we have a social media presence don't we?

D: Please follow us on Twitter at Comrade Center and Instagram.

G: Nobody types in URLs anymore, right? Everybody just Google's things?

TFSR: [chuckles] If you want to say, I mean, I wish that — people with DuckDuckGo a little more honestly — but
G: Sorry, sorry.
[G and TFSR both laugh]

TFSR: Yeah, do you want to throw out an URL just to that, or a URL or however we want to say that.

D: Coming on anarchist podcast and talking about Google is…
[Everyone laughs]
G: I'll just show myself the door.

TFSR: Edge Lord!!
[everyone laughs harder]
G: You can find us at comradecenter.org
TFSR: That's awesome. All right well, thanks a lot. And good luck, y'all.
G: Thank you.
D: Thank you so much for having us on.