"For Trans Liberation, Capitalism Must Be Abolished"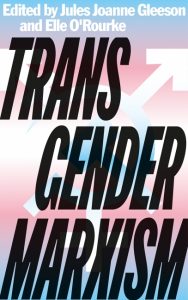 This week we're sharing a chat that Scott Branson had about Transgender Marxism (2021, Pluto Press) with Jules Gleeson (co-Editor, Contributor) and M.E. O'Brien (contributor). Transgender Marxism brings together Transgender Studies and Marxist theory, exploring Transgender lives and movements and surviving as Trans under Capitalism. In the end, the claim of the book is that for Trans Liberation, Capitalism must be abolished. In this interview we talk about the: collective, material process of transition; trans visibility, assimilation and liberation; the history of Gay Liberation and Trans movements; being Trans in the workplace; care work and family abolition; and Trans solidarities against Capitalism and the State.
Jules Joanne Gleeson is a writer, comedian and historian. She has published essays in outlets including Viewpoint Magazine, Invert Journal and VICE, and performed internationally at a wide range of communist and queer cultural events. She can be found on Twitter at

@S

ocialRepro and Patreon (QueerCom). Check out her awesome interview with Judith Butler that the GuardianUK censored due to critiques of TERFs, found in full at IllWill.Com.
M.E. O'Brien writes at the intersection of communist theory, trans liberation, LGBTQ social movement studies and feminism. Michelle is a co-editor of Pinko, and her writing has appeared in Social Movement Studies, Work, Employment & Society, Commune, Homintern, Endnotes and Invert. Found on Twitter at

@GenderHorizon

& on Patreon (MEOBrien).
Update on Sean Swain
This week, instead of words from anarchist prisoner, Sean Swain, I'd just like to share the info that Sean has been transferred back to Ohio, his state of capture, from Virginia where he was held at a Medium security facility for the last 2.5 years. It's assumed that he's back at the Supermax, OSP Youngstown for 2 weeks of quarantine and determination of status to decide what prison he will go to inside Ohio from there. When he was leaving Ohio for Virginia, he was close to graduating to a lower security, medium level, than where he was held and has not had any serious breeches of conduct since his transfer, so hopefully he'll be heading to an easier and more comfortable facility.
For the moment you can write him at his old address where I'm sure he'd love some kind words or some books, posted in our shownotes and at SeanSwain.org:
Sean Swain #A243205
OSP Youngstown
878 Coitsville-Hubbard Rd
Youngstown, OH 44505
You can donate to his legal case to challenge his denied parole by sending money via cashapp to $Swainiac1969 and you can follow @Swainiac1969 for info on the upcomnig online raffle to help fundraise for Sean's legal fees. To donate items for raffle, also contact the instagram mentioned above and keep an eye out for more info. As an update to prior mentions of Swainiac-fest, it was a success but is only a step on the way to covering his legal fees to get him the best legal defense possible. And remember, you can fundraise toward the $12,500 needed by the lawyer on your own or in community and if you want to send it to the TFSR venmo or paypal or a money order made out to us via our PO Box, feel free to do so and make sure you note Sean's defense in the comment.
. … . ..
Featured Tracks:
. … . ..
Transcription
TFSR: This is The Final Straw Radio and we're excited get to talk to an editor and a contributor to this new really, exciting volume Transgender Marxism which is published by Pluto Press. I wanted to first ask you to introduce yourself with your names, pronouns, any affiliation that you would like the listeners to know about.
Jules Gleeson: Hi. I'm Jules Gleeson, and I am one of the co-editors of Transgender Marxism, the new collection we're here to chat about. My pronouns are she and I am only very loosely affiliated to things at the moment. I'm very happy to be joining you today.
Michelle O'Brien: Hello, my name is Michelle O'Brien and I am a contributor to the volume chapter on trans work and experiences of trans people in employment, both formal and informal. That chapter I wrote draws heavily from the New York City Trans Oral History Project that I worked with for some years. I write communist theory, teach Queer Studies at Gallatin, and work as a psychoanalyst. And my pronouns are she and her.
TFSR: Thank you so much for taking the time to talk with me today. I'm really excited, I did a deep reading of the book, it was really helped me think through my own positionality in the world. So I'm excited to dive into a lot of the ideas in there. Starting off, right away, one thing that keeps coming up in the book throughout different contributors' pieces is the question of how transness might be useful for Capital. And this is being posed after this "transgender tipping point" where there's more visibility, specifically, I think, for trans women and more understanding of transness, I guess, in mainstream worlds, although that might be questionable. So to start the discussion, what do you think are relative or limited, or positive gains made by trans people as a result of this increase in visibility?
JG: Yeah, I'm happy to pick up on that. So for those of you listening at home, who are not familiar with the "transgender tipping point," was a phase around, I suppose, 2014 to 2015. Most notably, this famous Time's cover of Laverne Cox, the star of Orange Is the New Black appearing on Time. And the transgender tipping point is pretty loosely this moment when suddenly there was an increase, a surge of popular familiarity, let's say, with transgender culture and transgender experiences. After which – to me, the most obvious difference is – trans people seem to become a lot more numerous, which is measurable in everything from people applying to become patients of gender identity clinics to transgender-specific communities seeming to swell in size, and there are all kinds of ways we can talk about the measurement. But, clearly at this point somewhere around 2013 to 2015, things transformed pretty rapidly and seemingly permanently towards what had been a cluster of different subcultural circles, becoming something more like a mass culture. That's my own reading. I think both myself and Michelle, this wasn't our point of departure into transgender circles or transgender discussions, however, clearly the transgender question, I suppose, transformed thereafter. And the work of this collection is very much following on in the wake of that, and in the confusion that follows and is continuing to follow on from that.
MO: So I'll say a bit. In the far queer and trans left in New York City, there's a pretty well-developed critique of the trans tipping point that centers around a number of points. One is this discrepancy between popular media attention on trans people and the actual material conditions, social service infrastructure, material well-being, violence against trans people. And so there's certainly a disjunction between the two and where there might be a lot of progress made in the symbolic popular media realm, that only occasionally corresponds to any material progress made in the lives of working-class people. And even when we're talking about sort of material progress, I think there's been a lot of good thinking around how, for example, anti-discrimination legislation that we recently won in New York City, a few years ago, doesn't actually protect people very effectively against being highly marginalized in the employment market because of the dynamics of "at will" employment and the sort of broader forces of oppression and racism in society. And so we can recognize the limits of both liberal equality and liberal celebration, liberal recognition. And I think people are very right to point out and call attention to the trans liberation, trans well-being, trans life has to be something more than getting on magazine covers and having famous people mention the existence of trans people.
I will also say that I think that the increased visibility has had dramatic and substantial benefits. And one of the stark ones Jules mentioned is the increase in the numbers of trans people, that part of the dynamics of trans life is at any given time, there are probably a lot of people out there who have internally and privately a trans experience that they are not yet able to act on in the world, to come out, to transition, to find other trans people, to talk about their experience. In my work as an analyst, I certainly encounter a lot of people in this situation. And the level of increased visibility just has dramatic implications of enabling a lot more people to find each other and to build a life together in ways that I think are very powerful. And then the other is, I think there actually has been a dramatic and substantial increase in trans organizing and trans movement-building that's happened concurrently and that has taken Black trans leadership and communities very seriously in some ways. I think the Black Lives Matter Movement is one of the most substantially trans-inclusive political struggles I've ever seen, more inclusive than, I would say, most LGBT rights organizations and organizing. And I think that Black Lives Matter has been very powerful in moving money, attention, and support to Black trans-led movements, and helped them a lot in gaining political grounds in a variety of ways: whether that means money or specific policy reforms, or much broader level of attention and infrastructure. Which, obviously, we have quite a long ways to go, but we're out in the streets and then struggle together and the tipping point has been a dimension of this political process unfolding that has dangers, that has backlash, a backlash that has, in the words of one anthology, a trapdoor, but also has some really quite powerful opportunities in advances.
TFSR: Yeah, thanks for mapping that out. First, that historical moment that we're in the wake of and then the complexities of visibility, how that can bring good things and also cause some harm. I also think it's really important, as you noted, to talk about the Black trans leadership we see in movements – that's a different kind of visibility than the media or TV show kind of visibility the tipping point refers to.
There's one thing that, Jules, you and your co-editor Elle O'Rourke write in the introduction, "if trans life can't be eradicated, it can be normalized and disciplined." So I'm interested in this… I don't know if you have more to say about this kind of double-edged sword where there are these gains, but there's also maybe a risk of what we saw with gay liberation becoming a movement for marriage equality. I wondered what either or both of you had to say about this as a potential moment of capture by capital, by the state? Can we be distracted in the way that transness can be stylized and then normalized, and then sold back to us? Or is there also hope for the resistance to that capture?
JG: Yeah, I'm happy to talk about this and the introduction. Sadly, Elle couldn't join us today, but this was the introduction that we cowrote together. I suppose just to say one more word on Black Lives Matter does: what the introduction is trying to capture is at once we have these remarkable and unpredictable breakthroughs, breakthroughs that sometimes are quite hard to keep track of and last summer, when Black Lives Matter was in full swing, was definitely one of these cases. This is one of the moments we touch upon, the cleaning-of-the-house moment that bought around the Black Trans Lives Matter rally in Brooklyn. And this is the optimistic aspect of it: all of these insurgent, intersectional connections, which are just being put into motion rather than just theorized, I think, like Michelle was saying, we're just getting out onto the streets some of the time. But the other aspect is there needs to also be a realistic assessment of what's standing in our way. And what you're flagging up here as a section where we talk about the family, about private households. And this is, I think, still an intractable and still probably – I don't know if it's the majority of the harm that trans people encounter – but definitely any group of trans people you meet, if you talk to them about their relationships with those parents, extended families, even the friendship circles they've grown up with, I think maybe a minority will have had fortunate or blessed experiences, if you know what I mean.
So this is this passage which you're flagging up that the repression and disciplining, and to drawback to what Michelle was just saying, it's the privatization of transgender experiences where many people are allowed to furtively and secretly live out the lives they want to live, but then among the people maybe who raised them, the people who they grew up around, they have to don another face, don another attire. I think that's something which there's no reason to believe that is going to transform anytime soon. Maybe Michelle would want to say some more about it. Specifically, what we're trying to do in this introduction is address the family, address private life as part of political life, which is a familiar concern for anyone, especially anyone who's read feminist history. But we use a particular framework drawn from Angela Mitropoulos, who writes about Oikonomia / Economia, the binding and normative rules that appear in these private households. And that's one way which we're trying to approach this broader question, which is then returned to, in many different ways, throughout the rest of the collection. There's basically this question of how can it be that exactly what's supposed to be apolitical or de-political safe haven from political and capitalism – the household, our upbringings, our private lives – how can it be that those places are what any trans politics has to work through before it even exists? Before we can even take to the streets openly? That's what this introduction is trying to cut up. I'm sure Michelle has some stuff to say as well.
MO: In the introduction, Jules' reference substantively engages this question of the family. And you have another question, Scott, around thinking about family and family abolition. Family abolition is a very powerful way of trying to think through these pieces alongside each other, both thinking about the overall circuits of labor markets and capitalist society that the family plays a really integral role in. And then thinking about how, nested within that, the violence and tyranny and brutality that trans people face within so many structures of family. And part of the dynamics of the privacy of the family, is that it's very difficult to make inroads in there. People are able to constitute a level of family or a form of family that's protected against a certain kind of outside scrutiny, attention, a certain space of political struggle, and that a lot of our political movements are oriented to the state, perhaps to employers, the civil society, and it becomes much more difficult to think in political terms about what it takes to transform families. Like some of the dynamics of the workplace or some of the dynamics of the state, I think this is a real limit for contemporary social movements, that we are sort of trying to figure out how to politicize and transform these spaces that are that have deep structural dynamics in the reproduction of collective life. And it's part of what leads a lot of trans people to be interested in science-fiction, in revolutionary politics in a more dramatic sense, in thinking about what could it mean to actually come up against and move beyond these limits.
TFSR: The experience of being trans within this bourgeois ideal of a white family that is still upheld, even though it contradicts the reality of what people are experiencing… Actually, there's one way that you put it in the introduction, talking about how the families serves, not only in a moral sense, that is the way that is often talked about, but also in an economic sense as the project of neoliberal debt imperialism. Like allowing the state to continue to throw people into dispensable situations and somehow maintain itself while doing less and less. My question is about how this historical point we're in, where there's like more and more trans people, there's still this relic of the family, but the family is not doing what it's supposed to be doing. How does transness come in as a way to disrupt that? How can we use that increased visibility, the increased trans struggle to continue to work against that stranglehold of the family, not simply morally but also economically, politically?
JG: That's a great question. In terms of us addressing the bourgeois family, obviously, the abolition of the bourgeois family is something that is not specific to radical trans theory or anything like that. It also appears in the Communist Manifesto, obviously, and this was something which various figures in the First International were committed to and published about in the writing in various ways. What's being talked about at this point is the bourgeois family as in this type of household which brings up the new generation, but also transfers wealth and assets and fixed capital from one generation to the next one. So when the introduction is talking about this contemporary phase, very much what we're drawing from is these extensive decades of work, now, that's been done looking at the New Right where through the political framework, the New Right had envisioned was not only about the strong state but also about strong families. And this is still very much evident today. If you tune into Tucker Carlson, he's not only talking about how the police need to be given powers to put down Black Lives Matter, last time I tuned in, he's also complaining about how today your kid's probably a stoner cause weed is legal, so your kid's got bloodshot eyes over the dinner table and stuff like that. This is still a part of the Right Wing imaginary, part of the Right Wing horizon is that families need to be strengthened up and there needs to be more authority against generations and pure disruption of that. One of the things he said, though obviously, Marx didn't really talk about white families, and I suppose this is saying which more came on to the abolitionist horizon from work like Hortense Spillers' black feminist critique which is identifying how, specifically in the American context, what's being transferred across generations for Black families through much of US history is not wealth and not fixed assets, but exactly legal dispossession. Being un-personed and so on is exactly what's being transferred from one generation to the next. I've run out of things to say at this point. But the reason I suppose that this is the family abolitionist politics has been of relevance to me and several other people in the collection, is exactly because there is this moment where you feel like a lot of the existing left has strayed from the First International in ways which I think are a shame and ways which we consider to reunite with these questions of gender and household oppression quite easily. That's my own project.
MO: I'm writing a book on family abolition for Pluto at the moment, and it's in full swing, as Jules and other people know. I have just an enormous amount to say about all of this. I don't want to take up our podcast time talking about it too much at length, but a few points… One is, in the introduction, Jules referenced the family as the site of privatized social reproduction. It's very helpful to think about the family not just in terms of a sort of normative ideal that's imposed through policy, that's aspired to by people, an ideological form that exists on the right and in culturally conservative sections of the left, but also the family just concretely: who do you live with? Who do you share whatever limited resources you have available? If you're not able to work, who are you dependent on that you actually know? Who do you cook for? Who cooks for you? These questions are really concrete social reproduction that can be done entirely in the market to some extent, could hypothetically be done in various historical times and for specific strata through a welfare structure or a state structure, but overwhelmingly are done through forming relationships of care, dependency, coercion, intimacy with specific people in our lives, and that the vast majority of children are raised in this kind of structure. People have these privatized households, and there are all sorts of political implications for that. One of those political implications is that it's a total growing up as a queer trans youth, as a gender nonconforming child, if you are unlucky enough to end up in an extremely unsupportive household, things are bad, and there are very few opportunities for collective intervention in how to change that. It's insulated from a certain kind of struggle and collective transformation, which is a tremendous problem for liberatory movements, and how we think about them.
In terms of race and white supremacy, Jules mentioned Hortense Spillers, I've been very inspired by the work of Tiffany Lethabo King, who rereads Hortense Spillers and Afro-pessimism and thinks about race and gender in terms of family abolitionism. And I think there's a way of reading about the history of enslavement and the history of the pathologization of Black families in the United States in terms of an imposition of a white norm that demonizes and pathologizes the certain kinds of kinship structures coupled to an actual apparatus of state violence, of economic violence, of historically slavery…. really fragmenting kin relationships. And that there is a dynamic dialectic in the history of anti-racist, anti-capitalist struggle in the United States, between really seeing a white bourgeois family norm as something to aspire to and pursue versus thinking that we could do something very different and better. What would it mean to actually care for each other? And that there's a wonderful, long legacy of people trying to form a chosen family, trying to depend on extended family, trying to depend on neighborhood and community, and that these are both inspiring and to be celebrated and defended, but also run into all these contradictions that have to do with what it means to try to constitute a household in the capitalist society. And uneven access to work, to resources, to public space, and the way it structures power dynamics internally. And we can point to the bourgeois white family as an extreme or particularly horrific example of that, or the Christian fundamentalist family. But that even in chosen family structures, the broader dynamics of trying to survive and reproduce ourselves in a capitalist society are going to torque those relationships, to distort those relationships and make it very difficult to figure out how to treat each other well. Anytime we are dependent on people, there's an element, a dynamic of coercion that becomes a part of that, that we have to sort through and we have to sort it through politically and collectively in a way that the family as a structure ends up opposing.
TFSR: Thanks for that. And I'm also very excited to read the work on family abolition because I'm also super interested in that. Maybe we can talk about that when it comes out. Going back to Spillers, because both of you mentioned that at the end of Mama's Baby, Papa's Maybe, Spillers says that the violent experience of women in chattel slavery made sort of ungendered is how she ends up talking about it, and she points to it as a place for rethinking and a resistant understanding and reframing of feminism from that experience. Maybe this is what you were referring to, is the dialectic with changing the impact of the state and economic violence that creates the situation of oppression into a place where you can start framing liberation. And I see that also that gets paralleled in the 60s-70s, gay liberation movement and feminism where the places that are excluded and marginalized are also places to form a resistance. And I wonder, to what extent do you think the trans experience within these structures is also actually the threat to the social order that the right-wing would claim it to be? I guess this could get back into that question of capture because it could also be domesticated in a way. But I wonder if you have thoughts on how trans experience could be liberatory in that way.
MO: I'm most attentive to the substantial intersection between transness and poverty. This is particularly true of trans people from working-class and poor backgrounds. It's particularly true of trans people of color. It's particularly true of trans women. Employment discrimination is quite widespread, is quite prevalent. And one of the things I tried to do in my piece is thinking about how coming out as trans, how transitioning, if you're not able to be very stealth and very closeted and very lucky in pulling that off – and for lots of trans people being stealth is not a realistic goal – that's going to have a huge impact on your employment trajectory, a huge impact on how you're able to reproduce your class position, a huge impact on your economic chances. And that that's true across the board. So you see a downward shift in class position for lots and lots of trans people. And then there's a huge host of trans people from poor and working-class backgrounds for whom that shift pushes you entirely out of formal employment. Getting access to formal wage labor is extremely difficult. And so you see lots and lots of trans people, trans women, particularly working-class trans women and trans women of color, but it's actually quite a widespread experience for trans women to spend extended periods of time engaging in sex work of various sorts, engaging in criminalized economies, in hustles. And then you see these little pockets of employment niches where trans people are able to reproduce themselves with some visibility, and that is most closely tied to the world of sex work and criminalized economies. I'd put HIV services, a lot of ex-sex workers or current sex workers end up doing HIV prevention services, and trans social services tied up with the world of HIV services. So, you have all these weird dynamics in fundraising and public health administration and biopolitical surveillance and criminalization tied up with this nonprofit nexus that people might use as a way of exiting out of sex work into like a lower risk, but also much lower-paying job, often with some stability. And in the Trans Oral History Project, they interviewed several former sex workers working in HIV services now and the dynamic of that trajectory.
But you have a few other pockets and those are growing. I'm certainly attentive to social work, there's a presence of trans women in tech. As changes open up, the spaces of employment expand, but by and large, the experience of trans life is one of significant economic precarity. And so long as that's true, and there's a lot of reasons to think it could be mostly true for a long time to come, that has a dramatic impact on people's politics. Being highly economically marginalized in a situation of a disappearing welfare state, of hostility and lack of support from your families of origin, of very little safety net, puts you in a position where you are relying on friends, on your own ability to engage in criminalized hustles, and makes it very clear that the world is a nightmare that needs to be overcome and destroyed. That's not a universal response by any means. But the economic experience of economic precarity helps me make sense of why so many trans people end up in political struggles, in organizing, end up with anti-capitalist politics of a wide variety, and helps me make sense of under what hypothetical future conditions are trans people likely to be on the left or to be far-left. The circumstances of our political inclusion – obviously, a stratum of trans people could be politically included quite quickly – but really it depends on the question of employment and economic stability.
JG: There's a few different chapters of the book that deal with this question of work, I suppose, as you'd expect from a Marxist collection. I feel like Michelle and Kate Doyle Griffiths' piece, both addressing this question of how trans people managed to exist as workers. I think, as Michelle was alluding to, it's also that any understanding of trans work has to understand the experience of being out of work long-term and unemployment relying on state resources or perhaps family and friend networks and so on. There's also Zoe Belinsky's essay, which is called "Transgender and Disabled Bodies – Between Pain and the Imaginary" and in another way, Anja Flower's "Cosmos Against Nature in the Class Struggle of Proletarian Trans Women", which is more using this framework of direct market mediation and the indirect in terms of the reproductive labor. So there's a bunch of different perspectives addressing this question of both what it means to exist and make it in a workplace as a trans person and also the very commonplace realities that a lot of the time, that's not really where we end up. Where we end up as more in the industrial reserve army of labor. You're proletarians insofar as you're stripped from the means of production, but not proletarians, insofar as you actually have a source of exploited toil, which you're reliably committed to. Like Michelle, I definitely consider us spending so much time in the underbelly of capital and its reproduction a huge part of why it's such a commonplace to find communist trans people, or leftist, anti-capitalist, whatever you want to call it.
TSFR: Or even anarchist trans people, which is the enclave I inhabit.
I like the narrative that Michelle poses away that a trans person could become politicized in a particular way. One of the things that the book in multiple essays grapples with is the extent of trying to survive under these conditions in a way that's at least somewhat bearable versus having even the energy or the ability to fight the conditions that create that form of deathly oppression. A lot of the essays do a really good job of trying to talk about how we can create situations to survive and then also think about where we can fight against them. One of the most important things for me reading this whole book and reading everyone's pieces is how it intervenes within the discussion of social reproduction and thinking about trans life through care work. This is something we keep mentioning, but I want to dive more directly into that. If either of you wanted to talk a little bit about how you think the transgender Marxism wreath frames social reproduction because there's a feminist version of that, and I think that you're building on that in here, but doing something different with specific trans experience. And specifically also talking about the transition through this lens. Maybe we can just start with understanding what a trans analysis of social reproduction might be.
JG: Yeah, that's an exciting question, because social reproduction comes up in this collection in a bunch of different ways. Social reproduction appears on several different registers across the course of this collection. The first one is in the very first essay by Noah Zazanis, which is called "Social Reproduction and Social Cognition", brings that Marxist feminist framework into dialogue with some more mainstream psych kind of approaches to how people develop their identities from a very young age. I guess the different approaches taken in this collection speak to the pretty broad set of approaches that Marxist feminism has increasingly come to deploy. And it's worth mentioning that social reproduction is not actually a framework that every Marxist theorist or even every Marxist feminist is really committed to. So it's not exclusively an SRT collection. However, I suppose that the reason which I first came to this framework of social reproduction that is focusing on workforces, what come to the workforces in the first place, how people come to the laborers and sustain themselves as laborers… The point at which I came to this, I suppose was exactly in the wake, as I was saying before, of the tipping point, and as part of my frustration that so few people really were providing any explanation as to why this was happening. And I actually found it to be very prevalent on the right, the right-wing accounts of these things were just depicted as some mysterious degeneration, or perhaps an ideological mania. But I also was finding that a lot of social theorists didn't really seem to provide any satisfying or even helpful attempts at working out what was going on.
So social reproduction was the thing which I personally was pretty committed to around 2016. And I would say a lot of the collection is taking that meaning of the time and that avenue of inquiry, which is specifically looking at communities and subcultures, if you will, but I would rather say these reproductive circles, in whatever form they take, which provide people collectively with the means of making themselves transgender. Which has been discussed, primarily means surviving as a transgender proletarian, although it's not the only variation, as we all know. That's the primary meaning which I've been interested in and invested in. But as I say, this isn't a settled question. And this is an ongoing discussion within Marxist feminist theory, what are the best terms to use and the best frameworks and understanding. I'm happy to say a lot more about that. Probably both myself and Michelle could talk all day about this one.
MO: I would distinguish three registers that I think of social reproduction as having a really huge impact on trans life. And I think Jules to some extent referenced each of these. One is thinking about the mutual aid networks, communities of support, that when somebody thinks they might be trans or gender questioning or knows with confidence that they are trans, they might go out and seek connections with other people to be able to help them think through both their gender identity and way of thinking about themselves, the concrete steps around transition. And this is I think, partially why we've seen just a giant increase in the numbers of trans people coming out with a steadily increasing access to the internet. People on the internet are able to find these communities. And why there are have been particular pockets of trans people for many, many generations, who are demographically numerous in highly specific social settings.
Like when I came out as trans in 2000, shortly after getting out of college, I looked around, I was in a kind of queer punk scene where there were a lot of trans masculine people and very few trans feminine people. And I looked around the country and I found three or four other punk trans feminine, trans women. And then I moved to Philadelphia and met like 300 black trans women my age who were the first trans women of my age I ever met. And it's because they had this highly developed scene around balls and houses where they really figured out how to enable each other's transitions. That certainly wasn't available in the Women's Studies Department, right? In my much more privileged background on some level, I was really lacking this supportive space and community. And I had various internet-based communities to try to figure out how to do this that have since really flourished and are much bigger. So that's one meaning of social reproduction.
Another meaning is the violence and tyranny that we might experience in our homes, the dynamics of our family of origin, household as this private space of reproduction. And so social reproduction has been really key to thinking about anti-trans violence.
And then another register of social reproduction is that, depending on how you parse it, many people identify various formal wage labor sectors as being really integral to social reproduction. Nurses, teachers, daycare workers, elder care attendants – all these different people that are reproducing humans capable of participating in the labor market and society. And I think for various reasons, you see a lot of gender-nonconforming people in these sectors. These are feminized sectors, they are sectors that historically have had lots of women and queer people of various genders. I think there are different historical dynamics that have brought a fair number of trans people into working in these realms. And that these are realms of intense labor struggle, currently, and that some of the dynamics of de-industrialization and the shift to a late service economy, that these are not sectors that are easily automated, so that the need for labor isn't easily reduced. So you really have a growing section, in the Global North, of people working in these labor sectors, and that these labor sectors have a lot of potential for uniting and connecting different sectors, strata of the working class, and bringing people together in different and complex and rich ways as part of their struggle for working conditions.
JG: Oh, just one more thing, quickly on the connection, I really appreciated that three-part breakdown from Michelle. I suppose one more thing in the collection, one way it appears is there's this primarily historical essay by Nat Raha which looks at exactly the kind of movement struggles which brought what we now call social reproduction theory into being and she looks at one of these lesser-known groups, a British collective called Wages Due Lesbians, which was a counterpart of the much better-known Wages For Housework. That was operating in the context of the British New Right. And that looks at some overlaps that she perceives between this group and the much better-known STAR (Street Transvestite Action Revolutionaries) in New York City. That's another approach that you can find in the collection. There's at once a range of different social reproduction theory type outlooks, and also people who see social reproduction theory as a thing to talk about other terms.
TFSR: That was already helpful to think about what transgender Marxist perspective on social reproduction COULD look like in different ways. The last point that you made, Michelle, was talking about another possible place for politicization, given that trans people and non-binary people or gender non-conforming people would be working in specific situations for a potential radicalization. That was interesting to me as another reframing of that inherent liberatory perspective that sometimes gets through and around and to me, seems often like a very liberal feeling, just being trans in itself is somehow resistance. But you discuss more explicitly how that actually works through the work that trans people do in the care work that they do for other people.
One thing I might do to follow up. That visibility in the mainstream, the idea of transition often becomes individualized, like there's a particular internal experience that needs to be brought out through transition. The liberal perspective will get brought into the nuclear family that somehow unchanged by the fact of a transgender child, when there's a focus on a supportive family, but the thing that the book really brought out in me, a way more explicit to me that I personally experienced through transition is how much of this is done through community and, as you said, Michelle, mutual aid. We see that also in the pandemic, just like with hormones, when there's a supply chain break, people are sharing hormones, for example. So, I wonder if you wanted to talk more about that actual work of transition, because that's something that gets brought up a lot in this book, and I thought it was also a major contribution by a lot of the writers in here to think about the process of transition this way, rather than the transgender individual who somehow exists. I can ask more detailed questions, but if you want to, if you have something to jump in right there, I'll leave it open to you.
MO: This is something that other contributors and other people have thought a lot more about. I said a little bit about it, in terms of thinking about mutual aid support, but I don't have a lot more to add.
LG: In my essay, I guess this is one that tried to address this question. It's called "How Do Gender Transitions Happen?" I think that simultaneously, you can't do away with either the personal narrative, the personal process, the very self-directed, individualized labor which people go through, or the community working. But I think it's interesting that these things appear to be at odds, or they appear as distinctive to each other and yet, from another view, they always unfold at the same time. You're always drawing from collective resources, or at other times, as Michelle was saying, there's a lot of parallel development, there's a lot of different communities which are attempting much the same thing, much the same process of transition in very different contexts and with very different styles. The point which the essay is trying to address is how people will tend to switch between these different registers of approaching transition either as something which is a set of encounters that is continuously happening as you try and negotiate your way through the world or through the community rewriting and renarrativizing. Just the specific stuff which actual circles of transgender people can do together.
TFSR: There's the passage in your introduction that really stuck out to me, that "transition must come to be understood by revolutionaries as a response to its own form of hunger. The longings that drive so many to reforge lives for ourselves that leave us thoroughly proletarianized, or cast out rendered surplus". I like this statement because I think it leaves behind the gender as a social construction versus essential gender as not even something worth spending a lot of time on at this point, and focuses on the act of transition as politicized, political, and I think it gets articulated also as ethical. But one thing that came up for me reading this is how do we… I guess there's this personal / political divide. I could see this being dismissed as a lifestylism or self-chosen marginalization. Subcultures often get dismissed, like anarchists or punks. The thing that I really want to pull out of here is the trans desire, and also how that position of surplus in capitalism and the state, which is historically needed for capitalism to function the way it does, but how that can we rethink that place as a set of insurrection?
MO: I'll just briefly say that I think desire is really an underappreciated category in liberation movements and the far-left. Desire is both far beyond the question of individual choice or individual preference, or how we think about market options that I think in some transphobic, conservative left discourse, there's this idea of people choosing genders in a free way, like a neoliberal subject chooses consumer items. And that, I think, is a profound trivialization of how deep, how powerful, how transformative, and how uncertain desire is. Desire is very much what sets us in motion, in unfolding processes of personal and collective transformation, desire for survival, desire for dignity, desire for recognition. These desires are not, they're not trivial things, they are things that are not easily satisfied, they are things that set us on trajectories that we don't know where we're going to end up. And that brings us into alignment and into connection with each other. And that's just a whole realm, a whole dimension of political struggle, that I think trans people, precisely because often most trans people have made a set of personal decisions around changing their gender, that was significantly at odds with major sections of our social world, our families, our jobs, whatever that is, and had some clarity that we had a certain, one could say, truth that we were trying to think through or trying to grapple with, that might not be an essential gender, or a kind of inner gender, but a certain kind of desire in the world. And that opens up some space for thinking about how the desire functions in terms of the entire working class, in terms of the struggle for the abolition of class society, in terms of the desire to destroy and remake the world. We need to spend a lot of time listening to that and thinking much harder about that, and thinking beyond these categories of individual choice versus structural determinants.
JG: So, I suppose we talked about desire and, talking about things in terms of hunger. This is a part of the introduction where we are talking about Georges Bataille, the French theorist, pornographic writer, very heterodox political economist, call him what you will. And Bataille exactly counter-poses this effort of previous anti-imperialists prior to Marx, who were trying to elevate things and talk in terms of eagles and surpassing things. This is his critique of surrealism, by the way. It's a very eccentric essay. But his point is that Marx is more about the old mole, it's more about the subterranean, and specifically he talks about the hunger of the proletarian bellies being central to what Marx was trying to do or the indispensable feature of that. The stuff you're alluding to exactly, people are dismissing this stuff as questions of lifestyle, or marginalization or whatever. This is what I feel needs to be addressed. But even if they're rarely spoken about in the political field, transitions are the consequences of cravings, breakdowns, powerful emotions that make themselves central to the decisions we make and to the things we depart on. So you use the word ethical and that's exactly right, a transition is always going to be about reshaping your life, taking steps, and in some way engaging in activities that transform who you are, how you're perceived, how you're apprehended, how you apprehend yourself. Any approach to trying to do… Whatever trans theory that doesn't include that is bound to failure. But also, I don't necessarily see this as something we have to choose between. We know that people seem to be living lives that are filled with desperation and breakdowns and then they get hold of these endocrinological interventions, like they got a hold of sex hormones and this transforms the lives substantially, maybe doesn't solve all their problems, of course, it never does. But it transforms the course of their life. That doesn't mean we're not allowed to do the political economy of sex hormones. I've actually been trying to look it up, but I can't find it. Was it you, Michelle, who wrote this piece on the trajectory of sex hormones that's going across work? I remember I was reading this in one of these trans studies collections. But this would be an essay from a long time ago, but I can't remember if it was you or I was just reading this.
MO: Yes, in 2004, I wrote an essay about capitalism and pharmaceutical companies and hormones, that got reproduced many years later in the second Routledge Transgender Studies Reader. A very long time ago.
JG: So it was the second one.
MO: "Tracing This Body" is its name.
JG: Yeah, a lot of it's kind of talking about the shipping process and the way that these things move across continents. It's 2004, so people have been working on this for a long time. This is exactly what I mean. But there's no reason that we can't look at these things in a way that applies an internationalist framework, which looks at how the actual ways that pharmaceutical companies interact with transition, not the conspiracy theory version where for some reason, pharmaceutical companies are trying to profit off incredibly cheap, low-cost medical treatments. There's no reason that we have to say, "Oh there are all of these passionate sensations. And there's been this political economy, and we have to look at one or the other". But it's exactly Marx's kind of materialism that we don't accept that as a choice, right? These are things that are continuously interacting, people are always trying to sort out their own lives on a very basic level, but then they run into this stuff, then they run into the reality of having a landlord and having a doctor. And all of these other lopsided social relations, which they have to work through. That's what the point about hunger is, because as you say, I think this is a difficult argument to win. But also it's like the most important one in a way.
TFSR: Thanks. Both of these are beautiful answers. What you just said, Jules, brings up for me, there's the experience of the relationship of a trans person to the medical and pharmaceutical industry, I am trans and also chronically ill. And you'll get leftists who will make this argument that your existence for either of these reasons could not persist post revolution, whatever vision of a revolution they have, because, in some way, you're so reliant on these capital systems of production and shipping, etc. And I know that's an interesting dynamic to see the ways that those genocidal ideas play out within a leftist circle. I don't know if you have more to say about that. And maybe Michelle, that's something that you were talking about in that earlier text.
MO: Thankfully, there are a lot of people thinking about this and speaking on it. I wrote a piece for Commune magazine called "Junkie Communism". And I, in some ways wrote it, you wouldn't be able to tell this reading essay, it's a discussion of the Young Lords and them doing syringe exchange work in a detox in the South Bronx during the occupation at Lincoln hospital, and how that helped shape harm reduction today. And I wrote that essay, in my head, as a direct response to a really vicious and very ableist genocidal framework that I saw amongst Tiqqunists and some other anarchist strains in the United States, of like, "after the revolution, all these disabled people are going to die." And like that gets referenced one way or another. I think it's an "Introduction to Civil War" that they say that diabetics are objectively counter-revolutionary and I think that's a current in the American far-left or in the international far-left. So it really has to be directly combated and there are various ways that we can challenge that and various ways we can critique it, and the one that I go to is a form of radical communist humanism on some level. A fundamental political principle has to be taking each other's lives seriously and taking the profound preciousness of lives that are treated as disposable. A part of our political paths as communists or as revolutionaries, is to really cultivate an ethic of caring for each other, of defending each other's lives, of treating the subtitle in the piece I wrote on Communism, "No One Is Disposable." They're really not participating in the kind of a ranking of the value of life. The trend obviously comes pretty directly out of my experience as a trans person and thinking about trans life as being treated as disposable on all these different social registers in the world.
JG: I definitely recommend people check out "Junkie Communism" as well. In the collection, there is an essay on disability, which I've already mentioned by Zoe Belinsky, who is also a diabetic in reference to the Tiqqun bit. This essay's approach to this question of disability is pretty phenomenological, it's looking at the philosophy of experience. And the main framework which Zoe was using is talking about disability in terms of this sensation of "I cannot". Maurice Merleau-Ponty, who is this communist philosopher Zoe's mostly responding to, talked about things in terms of experience and our way through the world in terms of "I can", so you encounter things and you think, "Well, I can rotate this square 90 degrees", and that lets you understand the square. So Zoe's always a social account here, looking at exactly where disability arises, where you think, "Well, I can't do that". I'm really glad that this essay is in there. I'm looking forward to seeing what people think of it because needless to say, a lot of our contributors are chronically ill, I certainly am. I feel like it never quite works out, it's not just additional to being transgender, it always overlaps and interacts with it and these things mesh in interesting ways.
But strangely, I feel like actual extended pieces about disability in my circles are unusual. There's a lot of contributors who don't talk about their experiences with chronic conditions, chronic illnesses in this collection, who've definitely been through that. So I'm hoping that between the essays we've talked about… I'm hoping that this stuff appears in the near future because it's definitely a thing which is increasingly, on my mind, I felt like if you don't really have an account of disability and the way in which it interacts with people that are preparing themselves for the workforce, then why not? This is obviously something that not only brings people into these struggles and says that people have to work through in order to survive but it's also something that has been the site of so much organizing across so many different national contexts. It's an ongoing point of crisis, definitely, in Britain I come from. I can't see why people would leave this out of consideration. Other than maybe in Tiqqun's case, I think it's just edgy flourishes, I feel like they just don't care very much, so they just put the stuff in to show that bad-ass insurrectionists or whatever. But I think we can do a lot better than that, an honest account of the people who become communists especially is going to include a lot of reflection on the stuff and how it impacts our lives.
TFSR: I appreciated that putting the "I can't" as the primary experience. Other people who often make these arguments are like primitivist anarchists, and to frame that as the original experience of being a human rethinks that idea of there's Essential or Integral Health before domestication, civilization, whatever you want to call it. I'm glad you brought that piece, too, because I think that's really important.
I did want to go back to the question of desire and bringing us to the relationship between a trans liberation movement to the earlier gay liberation movement. One of the things I appreciate in the book is that there's an argument against separating gender and sexuality as if there are two separate fields, which in academic discourse, became a thing for a while that gender and sexuality have to be thought of separately. But as both of you have emphasized, the desire inherent in the transgender experience, and also connecting it to these other readers like Bataille makes me think of Guy Hocqenghem talking about Fourier as a way to rethink Marx through the desire within an economy. So, we're past the end of gay liberation and the ways that it had been co-opted. And we're in a new era of uprising and resistance. How does the trans liberation still theorize desire as revolutionary without getting trapped in the ways that it can be enclosed into a liberal understanding of life choices as you put it, Michelle? And I had originally written some questions about earlier theorists like Guy Hocqenghem, Mario Mieli thinking about homosexuality or transsexuality as the horizon of liberation and as providing the means towards it. I'd love to hear your thoughts on these ideas and what we can inherit from that older tradition of gay liberation.
JG: Well, I actually have an essay published in the magazine, which Michelle is a founding member of, PinkoMag, which deals with Mario Mieli specifically. The essay is a sketch of what they want to work on in the future. Mieli is the Italian gay communist thinker, whose work is mostly from the early 70s. His / their work definitely uses this term transsexuality underlying the homosexual experience and specifically that what triggers homophobia, what sets it off, is that there is this base level of transsexuality, that cross-dressing, male-male desire, and so on. All these things can cause the precondition of civilization like transsexuality to peek out. I love that stuff. I think it's 1972. By all means, check out that piece on Pinko if you want to know anything about him.
But in terms of desire, which is what you began with, I feel probably what's the most interesting thing is why would people want to do away with desire? Why would you want to think politics without our desires and needs? That is the thing that I feel needs to justify itself. The reason I come back to Marxism all the time is that exactly what Marxism seems to provide, for me, is an account which is happy to begin with the commodity. This is what Marx begins Capital One with, what he starts with the commodity, he says, "the commodities are a strange or curious or queer thing, he says "verdächt." So the commodity is this inscrutable object. And the reason it's so strange, and the reason you look at it, and then you look at it again, see something different, is because commodities are, on the one hand, very straightforward, very simple things. Like you want to have a snack – you buy a pack of peanuts. There we go, what could be simpler than that? And yet, when you consider them several different times, we find that it is connected to the supersensual thing which is beyond our immediate experience. Like we were saying earlier, with sex hormones, they are something you need for your satisfaction, and yet that is also something which has been shipped from another country, fabricated probably in another continent, and it's being prescribed to you by someone in an authoritative social position.
I felt like this is sort of the way with desire. Why do we need to lose it? Why do we need to not talk about these palpable feelings that seem to drive us and lead us around? Why have we got to put those in the cupboard? I'm not going to say the closet. Why have we got to get rid of them? And that's increasingly what I'm not convinced about, I don't think that we need to. That's why I was putting together a Marxist collection. I hope that the different perspectives we've put together mean that you don't need to do that. You can look at things psychoanalytically at one point, and you can even look at things historically and look at different movements. Or you can try and do several things at once. Why not? Just see what works.
MO: I don't have a lot to say. But I think this has been a really central concern at Pinko that we're really interested in trying to think through and to think hard about the legacy of gay liberation. Gay liberationism both has some really quite extraordinary and very powerful potentials and currents and has more or less been a catastrophic failure in a lot of ways for thinking about our current moment. And to think those alongside each other in a way that really tries to draw out, to reload what could be relevant for understanding our era, for understanding sexual and gender life today, I think Jules' pieces are a very powerful example of our efforts of trying to do that as a collective and as a journal.
I think this question of the separation of sexual orientation and gender is largely relatively unhelpful. It belongs to – even though it was pioneered in circles dominated by continental philosophy – it really kind of reeks of an analytic attempt at separating out things in[to] distinct categories that you then can isolate their divisions. While, really it wasn't that long ago that the idea of homosexual desire abstracted from gender difference was ludicrous, it is an invention of advanced capitalist society in the 20th century and hasn't yet permeated lots of places. You look back on the history of sodomy, and a huge amount of it involved people that were gender non-conforming in a wide variety of ways. I have some problems with it, but I think Andrea Long Chu is very interesting for talking about transitioning as being very tied up with scopic desire, with the desire of what one sees, and what one wants to become, that I think some of our efforts at avoiding some transphobic discourse around this thing prevents trans people from spending as much time talking about or thinking about as might be helpful. But the question of sexual desire and sexual yearning and gender identity has always been deeply bound up. And separating them is an elaborate artificial conceptual edifice that we should question.
TFSR: I'm glad you brought up that last thing about the ways that people try to avoid the transphobic discourse to the extent that they end up maybe repeating or leaving those distinctions in place. Winding it down, I want to ask my anarchistic question, because you've framed this as a Transgender Marxism and one of the classical resistance between anarchists and a version of Marxism is this historical determinism or these ideas of blueprints and stages? I'm totally open to that being a misreading of Marx, it's played out within authoritarian communist parties. And I think historically, we could see gay liberation, the historical gay liberation movement of the 60s and 70s being a reaction to some of those versions of authoritarian communism. So I appreciated that this book didn't play along those authoritarian lines and also made a lot of space for historical contingency. So I'm wondering how you might frame this materialist account – all of the pieces really ground their analysis from a materialist perspective – how do we bring that into relation with unknown historical contingencies, the future solidarity is that we might need to elaborate and in the particular context of trans struggle? To me, this often is a place to think of anarchism as an intervention, but I'm wondering what you have to say about that.
JG: I was really looking forward to this question, because it is a juicy one. I suppose the very short answer is that I have always found the sectarian divide between communists of the kind I get along with, communists who are my comrades and anarchists to be very flimsy, even spurious. And communism, when I use the term, and anarchist positions are remarkably similar and definitely have significantly more common ground than they have divergences. And the divergences that do exist are primarily cultural scene history stuff. That's how I put it. That's the very short answer.
The longer answer is, I think, Marxist communist politics of the kind I affiliate myself with, of the kind I feel connected to, have always been implacably anti-state and had a position towards the state which considers its greatest strength to also be the things that make it the most threatening and most indispensable for capitalists. The state does things that no individual capitalist is able to do and brings capitalist society into existence, one generation after the next. That's my position. I also feel like this is becoming a much more common position among Marxist theoreticians like David Nally really recently had a series about the state, which was basically saying what I just said in a much longer way. Michel Heinrich just had an appearance on the Antifada podcast where he's talking about how the second part of his autobiography, which is across several books, is gonna focus heavily on Bakunin and in this much misunderstood, antagonistic relationship, which Marx and Bakunin had with each other, an antagonistic relationship that exactly was over the narcissism of small differences in many cases. Increasingly, this is the turn things are taking. Obviously, there is an enormous amount of bad blood between Marxist and anarchist traditions but in many cases, I think this is overstated in its substance. Any kind of Marxist perspective which I would associate myself with is fully aware of that.
Getting back to the transgender stuff, as we must, it's really remarkable to me how in 2013 Nevada, this novel by Imogen Binnie, it's intuitive that the protagonist, Maria, is into anarchism. I feel like today she'd probably be a commie. I don't know. I feel like that's something that has changed over the past five years. And I really don't know why. They're obviously still a lot of transgender anarchists out there. But I feel like now the meme is that we're all communists. So if anyone has any answers to that one, please send me a postcard.
MO: There are various ways of parsing the distinction between Marxism and anarchism, and I think most of them are silly and somewhat unhelpful. But I define and understand communism as the need to overcome class society, as the yearning, the pursuit, the real movement that abolishes the existing order of things, and Marxism is an effort to make sense of how capitalism functions. The statist Marxism, statist Communism, this idea of the consolidation of authoritarian ownership-based states that control society through violence and wage labor as somehow a transition to Communism, hopefully, it was a historical blip that we will move past and not have to deal with. And I mostly don't spend a lot of time in an anarchist tradition, however great my hostility is towards states, just because I see the dynamics of capital and political economy as so central to driving the dynamics of human societies, state violence, state policy, police brutality, I find talking about the production of surplus populations as really an essential starting point that happens through the dynamics of capitalist wage labor markets over time. So that's my lens of Marxism, less of statist versus anti-statist, but instead, the starting point of trying to think through the world and what we have to destroy is the dynamics of capitalism. And if an anarchist thinks that, we have a lot to talk about.
TFSR: To bring it back to the book, maybe a final question, unless you have more that you want to bring up… I appreciate the fact that this book isn't only an academic text. It's connected to academic work, and there are people writing in this book who are potentially employed by academic institutions, although maybe not comfortably, especially when you're out and trans, which is something I've experienced, making me more and more precarious. Marxism often gets lodged in the academy in a way that's maybe not helpful. So I just wonder about the formation of the book and how it may have come out of solidarity struggle work, or how you think it could tie back into on-the-ground movement struggle work, instead of being set off into the realms of the theory that don't connect on the ground as much.
JG: Speaking about how academic the book is, I actually have tried to count up… it's a bit hard to keep track off. But I think out of the 16 contributors, we've got 15 chapters, a total of 16 people who wrote for it, including myself and Elle. Out of those, I think about a quarter of the book [contributors] are active university lecturers. One contributor, which is Jordy Rosenberg, who wrote the afterword, has tenure. So I would say it's primarily not an academic book. But of course, this is only part of the picture. Obviously, it's informed by academic discourses, and a lot of academics are reading it and teaching it. That's not especially surprising to me. The academics we do have contributing in the main body, other than the afterword, are primarily not people in the most secure or lasting positions, like come back in five years' time…
I think that this is actually remarkably similar to the way that things look in trans healthcare, which is that there is an enormous number of people who have some relevant training, whether it's bioresearchers, registered nurses, and so on, but very few MDs who are transgender, and this is the reason why it's all… Who are the people with the not only the security, the partners or parents to bankroll you through down years or whatever, but also the connections that would get you through medical school, that would get you onto a tenured job, and so on. Exactly all of those connections and those healthy inter-generational bourgeois relationships are what transition is very likely to rupture. There are, of course, exceptions. There's probably more to be said about trans studies, which is, of course, something much more expensive than this collection, and probably has a kind of uneasy relationship in some ways. But that's what I would say. Academia has a very specific set of like demands and requirements, for people who are ready to exist for that, and that's a very competitive environment or you're not going to be paid reliably for quite a long time. I feel like that's probably not going to change very quickly. And who knows if it would even be a good thing if it did.
MO: Academic life seems a deathtrap in some ways. I am one of many more or less failed academics trying to write and think in the world. If people are able to make a living there, that's great. But it's extremely clear that we need to create revolutionary and left spaces of thinking and study and debate and analysis, that are outside of academic spaces, academic constraints.
JG: Samuel Delany actually recounts in his shorter essays collection… he is primarily a sci-fi author, but he talks about how in the later 20th century, he got into academia on the basis that he wanted a steady income, to supplement his sci-fi career. I really struggled to imagine anyone doing that these days.
TFSR: I started teaching in the area where he was, which is also where Jordy Rosenberg is and U-Mass. He was publishing pornographic novels and at the same time… Anyway, I feel like we covered a lot and went for a long time. Is there anything that you feel like we've missed? There's so much in this book, obviously, we missed a lot. But there's anything that you would like to put on the table or bring into this discussion?
JG: I feel really satisfied. And I felt like this is gonna give a good account of the book and hopefully entice your listeners who haven't bought a copy yet to do that title. How about you, Michelle?
MO: This is great. I already talked about far too much that extends way beyond the book. But it's a beautiful collection and a really magnificent set of writers and authors. Jules and Elle just did an excellent job editig it. It's a great honor to be in it. And I think I highly recommend people being interested, on the one hand, gender struggles, gender theory, trans liberation, and on the other hand, anyone wrapped up in thinking about capitalism: to buy a copy, read it and talk about it and to share about it.
TFSR: Thank both of you so much for giving so much breadth to the conversation and so much analysis of the structures. I really appreciate thinking about transness through this lens which often gets left out in the mainstream discussion of it. And even in trans studies, I find that is often disappointing, so this politicization of it is really important. And connecting it to care work and the labor experiences of trans people. I appreciate your time and the book. Is there any place that you would want to direct, beyond buying the book which you can get from Pluto press, to direct people to follow you or hear more of your work?
JG: You can follow me on Twitter @SocialRepro and I also have a https://www.patreon.com/QueerComm. That's everything from me.
MO: I am @GenderHorizon on Twitter, https://www.patreon.com/meobrien on Patreon.