Eric King Speaks | 2 Radical Ukrainian Voices
This week, we're sharing 3 audio segments on this episode.
Eric King Transferred To High Security Prison in VA
[00:04:08 – 00:23:50]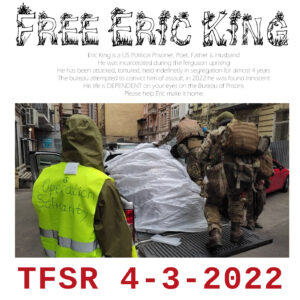 First up, you'll hear Eric King, anarchist prisoner whose recent legal victory against the Federal Bureau of Prisons in the US was featured on our episodes from the week of March 27th, 2022. Last week, Eric was suddenly transferred out of Colorado toward United States Penitentiary Lee in the southwest portion of Virginia near Johnson City, TN. This is in spite of the fact that Eric should be held at a medium security facility according to BOP standards, unlike the high security and max prisoners at USP Lee. We caught up with him mid-transfer while at Grady County Jail in Oklahoma where many Federal prisoners stop during cross-country transfers. Eric and his supporters are afraid that he'll be facing time in the SHU, or Secure Housing Unit at USP Lee for no reason other than punishment for his legal case and his supporters are putting together a call-in campaign to raise Eric's visibility to keep him safe. There is information about this in our show notes at TheFinalStrawRadio.NoBlogs.Org and hopefully soon at https://SupportEricKing.Org .
This is followed by Sean Swain's segment [00:23:53 – 00:32:42]
Maria of Anarchist Black Cross Kyiv
[00:33:06 – 01:07:52]
Then, you'll hear Maria, a member of Anarchist Black Cross Kyiv, just returned from Ukraine and currently in Warsaw, Poland. We talk about ABC Kyiv, mutual aid and refugee support, border crossing, some information about anarchists participating in the territorial defense, NATO, non-violent as well as armed resistance to the Russian invasion, Russian forcibly moving Ukrainians from Mariupol into territories they control and other recent news stories. You can find more on how to support Operation Solidarity at linktr.ee/OperationSolidarity and the Resistance Committee of anarchists participating in armed resistance to the invasion at linktr.ee/TheBlackHeadquarter. You can also find a benefit for ABC resistance to the invasion at ABCMusicalSolidarity.Bandcamp.Com, written up at North Shore Counter-Info.
Mira, leftist punk from Kharkiv
[01:09:06 – 01:41:14]
Finally, you'll hear a conversation recorded on Sunday, April 3rd with Mira, a member of the street punk band Bezlad and a show booker in the hardcore scene of Kharkiv near the Russian Border. Mira talks about his leaving of Kharkiv to L'viv to aid leftist and punk territorial defense fighters getting protective gear, his experience of the devastation of war on the city he loves and the breakdown of solidarity with antifascist and punk communities across the border between Russia & Ukraine since the war in the Donbass and intensifying today. We'll play a song by Bezlad after this interview and will link them in the shownotes.
Announcements
Libre Flot's Hunger Strike Continues
As a continuation of our recent announcement of the former YPG volunteer on hunger strike against unending detention by the French government, there is a call for a day of solidarity for Libre Flot for what is both his 36th day of hunger strike and his birthday. Libre Flot was hospitalized in relation to the hunger strike on March 24th but has continued due to his more than 15 months of pre-trail detention. On April 4th, 2022, the supporters are asked to make some noise at French embassies, consulates and other institutions to raise awareness of his plight. More info at SolidarityToDecember8.wordpress.com
Eric King Call-In
Alongside a recent post showing photos of the scene of Eric's assault in the broom closet, there will be a post with phone numbers and talking points  up at SupportEricKing.Org by Monday. Below are some contacts you are suggested to reach out to to check in on Eric's condition and talking points to help ask why he's being treated this way despite his noted security level leading into the embarrassing trial loss by BOP:
Hello Senator _____,

I am writing about my friend who is a prisoner in the Federal Bureau of Prisons. His name is Eric King, inmate number 27090-045. He was recently found not guilty on all counts at a trial in the U.S. District of Colorado. Eric was moved from FCI Englewood and is currently being held in a private facility, Grady County Jail in Oklahoma. He has been told he is en route to USP Lee, a maximum security prison in Virginia.

I am writing because I believe Eric should not be sent to USP Lee, and would be in danger if he were sent there. He is scheduled to be released from prison in December 2023, and wants to avoid anything that would infringe on this release date.

There is an active threat against his life. A few years ago, before being sent to Colorado, Eric was held in the Segregation Unit at USP Lee for approximately two weeks. Before that, at USP Atlanta, a white supremacist gang member told him he would be killed at USP Lee if he was released into general population. This was documented at USP Lee.

It is imperative that Eric not be put in harm's way. I am asking that you not send him into a situation that is so dangerous. The Bureau of Prisons knows this and there is established case law regarding the BOP sending someone into dangerous and life threatening scenarios. See Fitzharris v. Wolf, 702 F.2d 836, 839 (9th Cir. 1983); Gullatte v. Potts, 654 F.2d 1007, 1012-13 (5th Cir. 1981); Roba v. U.S., 604 F.2d 215, 218-19 (2d Cir. 1979).

Additionally, Eric is in this situation because of a bogus maximum management variable on his security profile. This has him erroneously being sent to a facility beyond his actual security level. He has no pending charges and no incident reports. He intends to be released to Colorado to live with his wife and his two children in just over a year. I ask that this management variable be removed so that he can be sent to a medium- or low-custody prison close to home and begin preparing for release.

I am afraid for my friend Eric's life if he is sent to USP Lee and I am asking that you intervene with the Bureau of Prisons and ask them not to send Eric King into harm's way by sending him to USP Lee.

His lawyer is Lauren Regan and can be reached at 541-687-9180 or lregan@cldc.org. Please help my friend.

Sincerely,

_____
346 Marine Forces Dr.
Grand Prairie, TX 75051
Mid-Atlantic BOP Regional Office
302 Sentinel Dr,
Annapolis Junction, MD  20701
320 First Street, NW
Washington, DC  20534
Virginia Senators to Contact
231 Russell Senate Office Building
Washington, DC 20510
703 Hart Senate Office Building
Washington, DC 20510
. … . ..
Featured tracks:
. … . ..
Transcription (Maria)
TFSR: Thank you so much for taking the time and the space to have this conversation with me. First off, would you please introduce yourself to the audience with a name, even if it's a pseudonym, any gender pronouns, where you're from, or where you're at now?
Maria: I'm Maria, from ABC Kyiv, and I'm staying in Warsaw right now, just coming from Lviv where I visited comrades and had some meetings.
TFSR: Can you tell a little bit about ABC Kyiv and the history of the group? What work you've done before? What does it look like now? How the invasion has changed it?
Maria: We are a relatively old collective, 10+ years old. We used to mostly help political refugees from neighboring countries who escaped from Russia and Belarus. It's not that many of them were in jail, but we were helping them with the refugee-seeking procedure and getting into politics in Ukraine. Now we changed because I expected they will go to Warsaw or whatever. But they mostly joined the territorial defense units in Kyiv. So we don't have clients anymore, you know?
TFSR: Yeah. The history of the Anarchist Red Cross at one point included militant support of combatants too during the Russian revolutions. Right?
Maria: Actually, in the Makhno army, I think it appeared first.
For now, we are trying to do several types of work. First of all, we work with another collective that provides the same kind of help to people who decided to join the resistance, take up arms, and to fight for people and freedom at home. It's different kinds of support. One is that we need to collect money, we need to buy things, humanitarian aid, medical aid, and different stuff that people who fight need. Another part is taking care of comrades who are relocating or choose not to because not a lot of people lost their jobs in Ukraine. And help with relocating people to other countries, they also may need help with a place to stay, money to live, possibilities to find a job. That's a lot of work. For sure, we are taking part in it. We are not doing it as a separate collective, but rather with other ABC collectives, and with the group called Operation Solidarity from Ukraine.
TFSR:Awesome. I know that ABC Dresden in Germany has been one group that's been able to funnel money towards mutual aid and defense funds, which is pretty cool. It's amazing to see ABC groups – just from the outside, I'm involved with an ABC group here, but we're still pretty focused on prisoners in the United States – to see the work that groups are doing in Europe is pretty impressive.
What's the situation getting back and forth with Poland if you can talk about it? Has it been difficult because there is a long wait at the border? How have you been received in Poland at least with the government?
Maria: Surprisingly, with Poland, I crossed already twice, it was no problem at all, both times. In Ukraine, it was much more problematic months ago, but at the moment, it's quite slow. Transport is late, but it's not super difficult. I think it is difficult only for male assigned people. In Lviv, it's also relatively calm, which is the new calm – they have 3-4 air raid alerts per day, which means that they expect air attacks. Sometimes there are air attacks but the air defense systems work well. I'm actually not an expert in weapons because I hate it. But the situation is like it is.
TFSR: Some of the questions that I'm going to be asking are related to either the war or the armed groups because that's an area I think that a lot of anarchists elsewhere are interested in. But if you can't answer them and don't have an answer, I understand totally.
One thing that I've been seeing in the news here is that Russia may be pulling back, withdrawing troops, at least in the areas near Kyiv, back across the border to Belarus. Is that a thing that you've heard about or do you have an understanding of what's happening with that?
Maria: I also read today that pulled back some troops, but not all of them. Actually, they say on the news that we expect more intense fights in the next few days. I hope that's not true. But it can be. Also, they still attack Kyiv and other cities from the sky. With the army, they at least stay somewhere. But with these air attacks, it's not clear where it will hit next time. Withdrawing troops doesn't mean that they will stop bombing us.
TFSR: Sure, pulling back the army could actually mean more bombing, hypothetically.
What's your impression, having been back to Lviv, of what it's like to try to organize there or to be an anti-authoritarian, anti-nationalist group that's trying to do organizing in the midst of an invasion and a time that almost necessarily leads to heightened levels of nationalism?
Maria: I didn't see that much nationalism. I was there just for a couple of days meeting with comrades. I was not really in the streets. I know that the Operation Solidarity group there is very well-organized.
There was one stupid small attack by young Nazis on our comrades near a shop, where they were waiting in line to buy stuff for guys from the territorial defense. It was shocking, but they were some small idiots. It's not that they really hunt there or whatever. I think Nazis are busy, the same as leftist people. We are not very much interested in each other, at this point, at least.
TFSR: What I'm seeing from the Telegram channel from Operation solidarity is that the attacker was from Misanthropic Division, and the comrade had a broken finger out of it.
Maria: He had a broken finger on his hand was wish he was packing medical supplies and other things for the army. It seems very unpatriotic to do it. It's sabotage, in my opinion. I'm very surprised. I already started thinking about some conspiracy. Maybe they're paid by Putin because it seems stupid to do it.
TFSR: Well, Nazis are stupid.
In your experience, how is the support from abroad into Operation Solidarity been going? There's still a need, but they've been listing on their social media that they've been receiving– They went out and bought helmets, they went out and bought various forms of armor. Is the fundraising still going on? Has that been successful so far?
Maria: I would say it's quite successful. But it always can be that if we have more money, we will buy better stuff for people, if we have more people, will still need to buy new things for them. Also, most people cannot work, renting rooms in Western Ukraine is very difficult, it is crazy expensive. Because so many people came there. Prices went high. There are still people there, their families and in the worst situation, you can expect that most of the people will lose their jobs. We also help with this part.
With medical things, you need to buy new ones from time to time, and we hope to have much more people. We have more people now compared to two months ago. I hope it will be much more, that is why for sure they still do fundraising and we still do fundraising for them. Other groups also do fundraising. I'm very satisfied with working together with them.
TFSR: I want to talk again about the armed organizing that people are doing, but there have been stories of lots of examples in this conflict of people taking unarmed actions against the war effort, for instance, the mutual aid and the medical support that you're talking about, or blockades to slow the advance of tanks outside of major cities, massive street protests, including those that have been fired upon by Russian troops, the Belarusian anti-war sabotage on train infrastructure that's been supplying Russian troops. Are there other examples or any that stand out to you of the unarmed mutual aid that you've been impressed with, that people should know about?
Maria: I'm not sure I understood all the points you mentioned. Because if your English is too perfect for me.
With the sabotage in Belarus, it is not militant, but for Belarus, it's already a lot. For us, I think that we are not concentrated on these points. For me, it's literally like fascists in the 30's and 40's are coming. People want to have arms and to fight back. I would not say that we are working on any anti-militant or whatever actions. We have a consensus that we need to fight with arms.
I know that there are protests in occupied cities. I don't think that they decided to be very anti-militant, they just don't have a choice. But the Russian army may actually shoot this protest. It's only peaceful from one side.
TFSR: One of the groups, to my understanding, that's been organizing in Ukraine for the armed self-defense is Black Flag (Chernyi Prapor)? Can you talk a little bit about the organizing and training that they've been doing that you know of, and as an anarchist grouping, how they've been relating to the territorial defense of the Ukrainian military?
Maria: I'm not that much in contact with them, it is a group from Lviv, as far as I know, a relatively small one. I'm not in personal contact with these people. That's why I don't really know how they do it.
I think one of the biggest collectives is the Resistance Committee. They're also groups of people here and there in different territorial defense units trying to organize together, like three-five people. I know this better.
I also know about people from Kharkiv, I knew them before, but I'm not in contact at the moment. I know that there is a group in Kharkiv that is fighting in the territorial defense unit in Kharkiv, which is a hot spot. I also know anarchists who individually went to the army, for example, my friend, who is actually also one of these refugees, a non-Ukrainian citizen, went to fight the first morning, and he is stationed separately from us, but we still support him.
TFSR: Do you have a sense of how it is for them to relate to the fact that the territorial defense has a relationship with the Ukrainian military? How much autonomy they're able to keep in that or any lessons that you've heard about how they've been able to try to keep that autonomy?
Maria: From talking to people, it seems it works quite well. They are not pressuring much and it feels like for other people there is a possibility for some autonomy. They are much less hierarchically structured. The army might pay less attention to this. But officially, they are part of the army. But there is actually no other way to organize because if you just take a gun and go to the street, they will think you are a subversive and kill you. Even historically, with the partisan movement, they're actually always connected to the army to some extent. I don't think it's possible to really do it in parallel without any agreements.
TFSR: A few weeks ago, I was seeing stories online about foreigners coming to Ukraine to try to fight and defend it, getting shuffled into the military, or being pressured to sign contracts of service similar to conscription. Have you heard about this being the case for folks that have tried to join anarchist formations? Are they able to get in? Or do they just get funneled into the general military or territorial defense of Ukraine?
Maria: I think the problem you're talking about is more about people who are going to the International Legion. I heard that people went to join a Belarusian unit, but I was not following the topic. Because I'm trying to concentrate on people I know, comrades, and things I can influence. I came across something like this in the media, but I haven't heard any people I know who complained about it. But for people from the International Legion, which I think is separate, maybe it's a problem for them.
TFSR: Another thing that I wanted to ask about, and it's okay if you don't have a comment on it or an understanding, but there was a video released recently that appeared to show the Ukrainian military shooting Russian prisoners in the legs extra-judicially. Have you heard about this or heard sentiments from other Ukrainians or people in the region about captured soldiers getting shot in that way?
Maria: I even didn't hear about it, to be honest. I can imagine it can happen. For example, a friend of mine was telling me that when he was taking part in the evacuation of the occupied and besieged cities around Kyiv. It was the third week of war already and before he was rather in a better mood. But at that moment, he was really like "They are murdering kids. They're raping women." He saw the bodies of women on the streets. They [Russian troops] don't want to fight with the army, they want to fight civilians. My friend was angry and didn't feel mercy for them anymore. But then you just go out from there thinking and feel that you are a human and you should follow the humane way of thinking and acting. But I can imagine that after everything people saw. But I didn't hear about what you mentioned.
I'm sad, I don't want that to happen. But it's very complicated. When you talk about these things theoretically from somewhere abroad, it's one thing, but when the war is coming to your place, it's totally another thing.
TFSR: That makes sense.
You mentioned children being killed. Some stories were circulating, I think they were sourced from the Ukrainian government about Russia importing thousands of civilians and children from occupied territories within Ukraine into Russia. Have you heard of this?
Maria: Yes. Many people from Kherson, which is the biggest occupied city, and Mariupol which is besieged. My friend's parents were sent from Mariupol to Donetsk or Russia, she lost contact with them. It's been five days now. They just put them on the bus. The besieged Mariupol and people couldn't have access to drinking water and food. I think they demoralize them, but the people still didn't want to go. They just take them to the bus, some of them could call and say, "Your parents were forcefully put on this bus, they will get in touch when they can." But no one is reaching out these days. Then they're sending a message that they're in Russia. Today at the train station, I talked to people from Kherson, they're telling the same, the few people who managed to escape.
TFSR: You can't really guess about the strategy or the reasoning behind that, whether it's to just depopulate areas, to make them easier to occupy, or if it's about trying to forcibly settle people to new areas.
Maria: They're not deporting all the people. For me, making the city empty is not the reason. As for Bucha and Hostomel, I heard the opposite – they don't let people out. They make them too afraid to try to go out by bombing the humanitarian corridor, for example, because they actually want them to stay. Then it is difficult for the Ukrainian army to shoot because they're inside together with civilians. Maybe there are other reasons, but they also try to use them for propaganda. They are filming people, they're giving them a text to read. A woman was complaining about Azov and Medusa published several videos, and you see that she's actually telling the story they forced her to tell because they didn't do it in one shot.
TFSR: Forcing some of the people that they're holding to act in front of the camera to say, "Oh, yes, I'm so happy that the Russians are here", something that the Russian government can show back in the media.
Maria: Mostly they want their people to see that look, here are refugees from bad Ukraine coming to good Russia. Today I heard several stories from people who were going to stay with families in Belarus. If they did it the same day, I think it was something on the media in Belarus, that you should care about your Ukrainian relatives. Relatives from Belarus are calling to say that they should come over. "Here you at least will speak your language, blah, blah, blah." And people are coming because it's their families, not because they want to move to Belarus.
Today I met a woman, she said, "My daughter and grandchildren are there. It's my chance to see my two-year-old grandson." On the one hand, she is going to this place from which we are bombed, on the other hand, we all mixed, for the older people, it looks fine. And then in the media, they create 100 people from 10 people saying that thousands of refugees from Ukraine are coming from Ukraine to Russia and Belarus.
TFSR: A lot of people in the last six weeks have left Ukraine, and have withdrawn to find other safer places to go to. But I've also heard reports that people are coming back to Ukraine for defending it from the invasion or fighting back or trying to collect what they left behind. Is this a thing that you've heard about too?
Maria: I know several people who went back because, when they came here, they put them to live in a stadium, and then you leave with 500 people after being shocked and bombed. I think your psychological condition is not very stable. There is already a lack of places. I know that Germany and Poland and today I asked a person who stayed in the Netherlands, she said the same that they actually stayed in barracks or whatever. Volunteers do care about them and give them food, but they cannot live there forever. And they read the same news as me and you.
I know a person who wants to go back to Kyiv to my district and I know that it's been very loud there the last few weeks. But she has animals, she cannot let them out and she lives in a barrack. She has them in transporter cages. I think it's very different for different people. But some people just cannot live like this. For some people, it's better to go with the risk to die rather than stay in a camp.
TFSR: Switching topics a bit, they're far-right elements, since the Maidan, have been coalescing and doing arm training and participating on both sides in the war in the Donbas. As we've talked about, there are armed formations that are anti-fascist and anarchist, and that have been trying to hold that space separate from the far right, and I guess push back against that being normalized and also make safer spaces. But one thing that was happening at the start of the war that I read about was that supporters of the Arsenal Kyiv football club, the Hoods Hoods Clan were starting to support armed resistance. They were known by some as being a more anti-fascist football club. But as I understand, they've begun working more with right-wing nationalist formations. I've seen pictures of members throwing up the Svoboda three-finger salute. Are you aware of this? Can you talk about what your understanding is among the folks that are staying back and doing armed defense? How difficult it is to hold your ethics in this situation when you're being shot at?
Maria: I'm not in direct contact with those people, because my comrades are mostly anarchists. There are some anarchists among them, but it's not an anarchist group. I hope that it is some individuals who are doing it, I don't think it can be the whole group, but I should check. The group is quite big, and from time to time, new people join. I don't think they can control people that much. I would ask today, that's interesting. As I was on the way, and I was in the Lviv without Internet, I don't know all the news. But it sounds problematic for me is if it's true, I would not be happy.
TFSR: It's pretty clear to me that the aggressive invasion of territory and bombing of cities by the Russian military is a terrible thing that should be fought against. I totally respect people defending their territory and defending the spaces they live in, their families, the people around them, and their communities. In the West, it's difficult for people in countries that are NATO countries to figure out how to relate to this in a way that puts us aside from supporting NATO intervention. I know the weapons that are getting sent in are helping territorial defense fight back the invasion. But do you have any thoughts about how people in countries that are NATO nation-states, besides sending funding, should be helping to resist the invasion without simultaneously working in a way that justifies imperialist Western militaries?
Maria: Sending money is nice. People can go to fight against fascists themselves. It's an individual decision, but it's always possible. With this NATO question, I'm very surprised how often I hear it because do you really think that all these leftists have an influence on these decisions?
TFSR: As far as influencing the way that NATO operates? No, but also, in the United States, the position that the US takes is that the Ukrainian government should be supported. It's not about creating space for an anarchistic society there but those two things overlap in terms of stopping people from dying. The US for instance, where I'm living, and where I'm from uses humanitarian intervention regularly to justify the continued growth of the US military. It's not just about necessarily helping people defend themselves from an invasion or from a terrorist group or from whatever. But it becomes a part of a larger plan that fuels the big industries of war in this country. That's what I'm getting at in wondering if you have any views about it.
Maria: Russia openly says on the propagandist TV that they should bomb Washington. I'm not sure that the US TV says something like this, that they should throw somewhere a nuclear bomb. I think was these two, one went much more aggressive, at least with the rhetoric. I think that thinking about geopolitical is just practically totally not useful. Because that's actually the context they're given to people to distract their attention. For example, I hear the question about NATO much more often than the question if all the comrades are alive. Maybe it's because I'm not that good with the theories. But for me, it's a very strange situation, when people want to talk about this NATO thing that much in a situation where they can actually not really influence it. I think that as anti-authoritarian leftists and anarchists, we should be much more focused on the things we can influence in our lives, and less on the topics given to us from the top, on TV. It is just my opinion, but I feel like this.
TFSR: Super helpful. Do you think it's useful for people who can take off and maybe a train or whatever to come to join territorial defense and try to support anarchist groups?
Maria: Yes. You can contact all the groups we discussed online, they have websites, Telegram channels, etc. You should ask them, not me. But I think there is a possibility, people who are looking for it can find it without my help.
TFSR: Maria, also would it be helpful to share any information further about how to contact ABC Kyiv, or you've mentioned operation solidarity, I can put more information in the show notes and announce that.
Maria: The Operation Solidarity has a chatbot if you need to contact them.
TFSR: Is there anything that I didn't ask about that you want to say right now?
Maria: I think we all start to think about how this happened. With Russia, with what is going on? How we have new fascism, because all my life I was asking questions about what happened to Germans in the previous century? I'm asking myself what happened, and how we didn't see it before they attacked so many countries. Now they also attacked my city, because the country was attacked already eight years ago. I think we should really work somehow that it will never happen a third time, or whatever time is next time?
I hope we will win. I hope my comrades in Russia and Belarus will be released from jails. I do hope we will find a way to stop these things from happening. Because for me, one of the most problematic parts is that actually, the Russian society supports what is going on.
TFSR: I hope for those things, too. Again, thank you very much for taking the time to have this conversation.
Maria: Thank you for asking.
. … . ..
Transcription (Mira)
Mira: Some people know me by the name Mira. I'm from Kharkiv city, which is in the east of Ukraine. Right now, I'm in Lviv.
TFSR: You've been in Lviv for a little bit now, like a month or so, right?
Mira: Yes. For the first 11 days of the war, we stayed in Kharkiv. Then we moved to Dnipro using suburban trains with transfers and spent some time in Dnipro and then went to Lviv using an evacuation train. It took like 21 hours to get here. Some of our friends were just staying in the vestibule of the train without a seat because was all crowded. It was a long, long way. We made it to Lviv. Lviv is a much better place to stay because we could do something here. It feels more like a regular peaceful place. We have some air raid alerts from time to time, and sometimes missiles get here too. But for the most part, it feels like a regular peaceful time. From here, it's easier to coordinate the different types of work, volunteer work, and mutual aid work. It's more productive and successful to be here, to get stuff, to meet people, and to send all the stuff further to other parts of Ukraine.
TFSR: Kharkiv, where you're from and where you left is just right across the border from Russia. I know it's been the center of a lot of really intense battles between the Ukrainian military and lots of shelling and cluster munitions from the Russian military. Is that right?
Mira: Absolutely. Honestly, when a few years ago, in Kharkiv, I and my friends did lots of punk and hardcore shows, including one of the biggest events in our country, Kharkiv Hardcore Fest, which is a few days event, and some bands from abroad that would come to play in Kharkiv were asking, "Aren't you afraid that you are really close to Russia?" While we already had the military invasion in the eastern part of Ukraine, part of Donbas, it was already occupied, but we still were sure that it won't go deeper into the country. When people from Finland, and Poland asked us that, we said, "Yes, we are okay." We didn't believe that Putin and the Russian military government would really be so crazy to start a full-scale war. Actually, we were surprised to witness what started on February 24.
TFSR: I'm glad that you and your friends were able to make it out. That sounds really, really scary.
Mira: Actually, I just want to add a few words, that since the beginning of the war, the police and army were trying to keep some order at the railway station, because so many people come in, they panic, and the place is too crowded and too many people stayed at the railway station. There were a lot of police and army to make things go smooth and try to keep some order.
That's why we tried to use suburban train stations because we didn't want to spend and unbelievable amount of time in the line. Because children, women, and elderly people, go first. If you are military age between 18 and 60, you are the last one to get on the train. We decided not to even try to go to the main station. We preferred to walk with our backpacks and stuff to the nearest suburban train station and get on the suburban trains. One day, we just went to see how it goes, if the trains actually pass by. Just to check it without backpacks, how it goes. When you're staying on the platform and it's a pretty open space and you can hear the air raid alerts and the sounds of explosions. It's not comfortable to stay there, because you never know where the next missiles going to drop.
We made it there, we took one train, we made it to Krasnohrad and spent four or five hours there waiting for another train, and then go to Dnipro right before the curfew time. My friend from Dnipro met us with the car and brought us to the apartments just five minutes before the curfew time. That's how we made it to Dnipro. Then we took the evacuation train from there for Lviv, 10 days later.
TFSR: You were there after the war started in Kharkiv. And you've been to some of these cities before, I would imagine, as a traveling musician, among other things. Can you talk about what it's been like to see places that you're familiar with suddenly devastated in these ways?
Mira: That's really hard to express the feelings, which you get when you see the city you love, the city that you have lots of stuff in common, which you associate with yourself, and you see that everything around is being ruined by the air raids, by multiple launcher systems. To see the historical city center being ruined, and to see regular residential neighborhoods being ruined. You can't look at it without tears. That's really tough. Every day, we hoped this will be the last day when they do the bombing and shelling and dropping air bombs. But the following day, it was just getting worse and worse. When we were thinking about how long it could take to rebuild everything which was destroyed, hoping that will end soon, the next day is coming and we see even more destruction. That's really painful and tearful to see.
Honestly, the first two days we were scared, then the fear changed for hate and anger toward the people who are doing this. We tried to find the ingredients to do Molotov cocktails and stuff like that because we thought they would be in the city soon and we might need that stuff. But actually, the armed forces you're doing a pretty good job defending the city on the ground. Even those groups of Russian troops who managed to get into the city were eliminated. The main threat was coming not from the troops on the ground, but from the launchers that launched rockets and from the air bombing. The Molotov cocktails wouldn't really help. We were sitting without any possibility of resistance, because in my group, we have five people, and none of us has military experience. The territorial defense was accepting volunteers only with military experience, so you'd be more useful for the defense. Since none of us had that, we were not accepted. Actually, the territorial defense was pretty full of people, and they didn't even need more, because a lot of people were willing to defend their city, their land, and their country against the aggressor. That's why the territorial defense pretty much all over Ukraine is packed with volunteers. They're not really accepting new applicants for that.
So we were just sitting without really any use. Since every day it was getting tougher and tougher, we decided to go somewhere else, to leave the city until it gets a bit better because the missiles started getting all around the city, not just the suburbs, not just the neighborhoods closer to Russia, to the ring road, but also in the center, all the neighborhoods, including mine, which is close to the city center. There was already some destruction in my neighborhood as well. That's why we decided to move to be useful in something else, not just sitting in the basement and listening to the sounds of the explosions.
TFSR: What activities have you been up to since you've been in Lviv? Is that at all connected to the work that you were doing before the war started in your community? I know some people start off doing, before the pandemic, for instance, were doing mutual aid work of one sort, like feeding people. Then after, in the US at least, have changed. They've just modified what they're doing. Was there any connection between what you're doing now and what was going on before?
Mira: We are doing totally different things now, because being a booker for shows is not something we would do here, and I had some small business rental for live events, I had my equipment in several clubs, and that is what I was doing besides booking my shows. Definitely, that's absolutely not timely, nobody needs that. We just do what people actually need. While organizing the shows and the festival in Kharkiv, we have pretty much a big following on our facebook page and Instagram. I know that some people we met in shows, now are in territorial defense or in the armed forces, and I know that some people are lacking protective gear and lots of other items, not just knee/elbow protectors and bulletproof vests, but a lot of other stuff needed to be alive and to be productive in their defensive activity. Right now, the only thing that we are doing is trying to find the stuff our friends need and buy it and send it to them. It is just volunteer work, and it's definitely not anything close to what we did before the war started.
TFSR: Especially in a war zone, I'm sure it's really difficult. Here, it's difficult to find some of that stuff at reasonable and affordable prices. I can't imagine how hard it would be to source night vision gear or thermal imaging stuff in the middle of a war. From what you can talk about with it, is it just the prices that are really difficult? Or is it getting it off of captured or fallen Russian troops? What does it look like?
Mira: Most all the Russian troops that I've seen online don't have that stuff, either. Since I toured with my bands a lot, I met people in Europe, with whom we stayed in touch till now. After the war started, some people started sending me messages, asking what was going on, and offering some help. That really saves lives now. With these contacts, we managed to work on the logistics of buying stuff, collecting money, and sending that to people who can buy that. Some of the volunteers are coming from Germany, and Poland to Lviv where we meet and get the stuff and send it further. The personal contacts, which I got in peaceful life before the war now really help to get what we need.
TFSR: So you're mentioning booking gigs and shows and playing shows in the punk and hardcore scene in Kharkiv. Touring. Just looking back to what that scene in that community has been like for you – it'd be interesting to hear what the music scene was like?
Mira: Well, it's pretty much a copy of a Western scene just on a smaller scale. Since the scene was born here much later than in the US or Europe, it's younger but it shares the same ideals. I know that in the United States, some micro scenes just don't care about anything. Some are really political, pay attention to political issues, and some are there just for music. When in Ukraine, they started to develop, it was very political starting in 2005 to 2015. Now, it was getting less, but we always were paying attention to who is in our shows, because we were always against any discrimination practices. We were not happy to see anyone with any Nazi symbols, in 90% of our shows, we specifically mentioned that Nazis are not welcome. Such people even don't come because in most cases, they understand what views we have, so to avoid conflict, they just don't come to our shows. There was a lot of physical confrontation in Kharkiv as well, years before, after the Maidan in 2014, actually, the number of confrontations got smaller and since 2014, it's just calmed down. We didn't really have big problems. There were some people wearing Nazi streetwear brands and stuff like that, trying to come to shows. They were just turned off at the entrance and didn't get in. Years before, we had big fights in 2009-12. Sometimes we had fights with 40 people on one side and 50 people on the other side. But it's calmed down with time.
Actually, at this moment, Nazis have their own hardcore scene developing. The fun fact is that they listen to a lot of good bands, but they do shows and they play and they support ideas, which those bands actually absolutely don't support. I know some Nazis from Dnipro were traveling to Poland to see the band Backtrack and Agnostic Front, Madball, and stuff like that. When they go to Europe to see these bands, they shut the fuck up and don't even show that they are right-wing sympathizers. But when they are back in Ukraine, in Dnipro, they have such symbols and T-shirts at their shows. But that's an absolutely different scene and we don't cross our paths. They don't come to our shows. We don't come to their shows.
TFSR: I saw Stiff Little Fingers once perform. They stopped the performance partway through and just started railing against Nazis and saying that "If any racists are here, you need to understand that you don't understand the lyrics that we're singing. Because we hate you. You need to go. You're not welcome here." I've seen like recordings a few times of Dropkick Murphys in the US also making that statement or going down and beating up Nazis that are in the crowd. I think it's really important and really impressive when people use that platform to be very clear that that is not what they're about.
Mira: At our shows frontmen of some bands clearly talk about that. Even if there is some person in the audience who also goes to some Nazi shows. That happens, we don't know everyone. They just stay in there listening and don't show who they are. But maybe that will help them realize someday what real punk and hardcore are about and what it is against. Maybe when some people accidentally get to the show with some friends, big shows where you can't recognize everyone. Maybe these people see how hardcore punk bands play and what they are saying, and what are their views on racism, homophobia, and stuff like that. Maybe they change their minds. The time will show, you never know.
TFSR: Do people at your shows or at the shows in the Kharkiv hardcore scene table literature and stickers and stuff like that?
Mira: We don't have sticker culture, we don't have our clubs or something. It could be five shows in five different locations. It's not really popular to put a lot of stickers around, because people in the clubs don't like any political stickers, just to avoid losing clients. There is one club that we boycott, and we don't do shows there. We don't come there, because they allow right-wing bands to play there. It's conveniently located. It's a pretty good sound. But the owner is weird and we had conversations before. He was saying that he's against any politics and that fascists will never have an event at his club. Then later, we have videos of people doing Nazi salutes there. It is just one instance, he says it is just business, he is doing business and doesn't care about anything else.
TFSR: That sounds like stuff here.
Mira: I believe that happens, often, everywhere.
TFSR: If people here want to support– In the other segment that we're airing from Maria, who's currently in Warsaw, we mentioned Operation Solidarity, and also the Resistance Committee. A lot of their work is based out of Kyiv. Are there any other groups that you would suggest people send money to distribute, to get defensive implements, like helmets and vests out to the Lviv? Or do those groups work with you all in Lviv?
Mira: Yes, Operation Solidarity works in Kyiv and Lviv. We cooperate on some issues. We know each other, but they have a bigger following and more people. They are concentrated mainly on helping left-wing people in the scene whom they know. At Kharkiv Hardcore, we don't check how left you are, if you call yourself an anarchist, or just if we know the person and if you know this person was at our shows, and you know the person is fighting or is going to fight soon, we help this person. That's the difference. But we share the same values, we share the same views. We cooperate also on some issues. I think we'll just develop this cooperation further.
TFSR: Is there anything that I didn't ask about that you want to talk about?
Mira: Maybe just the thing that I need to mention is that 10 years ago, I would say before the Maidan 2014, before the Russian invasion, the first Russian invasion started in 2014 when they occupied the Crimea and part of Donetsk and Luhansk Region. Before that, we considered our scene – of Ukraine and Russia – as one scene. I mean the scene in music and ideological terms, the antifascist scene, and the music punk hardcore scene. But after that, our paths started to go in different directions. We have fewer connections and less and less understanding of what's going on in Ukraine. I had lots of contacts in Russia. After this full-scale war started, I got messages just from a few people from Russia. I understand that they now have a dictatorship, and they're not allowed to say anything publicly and to voice their opinion if it's against the official line of the government. But anyway, still, some people have a really weird position. Some people don't say anything, some people say something that demonstrates they don't understand at all what is going on in Ukraine, but they still keep trying to hold some position.
I don't want to name the bands we have some questions to. But the main thing is that, unfortunately, after this conflict, the relations, and the attitudes to the Russian people would not be the same, because officially, 70% of the population of Russia supports their president. I understand they eat a lot of propaganda and are pretty fooled by it. But anyway, the result of it is the real war which we have right now. Unfortunately, all big bands, even in the punk and hardcore scene of Russia, didn't show any position. They don't call the aggressor aggressor. That's really disappointing. I don't know if we are able to communicate after this war is over.
TFSR: That makes a lot of sense. I guess it'll take a lot of work on the Russian side, the Russian hardcore and anti-fascist scene to try to– It seems really complicated over there. But that's not to make any apologies. As you said, they live under a dictator. That's hard, but I hope that they do the work to recognize and listen to your voices.
Mira: I just want to add that there are bands in Russia, that tour in Europe, and they try to sit on two stools at the same time. They don't want to call the aggressor the aggressor. They also try to show that they are for peace, but they're not saying who is ruining the peace. That's a problem.
When these bands announced European tours, I am afraid that the agenda wouldn't be correct. Because some people in Europe hate the United States so much that they refuse the right of Ukraine to subjectivity. They call it the concept of the United States and Russia, two empires, and they don't care about Ukraine. They hate the United States so much that they don't give a fuck about Ukraine at all. That's why some people in Europe are supporting and eating it and spreading Kremlin's propaganda. They're so anti-imperialist, that they are okay with Ukraine being destroyed.
TFSR: Yeah, it's a funny way to identify an empire, not as someone going in and invading another place because they say that they have a historical relationship and that that other place actually belongs to them, which Putin has done by saying, "Lenin was wrong. The Tsar was right. Stalin was right. Ukraine is a place for us to make decisions about."
Mira: Yes.
TFSR: Mira, thank you so much for this conversation and I am excited to share it. Are there any other links, do you want to mention your band name? It's okay if you don't. Or anything that listeners might follow.
Mira: Well, if you're into punk rock, if you like street punk and oi, you should check out the band I am in right now. It's called the Bezlad. While in Lviv, three of us are here out of five people, and we'll try to make some new songs about current events. With the help of local folks who will fill in, we will try to record something. Also, we have a plan to play at a bomb shelter. That's something new that we never experienced. Hope that will work. If you're interested in punk, check it out, and stay in touch if you feel like it.
TFSR: We'll be featuring a song at the end of this interview so folks can listen in to one track by that band. All right. Well, thanks a lot. I hope you keep safe and good luck to you and yours. I hope the war ends soon.
Mira: Thank you so much. Thank you for your attention. Thank you for speaking out about this. For spending your time to let people know what's going on and let them hear Ukrainian voices on what's going on here.