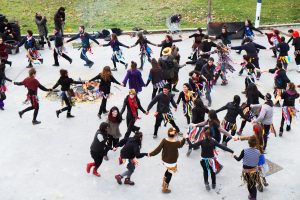 This week we featured two conversations in the episode.
"Stop The Pipelines Action Camp"
Firstly, Bursts chatted with erin. erin is a resident of the Blacksburg VA area and an affiliate of Blue Ridge Rapid Response Project (or BRRRP) and is helping to organize the "Stop The Pipelines Action Camp" in that area from July 13-17th, 2017. The action camp is being organized in hopes to spread resistance to the Mountain Valley & Atlantic Coast Pipelines that are traversing Appalachian West Virginia, Virginia and, in the ACP's case, North Carolina. We talk about what it is to live in a place and defend your home, to get to know your neighbors, to build the skills needed to resist ecocidal, capitalist infrastructure projects. More info at https://blueridgerapidresponse.wordpress.com. The event is being co-sponsored by Smokey Mountain Eco-Defense (SMED)
erin mentions pipeline security pursued by mercenary groups like TigerSwan as well as industry-sponsored astro-turf (or fake grassroots) group YourEnergy meant to muddy the water of community resistance to pipeline expansion and other infrastructural projects.
Errekaleor Bizirik!
After that, Bursts chatted with 2 residents of the squatted neighborhood of Errekaleor Bizirik in the Basque territory within the borders of so-called Spain. The residents talk about the history of Errekaleor Bizirik, feminism, energy infrastructure, recent attacks by police on the project and pre-figuring a post-capitalist life-way in the rubble of the existent. For more info on the project, which translates to Dry River (Errekaleor) Lives (Bizirik)!, check out:
The draft wikipedia page;
An IGD post about the project with links and context;
Their Coopfunding page.
From their post on igd, is this quote:
For those of you that are too far away to personally attend, feel free to make a quick call to the mayor of Vitoria-Gasteiz Gorka Urtaran at +34 945 16 13 82 or +34 945 16 13 83 or send us a message at errekaleorbizirik@gmail.com!"
We wanted to also state that the folks at Errekaleor reached out to us for the interview, which was super awesome. If you have a project, a book, an article, a fight that seems like it'd be interesting to us and our listeners, send us an email at thefinalstrawradio@riseup.net and get the ball rolling.
If you want, find us on itunes and subscribe for free. You can rate us there as well, to help others find us more easily.
Announcement
The Arizona based humanitarian aid group No More Deaths (No Mas Muertes in spanish) has been under semi constant surveillance by Border Patrol for the past week. This is unprecedented attention; since its foundation in 2004 this group has had a written agreement, essentially a non interference good faith contract, with Border Patrol that names the group as a health aid and humanitarian group that has every right to be doing the work it's doing. NO More Deaths is a group based on certain faith principles (it is an official ministry of the Unitarian Universalist Church in Tuscon) and on critical engagement with policy reform, nevertheless it is a group that has a high degree of anarchist involvement and solidarity with what could be called anarchist principles. It is most famous for desert aid; volunteers hiking out and leaving supplies such as water – essential in the 100 plus degree heat – food, socks, blankets, other supplies, and directed first aid where needed along remote corridors in the Sonoran Desert. The group also engages with legal aid, abuse documentation, searching for missing or disappeared people, helping getting belongings back from Border Patrol, networking with other border solidarity groups in the area, and consciousness raising and education to subvert the extremely stale narrative that immigration has in the US.
A couple of days ago, after almost a week of constant surveillance, Border Patrol raided a camp "in an unprecedented show of force, [with] approximately 30 armed agents raided the camp with at least 15 trucks, two quads, and a helicopter to apprehend four patients receiving medical care." We hope to talk with someone about this situation soon for the radio show; the fact that this raid is coming now is a clear sign of the administrations attitude toward this kind of work. For more information on this issue and to keep up with No More Deaths, you can go to their website https://nomoredeaths.org