Kuwasi Balagoon: A Soldier's Story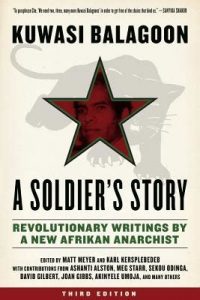 This week we had the chance to interview Matt Meyer, who, among many other pursuits, is a retired professor and an editor of A Soldier's Story: Revolutionary Writings by a New Afrikan Anarchist, out from PM Press, which highlights the life and writings of Kwasi Balagoon. Balagoon was a defendant in the Panther 21 case in the late 1960s, in which 21 people were arrested and accused of planned coordinated bombing and long-range rifle attacks on two police stations and an education office in New York City. He was ultimately acquitted of this, but was caught up on charges related to a robbery some time later and passed in prison in 1986.
Sean Swain on food in prison 2:48
Matt Meyer on Kuwasi Balagoon 11:44
Support Matt Hinkston announcement 1:06:08
In this interview, Bursts and Matt discuss Balagoon's life and writings and why this book is especially relevant right now. They'll talk about his abiding love for his comrades, a things which seems to have driven much of his politics, and his queerness, an aspect of his life which seemed very important and also complex. Stay tuned to the end of the conversation for questions submitted to The Final Straw by imprisoned anarchist Michael Kimble, who has been a guest on this show and is an admirer of Kuwasi. To see more of Michael's work and to write to him, you can visit anarchylive.noblogs.org
. … . ..
Support Matt Hinkston!
Police violence in Lucasville-Southern Ohio Correctional Facility. Call Monday in support of Matt Hinkston (A724969). Matt is the brother of Mustafa, who Bursts interviewed a few weeks back.

Matt Hinkston (A724969) is being retaliated against for filing a PREA (Prison Rape Elimination Act) grievance against a correctional officer and for having gone on hunger strikes in protest of human rights violations against himself and others in the past. One of the main officers who has been mistreating him is named Officer Lawless. They've put him in solitary confinement without a disciplinary ticket and restricted his access to communication. Although correctional officers claim that Matt has been put in solitary confinement for his protection, they're also denying him access to his property and to technology for communicating with the outside world.
Incarcerated people's  lives and human rights matter. Nobody should be sent to solitary for filing a PREA report against a guard. Let's call Lucasville this weekend and Monday at 740-259-5544 to:
-ask for a wellness check on Matthew Hinkston, A#724969
-tell officials in the Warden's area and on Matt's block that we support Matt's demands and oppose continued retaliation against him for filing a PREA grievance.
Support Matt in this continued struggle against police violence, racism, and rape culture!
. … . ..
Finally, thank you to everyone who replied in response to our 9th anniversary podcast special in which me and Bursts interviewed each other about why we do what we do, some personal backstory for each of us, and opinions on media in general. We also used the opportunity to solicit listeners for another co host, to share the work load and extend the option in case there was anyone out there who was interested.
We got way more responses than we ever thought we would, and are working through to answer them in as complete and responsible a way as possible. If your interest is piqued and you wanna hear this episode, it's up on our website along with all our other archived material.
. … . ..
Music at the beginning of the show was an instrumental version of Hip Hop by Dead Prez off of Let's Get Free.