Stop Camp Grayling!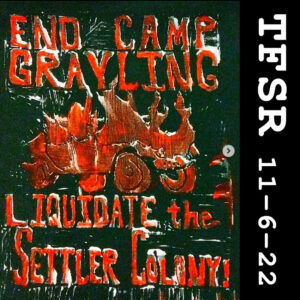 This week on The Final Straw, we're sharing a chat that Scott had with Smirk, Wink & Nudge of the Stop Camp Grayling Offensive, an anarchist effort to oppose the doubling expansion of the largest military base on Turtle Island, based in so-called Michigan. For the hour, the militants talk about the ecological, social, economic and other potential impacts of expanding the military industrial complex and this counterinsurgency training ground in particular.
You can learn more at twitter.com/GraylingCamp or instagram.com/stop_camp_grayling,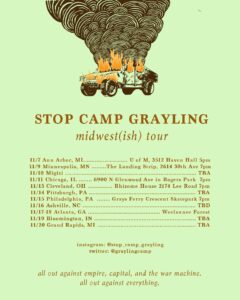 soon at a blog they'll be starting or on one of their upcoming info tours, with more information in our shownotes. There is also a zine, entitled "The Base Among The Pines: Notes on the Camp Grayling Expansion on Anishinabewaki" available at RiverValleyRevolt.NoBlogs.
This struggle consider itself in solidarity with the movement to #StopCopCity in so-called Atlanta.
STOP CAMP GRAYLING midwest(ish) tour:
11/7 Ann Arbor, MI @ U of M, 3512 Haven Hall 5pm;
11/9 Minneapolis, MN @ he Landing Strip, 2614 30th Ave 7pm;
11/10 Migizi @ TBA;
11/11 Chicago, IL @ 6900 N Glenwood Ave in Rogers Park 7pm;
11/13 Cleveland, OH 11/14 @ Rhizome House 2174 Lee Road 7pm;
11/14 Pittsburgh, PA @ TBA;
11/15 Philadelphia, PA @ Grays Ferry Crescent Skatepark 7pm;
11/16 Ashville, NC @ TBD;
11/17-18 Atlanta, GA @ Weelaunee Forest;
11/19 Bloomington, IN @ TBA;
11/20 Grand Rapids, MI @ TBA;
Next Week…
Stay tuned next week for, hopefully, a segment on making inexpensive, alcohol heaters for surviving out of doors this winter & a conversation with Josh of the Certain Days: Freedom For Political Prisoners Calendars collective about the 2023 edition, now off the presses!
Announcements
Remember Ricardo Flores
Magón

! Free Xinachtli!

If you're in the Austin, Texas, area, on November 21st, on the 100th anniversary of the death of Mexican anarchist communist and revolutionary Ricardo Flores Magon in Leavenworth Prison, there'll be a remembrance vigil for RFM as well as a solidarity rally for political prisoner Xinachtli (state name Alvaro Luna Hernandez) at 12 noon at the University of Texas campus, corner stairway entry at 24th & Guadalupe Streets. This event is sponsored by Central Texas Anarchist Black Cross and "Xinachtli Defense Committee." More info at freealvaro.net! And you can hear our past broadcast of Xinachtli talking about his case at our website.
Solidarity with Alfredo Cospito's Hunger Strike
Solidarity actions with Alfredo Cospito's hunger strike against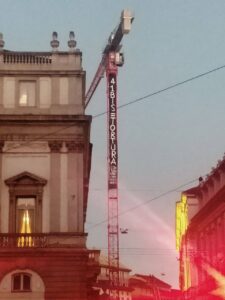 confinement in 41 bis conditions in Italy continue, including the taking up of the method by anarchist prisoners Juan Sorroche Fernandez and Ivan Alocco, the arson of autos owned by subsidiaries of prison profiteers in Berlin and Leipzig, and the occupation of a crane outside the famous Opera theater in Milan, La Scala, who are today holding a rally against the 41 bis prison regime and in solidarity with hunger striking prisoners. You can learn more about Cospito and his struggle from our recent episode on the subject.
. … . ..
Featured Track:
. … . ..
Transcription
TFSR: I'm really happy to be talking today about what's going on at Camp Grayling. And first off, would you be able to introduce yourselves with whatever name you want to use, pronouns, and associations are that you want to share.
Smirk: I am Smirk. I use she/her pronouns, and I'm with the Stop Camp Grayling Offensive.
Wink: Hi, I'm Wink, I use she/her pronouns, and I'm with the Stop Camp Grayling Offensive.
Nudge: Hi, I'm Nudge, I use she/they pronouns, and I am also with the Camp Grayling Offensive.
TFSR: Great, thank you so much for being here and talking with us today. Just to give a little bit of background, can you describe what Camp Grayling is and the expansion that you're trying to block?
N: Yeah. Camp Grayling is the largest military base on Turtle Island. And they're looking to expand it to twice its size. On the base, they will be testing and training new surveillance warfare, space warfare, counterinsurgency, and new autonomous vehicles. Right now, it threatens two major watersheds and is now entering a whole other one. It's devastating at all of its intersections.
W: Currently, all branches of the military train at Camp Grayling, also local and state law enforcement trains at Camp Grayling. And currently, but also with the expansion, it is planned to have paramilitary and private weapons manufacturers train and test their weapons at Camp Grayling. And with the expansion that will also be expanded.
TFSR: How does Camp Grayling compare to other training sites? I'm thinking of the action to Stop Cop City in Atlanta, for example. And then also, I'm wondering about the National Guard because, in the zine that y'all put together, you talk specifically about the National Guard using that land and what their history is.
N: I think that definitely our struggle is really connected to a Cop City struggle. They used to base to train state police and to train specifically in counterinsurgency. The National Guard is the oldest wing of the so-called US military. And their legacy is to basically establish new settler colonies and to enforce law and order. They aided in Western expansion and the systematic genocide of indigenous folks since its inception and have gone on to suppress strikes and any insurgent movement that has come up in the so-called United States. In so-called Michigan, they've been deployed against striking workers, and have been deployed multiple times in reaction to responses to state violence and murder against black folks, namely, in Benton Harbor, and during the Detroit riots [of 1968].
TFSR: Given the history of the use of Camp Grayling for counterinsurgency and violent repression of uprisings, I wonder if you could talk a little bit about what you see at play in the expansion and how it extends the forces of the Empire and the state and fascism or any other connections you might draw?
S: Yeah, definitely. As we mentioned, a lot of surveillance and counterinsurgent technologies are already tested at Camp Grayling and used by the so-called United States all across the world. And with the expansion specifically, we've heard that they're hoping to further test, specifically, surveillance tech. A lot of the same technology that has been tested at Camp Grayling was used during the 2020 uprising. And we're also seeing an increase in interest in autonomous vehicles, and specifically, the application of autonomous vehicles in urban warfare environments, which we can only guess what that might mean.
TFSR: In the zine that y'all put together, you make some really important connections between what the US military is doing and rising fascism around the world. Specifically one of the connections you draw is with a Latvian military. And I'm just wondering if you would talk a little bit about these webs of power that you see and what Camp Grayling's role is in that.
S: The Michigan National Guard has had a pretty close relationship with the Latvian military for I want to say a couple of decades, I don't know for sure. And the Latvian military will come to so-called Michigan, often to train at Camp Grayling, specifically, during the Northern Strike Exercises, which are this giant conglomeration of different militaries from around the world that come to so-called Michigan to train and to do this big joint training exercise. It's a show of force. And something that I think is really interesting is the proximity that Latvia has to the war in so-called Ukraine, and how one of the reasons that military officials are claiming to want the Camp Grayling expansion is because of so-called Michigan's similarities in natural terrain and climates to Eastern Europe. And so it seems very timely that as all of this money and weaponry is being funneled into so-called Ukraine, they're wanting to expand a military base that has close ties to other far-right countries in the area, as well as to weather out climate collapse and creating these fascist strongholds as we head into worse and worse weather. Yeah, I just think it's really interesting timing, to be honest.
TFSR: It's telling to me too that the way that they are comparing terrains that – I don't know if you all have thoughts on this – but I wonder to what extent the military is thinking strategically, in one way that might be different than the government is doing in other ways, but there's definitely these fascist connections between the Armed Forces of different countries. That just stood out to me, the thought that they're thinking about how the terrains are comparable in fighting against popular forces.
S: Yeah, absolutely. And that's to train people, and soldiers and also to test weapons and specific weather conditions. So it's not just people that they're sending into these other territories. It's weaponry and vehicles and stuff like that, too. So there's this also direct tie to capitalist industry within the military-industrial complex.
TFSR: Right. It's also Camp Grayling is made available to privatized security forces for their training and testing.
S: Yep, exactly.
TFSR: So in the writing that you all have, you mentioned this name, which again, is them telling us something – National All-Domain Warfighting Center. Is that a separate thing from Camp Grayling as a military training site? That name really sticks out to me.
S: Yeah, it is not separate. It is the same thing. However, it is a different entity. The NADWC, which was started in 2021. And it basically operates as this interface within the National Guard to have private companies come in and have their new products tested using Camp Grayling facilities and personnel. What they advertise is that, say, you're making an EMP gun for a wild example, you would contact the NADWC and you have actual soldiers experiment and test the weapons or accessories or vehicles that you're hoping to manufacture on a mass scale. And then it also grants you connections to the military. So once everything passes inspection and you've created a weapon that is acceptable for the United States military, then you have the connections to secure a contract with entities like the Air Force or the Marines or the Navy or the army. Or the National Guard itself.
TFSR: Do you think that there's a difference in the way that this attempted expansion would be received publicly, given this more military focus – even though you said that they train police there – than something that's more police-affiliated, like in Atlanta? Just given the different kinds of attitudes that people have towards the military versus the police?
S: Yeah, I do think it would be received differently. Something very interesting is that people that live around the base are very pro-military, but they're also pro-outdoor sportsmanship. So a lot of people are actually against the expansion, but they're not anti-military. And they make that very clear. There are certain instances where they do tie in the police to that. But I think that because it's the military people are more willing to say "no", but it's also out of this patriotism that "no" comes from? I don't know, it's really interesting. I'm not the best at articulating it.
TFSR: Yeah, that is very interesting. When you said that they support the military, but then feel may be more able to say "no", in a way, that just points out something different. Because whatever the police are doing in terms of getting more budgets or more weapons or more training spaces, they pose it as this impending necessity for keeping us safe in our homeland or whatever. Whereas the military, I guess, there's a little bit more space that they're like "do we have to be doing this here in our backyard, where we enjoy hunting?" or whatever they're doing there.
S: Exactly, exactly.
TFSR: Would you talk a little bit more about the usage of this Camp Grayling training space by police and prison officials?
S: Totally. As we've said, a lot of technologies that police and prisons employ are tested at Camp Grayling. It also has a Law Enforcement Training Center that I think the Michigan State Police actually headed on. And it's called the Combined Armed Collective Training Facility. And they actually do have a mock city within the Camp Grayling base already, so Cop City already exists there. And also the National Guard and the state police do joint training exercises all the time. I think they've been doing that for a couple of decades. A lot of those training exercises focus on counterinsurgents. In some propaganda that we've found, we saw that they actually hire black actors to play protesters for the National Guard and the state police to do whatever they do with.
TFSR: Wow, that's telling. It's like they keep saying what they're up to us.
What is the connection with the prison industrial complex? Is there training for guards there, too?
W: Yes, with the Law Enforcement Training Center, all sorts of different branches of law enforcement train there: firefighters, EMTs, and correction officers that will work in prisons and jails as well.
N: And also, the piggyback on this too, the area around the expansion has been used to develop extensively these massive detention centers beyond Camp Grayling. This bio-region is a massive center for carceral infrastructure. And the intersections with the detention center in Baldwin and these other mega prisons around the state feels really important.
S: And on top of all that, there is also a juvenile detention facility located within the area that Camp Grayling actually currently occupies. It's called the Shawano School, and they are a maximum-security youth detention center that focuses mostly on youth that has histories of problems with sexual behavior and drug crimes. They are known to be one of the facilities with the highest rates of sexual assault on the youth by the staff of any facility in the so-called United States.
TFSR: So they're locking people up for their supposed problems that they're then subjecting them to inside.
S: Yes.
TFSR: I don't think we talked about geographically where Camp Grayling is in relation to Detroit and some of the other cities in Michigan. Could you talk a little bit about what its relationship is to the urban areas?
N: Yeah, definitely. This expansive area is very far away from other urban centers in the so-called Michigan. It's in a region that is dubbed "Up North". And it's mostly historically state forest lands and forests. So it's probably 2.5 hours north of the nearest city and the more urbanized area of so-called Michigan.
TFSR: So given that, maybe we can turn to talking about the environmental impact of campaigning, which you mentioned at the beginning of our conversation. Thinking about this as a State forest, and also the relationship that it has to the more urban areas. So first, what is the environmental impact of Camp Graying now, and what do you think would happen with the expansion, but also the way that this land is maybe being seen as productive for industry, too?
W: It's important, first of all, to say that the land that is what the expansion would be is controlled by the DNR [Department of Natural Resources] and that the DNR is working on a land use agreement with the National Guard, in which the DNR would lease the land to the National Guard for free.
Everyone knows that the US military is the largest polluter on our earth. They emit more carbon annually than most countries do. They are historically known for dramatic habitat decrease and pollution, biodiversity losses, and all sorts of just horrible horrible impacts on our environment. Specifically in Camp Grayling, and also in military training centers in general, due to the repeated acts of what training is and what training does military bases and training centers are among the most polluted areas of our Earth. And Camp Grayling is no different.
One of the main pollutants that have been found in Camp Grayling, and it's not been very long, it's only been since 2016 that this issue has really become prevalent in the area, is PFAS. The groundwater PFAS are per- and polyfluoroalkyl substances. They're a group of manufactured chemicals that are found specifically in military bases, in something called aqueous film forming foam (AFFF), which has been used as a fire extinguishing component, as well as to do all sorts of other things like dust suppression on the roads, or they spread it all over their vehicles because it is known to be resistant to water, heat, and oil. So Camp Grayling has used this aqueous film-forming foam, along with most other places in the country that train military since the 70's. And it is full of PFAS. It's really horrible shit. I'm sure some people have heard about forever chemicals. PFAS bioaccumulates in humans and non-humans over time. So this basically synthetic chemical compound just builds up in your bloodstream. And it's been found in the groundwater in Grayling, and it is all over at one specific lake that is contained within the current boundaries of Camp Grayling called Lake Margareth. It's fucked because there's not a really good way to clean this out of the groundwater. And when you go to so-called Grayling in northern Michigan, everywhere you look there are streams, there's wetlands, there's rivers, it's absolutely fucking beautiful there. But we know that the water is all connected. So, the so-called Michigan is located in an area that has access to 20% of the world's freshwater in the so-called Great Lakes. And PFAS is just one, countless hazardous chemicals are released by the military every single fucking day. It's going into the water. And the streams aren't just staying in Grayling. They're flowing from the wetlands into the streams into the rivers, which will eventually flow into both Lake Michigan and Lake Huron, which has been happening at least since the 1970's.
Also, another fun fact, to tie capitalism into it, is that the military actually owns the patent to the aqueous film-forming foam and with the mega-corporation 3M worked to develop it. So anytime this foam is manufactured, the military actually is making money off of it as well.
TFSR: The state of Michigan has a bad reputation in terms of water and water quality, given the situation in Flint that got a lot of publicity. With this situation, is it a similar response in terms of a lack of concern for the people and the other living creatures having their water poisoned by these chemicals? Or is there anything that they're doing?
W: Oh, yeah, I mean, the response was underwhelming, at best. The military has not taken any accountability. Why would they? But the people that live in so-called Grayling whose water has been affected by this, there's really only a handful of individuals, I think it was 19 households that were able to receive remediation by the military. There are a couple of hundred households that have received water filters. Somehow, Camp Grayling got off the Superfund list. I don't know how, because you can't clean that shit up. It's all just a little bit shady. There's definitely an underwhelming response to the poisoning of the water in the area by the military 100%.
N: Can I add to that? The military solution to the PFAS problem is to discontinue firefighting foam, which is what they allude to as the big thing that's causing the contamination. But really, this chemical is used and so many things that the military uses. So that solution is really inadequate.
TFSR: It just seems, as you were pointing out, the water doesn't stay in one place. So these pretty minimal, stopgap measures to help people don't really address a larger problem, or even acknowledge really that they're creating this problem and it's an ongoing situation.
You mentioned the Superfund site, would you just talk a little bit about what that means? And what it means that Camp Grayling isn't one now?
W: Sure. I don't know why Camp Grayling isn't one now. But I do know that a Superfund site is anywhere that the EPA, the Environmental Protection Agency decides is so heavily polluted and contaminated by toxic substances that it needs to be completely shut down for remediation purposes, and that resources need to be directed to that ASAP. Last I read, there are just over 1300 Superfund sites in the so-called United States. Over half of them are current or former military bases or training compounds, and then other places that you're likely to see Superfund sites become factories or places where a lot of industrial waste was disposed of. Unfortunately, here in so-called Michigan, we have the highest concentration of Superfund sites of anywhere in the country. It's really sad and disappointing, and it's definitely a direct result of industrialization and capitalism.
TFSR: Given all the environmental impact that you just described, one might think that a tactic that could be applicable here would be one of saving the environment or conservation of some kind. Can you talk a little bit about that method, and also why you all are critical of that approach?
N: Definitely. The history of environmental justice work in so-called Michigan, at least in my lived experience, has been centered around conservation and doing "paper wrenching" as a method of resistance. Basically, there's a narrative that the State believes and it demonstrates itself in social stratification and the way that capitalist society and exploitation and oppression look and that the State values some lives over others, and that some lives and interests are worth protecting over others. And this is definitely where most conservation narratives stem from. This is also where the tactic of "paper wrenching" feels inadequate and cringy to me.
TFSR: Can you explain what that "paper wrenching" means?
N: Yes, it fundamentally means that we're using laws or rights that the state has told us exist and basically hold them accountable to those laws and rights. And we know that the State is not a fair or rational entity and that it ultimately exerts power however it wants to. And I think that appealing to rights and laws is something that is also just legitimizing State violence and oppression and legitimizing their worldview that aids all these oppressive structures.
S: Just to add on to that and how conservation legitimizes colonialism and extraction capitalism in this exact circumstance… As oil and gas resources were being discovered and that process was just beginning, there were these settler-conservationists fights over the Pigeon River State Forest, which is just a little north of so-called Grayling, which rests on top of this giant gas shale that we have underneath the peninsula. And there was this very drawn-out fight to prevent oil and gas drilling within the state forest land. As that fight came to a close, the Michigan United Conservation Clubs reached an agreement with oil and gas executives that said that they can drill within State Forest lands. So they conceded on the condition that some of the revenue gets put back into conservation efforts. As that trust developed, it became essentially a DNR fund. So, a lot of the reasons that there are state forests and nature preserves surrounding so-called Grayling are because of this compromise with oil and gas executives, and the love of outdoor sportsmanship by a lot of the folks that live around there, made that a really appealing conservation effort, even though it allowed extraction to continue even more so than it already was at the time. And I feel it's really important to point out here too, that a lot of the way that conservation happens in this area is hand in hand with extraction capitalism.
TFSR: That's really helpful to draw those connections explicitly.
One of the things that you are talking about in the writing that you did is the possibility of using State distinctions of endangered species or something as a tool for fighting the expansion. Can you talk about that tool and how you relate to it from this anti-state perspective?
N: This is probably one of the first ways people started to mobilize and take action against the expansion. Right now we're in a "public comment" period and while we await the decision of politicians on whether this will be approved or not and then we move on to an environmental impact survey phase. Basically, all these people that are being contracted to do the surveying are state entities and agencies that have a stake in the project being completed. So the DNR is going to contract entities to do the surveying and so is the National Guard. By having a grassroots initiative, even though it is a low-risk, low-reward tactic, and it legitimizes States, that it still could open up a path to gum up the gears and slow down the expansion, but through litigation. That's the thing that is happening. It happened.
TFSR: I wonder if you'd share a little bit of your knowledge about the land that Camp Grayling occupies in terms of the history of indigenous relationship to the land, the history of settlement and colonization that's gone on because that seems to be an important backdrop to everything that you're saying.
W: Yeah, definitely. The original stewards of most of Michigan, if not all, are the Ojibwe, Odawa, and Potawatomi people. They make up the Council of the Three Fires. The land that is currently Camp Grayling and the land that is in the expansion is entirely covered under the Treaty of Washington of 1836. The Treaty of Washington gave specifically Ojibwe and Odawa people hunting and fishing rights. So the US military and Camp Grayling have been in violation of these rights since its inception in 1913. There's not really a huge Native population in the area as of now. The reservations tend to be north and west and south and east of this area, for whatever reason.
But I think something important to talk about is the land that so-called Grayling sits on is cut by two different rivers, the so-called Au Sable and the so-called Manistee River, both carve what is now known as Grayling. And these were really important watery ways to indigenous folks for centuries before colonization. And then when settlers came and began occupying this area, what they were really attracted to was the huge old-growth forests that were there, and immediately just fucking cut them all down. And then they use the waterways to ship the logs all over. And the logging history of Grayling is really directly tied to Camp Grayling because the lumber baron Rasmus Hansen was one of the original capitalists in the area of the so-called Grayling. And it was customary at the time for logging companies or any other extractive companies to pay their taxes by donating the land back to the state. So the whole reason Camp Grayling exists is that Rasmus Hansen cut down all the old trees on it and then gave it back to the state of Michigan fort to open up a National Guard training center. So that's the lore.
Unfortunately, a lot of indigenous history has been lost to colonization. We are working on building relationships with indigenous folks that might have some of this knowledge on this ancestral knowledge of the land. But as we know, a lot of their history has been completely destroyed by settler colonization.
TFSR: Thank you for sharing that. It's important to know that the people who had originally lived there have been really driven off the land. It makes me wonder about who the residents are in that area. We talked a little bit about their military support, but is there more information you could share about who lives in the area?
N: The folks that live in the area, they're mostly settlers, and there's a lot of class diversity, as I understand it, but there are a lot of poor white folks that are affected by the ecological issues. But there are also just rich bastards that have a lot of lands. It's mostly just a NIMBY [Not In My Back Yard] settler population, frankly.
S: Something that's important to that settler population are also industries created by the river systems. Trophy fishing, fly fishing, and trout fishing are really popular. People travel from all over the world to come to the headwaters of the so-called Au Sable to fly fish. And so that tourism and other kinds of recreational activities along the rivers are really, really important to the economic well-being of a largely poor, conservative white populace. And a lot of those folks see the expansion as a direct threat to that tourism and to their economic well-being and hopefully to the rivers also, but who knows.
TFSR: I wonder if you could talk a little bit then about how the groups that are organizing resistance to Camp Grayling relate to the people living there. Is there any collaboration? Are you taking different stands, if people are resisting who are living there, for different reasons that they want to oppose it? I would just be interested to know about what connections or divergences there are.
N: There are a lot of different groups organizing around the issue, they tend to be affiliated with far-right aligning folks. A lot of the stuff that they're doing is petition work and awareness. They have a very large Facebook following. Very impressive. But they are pro-military and anti-direct action. The Stop Camp Grayling Offensive is more trying to introduce an anti-military, anarchist contingency to the issue, and really trying to not only focus on stopping the expansion but trying to center other issues like Land Back and anti-military as a whole. To destroy the military-industrial complex and the State as a whole.
And even though I brought the most attention to the far-right contingents that are involved in the project, I do want to say that they're other, more liberal contingents there as well. But they're also using the same strategies that center the State to meet there.
W: Some settler conservation groups have also gotten involved. Groups like Trout Unlimited, Sierra Club, and Michigan Conservation Club. These are seen as legitimate by almost everyone, in any political party or whatever, for being experts in this conservation stuff. They have also come to the table to mostly ask for transparency in the environmental impact surveying that will be happening maybe in the next couple of years.
N: And to be frank, I think that these other contingencies that exist of locals, they don't like us and are antagonistic to us.
TFSR: It's interesting to me the way that you stake out an anarchist space to reject this project that doesn't imagine a useful tactic of collaborating with people who don't share that interconnective, let's say, view of how the military, the extractive resources, the settler State – all these things connect. I wonder if you could talk just about that strategy on your end of a separate campaign to stop Camp Grayling's expansion. And what you think it offers for anarchists to not water down their view of things in the projects that we do.
S: A lot of times when I'm thinking about this, I am thinking about what it means to be in solidarity with folks who might not even live in the so-called United States, but are still being hunted down and persecuted by its empire. I am also a trans person. It's difficult for me to begin with to share spaces with a lot of these far-right contingencies in this fight. I would be almost immediately othered. So, I'm unwilling to compromise with people who are anti-trans, I'm unwilling to compromise with people who are explicitly anti-black. I'm unwilling to compromise with people who love the military. I think that a lot of anarchist organizing in the past decade has done a lot of watering-down [of] analysis to win small victories. I might be alone in this, but I am just observing that it's not working and that so much movement-building and campaigning is so much more alienating than people like to talk about. In my experience doing other kinds of work, the thing that is not alienating is when you are honest about what your goals are, and why you're working towards the things you're working toward. That people who might be sympathetic to anarchists, anti-state communists, or whatever, are much more excited about actions or analyses that reflect this uncompromising belief in the destruction of the so-called United States. It just feels so much more empowering to aim for that and to be formulating strategy around that, than to be fighting to just stop a Camp Grayling expansion, or to just stop a pipeline. So it's really invigorating to me, and I've observed it being invigorating to others. I just think it's good solidarity to be against the United States Empire as a whole, instead of just this specific part of it.
TFSR: I really how you put all that together, especially highlighting the anti-trans anti-black offensives that are going on around the country now. It seems really important to bring those things together with these other issues that could seem that they're not connected, like that anti-transness or State racism isn't connected to extraction of resources or expansion of the military… That's super important just to center that. And also, I like how you frame it too just thinking about trans people doing this work. And showing that a trans issue isn't asking the State to recognize us. It's fighting this State that's trying to destroy the world.
S: Yeah. Anti-trans bigotry and anti-black bigotry are the United States War Machine.
TFSR: Well said. Given the unwillingness to compromise, this encompassing analysis and approach, I wonder if you would connect the way that you're framing this struggle with other struggles going on in Michigan, as you mentioned, the Line 5 or the pipeline struggles, or elsewhere too – we've mentioned the Atlanta forest. So, what connections do you I see in the way that you're doing this to other ongoing things, if any?
S: So-called Grayling is only about I want to say 100 miles south of the Straits of Mackinac, which is where Enbridge hopes to build a big old tunnel to put a new pipeline through, called Line 5. Many people probably remember the fight against Line 3, Enbridge is now hoping to build this tunnel underneath the straits to house a new pipeline, again, called Line 5. And there's a lot of folks that have been resisting that for years. However, we're starting to see a lot of those people get comfy with Stop Camp Grayling stuff and learning how our struggles can benefit from one another, whether that be building supply lines or teaching each other new skills, having a multiplicity of people willing to work on stuff. And so I'm personally really excited to see connections to that fight.
Something else, too, is in the Upper Peninsula: in 2009, there was a fight for Eagle Rock, which is sacred sites along the coast of so-called Lake Superior and a company called Kennecott wanted to mine nickel sulfide there and was ultimately successful in crushing the land defense efforts. However, there was a really interesting campaign around it. Just earlier this year, Kennecott sold the property rights to the land parcel to a company called Talents Metals, which hopes to open up a huge swath of the Upper Peninsula to nickel mining, specifically, to build batteries for Tesla. Which, again, coming back to the military-industrial complex, a lot of the military is trying to switch to renewable energies, including electric vehicles. So not only are our struggles interlinked because of geography and the people who might be involved but also because nickel mining is something that the military is also really excited about.
N: I'm not even sure if this is a direct answer to your question, but I'm gonna try. I'm really excited about this particular offensive because it feels like it's super, super, super easy to draw connections to all of the issues. For instance, we had initially gotten a lot of inspiration from the SHAC [Stop Huntington Animal Cruelty] and Defend Atlanta Forest's strategy of tertiary targeting. As we were identifying what breathes life into Camp Grayling, as we identified new targets and new threats and enemies, we would identify three more connected to those and then three more, and ultimately, we saw that everything breathes life… The world that created Camp Grayling is the same world that builds pipelines, that are putting these facial recognition cameras outside of shops in Detroit, and the intersections with Michigan Department of Corrections.
I think that what's been exciting is that a militant attack against anything that exists in the settler colony is an action against Camp Grayling and the world that it protects. That's been really inspiring.
TFSR: That's a helpful way of thinking about it that this one space locates all these forces that are interconnecting in a really telling way. I'm wondering if there's anything you could share about what ideas of approaches you're gonna take in stopping the expansion if there's anything that you can talk about?
N: What I was hinting and touching on just a moment ago was an idea that some folks in the Camp Grayling effort have been exploring and talking about, which is what we've dubbed "offensive strategy." And that it's basically decentralizing targets altogether, where every niche of settler colonial life is a target for militant action and that you can do a solidarity action with Camp Grayling by just making that connection, either through words or in your communique or whatever. "Let Stop Camp Grayling sponsor your militancy" and vice versa. That's a quick overview of the strategy that's being explored. There are also more.
We're really inspired by Defend Atlanta Forest, too. We have the intention of being decentralized, not really telling people what tactics they should or shouldn't use. That also means that more campaign-type organizing is happening parallel to our offensive strategy. Some are modeled pretty. Some folks are really modeling after Defend Atlanta Forest and tertiary targeting strategy outside of an offensive structure. So, actually targeting clear contracting forces, too. Instead of generalized antagonism, it's more of pointed antagonism. It just looks so different depending on who you're fucking around with.
S: Just to round that out. Some folks are working on movement-building in urban areas in so-called Michigan. Some folks want to give out free food just like Enbridge does. Some folks want to do parties in the forests. Some folks want to do sabotage actions. Some folks want to do petitioning and "paper wrenching". There's a huge multiplicity of tactics being talked about. But because this is a very baby offensive, there's not a lot to show for it yet. But we are very excited.
TFSR: If people wanted to contribute, either with their time, presence, or resources, is there a way that they could plug in?
W: We think everyone should make their own decisions on how to do that. If people want to have more information about what's going on, really good resources are social media. There are Twitter and Instagram pages. Instagram is @StopCampGrayling and the Twitter is @greylingcamp. Those are updated really frequently. There's also a ProtonMail people can reach out to if they have specific questions and aren't on social media. I think that StopCampGrayling@protonmail.com. But really we encourage people to figure out what they can do to get involved and just brand it for themselves as Stop Camp Grayling. Anything can be Stop Camp Grayling, as we already established. We want everyone to make their own decisions.
N: Just to plug, folks in our offensive have been organizing talking tours to go to different communities and help people brainstorm and vision what plugging into a Stop Camp Grayling Offensive might look like. That's happening pretty regularly where folks are going out and meeting with those communities that have asked for it.
TFSR: Is there information about where you'll be speaking on your social media?
S: Yeah.
TFSR: I would also just say that you shared the zine The Base Among the Jack Pines: No Camp Grayling Expansion on Anishinabewaki. And I thought that was just a great piece of writing. So I will link to that, too, in our notes for the show.
W: Thank you.
TFSR: Is there anything else that you want to share, anything that we didn't get to highlight or focus on that you think is important?
S: Fuck the state?
TFSR: Yep. Well, that's probably a good place to end. I really appreciate all the work you're doing and all the information that you shared and your taking the time to talk with us. This is a really important front for our ongoing long struggle. So thank you.
S: Yeah, thank you for having us so much. I love Final Straw.
W: Yeah, we love you too.
TFSR: Cool. Hopefully, we'll have you on again for any updates and when you have more stuff to share.
S: That'd be awesome.