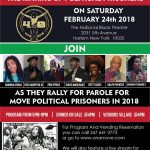 This episode contains three segments:
Move 9 Parole
"Stare Into The Lights My Pretties"
Anarcho-Syndicalist Organizing in Kosovo
MOVE9 Parole
First, there's the interview that Bursts held with Michael Davis Africa Jr., a member of the MOVE organization.  MOVE is a Philadelphia-based black liberation group founded by John Africa in 1972. The group lives communally. During the conversation, Michael Jr. talks about the case of the MOVE9, who were 9 members of that group who were arrested and accused of the killing of a police officer in 1978 in Philadelphia, a charge they each deny.  Officer James Ramp was killed following a year of the Philly PD blockading the house for a year under an eviction order and the police besieged the house on August 8th, 1978.  The MOVE 9 have been incarcerated for almost 40 years now, with Merle & Phil dying behind bars.  Police and white supremacist affiliated groups have successfully gotten parole denied for Eddie, Michael and Delbert Africa over the last 9 months as they do for many Political Prisoners from the 1960's through 80's in the U.S.  There are upcoming are parole hearings for Janet, Janine and Debbie Africa and more info on who to petition for their release can be found at http://onamove.com/move-9/. The name of the D.A. who prosecuted the MOVE9 in 1978 and who is still on the paperwork and has a say on the parole of the MOVE9 40 years later is named John Straub.
Coming up this Saturday, February 24th starting at 4pm there'll be an event called "Framed In America: The Making of Political Prisoners".  This will take place at The National Black Theater, 2031 5th Ave in Harlem, New York and will include presentations by Ramona Africa, Fred Hampton Jr, Pam Africa, Roger Wareham, Betty Davis, Ralph Poynter and Johanna Fernandez.  More info can be found on the Justice for the Move 9 fedbook group.
Stare Into The Light My Pretties
The second conversation you'll hear today is an interview by Dissident Island Radio from London from their February 2nd episode. In this, a collective member interviews Filmmaker Jordan Brown, director of 'Stare Into the Lights My Pretties', discussing their documentary about screen culture and its implications.  The film is available for free on archive.org, youtube and at truthstreammedia.com. DI is a member of the Channel Zero Network of anarchist podcasts available at channelzeronetwork.com.
Anarcho-Syndicalist Organizing in Kosovo
Finally, we'll be airing an interview conducted by our friends at Črna Luknja on Radio Student in Lubjlana, Slovenia, that they conducted with members of an anarcho-syndicalist collective from Pristina, the capital of Kosovo.  This segment was released as a part of the February 2018 edition of B(A)DNews: Angry Voices From Around The World, from the A-Radio Network of which The Final Straw, Črna Luknja and Dissident Island are members.
Keep PUSHing: Building on the #OperationPUSH demands
Mere days before FDC's repression effort began scattering active prisoners into new facilities, and into solitary confinement for the weeks surrounding January 15, an Operation PUSH prisoner's anonymous voice reached the world and called on outside supporters to "shine a light from the outside in on the system."
In essence, this prisoner saw what was coming and passed the torch to us on the outside. With three clear demands and a simple strategy, this invisible group of prisoners gave a glimpse of what could be, if the networks of outside solidarity and inside communication could coalesce.
While we have heard from many prisoners since January 15, we know that the vast majority of FL prisoners still do not know how much support they garnered on the outside. And many who made plans to struggle together have not seen or heard from each other in weeks. In many ways, the next steps towards victory for them are in our hands.
It is with this understanding that a group of us on the outside are developing an additional list of demands, based primarily on communication from prisoners we've gotten in recent weeks, that aims to honor the countless who have suffered major sacrifices to develop or report on Operation PUSH as well as those who had no idea what it was, but were punished preemptively simply because they were viewed as potential organizers or participants.
We will do all we can to bring these demands to FDC, the Governor and State Legislature, in an effort to carry the prisoners' vision for Operation PUSH forward.
In addition to the Operation PUSH demands of payment, parole and pricing, we, supporters of all Florida prisoners struggling for dignity, demand:
An end to censorship of publications that give voice to prisoners and/or critique prisons;

An end to repression of prisoners for communication with outside advocates;

An end to the use of Security Threat Group status as a means for political repression;

An end to strip cells and extreme temperatures to torture prisoners;

An explanation of the cause for a major spike in 2017 prisoner deaths;

Protection of prisoners health from nearby industrial activity, including phosphate mining and landfills;

An end to black mold-infested facilities, spoiled food and dilapidated buildings;

Removal of all KKK members, and other recognized racist hate groups, from FDC staff;

An end to the medical co-pay that results in financial debt and untreated illness;

An immediate reduction in prison population using existing guidelines for clemency; and

A face-to-face meeting with FDC officials to further discuss these matters.
Links to more info:
Updates on Operation PUSH in the Florida Department of Corrections
Time on Ice: Florida Officials Torture Prisoners With Freezing Strip Cells (2018) by Kevin Rashid Johnson