Anarchist Perspectives in Puerto Rico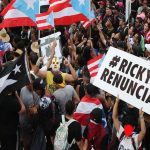 This week we have the opportunity to share a talk by Coco (they/them pronouns), who is a queer, Black, Puerto Rican anarchist about the recent 17 days of direct action against no-longer-governor Ricardo Rosselló and organizing as an anarchist after Hurricane Maria.
They talk about some of the lead up to these revolts – about the fascist campaign and term of office of Ricardo Rosselló -, the aftermath of Hurricane Maria, decolonization and fighting US imperialism as it relates to PR, queer people and femmes on the front lines of the protests about Ricardo Rosselló, the active warping of this situation by media outlets, and many many more topics!
Coco originally presented this talk at the Another Carolina Anarchist Bookfair 2019 on Saturday August 24th.
I wanna give voice to something that came up in the Q&A after the talk, which was not recorded, in which Coco made space for an open conversation about revolt in Puerto Rico. They asked of the audience what we thought when #RickyRenuncia was trending on Twitter, and people were saying stuff like "we need to look to PR and learn from people there in order to figure out what to do where we're at". And a really good conversation wound out about disaster/riot tourism that has always been a problematic current on the far left, especially where the struggles of non-white folks are concerned. It was located in that conversation that the support of people interfacing with struggle that isn't theirs is very conditional and fragile, and it was stated by participants of the conversation that there needs to be another way of looking at struggle that doesn't involve an attitude of entertainment style consumption but rather comes from a place of real solidarity and real support.
As Coco stated, the media has really been messing with the narrative of what has been going on in PR, painting it either as super pacifist or like people are "out of control hooligans" or other such nonesense. For better sources of information, you can visit our blog at thefinalstrawradio.noblogs.org where we will post links to people and accounts you can follow who are on the ground or have a perspective that isn't beholden to the larger capitalist media outlets.
Those links are:
https://twitter.com/_DESinformate
https://twitter.com/ClaridadPR
Here is an announcement on behalf of the upcoming Queer Conference at UNC Asheville:
"Communities? Will a rainbow flag on a police car protect queer folks from a culture built around (trans)misogyny / misogynoir and sexual assault?

We are constantly reminded that our culture is still built on anti-black, anti-queer violence by the all too frequent murders of black transwomen, the further criminalization of queer sex workers, and the erasure of rural LGBTQ+ identities experiencing the pains of addiction, joblessness, and lack of resources. Today, we are at another fork in the road, where there is nominal acceptance of certain gay and lesbian identities (namely white, educated, middle-class families), while a wide range of experiences of people under the LGBTQ+ umbrella get forgotten. As queerness becomes hip and queer subcultural styles are being bought and sold, we must ask how the culture, lives, and sexuality behind the looks can survive and thrive. With the rise of global fascism, the impending doom of large-scale environmental collapse, and the inevitable next crash of capitalism, can we still envision a queerness that seeks liberation rather than admission to the status quo and benefits of a vastly unequal US society? How can we balance these visions with protecting the precarious lives most threatened by the current sociopolitical landscape?

To submit a proposal, follow the link at https://queercon.wp.unca.edu/

For any questions you can email qsconf@unca.edu"
. … . ..
Music by:
Princess Nokia – Brujas (instrumental loop by William)
Ruby Ibarra – Us off of Circa 91
Calle 13 – Afilando los Cuchillos, or Sharpening the Knives, which is all about the revolts against Ricardo Rosselló.