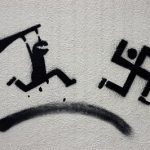 The first half of this week's show features a conversation with Telly of the Hoosier Anti-Racist Movement, an Indiana Anti-Fascist grouping. We'll talk about the Tinley Park 5, five young men arrested in a suburb south of Chicago and accused of disrupting a white supremacist gathering in early May.
July 21st is the next bail hearing for the Tinley Park 5. July 31st is International Day of Action against Fascism.
The second half of the episode is atmospheric black metal and sludge metal.
https://tinleyparkfive.wordpress.com/
http://antiracistaction.org/