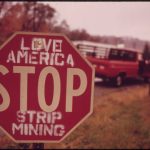 This week's show features a conversation with Will Potter about political repression against accused Anarchists in the Pacific Northwest. Later, we'll speak with Bryan of Katuah Earth First! about his participation in a recent action in West Virginia against Mountain Top Removal.
Our first segment of this weeks show is a conversation with Will Potter, award-winning journalist, author and blogger at www.greenisthenewred.com about the JTTF & FBI raids on suspected Anarchists in the Pacific Northwest and the series of Grand Juries now being convened around participation in the May 1st protests in Seattle of this year.
Also, we'll be speaking with Bryan, a member of Katuah Earth First!, based out of Asheville. Bryan was arrested on July 28th during a non-violent direct action under the banner of Radical Action for Mountain People's Survival (RAMPS). This action briefly shut down and brought attention to the Mountain Top Removal style of strip mining being used at the Hobet mine, operated by Patriot Coal in Lincoln County, West Virginia. We talk about the Katuah bioregion, Fracking in North Carolina and getting involved to save our landbase.
as re: Grand Jury Resistance:
Green Is The New Red
Pacific Northwest Grand Jury Resistance
Donate to Committee Against Political Repression
as re: Mountain Top Removal
RAMPS Campaign
Katuah Earth First!
Earth First! Journal
Dustin Steele of RAMPS speaking out before the action
Playlist for the show can be found at AshevilleFM.