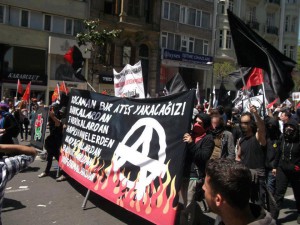 This week's episode of the final straw features our light-handed curation of another project's work. We bring y'all an english language interview with a member of a Karakeok Autonome (http://www.karakok.org/), a Swiss-Turkish anarchist grouping related to the International of Anarchist Federations. The interview was conducted, translated and rerecorded by our comrades at Anarchistisches Radio Berlin. Their work can be found in multiple european languages at http://aradio.blogsport.de . Check them out.
The latter half of the show is metal and crust. This episode features a track from the new Damascus, Syria-based thrash project called Anarchadia, as well as new tracks from SF's Deafheaven, LA's Solus and Aberdeen's Fifteen Dead.
Cheers!
Playlist is available here.