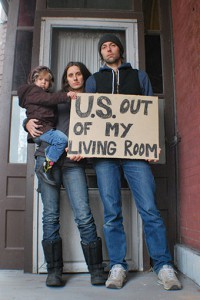 This week Bursts spoke to Leslie James Pickering about a range of different subjects. Mr. Pickering worked for the North American Earth Liberation Front Press Office (NAELFPO), acting to spread the message and communiques of the ELF, from 1997 to 2002. Obviously, he experienced heavy state oppression during that period of time. And recently, it's become apparent that the state hasn't forgotten him.
Leslie James Pickering is no longer allowed to enter Canada (despite no relevant arrests in the last decade and a half) and has found that he's got a "Mail Cover" via the Post Office where his mail is photocopied and tracked by an as yet unidentified Law Enforcement Agency. He's also had friends on the West Coast contacted by the Buffalo (NY) FBI Office and asked if Leslie has enemies or do direct action and business contacts of Leslie's have been subpoenaed to Grand Juries around Burning Books Radical Bookstore. Leslie is an owner of that radical bookstore in Buffalo, which carries books, zines and hosts political events and via which, according to the FBI, Leslie is "stirring up the youth."
We spend most of the hour talking about government surveillance in his case in particular and in general in the U.S. and also about the prosecution of Jeremy Hammond. Leslie shares some thoughts on parts the forgotten history of radical resistance in the U.S. In particular, he talks about his recent book on the Evan Mecham Eco Terrorist International Conspiracy (EMETIC), a predecessor to the ELF, as well as his earlier book on a radical, white, working class radical named Sam Melville who bombed government and capital centers in New York and inspired the Weather Underground. Melville, who's the focus of Pickering's book "Mad Bomber Melville", went on to organize at Attica before and die during the Attica Prison uprising in 1971. In Pickering's view, the importance of recognizing and learning from radical history allows us to better strategize for current and future struggles.
Lastly, we briefly touch on the story of Martin Sostres, who's ideological journey brought him from Nation of Islam through Black Nationalism to Anarchism. Sostre was framed up on drug charges in order to silence his organizing and shut down his bookstore in Buffalo, NY, in 1967 and served 10 years before having his case overturned. Martin Sostre now lives in New York City. There was a 1974 documentary about his case called "Frame-Up!: The Imprisonment of Martin Sostre" (Pacific Street Films). The film HAS been available for streaming at christiebooks.com, alongside MANY other films in many languages.
http://lesliejamespickering.com where you can find news of, updates on and writings/speeches by L.J. Pickering
http://burningbooksbuffalo.com/