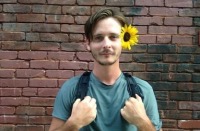 This week we spoke with Jerry Koch, an anarchist who was coercively imprisoned for refusing to cooperate with a federal grand jury in New York City, about Luke O'Donovan's legal case.
From Luke's support website:
"On New Year's Eve of 2013, Luke O'Donovan attended a house party in Reynoldstown, a neighborhood in Atlanta, Georgia. Luke was seen dancing with and kissing other men at the party. Later in the night he was insulted with homophobic slurs, and attacked by several people at once. Luke unsuccessfully attempted to escape, at which point several witnesses reported watching between 5 and 12 men ganging-up on Luke and stomping on his head and body, evidently with the intent to kill him. Luke was called a faggot before and during the attack. Throughout the course of the attack, Luke and five others were stabbed. Luke was subsequently imprisoned and charged with five counts of aggravated assault with a deadly weapon as well as one count of attempted murder. He spent two and a half weeks in jail without bond before being released under bond conditions that drastically affected his life. None of the other individuals involved in the altercation were charged."
On August 12th of this year, Luke O'Donovan took a plea deal, which reduced his sentence of up to 110 years in prison to 2 years in prison with 8 years of probation alongside criminal banishment. Luke's supporters – as well as The Final Straw participants – believe that the choice to plead guilty was coercively enacted by the court systems and the state and Luke is thoroughly supported in having to have made that choice.
We speak with Jerry Koch about the particulars of this case, what anarchist interaction with the court system can look like, as well as of his own case and his thoughts thereupon. We also speak about supporting folks who are incarcerated and the various forms that support could take, as well as things that folks doing support might consider.
For more information about the status of Luke O'Donovan's case, and for information on how to send him mail, you can visit: http://letlukego.wordpress.com
And to write to his support crew, you can email letlukego@gmail.com
Thanks to a listener who send us some of their hip hop remixes! You can see more of their stuff at https://soundcloud.com/geothermalblowout/