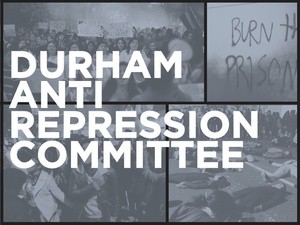 This week we continue our conversation with John, an anti-racist anarchist living in the U.S. South about thoughts and memories concerning the July 18th 2015 counter-demonstration to the KKK in Columbia, South Carolina. John also talks a bit about what he knows of the 1997 KKK march in Asheville, North Carolina and their subsequent patookis whoopin by the general population of Asheville.
But before we get there, we'll hear some announcements, an important announcement by Anarchist Prisoner Sean Swain. After those portions, we'll hear an interview conducted by a member of the Durham Anti-Repression committee of anarchist prisoner Luke O'Donovan. Luke is in the middle of a 2 year sentence for defending himself against 5 homophobic attackers at a New Years Eve party in Atlanta at the opening of 2013. More on his case at http://letlukego.wordpress.com
For farther flung listeners, if you'd like to hear this show on a station in your area, you can simply email us for requests at thefinalstrawradio@riseup.net and we can get a conversation started about making it happen.
On a separate note, for years the Iron Rail Book Collective has been one of the most socially transformative projects in New Orleans and has been part of a vibrant and growing anarchist culture in the city. Some of you may be familiar with it from the NASSN conference in New Orleans or the New Orleans Anarchist Bookfair. When the police closed the Iron Rail down through selective enforcement of code violations and forced it out of its long-time site several years ago this seriously set back liberatory politics in the city. There is a fundraising campaign going on to get a house in the Upper 9th Ward as a new home for the Iron Rail. A mere $4000 will secure the site and help start renovations. We would appreciate any help possible to get this important anarchist project reestablished. Please go to http://crowdrise.com/ironrail for information on the Iron Rail and the fundraising campaign.
A new insturrectional anarchist audio site has been launched called Resonance Audio Distro. On it you can find links to anarchist news sources in English, as well as a growing pool of recorded essays and zines. You'll find such titles as "3 Positions against Prison" by August O'Clairre, "On The Continuing Appeal of Nationalism" by Fredy Perlman, "Revolutionary Solidarity: A Critical Reader for Accomplices" and more. Check it out at:
https://resonanceaudiodistro.wordpress.com/
Also, the political prisoner birthday calendar for august 2015 is out! If you or someone you know would like to write political prisoners on their birthdays, you can view and download the pdf of this document at prisonbooks.info. These lovely rabble rousers would also like to announce that their comprehensive zine entitled How To Start a Prison Books Collective has been updated and is available for download and distro at that same address, http://prisonbooks.info.
If you'd like to learn more about the situation in Syria and the continuing repression by ISIS, you can give a listen to #'s 36 and 39 of the Ex Worker podcasts put out by CrimethInc. These give specific information on and interviews with participants of the Rojava Revolution. You can listen to all their podcasts at http://crimethinc.com/podcast and some more updates on the situation of PYD/PKK/International Brigade fighters can be found about repression in Turkey and Iraq.
Stay tuned next week on The Final Straw, same time same place, for an interview with organizers of the Resist 450 event to take place in St Augustine Florida in September of this year. The city of St Augustine – one of the oldest cities as we know them in the US – is slated to commemorate the 450th anniversary of colonization by Pedro Menendez and Juan Ponce de Leon. We'll speak with Bobby C. Billie and Shannon Larsen of the Resist 450 Coalition about the history of this event and indigenous struggles in St. Augustine. More at http://resist450.wordpress.com
From SeanSwain.org
In Sean's words…
"I signed my transfer notice yesterday. I wrote everybody and gave them the Trumbull address. I got packed up today. Then the warden notified me that Central Office Anonymous Coward cancelled my transfer. Now I missed commissary and commissary won't let me shop. I don't even have soap.

Please let everyone know I'm not at Trumbull…"
We already sorted out the commissary issue, what we need now, is to get at the root of this, and so many other problems with SOCF. That means we need a concerted effort to address that Central Office Anonymous Coward: Trainwreck Trevor Clark.
Wanna help ruin Trevor Clark's career? We hope so.
Here's the deal: ODRC Counsel Trevor Matthew Clark is a sociopath who runs the ODRC torture program with his FBI buddies on speed dial, and he recently used his sock-puppet co-workers to harass Ben Turk and Ihsan purging them from Sean's visiting list because Trevor Clark doesn't like online postings. He also cancelled Sean's transfer to lower security at the last minute. He wants to pull the plug on seanswain.org and turn Sean into his personal cat toy to swat around whenever feels like it. F this Ahole. It's time for him to get disbarred, lose his job, and spend the rest of his miserable existence sleeping in his car. We can make that happen. It's OUR world, and this creep is just mismanaging it.
THE PLAN
We gotta swamp the right hierarchs with a million phone calls and letters. The more calls the better. Is that reformist? Well, yeah. But the direct action alternative doesn't seem to be happening, so let's do what's do-able.
Trainwreck is an attorney, so if he loses his license, he loses his job and loses his power to mess with people. He ends up at a job asking you if you want fries with that." So the right people to contact are:
Columbus Bar Association
175 South Third Street, Suite 1100
Columbus, Ohio 43215
(614) 221-0754
For suggestions on talking points, more updates as they come and more of Sean's writings, check out http://seanswain.org