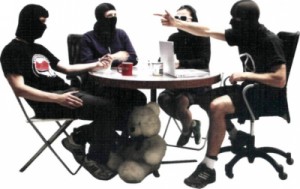 This week's episode theme: Repression!
Not really, but all of the content is related to that topic: Operation Fenix in Czech Republic; announcements on the 30th anniversary remembrances of the bombing of the MOVE house in Philly; updates on Mumia's health status; Dave Strano out on bail, injured by police in Denver; support for Baltimore arrestees; the silencing of Sean Swain.
I forgot to say Happy May Day to y'all out there. Happy May Day, celebration of the corruption of the American Legal System as encapsulated in the indictment of the Haymarket 8, anarchist labor leaders and rebels accused of responsibility for throwing a bomb at cops during a rally in Chicago in 1886. Funny thing is, many of those 8 weren't present and those who were were busy giving speaches when the bomb was thrown by an unknown figure. Of the 8, 4 were executed after a show trial, 1 committed suicide in prison to defy the authorities, and the 3 were later exonherated. Since all of their names have been cleared.
It's also notably a European pagan holiday celebrating fertility, or new beginnings as spring rolls into full steam.
Since this event it's been celebrated worldwide by marches and parades, by uprisings and riots, by picnics and gatherings. Tip of the hat to the folks of Seattle, Montreal, Milan, Istanbul, Oakland, Seoul, Moscow, Barcelona and sooo many other places where folks rose up in revolt. A great segment talking about this year's May Day can be found at http://www.submedia.tv/stimulator/2015/05/09/may-day-gray-day/
OpFenixThe main content of the episode is a conversation with Lucy and Michael, two Czech anarchists speaking about the raids, arrests and charges of terrorism in the Czech Republic known as Operation Fenix/Phoenix. From the support site:
With 'Operation Fenix' came the biggest wave of police repressions against the anarchist and radical left movement in the recent czech history.

Taking people early in the morning hours, accusations of preparation of terrorist acts and confiscation of a server, which held several activists' sites, all came with 'Operation Fenix' which started on Tuesday, 28th of April. Anti-extremist police is actively trying to frighten the left scene and collecting information in a fishing expedition.
Through the hour, Lucy and Michael talk about the far right in Czech Republic, the far left and anarchists, squatting in Prague, sabotage & animal liberation movements attached the Network of Revolutionary Cells in that country and also about the upcoming Prague Anarchist Bookfaire.
Other notes:
Sean Swain can't do his youaretheresistance segment this week. He's been silenced by his jailers at SOCF Lucasville in Ohio, cut off from email, phone calls, video visits and apparently mail. Rather than read his posts and letters that are available at seanswain.org, I'll give a synopsis.
Basically the situation is this: Sean (and many other on his cellblock) witnessed a guard pepper spray 2 prisoners in neighboring cells for nothing. On April 20th, after a series of escalations by guards, prisoners were pepper sprayed, threatened with beatings, taken to the hole and Sean witnessed the and wrote about the event. Because of the unfairness of the way that the guards and courts have dealt with the 9, Black prisoners taken to the hole on the claims of organizing, and in particular the treatment of Rob Mahone (Sean's neighbor), Sean decided to allow his record of the events to be posted at seanswain.org
May 13th, this Wednesday is the 30th anniversary of the Philly PD's bombing of an already persecuted but defiant MOVE organization in that city. MOVE is a group focused on a worship of life and with a critique of racism, cruelty to animals, civilization and capitalism. On MAY 13th, 1985, the Philly pigs, ostensibly in an attempt to end a standoff with members of the MOVE organization where they'd barricaded themselves in a house, took a C4 bomb from the National Guard armory and dropped it by a helicoptor onto a house, killing 11 people, 5 of them children and levelling a city block. 7 move prisoners remain imprisoned on BS charges. You can find out more about the case at onamove.com including info on events in Philly, Oakland, West Hollywood & Minneapolis. http://onamove.org;
In a related note, the life of longterm prisoner, journalist, MOVE supporter and former Black Panther Mumia Abu-Jamal is still in danger and there's a request for immediate pressing of his jailers in Pennsylvania to give him the medical attention that he needs. Mumia recently fell ill, going into Diabetic shock and suffering from untreated skin legions while incarcerated at SCI Manci. Though officials had conducted 3 blood tests on him in prior time no one informed him he'd developed Diabetes. He's been denied medical treatment at various stages, an adequite diet and also access to his family, lawyers and supporters.
You can call the following officials to express concern:
John Wetzel – Secretary, PA Department of Corrections – (717) 728-4109
Thomas Wolf – Governor of Pennsylvania – (717) 787 2500
and more info on the case can be found at http://freemumia.com ;
There's a continued request for solidarity for folks arrested in Baltimore in the wake of rioting that resulted from the murder of a 25 year old Black man named Freddie Grey at the hands of the police and their subsequent denial of guilt despite his arrest being videotaped. Legal and bail funds for the rebels can be donated at http://www.crowdrise.com/legalbailsupportforbaltimore ;
There's a request for economic aid and support for community organizer Dave Strano after his beating and arrest at a Baltimore solidarity action that was attacked in Denver, CO earlier this month. He was bonded out on the 5th of May for $5,000. For more info and to help him out, check out https://denverabc.wordpress.com/2015/05/05/denver-community-organizer-arrested-call-out-for-jail-solidarity/