Operation Fenix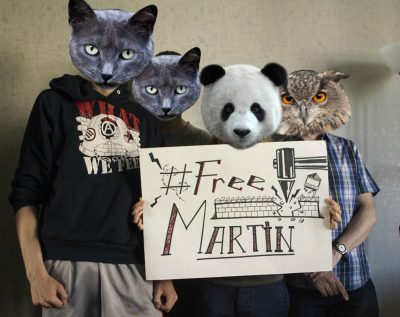 This week we'll be rebroadcasting a recent update from A-Radio Berlin on the repression called Operation Fenix in Czech Republic against anarchists there. Following that, we'll hear some music from Wildspeaker, Cara Neir and Allochiria.
First, text from the intro to the A-Radio Portion:
"In the context of the International Week of Solidarity with Anarchist Prisoners (23.-30th of August 2016), we had the opportunity of talking to a comrade from Anarchist Black Cross (ABC) in Czech Republic. The interview gives a short summary of the repression that started in 2015 and explains the singular cases and their current development, but deals also with the problems the movement had in the beginning to show solidarity. Last but not least, you get very good advice on the topic of solidarity and what to do yourselves.
Since the interview, another comrade is in prison. Lukáš Borl, who had been living underground, has been arrested by the police on September 4."
More info on the case at https://antifenix.noblogs.org/
Announcements
Strike Updates
This was a statement originally posted to itsgoingdown.org, which we have shortened for broadcasting. It pertains to updates on the September 9th prison strike, with some thoughts about how to move forward from here. For more such thoughts, you can check out the most recent IGD cast which includes interviews with IWOC organizers and resisting prisoners in Merced, CA.
One thing is not in question: September 9th is now officially the largest prison work strike ever to take place within the United States.
This strike against prison slavery that began on September 9th, the 45th anniversary of the Attica prison uprising has now entered it's third week. According to organizers with Support Prisoner Resistance:
"As of 9/21 we have tracked 46 prisons and jails that experienced some kind of disruption between September 8 and 21st. This total includes both lockdowns reported by officials (some of whom deny that the lockdown was protest related) and reports of protests from prisoners and supporters (some of which did not lead to lockdowns or full strikes).
Of these, 31 facilities experienced a lock-down, suspension or full strike for at least 24 hours. Those 31 facilities house approximately 57,000 people. That is a guess at the minimum number of prisoners affected by the nationally coordinated strike.
There is likely much more going on behind the prison gates that we do not yet know about. We receive new information on a daily basis. In some places the strike lasted a day or a weekend, but in some, it seems to be going strong 12 days in."
The strike has also grown out of the original expectations of many organizers. For instance, the strike has spread into both men and women's prisons, into county jails, and has lead to not only work strikes, but hunger strikes, organized marches and protests inside facilities, expanded communication of prisoners to the outside, and full fledged uprisings. Despite a media blackout that is fueled by the advertising of corporations that make billions from prison slavery while the mainstream press drones on about politicians which vow to only expand it – the strike is only continuing and bringing more people into our networks.
On the outside, thousands of people took to the streets. In Durham, NC and Brooklyn, NY, freeways were blocked. In Oakland, corporations profiting from prison labor were attacked. In Portland, streets and stores profiting from prison labor were occupied and shut down. In Austin, people shut down a facility showcasing products made by prisoners, and demonstrations, marches, and rallies were organized throughout the South. Across the US, noise demonstrations outside of prisons were organized, marches were held, and graffiti, banners, and posters were placed around the walls, freeways, and towns and cities of the US. Across the world, people also took action in solidarity with the prison strike. From Serbia to Sweden, Greece to Australia, Mexico to Spain, people released statements of solidarity, held demonstrations outside of prisons, and took action against corporations that profit from prison slavery.
Moving Forward:
In order to proceed, people need to develop a strategy around supporting the strike. This means figuring out if and how you can support a facility near you taking action, how you can link up and build connections with prisoners, how you could build up your organization or crew to carry out this activity, and also how you could carry out actions which push forward the strike.
1.) Support the Strikers:
Holding a demonstration outside of the facility.
Holding a demonstration outside of a corporation connected to prison labor in solidarity with the strike (especially if that is what the prisoners are working to create).
Hold a call-in campaign to the prison to demand that the prison meet the prisoners demands and end repressive measures against them.
Hold a letter writing night to make contact with the prisoners. Contact IWOC for more information if you have no established contacts.
Hold a fundraiser for established groups such as the Free Ohio Movement or the Free Alabama Movement. Remember prisoners are the front lines of this struggle. We must support them and their activity as well!
2.) Build your Squad:
Raising money so you can continue or begin to engage in prison support work.
Host a letter writing night to better connect with prisoners already engaged in action.
Host a call-in event with a prisoner who can discuss the conditions that exist where they are striking and how people on the outside can support them.
Contact IWOC for more details.
Host a speaker, Skype presenter, or open discussion on the strike to move people from passive support to active participation.
Plug people into the organizing and get them involved.
Organize a BBQ or social event where people discuss the strike, update people on what is happening, and read off actions and communiques.
3) Keep it Lit:
Organize a noise demonstration outside a facility taking action or one closest to you.
Organize and take action at a corporation profiting from prison slavery. Get creative!
Drop a banner in solidarity with the prison strike.
Organize a night of wheat-pasting flyers.
Get people together and go out on the town and put up posters and flyers supporting the strike.
Write graffiti and drop banners.
Already, our comrades across the world are standing with us in solidarity. In a statement released by the ABC Solidarity Cell in Greece, they have called for international supporters to also take action in support of the ongoing strike on October 1st.
The September 9th strike has been inspiring, but to stop now and simply step back and wait for the next eruption would be to loose out on bringing new people into our movement. To also stop taking action now when prisoners across the US are still on strike, still on hunger strike, and still risking their lives would be to betray everything that they have worked for.
Now is the time to build. Now is the time to grow. But it is definitely not the time to stop.
Repression at WCW Women's prison in Gig Harbor, WA
To support prisoner resistance, from an anonymous prison staff in the state of Washington:
"I would like you and supporters to know that there was a symbolic protest at Washington Correctional Center for Women in Gig Harbor on September 9. Three women refused to go to work in the prison library. The emergency response team was dispatched and the women were taken to Segregation. At their hearing last week, they were given 20 days in seg, and are facing reclassification and probably the loss of their jobs. In my opinion, this was a peaceful, non-violent expression of their opinions meant to draw attention to the issue of prison labor, and the response was much more disruptive than the event itself. The library has been closed since September 9. According to DOC, this was the only action in the entire state of Washington."
Support for Amir Davis, Kinetic's Son
In March of this year, the son of Kinetik was accused of stabbing Warden Davenport at Holman prison in Alabama. He was then shipped to Donaldson. He has since been assaulted, harassed, and tortured in Solitary Confinement. If you support FAM and the work we do then let Kinetik's Sun know his sacrifices for change were not in vain. Those willing, drop him a postcard and those able, put a small donation on his books via the ADOC website.
Amir "Jaja" Davis #268646
G-4 WE Donaldson CF
1000 Warrior Lane
Bessemer, AL 35023
In Revolutionary Solidarity,
Kinetik Justice
To see a list of more people who have been explicitely targeted by officials in response to the Prison Strike, you can visit itsgoingdown.org
Seeking #CharlotteUprising interviews
As most of you are probably aware, following the police murder of Keith Lamont Scott in Charlotte NC (who was killed while sitting in his car reading and waiting for his kid to get dropped off from school), there have been riots in that town which have lasted days. The mainstream media coverage of these events has been predictably terrible, following all the racist tropes we have come to expect from the likes of CNN and FOX. With an aim to combat these narratives, we at The Final Straw would like to put out a call for submissions or interviews that people would like to see broadcast on this show. Any interviews would be done from an explicitely anarchist perspective.
If this is at all interesting to you or anyone you know, give us a holler at:
thefinalstrawradio(aat)riseup[dot]net