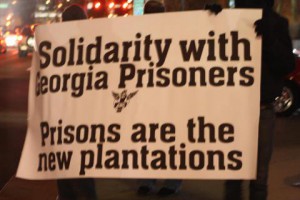 This week you'll be hearing an interview with Earthworm (Dell) of Atlanta Black Cross and Sandy, who's the mother of an inmate at Georgia State Prison, about the TIER program being implemented there. The TIER program is the means by which the certain prisons in Georgia are reducing the time outside of cell for prisoners down to mere hours a week from multiple a day based on minor accusations and infractions and sometimes with no clear process towards getting out or limit of stay. While inside, these prisoners are kept on a minimal diet with no commissary, often no access to the library for legal research along with other issues.
In response to the conditions under TIER at GSP, numerous prisoners initiated a hunger strike back in April, with one continuing to this day.
More on what's going on with TIER at GSP, check out http://atlblackcross.org, to read the words of the prisoners themselves via their letters posted and transcribed there. You can also find addresses for the prisoners at that site. A good intro article can be found here
Also mentioned was the Free Alabama Movement, which is a multi-state network of incarcerated folks (Alabama & Mississippi, plus affiliates in CA & VA) organizing non-violent protests to the exploitation of their labor for profit, the racialized system of incarceration in the U.S. and the horrible conditions of their incarceration. More on the project, including links to their prisoner-sourced podcasts can be found at http://freealabamamovement.com/
For our interview with members of the FAMM, check out this link
Finally, referenced was the case of Kalief Browder, incarcerated at the New York prison of Rikers Island from the age of 16-19, without trial on the accusation of stealing a backpack. Browder committed suicide 2 years after his release, in June of 2015.
Following the interview we'll be hearing songs by the Philly post-punk project King Azaz, the Oakland deathrock band Bitter Fruit and the Czech atmospheric RABM project Marnost from a recent comp which translates to "Come and See".