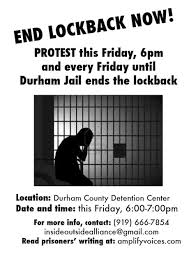 This week Bursts spoke with Steve from the Inside/Outside Alliance in Durham, NC. IOA is made up of folks with incarcerated family in the Durham County Jail, friends and concerned community members and they work to amplify and organize inside and outside (hence the name) of the jail walls to challenge the punishment those on the inside are facing.
In April of this year, Lt. Col. Natalie Perkins (who serves as Detention Director for the Durham Sheriff Michael D. Andrew's Dept) decided to cut people's access to out-of-cell time from up to 6 hours a day to 2 hours a week and limit their time out at the same time. This means that prisoners could maybe expect to take a shower and make a 2AM call to their family/lawyer once a week. The reasons for this change have shifted over the months from costs to potential danger to prisoners and Detention Officer's safety. The end result is an increased pressure on the mental health of the inmates, leading a greatly increased number of suicide attempts (so much so that the Sheriff's dept just requested funds to make the cells more suicide-proof rather than decrease the pressure on those they imprison).
Alongside of this is the increased cost and decreased quality of services available to those incarcerated at DCJ due to privatization of aspects. Aramark's medical services have doubled the rate for medical visits from $10-$20 each. Food under another service by Aramark has down-shifted from 3 hot meals to 2 sandwiches daily. The facility is contractually obliged to provide a certain number of inmates for Aramark to feed and to extract labor from in serving and cleaning up after their food services. And if an inmate's too hunger after their 4pm dinner of a sandwich, they are certainly free to buy junk food from the Aramark canteen if they have money in their commissary (via I-Care & FreshFavorites, both brands of Aramark). TouchPay services for putting money on an inmate's commissary account charges a $5 and some cent fee each time you use it and the DCJ has drastically cut back the hours of the fee-free window with a teller to help you make the transaction.
On top of all of this, the jail doesn't allow inmates to have pencils (ostensibly in case they become improvised weapons), so the only time that they can write to family, friends or their lawyers is during that 2 hour window a week. Their only way of making complaints is a receipt-free service using their TPay console, the same as they use to check their commissary.
The extractive and frighteningly Kafka-esque circumstances at this facility, one which like most in the United States disproportionately incarcerates poor people and people of color is certainly not one of a kind. To check out the work that folks at Inside/Outside and the inmates at Durham County Jail are doing, check out their website and listening page at http://amplifyvoices.com
In the last ten minutes we hear 2 aggressive musical tracks. Firstly, Ast from their recent split with Ancst (both German anarchist Black Metal projects) we hear the track Von Einem Ende.
Finally, we close out hearing Human Wreck with Liquid Savior from their album, Catch 22. Human Wreck is from Athens, Greece.