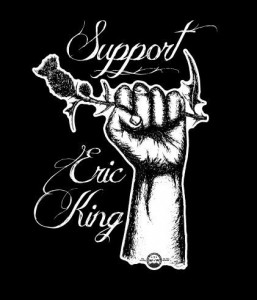 This week we spoke with a supporter of Eric King. Eric is a 28 year old vegan anarchist in Kansas City, Missouri, who's facing possibly life plus 20 years in federal prison for allegedly attempting to molotov a Senator's office. No one was inside the building or in danger of direct injury. He has been held in Solitary confinement at CCA Leavenworth in Kansas for 6 months as a July 14th due to his potential life sentence. Eric's trial has been pushed back to October 26th,
2015. More on Eric's case can be found at http://supportericking.wordpress.com . We also speak about the upcoming North American Anarchist Black Cross conference which is currently in it's fundraising phase. The NAABC conference brings together advocates of political prisoners, prison abolitionists and other troublemakers once a year in order to better share skills and network. More on fundraising for this event can be found at http://www.youcaring.com/north-american-political-prisoners-366217
Click here for a firsthand account of anti-KKK actions that occurred Saturday, July 18th in Columbia, South Carolina that we received and wanted to share.
Interesting video and pictures from this event can be found at It's Going Down, a new anarchist news site focusing mostly on North American struggles.
Now, an update from the Incarcerated Workers Organizing Committee about the complaints of forced medicalization and medication of concerned prisoners at SECC outside of Charleston, Missouri. Sadly, time constraints made it so we couldn't announce this in the episode, but here it is anyway:
"Update 7-15-15 ~ FINALLY!! A month and a half after receiving the first letter of complaint about psychological and medical torture, we received a letter from one of the people involved saying that things are getting better and they are working their way off the forced medication now. Many, many thanks to everyone who has participated in this calling campaign. This would not be getting better without all of your help. Please continue to stay in touch with us by liking the IWOC fakebook page here https://www.facebook.com/incarceratedworkers "
Also from IWOC:
"You may be familiar with Ricky Kidd's case of innocence and his request to have DNA from the crime scene tested is being considered in Jackson County Courts. To find out about his case you can go to http://freerickykidd.com

In the meantime, Ricky is fighting another battle with the MO Department of Corrections that could lead to losing a leg or even his death. Ricky is a diabetic and has a soft tissue sore that has gotten into the bone of his leg and created a condition that is potentially life threatening. He was diagnosed with Osteomyelitis about four months ago, a condition that if it had been properly treated at the time would have healed by now. The proper treatment is a 6 week course of very strong antibiotics administered via an IV. The DOC has been giving Ricky an Oral antibiotic every other week and now the infection has moved from the tissue to the bone and is putting him at risk of losing his leg. The medical personnel have told him his situation is dire and must be properly addressed immediately as there is not only the risk of amputation but a risk of death if this infection migrated to his bloodstream.

Please call the Missouri Department of Corrections at 573-751-2389 and request to speak to Adrian Hardy in the Medical Division. You must reference Ricky Kidd # 528343, he is housed at Crossroads Correctional Center. They probably will not transfer you and will tell you that Harriett Clark is the contact person for this case. Register your concern and then call again the next day. We cannot allow this innocent man to be maimed or killed by the DOC by neglect or malfeasance.

Please forward this to your friends, associates and State Representatives, as well as post to FB where you can. We need a flood of calls to help get Ricky proper treatment.

Find out more about Osteomyelitis at this link – Osteomyelitis: Symptoms, Causes, and Treatment at http://www.webmd.com/pain-management/osteomyeltis-treatment-diagnosis-symptoms"
Here is that account of the KKK getting trounced in South Carolina on July 18th:
"Yesterday in Columbia SC the Loyal White Knights of the Ku Klux Klan assembled in order to protest the removal of the Confederate flag from the state house. I'm told that their permit was originally set to accomodate 100-200 people. However, this pathetic organization has dwindled in numbers since its heyday in the 1920s, and there were fewer than 75 klan present at any given time. This event happened on the same day as an anti-colonial and antiracist event was held in Tuscon to protest an islamophobic and white supremacist group, and is happening in the wake of a resurgence of white supremacist rhetoric and actions in this country. People came out in droves and showed the racists that they are not welcome in Columbia, or anywhere!

Despite the almost 100 degree weather and at least the 100 cops, paramilitary, and state troopers swarming the grounds, I'd say that there were at least 2,000 anti racists, anti-fascists, and community members present ranging from concerned clergy to the much maligned out of town anarchists of all races. I was in a group of caucasian folks and non black people of color, and it felt vibrantly good to show our faces in the midst of this crowd, which I'd say consisted primarily of black people of all ages and the remaining third were folks of other races. The solidarity in the crowd was palpable, with people starting conversations with strangers, helping others out with water, and looking out for each other in the face of police violence.

When I rolled up to the event, the anti conf flag counter rally on the other side of the state house was starting to wrap up. This seemed to be mostly made up of New Black Panther Party and Nation of Islam members. The KKK harrassed these people with racial slurs when they themselves paraded up minutes later through a funnel of their cop protectors, brandishing confederate flags and Nazi swastikas and screaming "white power".

They were instantly met with jeers and heckling from their numerous enemies, which reached such a pitch that it made one of the racists burst into tears. At one point, one racist got separated from his group and was surrounded by the crowd, which screamed at him to go the fuck home and things like that. One man got arrested at this point and carted off to the crowd yelling "let him go".

The KKK then stood in the baking sun on the steps of the state house for about an hour. They roasted in the heat and waved their flags behind a phalanx of their pig handlers, all the while making pitiful attempts to engage the antiracist crowd, which had them outnumbered almost 27 to one. Some of their sympathizers who were dressed in confederate flag apparel were chased off the premesis during this time, including one homophobic preacher and one Nazi peace police who was attempting to verbally shame people into leaving the racists alone. Several of the klan passed out from heatstroke during this time, including one old racist who had to be carried away by the cops wrapped up in a confederate flag.

The police cut their flag waving rally short by an hour due to the numbers of antiracists, which were growing steadily. The real fun began when the klan began to move out to the parking garage where their vehicles were being guarded by even more police. The cops attempted to hoodwink the crowd into focusing on one exit of the garage, while the klan was exiting out of another around the back. When the crowd got wind of this, we took to the streets and ran around the building to confront the klan as they drove out of town. They mostly had their windows up, staring forward and looking beaten. One klansdude however became so enraged at the verbal attacks he was recieving that he drove his SUV into a pole, crushing the front end of the car which leaked radiator fluid all over the pavement. The cops were unprepared for this, and the car was surrounded by antiracists who pounded on the windows and hurled rocks at the damaged vehicle. The cops then forceably surrounded the car and drove the antiracists back. Several people got detained briefly by the police and then violently unarrested by their comrades at this point. After about half an hour of tussling between cops and antiracists, a perimeter was established around the car and it drove away amid more heckling.

After this time the crowd marched back up to the state house, where the few remaining klan supporters were confronted and driven out of Columbia. I'm not sure how many people got arrested, but I think it was at least 5 people, for disorderly conduct and assaulting an officer. I'd urge people to keep up with that news, and help with people's bail however they can. Since this happened on a Saurday, I think people should be out by Monday.

Throughout all of this, it seemed very clear that the crowd had pinpointed their real enemies as being the police. While people were mad about the klan they were even angrier at the cops for protecting these Nazi racist scum. The weak attemts by cop sympathizers on the AR side to focus the crowd's anger at solely the KKK were entirely unsuccessful. I think that this event will be one in a series of many active and vibrant displays of anti racist and anti white supremacist actions in this country. I hope that people are staying safe and keeping their friends close.

Toward a world without racism, without police, without jail cells, and without the klan.
Solidarity from a comrade in Columbia, South Carolina."